A customized print-friendly version of this recipe is available by clicking the "Print Recipe" button on this page.
Sprouted Wheat Blueberry Muffins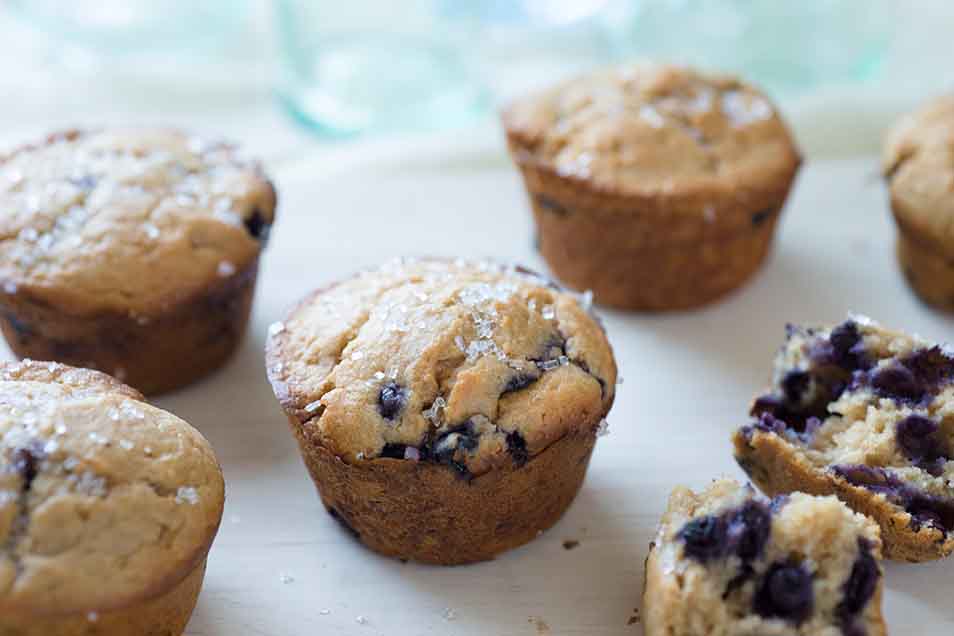 For whole grain muffins that everyone in your family will enjoy, sprouted wheat flour is your new best friend. These quick-and-easy muffins are tender, moist, and perfectly sweetened with brown sugar and bursts of fruit. Note: If blueberries aren't your fruit of choice, you could certainly substitute your own favorite.
Ingredients
2 1/2 cups sprouted wheat flour
1 cup brown sugar
3/4 teaspoon salt
1 teaspoon baking powder
1/2 teaspoon baking soda
1/2 teaspoon cinnamon
1 teaspoon vanilla extract
1/3 cup vegetable oil
1 1/2 cups buttermilk or plain (not Greek) yogurt
1 cup fresh blueberries; or frozen blueberries, rinsed, well drained, and gently patted dry
sparkling sugar or cinnamon sugar; optional
Instructions
Preheat the oven to 400°F. Lightly grease a standard 12-cup muffin pan; or line the pan with papers, and grease the papers.

Whisk together all of the dry ingredients. Set aside.

In a separate bowl or large measuring cup, whisk together the vanilla, vegetable oil, and buttermilk or yogurt.

Pour the liquid ingredients into the dry ingredients, stirring just to combine, then fold in the blueberries.

Spoon the batter into the prepared muffin cups, filling them nearly full. A slightly heaped scone and muffin scoop of batter is the right amount.

Sprinkle the tops of the muffins with coarse sparkling sugar or cinnamon sugar, if desired.

Bake the muffins for 18 to 20 minutes, until a toothpick inserted into the middle of one of the center muffins comes out clean.

Remove the muffins from the oven, allow them to cool for 10 minutes in the pan, then transfer them to rack to finish cooling.

Serve the muffins warm or at room temperature, and store any fully cooled leftovers, loosely wrapped, at room temperature.
Tips from our bakers
Want to reduce the sugar in these muffins? Use 1/2 cup (3 3/4 ounces, 106g) brown sugar. The muffins will be less tender and less sweet, with a more pronounced wheat flavor.
Reviews
How many calories in these

We're sorry, Kathy but we don't have nutritional information for this recipe. A resource you might consider exploring is free nutrition analysis calculators, which are made available online for general, non-medical use. Two such calculators you can find through a quick Google search are Spark Recipes and Verywell. We hope you're able to find the information you're looking for. Annabelle@KAF
It's not the silicone pan. I made mine in the wonderful Williams Sonoma gold touch pans and I had the same gooey mess. SO disappointed. I was hoping it would be like the new blueberry muffins in the Baker's cafe. Not a bit. I have used the sprouted wheat in th apple muffin recipe and they were wonderful. Going back to my old recipe.

We're sorry to hear this Sprouted Wheat Blueberry Muffin recipe didn't produce the results you were looking for. We're glad, however, that you've been enjoying the muffins at our cafe, and we'd love to help you create something similar at home. You might consider starting with the recipe called, "Our Favorite Blueberry Muffins," which is surprisingly light for a 100% whole grain treat. Feel free to replace half of the white whole wheat flour in the recipe with sprouted wheat if you find you prefer this flavor.

We've shared your feedback with our Recipe Team to consider in future discussions about this recipe, and in the meantime, we hope these tips help you bake what you're looking for. Kye@KAF
I absolutely love this recipe!!! I always add one egg and use about twice the blueberries, but they are by far the best we blueberry muffins I have ever had. Thanks, King Arthur Flour!!
This one didn't go well. Despite measuring by weight and using the toothpick test, the muffins are chewy and doughy. Also, the flavor is a little off. In comparing this recipe to the usual whole wheat recipe I follow, I noted two differences, besides the choice of wheat (white whole wheat versus sprouted). No baking soda and 1/2 the brown sugar. Not sure the soda would make that big a difference. Does sprouted wheat produce a denser baked good versus white whole wheat? I also used silicon muffin cups for the first time, and not sure if that reduced the effectiveness of the bake. I'll try these again, maybe after throwing out the first batch.

Hi Clavin, we're glad to hear you're open to suggestions for ways to improve the next batch because these muffins really can be a delicious, whole grain way to start the day. First, we think the silicon muffin cups contributed largely to the disappointing texture. We don't recommend baking in silicon because it takes a long time for baked goods to bake through completely and tends to create a gummy texture; light-colored metal pans are best.

These muffins are designed to be less sweet. Feel free to increase the sugar or perhaps sprinkle the top with sparkling sugar to increase sweetness and add a pleasant crunch. Lastly, be sure the Sprouted Wheat Flour you're using is fresh. It can go rancid quickly and is best stored in the freezer. You're welcome to use half Sprouted Wheat Flour and half White Whole Wheat with your next batch to see if that pleases your taste buds more. Happy baking! Kye@KAF
I made this recipe because I was looking for a muffin recipe for sprouted flour. I usually substitute gluten free oat flour for AP flour, and it always works. This time I used sprouted oat flour but kept everything else the same, usually I half the sugar too. The flavor was great, lightly sweet not overly sweet, but the muffins didn't rise at all and took much longer to cook. Just a heads up, other flours may not work without other changes.
I was looking for a recipe to use with the KAF sprouted whole grain flour, and came across this, and I'm glad I did! I made the recipe exactly as instructed, using buttermilk and topping with cinnamon sugar. The muffins came out very dense and moist, I actually would have liked them to be a tad sweeter (hence the 4 stars rather than 5), but otherwise, a great way to make a relatively healthy treat!