A customized print-friendly version of this recipe is available by clicking the "Print Recipe" button on this page.
Sprouted Wheat Easy Rustic Bread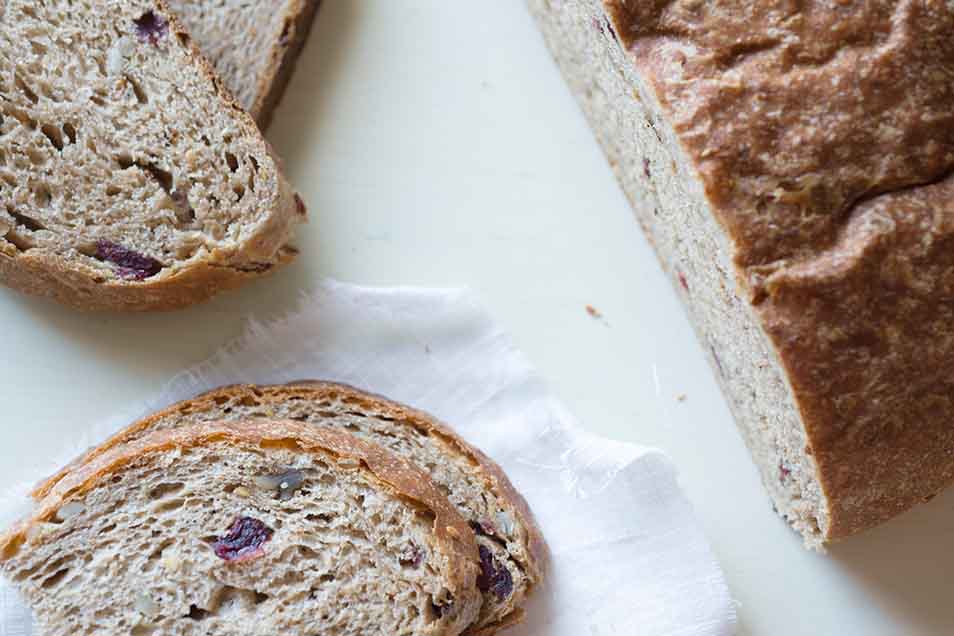 When it comes to 100% whole-grain bread, sprouted wheat flour has a lot of appeal. It's easy to work with; its flavor is mellow and sweet, and it produces a loaf with remarkably tender texture and a soft, moist crumb. Feel free to play around with fruits, nuts, seeds, or whatever add-ins you like. This recipe is a great place to start if you're a newcomer to baking with sprouted wheat or to baking with yeast.
Ingredients
1 cup lukewarm water
1 large egg
2 tablespoons soft butter or vegetable oil
2 tablespoons brown sugar
2 3/4 cups sprouted wheat flour
2 teaspoons instant yeast
1 1/4 teaspoons salt
1 cup mixed dried fruit, nuts and/or seeds (try cranberries, walnuts, poppy or sunflower seeds, plus 2 tablespoons chia or whole flax seeds)
Instructions
Stir all the ingredients together until combined. Let the dough rest, covered, for 30 minutes; this gives the flour a chance to absorb most of the water, which will make the dough a bit less sticky and somewhat easier to knead.

Transfer the dough to a lightly greased surface and knead, with oiled hands, for 5 minutes. Or knead using a stand mixer equipped with a dough hook for 2 to 3 minutes. Note that this is a very sticky dough; if you're really struggling, add a bit more flour; but the less flour you add, the lighter your bread's texture.

Place the dough in a lightly greased bowl, cover, and let rise until puffy, about 1 to 2 hours.

Lightly grease an 8 1/2" x 4 1/2" loaf pan, or a baking sheet (or line the baking sheet with parchment).

Place the dough on a lightly greased work surface, and shape it into a log (for the loaf pan) or oval or round (for the baking sheet).

Place the dough in or on the pan, cover, and allow it to rise until it's crowned about 1" over the rim of the loaf pan, or has increased by about one-third for a round or oval loaf, about 1 1/2 hours.

Bake the bread in a preheated 350°F oven until it's nicely browned and hollow-sounding when thumped, about 35 to 40 minutes for the loaf pan. If you've made a round, the bake time may be as much as 50 minutes; if the loaf appears to be browning too quickly, tent it with aluminum foil. The finished loaf's temperature at the center should read at least 190°F on a digital thermometer.

Remove the bread from the oven, and after 5 minutes turn it out onto a rack to cool completely before slicing.

Store the bread, well wrapped, for several days at room temperature; freeze for longer storage.
Reviews
I've baked this several times now and it's a little bit different each time. That's not really a surprise, but I think I've finally figured out how to be more consistent with it. With our crazy winter this year (65 degrees one day, and a high in the 20s the next), my dough was vastly different each time I made it until I started weighing my ingredients. Also, you have to believe that it really, really is a sticky dough. Every time I was nervous about it and keptessing with it, but finally I have learned to just relax with it and let it be sticky. So there you go. That's what's working for me. And when it works, it's delicious. (and even when it's not, it's not too bad!) :)
Bread is cooling can't wait to sample. Being a type 1 diabetic I'd be interested in the nutritional numbers from carb and sugars perspective. Ty

Hi there, Pam! While we have the nutritional information available for many of our recipes, at this time not all of them do. A resource you might consider exploring is free nutrition analysis calculators, which are made available online for general, non-medical use. Two such calculators we like are from the websites, Spark Recipes and Verywell. We hope this helps and happy baking! Morgan@KAF
What a delicious bread! I had picked up a bag of Sprouted Wheat this past summer because it was on sale and I was curious what it would be like. I finally got around to using it and it was so good. My loaf was a bit difficult to slice and I've come back and reread all the comments and KAF feedback to figure out why before I make another loaf. I always weigh my ingredients so I'm guessing maybe I over proofed. Next time I'll do the first rise in my 8-cup measure so I can judge how much it's risen better than in a bowl. I used a ruler for the second rise, which was in a loaf pan because I wanted to be able to use the bread in the toaster. The recipe said to allow to rise 1" above rim, so I did. But my top crust separated from the slices as I was slicing so I didn't share with my neighbors, to the detriment of my waistline!
Love this bread! I used honey instead of sugar & added cranberries, walnuts & chia seeds & mixed & baked it entirely in my bread machine. (Because I am at a high, dry, altitude, I usually have to add a little extra water. I check the machine after it has mixed a while & adjust.)
Great bread - I mixed everything by hand in a bowl, let it sit the 30 minutes, and then dumped it all in my bread machine set to medium. I scaled everything down slightly to fit in the 1lb machine and used active dry instead of instant yeast, but otherwise followed the recipe ingredients exactly, and it came out pretty much perfect.
I have now made this recipe two times. Each time I've made it I've used about 2/3 sprouted flour and the rest either regular whole wheat (the first time), or a combination of white whole wheat and regular whole wheat (the second time). The first time I made it vegan, using Neat Egg as a substitute, and oil. I also omitted the sugar the first time. The bread was good, but very dense, and just a bit bitter. Also, I made it as a round bread, rather than in a loaf pan, and on the second rising it spread out more, rather than rising up, leading to a somewhat flat and dense loaf. Again, however, it was tasty. Any suggestions for making a round loaf and stopping it from spreading out, so it will rise "up" more? On the second time I used an egg and just over half of the recommended sugar, and baked in a loaf pan. This time the bread is much lighter and crumbly. In fact, toward the top of the loaf, it is almost too crumbly. It rose very fast on the second rising. Any thoughts or recommendations? It is still extremely tasty. By the way, has anyone made this bread with caraway seeds? I'm wondering about the taste. I do have a couple of questions. 1) Since the quantities end up making a fairly small loaf, it is possible to increase to quantities (perhaps even double them) to make a much larger loaf? Would this affect the baking times, rising times, etc...? 2) Would it be possible/sensible to bake this bread (if making a round loaf) in a dutch oven, Le Creuset type, pot? If it's ok to do this, what sorts of adjustments would be needed? 3) Finally, how would it be to substitute small amounts of an alternative flour, such as rye flour, for instance? Thanks!

You've asked quite a few questions here, fellow baker. We'll try to answer them as best and as succinctly as we can, but if you have any follow-up questions or need clarification, we encourage you to reach out to our Baker's Hotline at 855-371-BAKE(2253). We'll be able to assist you best via the hotline.

1. To get the dough to rise upwards more than outwards, try baking the dough in bread baking vessel. You mentioned a Dutch oven, and that's a perfect solution to this part of your quandary. For full baking instructions, check out the article on our blog called, "Bread baking in a Dutch oven."

2. To get your dough to rise more slowly, use cool water when mixing up your dough. Also, you can try putting the dough in the fridge periodically to cool it down. This will should help make the dough a more consistent structure throughout the loaf. (The top won't be quite as crumbly.)

3. We haven't tried adding caraway seeds to this recipe, but you're welcome to add 1 to 2 teaspoons of caraway to the dough, as well as more for sprinkling on top if you wish.

4. You're welcome to double this loaf if you'd like by doubling all of the ingredients aside from the yeast. Try using 1 tablespoon of yeast and watch the dough closely as it rises, moving along in the baking process only when it looks ready. Bake the loaf at 350°F for 40-50 minutes, until an instant-read thermometer reads 190°F when inserted into the center.

5. Rye flour acts very differently than wheat-based flours, so we recommend starting by using a small amount to replace some of the other flour in the recipe, about 20% would be a good place to start with this recipe. You may need to adjust the amount of water that's added to the dough to get it the right consistency. You'll be experimenting here! Kye@KAF
made this with One Degree Sprouted wheat flour . Rose then partially collapsed , not good ! Also, had extremely strong whole wheat flavor , won't make it again , except maybe with KA sprouted flour .

We're sorry to hear this recipe gave you difficulties, Dale. We do hope you'll try it with our Sprouted Wheat Flour, which has a slightly nutty flavor. Loaves tend to collapse when they overproof. Whole grains are wonderful food for yeast, and in combination with the hot humid weather we've been seeing, your loaf will likely rise quickly. Keep an eye on it and bake it once you can stick your finger into the dough and the indent stays. If you're looking to cut down wheat flavors, feel free to replace half of your water with orange juice. If you have any other questions, our free and friendly Baker's Hotline is available at 855-371-BAKE (2253). Kindly, Annabelle@KAF
This is a great tasting and easy to make bread. Sliced it and served on a cheese board, it was a big hit.
This is one easy and fun to make bread. I used walnuts, chia, poppy seeds and raisins. We can't stop eating it!
This recipe is fabulous! It was very easy to follow. I used my Kitchen Aid for mixing and kneading. I used coconut sugar and added cranberries and walnuts. The flavor and texture is perfect. Thank you for this great recipe!