A customized print-friendly version of this recipe is available by clicking the "Print Recipe" button on this page.
Sprouted Wheat Easy Rustic Bread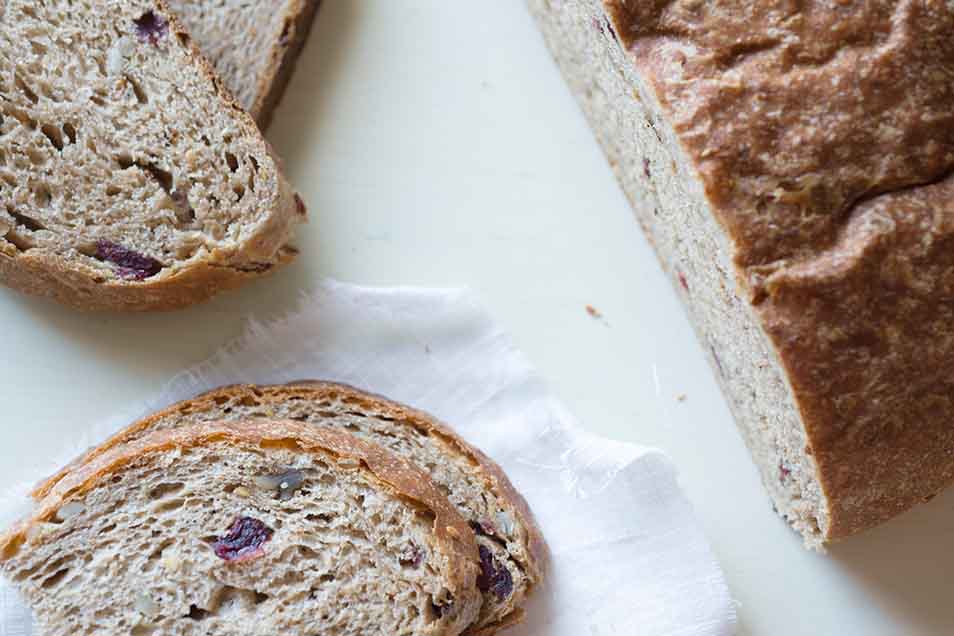 When it comes to 100% whole-grain bread, sprouted wheat flour has a lot of appeal. It's easy to work with; its flavor is mellow and sweet, and it produces a loaf with remarkably tender texture and a soft, moist crumb. Feel free to play around with fruits, nuts, seeds, or whatever add-ins you like. This recipe is a great place to start if you're a newcomer to baking with sprouted wheat or to baking with yeast.
Ingredients
1 cup lukewarm water
1 large egg
2 tablespoons soft butter or vegetable oil
2 tablespoons brown sugar
2 3/4 cups sprouted wheat flour
2 teaspoons instant yeast
1 1/4 teaspoons salt
1 cup mixed dried fruit, nuts and/or seeds (try cranberries, walnuts, poppy or sunflower seeds, plus 2 tablespoons chia or whole flax seeds)
Instructions
Stir all the ingredients together until combined. Let the dough rest, covered, for 30 minutes; this gives the flour a chance to absorb most of the water, which will make the dough a bit less sticky and somewhat easier to knead.

Transfer the dough to a lightly greased surface and knead, with oiled hands, for 5 minutes. Or knead using a stand mixer equipped with a dough hook for 2 to 3 minutes. Note that this is a very sticky dough; if you're really struggling, add a bit more flour; but the less flour you add, the lighter your bread's texture.

Place the dough in a lightly greased bowl, cover, and let rise until puffy, about 1 to 2 hours.

Lightly grease an 8 1/2" x 4 1/2" loaf pan, or a baking sheet (or line the baking sheet with parchment).

Place the dough on a lightly greased work surface, and shape it into a log (for the loaf pan) or oval or round (for the baking sheet).

Place the dough in or on the pan, cover, and allow it to rise until it's crowned about 1" over the rim of the loaf pan, or has increased by about one-third for a round or oval loaf, about 1 1/2 hours.

Bake the bread in a preheated 350°F oven until it's nicely browned and hollow-sounding when thumped, about 35 to 40 minutes for the loaf pan. If you've made a round, the bake time may be as much as 50 minutes; if the loaf appears to be browning too quickly, tent it with aluminum foil. The finished loaf's temperature at the center should read at least 190°F on a digital thermometer.

Remove the bread from the oven, and after 5 minutes turn it out onto a rack to cool completely before slicing.

Store the bread, well wrapped, for several days at room temperature; freeze for longer storage.