A customized print-friendly version of this recipe is available by clicking the "Print Recipe" button on this page.
Sprouted Wheat Easy Rustic Bread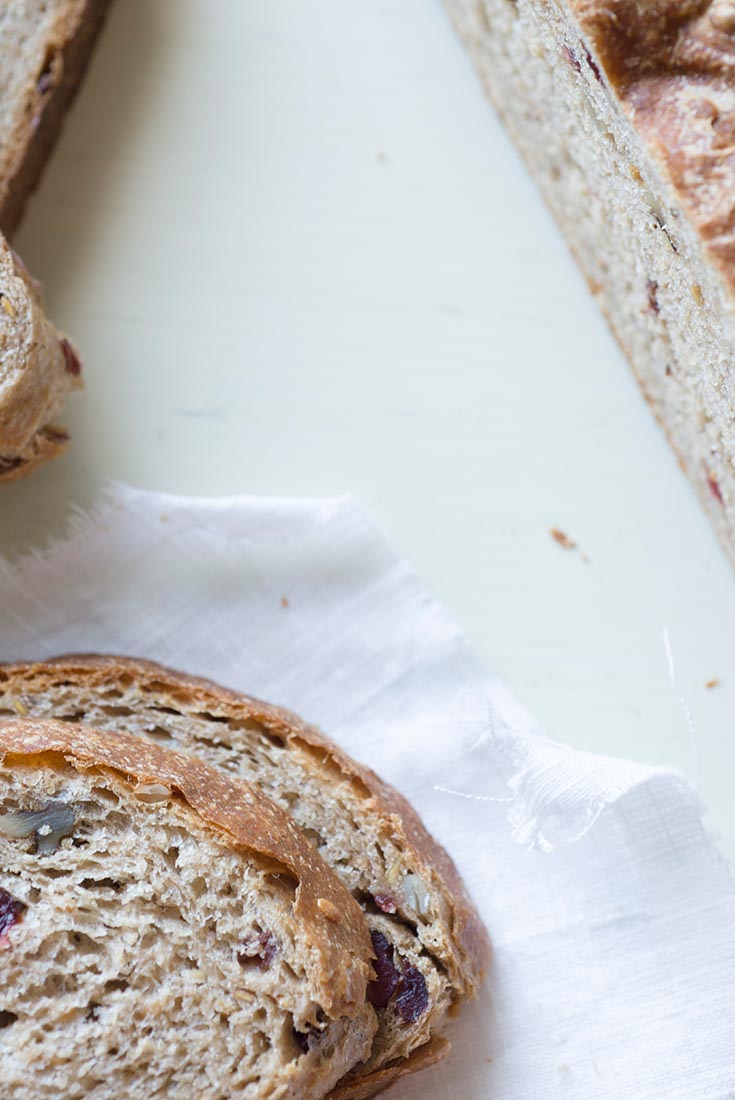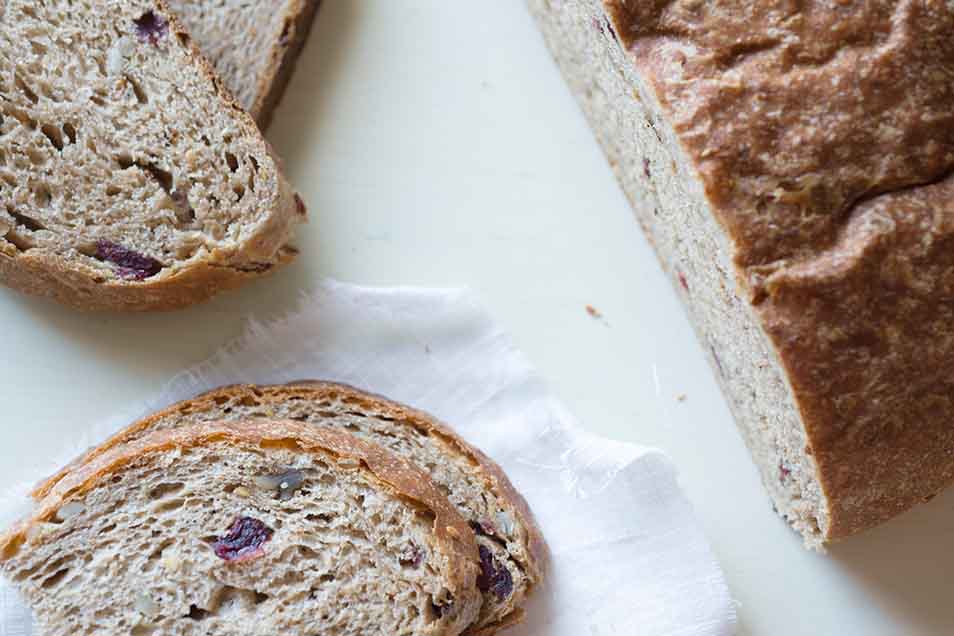 When it comes to 100% whole-grain bread, sprouted wheat flour has a lot of appeal. It's easy to work with; its flavor is mellow and sweet, and it produces a loaf with remarkably tender texture and a soft, moist crumb. Feel free to play around with fruits, nuts, seeds, or whatever add-ins you like. This recipe is a great place to start if you're a newcomer to baking with sprouted wheat or to baking with yeast.
Ingredients
1 cup lukewarm water
1 large egg
2 tablespoons soft butter or vegetable oil
2 tablespoons brown sugar
2 3/4 cups sprouted wheat flour
2 teaspoons instant yeast
1 1/4 teaspoons salt
1 cup mixed dried fruit, nuts and/or seeds (try cranberries, walnuts, poppy or sunflower seeds, plus 2 tablespoons chia or whole flax seeds)
Instructions
Stir all the ingredients together until combined. Let the dough rest, covered, for 30 minutes; this gives the flour a chance to absorb most of the water, which will make the dough a bit less sticky and somewhat easier to knead.

Transfer the dough to a lightly greased surface and knead, with oiled hands, for 5 minutes. Or knead using a stand mixer equipped with a dough hook for 2 to 3 minutes. Note that this is a very sticky dough; if you're really struggling, add a bit more flour; but the less flour you add, the lighter your bread's texture.

Place the dough in a lightly greased bowl, cover, and let rise until puffy, about 1 to 2 hours.

Lightly grease an 8 1/2" x 4 1/2" loaf pan, or a baking sheet (or line the baking sheet with parchment).

Place the dough on a lightly greased work surface, and shape it into a log (for the loaf pan) or oval or round (for the baking sheet).

Place the dough in or on the pan, cover, and allow it to rise until it's crowned about 1" over the rim of the loaf pan, or has increased by about one-third for a round or oval loaf, about 1 1/2 hours.

Bake the bread in a preheated 350°F oven until it's nicely browned and hollow-sounding when thumped, about 35 to 40 minutes for the loaf pan. If you've made a round, the bake time may be as much as 50 minutes; if the loaf appears to be browning too quickly, tent it with aluminum foil. The finished loaf's temperature at the center should read at least 190°F on a digital thermometer.

Remove the bread from the oven, and after 5 minutes turn it out onto a rack to cool completely before slicing.

Store the bread, well wrapped, for several days at room temperature; freeze for longer storage.
Reviews
This is one easy and fun to make bread. I used walnuts, chia, poppy seeds and raisins. We can't stop eating it!
This recipe is fabulous! It was very easy to follow. I used my Kitchen Aid for mixing and kneading. I used coconut sugar and added cranberries and walnuts. The flavor and texture is perfect. Thank you for this great recipe!
An easy and fun dough to work with! This is bread is good. I used dried cranberries. :) Thank you much KAF.
This is a fabulous bread for breakfast and sandwiches. I made it using the dough feature of my bread machine. I added 4 t. wheat gluten to make it rise a little higher and baked in a greased loaf pan for 40 minutes at 350 degrees. I had to tent it about half way through to prevent the top from becoming too brown. Where the recipe called for 1 cup of fruit, nuts, etc, I used one cup of KAF Harvest Grains Blends mixed right in with the dough. It gave me a wonderfully nutty, chewy bread. This is definitely one recipe that will be made many times!
I made this recipe yesterday and I wish I could give it more than five stars! The texture of this bread is soft and the bread has a wonderful taste. I used dried cranberries and they add a sweetness. It toasts nicely and even the dried cranberries withstood the toaster. This is my first experience with this flour and I highly recommend it. The recipe was easy to follow and the results are delicious.
I just made this recipe tonight. It came out very well, lovely wheat flavor. Nice texture, too. I followed the recipe exactly, weighed the flour, used peanut oil, and added a cup total of a combination of pecans, craisins, and curranst. I made a round loaf. My one comment/question is this. I have never oiled the counter or my hands when kneading bread. The first three minutes of kneading went fine but then the bread got so sticky I couldn't make it to five minutes' worth of kneading even after adding a bit more oil. So at that point I put the dough in an oiled bowl to rise. Did I do something wrong? Thanks.

Hi Beverly, one of the most common reasons why baked goods turn out dry, heavy, and dense is because too much flour is added. To prevent this, we recommend kneading the dough on a lightly greased surface. If you find this doesn't work for you, you're welcome to try using flour instead. Just be sure to have a gentle hand to avoid too much flour being used. Also have a gentle touch with the dough itself. Kneading roughly can expose the soft, sticky inside part, which can make the dough more difficult to handle. We hope this helps, and happy baking! Kye@KAF
Wonderful recipe! Would it also work if using a bread machine?

Nina, you can use your bread machine to mix the dough, but you'll want to turn it off after the dough has started to come together so it can complete the 30 minute rest. You can restart the machine and let it finish kneading the dough. You may consider taking the dough out of the machine at this point, letting it rise at room temperature, and then shaping and baking by hand so you can have more control over the timing of the steps. This process will ensure a properly proofed and well-structured loaf. Happy baking! Kye@KAF
Still waiting for mine (in second proof) but don't think it will be fluffy as the rise is not that good and I think I know why. On the flour bag, you don't specify instant yeast or not. I sort of hesitated and thought to mix my active dry yeast first before mixing it all together but I didn't. Would be helpful if you called that out on the packaging, not just online! Thanks.

We apologize for any confusion, Kristen. You can use instant and active dry yeast interchangeably. (Both can be added right in with the dry ingredients in the recipe; there's no need to proof them ahead of time in liquid.) We hope that your loaf ended up turning out well, but if it didn't, please feel free to give our Baker's Hotline a call at 855-371-BAKE(2253) so we can troubleshoot further. Kye@KAF
This was crazy good, and very easy. I used chopped dried figs and apricots, approximately 3/4 cup. Chopped pecans and walnuts, and sunflower seeds, approximately 1/4 - 1/2 cup. Two teaspoons poppy seed plus the two tablespoons Chia seed. We ate it plain when fresh, but planning on toast with apricot jam, also considering sharp cheddar. Might consider using it for French toast.