A customized print-friendly version of this recipe is available by clicking the "Print Recipe" button on this page.
Sprouted Wheat Spice Cake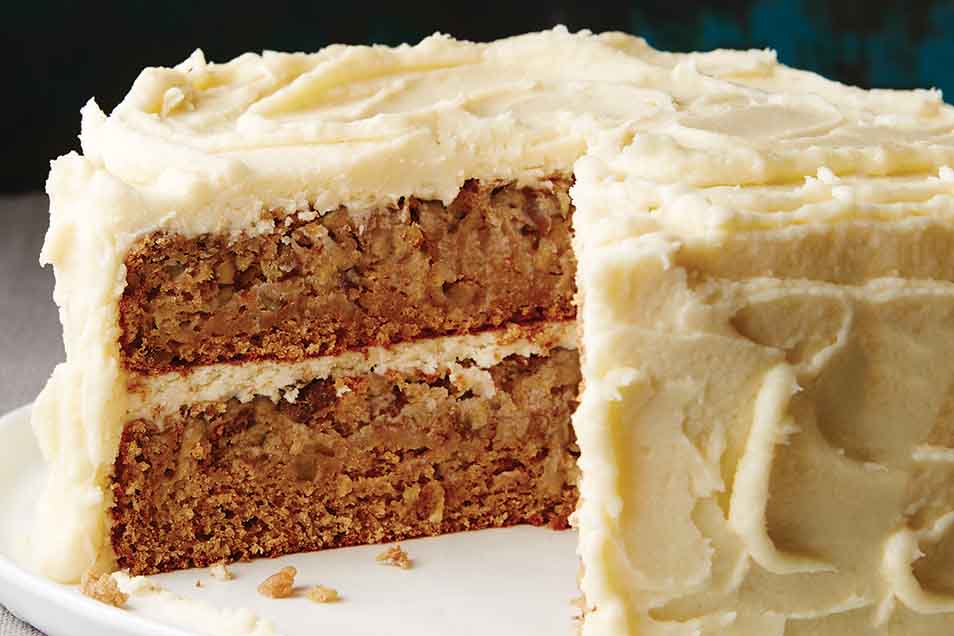 This super-moist cake, packed with whole grains, fruit, nuts, and spices, is a delicious snack and can be ready in a flash. For an extra-special treat, we recommend adding a layer of cream cheese frosting.
Ingredients
1 1/2 cups sprouted wheat flour
1/3 cup brown sugar
1/3 cup granulated sugar
1/2 teaspoon salt
1 teaspoon baking powder
1/4 teaspoon baking soda
1 teaspoon cinnamon
1 cup milk
2 tablespoons melted butter or vegetable oil
1 teaspoon vanilla extract
1 large egg
1 cup grated apple; about 1 medium apple
1/2 cup chopped pecans
Instructions
Preheat the oven to 350°F. Lightly grease an 8" square pan or 9" round pan.

In a medium bowl, whisk together the dry ingredients until evenly incorporated.

Add the milk, butter or vegetable oil, vanilla, and egg, and whisk the batter together until well blended.

Fold in the apple and pecans, just until evenly distributed.

Pour the batter into the prepared pan and bake the cake for 25 to 35 minutes, until a toothpick inserted into the center comes out clean and the center of the cake springs back when pressed.

Remove the cake from the oven and allow it to cool in the pan on a rack until ready to serve.
Tips from our bakers
For a carrot cake variation, simply replace the apples and pecans with 1 1/2 cups grated carrots plus 3/4 cup of your choice of nuts, dried fruit, or coconut.
For more spice flavor, add 1/4 teaspoon each ginger and nutmeg.
The cream cheese frosting recipe referenced above makes enough frosting for two 9" round or 8" square cakes. Cut the frosting recipe in half for this cake.
Reviews
I have only recently started working with sprouted wheat flours. I made this recipe using sprouted red fife and baked as cupcakes. Absolutely delicious.
Good flavor! I did not expect for sprouted wheat flour cake to taste good! Is it possible to substitute brown sugar and granulated sugar with honey or maple syrup?

You can definitely use either honey or maple syrup to replace the white and/or brown sugar in this recipe. We have a full article on our blog that details how to make this substitution most successfully. Click on the "blog," link in the upper right-hand corner of this page and then search for "Baking with liquid sweeteners." In short, you can use slightly less liquid sweetener than the amount of sugar called for in this recipe since it's a bit sweeter by volume, and add about 1 tablespoon per 1/4 cup of sweetener used to account for the extra liquid. Happy baking! Kye@KAF
This might be my favorite cake. You don't need to use sprouted wheat, but you certainly can if you want. It should really be titled Apple-Cinnamon cake, because that's pretty much what it is and what it tastes like. I've only ever used Granny Smith apples because I want that classic apple flavor to come through.
I substituted with carrots and walnuts. The cake rose beautifully and was light and moist. I didn't make icing as I wanted to try the cake recipe first. I will make it again with icing to have a really scrumptious cake.
This cake is absolutely incredible. I only made one layer with no icing to test the recipe first. This cake is so moist and delicious...no icing is required. Saw this in my SIFT magazine and could hardly wait to try it. Yummy!!
Quick, easy, and delicious!