A customized print-friendly version of this recipe is available by clicking the "Print Recipe" button on this page.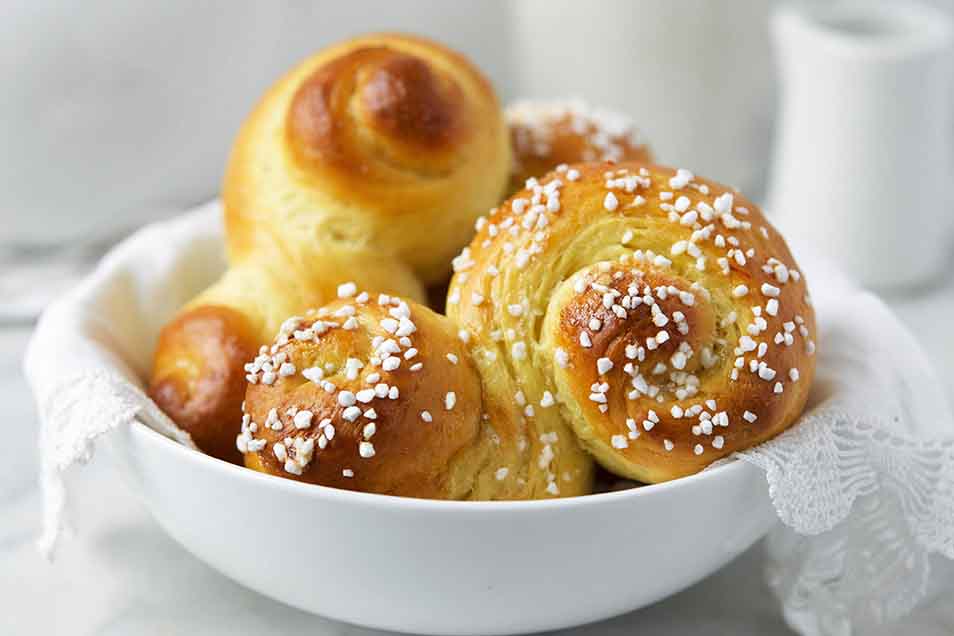 St. Lucia's Day, recognized throughout Scandinavia, is celebrated on December 13. According to legend, Lucia died a martyr's death and was later made a saint. Especially in Sweden, where it's a national celebration, towns celebrate with traditional ceremonies: St. Lucia symbolizes the promise of the sun's return to bring Sweden from its wintry darkness.

The key figure in any celebration, St. Lucia, dresses in a white gown and wears a crown of candles on her head — sometimes the candles are real, sometimes battery-operated (for safety's sake). For celebrations at home, a young girl in the family will dress as St. Lucia and present her parents with breakfast in bed. That breakfast tray usually includes a pot of tea, milk, and bright-gold St. Lucia Buns.
Ingredients
Topping
1 large egg white (reserved from dough) mixed with 1 tablespoon cold water
coarse pearl sugar, optional
golden raisins, optional
Instructions
In a small saucepan set over medium heat (or in a microwave-safe bowl in the microwave), heat the milk and saffron to a simmer; remove from the heat and stir in the butter. Set the mixture aside to allow the butter to melt, and for it to cool to lukewarm, 30 to 35 minutes. You can reduce the milk's cooling time by about 10 minutes by refrigerating it.

In a large bowl or the bowl of a stand mixer, whisk together the yeast, flours, salt and sugar.

Separate one of the eggs, and set the white aside; you'll use it later.

Pour the lukewarm milk and butter mixture over the dry ingredients.

Add the 2 whole eggs, 1 egg yolk, and the vanilla. Mix to combine, then knead for about 7 minutes by mixer, about 10 minutes by hand, till the dough is smooth and supple.

Place the dough in a lightly greased bowl or large (8-cup) measuring cup, cover it, and let it rise for 1 hour, or until it's quite puffy, though not necessarily doubled in bulk.

Gently deflate the dough, and divide it into 12 equal pieces. A scale makes this job easy; each piece will weigh about 92g, or 3 1/4 ounces.

Shape the pieces of dough into rough logs, and let them rest, covered, for about 10 minutes. This gives the gluten a chance to relax.

Roll each log into a 15" to 18" rope. They'll shrink once you stop rolling; that's OK.

Shape each rope into an "S" shape. Tuck a golden raisin into the center of each of the two side-by-side coils, if desired.

Place the buns on a lightly greased or parchment-lined baking sheet, leaving an inch or so between them. Cover them, and let them rise for about 30 minutes, till they're noticeably puffy, but definitely not doubled. While they're rising, preheat the oven to 375°F.

Brush each bun with some of the egg white/water glaze. Sprinkle with coarse white Swedish pearl sugar, if desired.

Bake the buns until they're golden brown, about 18 to 20 minutes. If you've used raisins, tent them with foil for the final 3 minutes, to prevent the raisins from burning.

Remove the buns from the oven, and transfer them to a rack to cool.

Yield: 12 large buns.
Tips from our bakers
For smaller buns, divide the dough into 24 pieces. Roll each piece into an 8" to 10" log, and shape as directed. Bake the buns for about 12 to 15 minutes, till they're golden brown.
Reviews
These really didn't rise much even with new, room temp yeast and room temp eggs. I was careful to keep the salt away from the yeast. The dough wasn't sticky at any point. I think the potato flakes were a huge mistake. It was a waste of very expensive ingredients. Try the other recipe for St Lucia buns on this site as it doesn't have potato or as much salt.

We're sorry to hear this well-loved recipe gave you some trouble, Sallie, and thank you for letting us know. The most common reason a recipe turns out dry is if any extra flour was packed (which flour likes to do!) into the measuring cup.

To ensure you're using the right amount, we recommend checking out the "Recipe Success Guide," link next to the ingredients header above. You'll see that either measuring your flour by weight using a scale, or fluffing and sprinkling the flour into your measuring cup are the most accurate ways to measure flour.

It sounds like you've already found another recipe that you like, but if you decide to give this one another go, measuring the flour this way should give you a tackier dough and higher rising buns. Kindly, Annabelle@KAF
I'm so excited, I just made these and they are at the shaped and resting stage. But they are just beautiful. I can not wait for them to be done baking...so I can gobble one down. I am a NECI grad, there is just one regret I now have and that's I was not in the Baking and Pastry program. I love your site and have made many of the published recipes over the years and I've had wonderful results, so thank you very much for your clear instructions and fabulous recipes. You guys ROCK!!!! Happy baking!!

Thank you so much for so many kind words, Chefbea! We're always happy to ignite baking inspiration in others. As a fellow NECI grad, I can tell you with great confidence that the Baking and Pastry program is phenomenal, and totally worth a trip back to Montpelier! Happy baking, Annabelle@KAF
These are fun to make and not overly sweet. The egg wash and pearl sugar really make them special looking.
Everyone is raving about this recipe. It is so discouraging spending half a day preparing and the end result was a disaster. After speaking with others that bake they asked if I proofed the yeast. No was my answer,it said to include the 1 tablespoon of instant yeast into the batter...no word on proofing. It did not really rise much in the bowl after the initial sitting covered. I took out and broke into 12 pieces for another 10 minutes...Tried to shape and roll,but would not roll anymore then about 6 inches...you suggested 12inches. After baking they were more like an uncooked pretzel. Where did I go wrong...Afraid to try again and fail!

That does sound disappointing, Nancy. You can rest assured that instant and active dry yeasts do not require proofing ahead of time to work, but if you have any doubt as to the freshness of your yeast, we would recommend proofing it to check that it is still active. In this case, it sounds like your yeast was not active or that your dough was rising more slowly than expected (due to ambient temperature or the temperature of your ingredients, for example). If you give our Baker's Hotline a call at 855-371-BAKE, we'd be happy to troubleshoot further. Mollie@KAF
These were delicious, and not difficult to make! The dough was a delight--I think it would work as a variety of sweet breads, though I kept to the recipe this time. The buns came out soft and fluffy, and the pearl sugar added a nice crunch and touch of sweetness. They were perfect with a hot mug of chai.
This may work with normal circumstances but DO NOT try this with gluten free substitutions. You will need to increase the milk a ton and even then the buns are crumbly. Too bad...

We're sorry to say it, but we don't generally recommend trying to convert a yeasted recipe like this to gluten-free. The chemistry works so differently that it can take quite a bit of experimentation to identify suitable adjustments. Instead, you might try a quick online search for a similar, designed-to-be gluten-free recipe. Best of luck and happy baking! Mollie@KAF
This is the best St. Lucia Bun recipe of the several I have tried over the years. They turned out fluffy and soft and beautiful to look at. Thank you for the very clear instructions, helpful tips and photos.
Pretty and tasty! I had a lot of fun making these rolls. It's not a lot of effort for an excellent result. I think I may add more raisins to the dough as I roll it next time, just to add a bit of sweetness to them.
These Buns are so easy, easy, it's unbelievable! I had no saffron. I made 3 with 80% chocolate pieces in them! 3 with brown sugar, butter, cinnamon, (cinnamon buns), 3 with butter and sesame seeds, 3 with different herbs. They were gone in 2 days!!
I baked this and they loved it. They taste just like the one's I remember eating at the Philadelphia Swedish Museum.