A customized print-friendly version of this recipe is available by clicking the "Print Recipe" button on this page.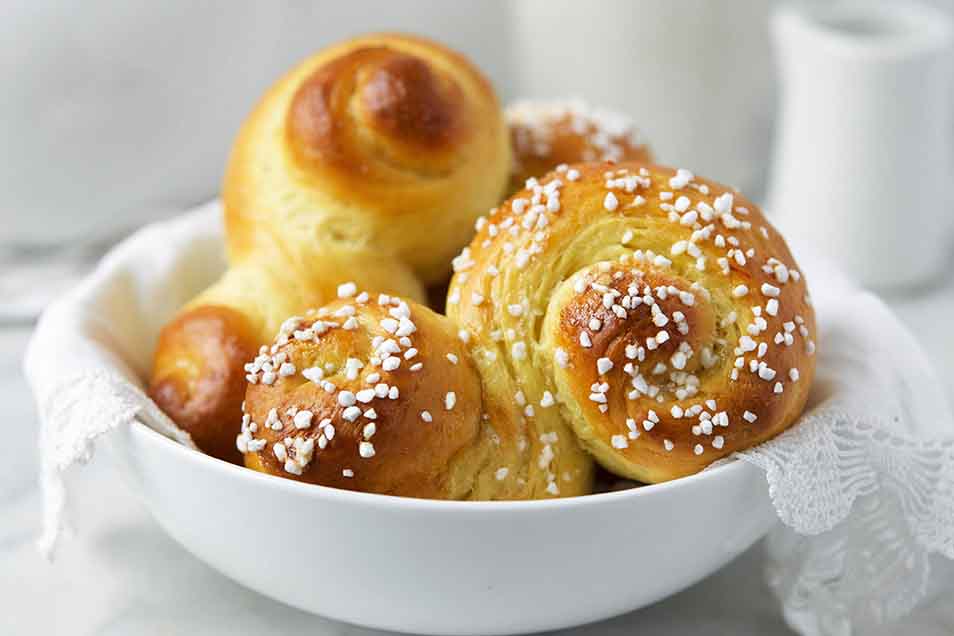 St. Lucia's Day, recognized throughout Scandinavia, is celebrated on December 13. According to legend, Lucia died a martyr's death and was later made a saint. Especially in Sweden, where it's a national celebration, towns celebrate with traditional ceremonies: St. Lucia symbolizes the promise of the sun's return to bring Sweden from its wintry darkness.

The key figure in any celebration, St. Lucia, dresses in a white gown and wears a crown of candles on her head — sometimes the candles are real, sometimes battery-operated (for safety's sake). For celebrations at home, a young girl in the family will dress as St. Lucia and present her parents with breakfast in bed. That breakfast tray usually includes a pot of tea, milk, and bright-gold St. Lucia Buns.
Ingredients
Topping
1 large egg white (reserved from dough) mixed with 1 tablespoon cold water
coarse pearl sugar, optional
golden raisins, optional
Instructions
In a small saucepan set over medium heat (or in a microwave-safe bowl in the microwave), heat the milk and saffron to a simmer; remove from the heat and stir in the butter. Set the mixture aside to allow the butter to melt, and for it to cool to lukewarm, 30 to 35 minutes. You can reduce the milk's cooling time by about 10 minutes by refrigerating it.

In a large bowl or the bowl of a stand mixer, whisk together the yeast, flours, salt and sugar.

Separate one of the eggs, and set the white aside; you'll use it later.

Pour the lukewarm milk and butter mixture over the dry ingredients.

Add the 2 whole eggs, 1 egg yolk, and the vanilla. Mix to combine, then knead for about 7 minutes by mixer, about 10 minutes by hand, till the dough is smooth and supple.

Place the dough in a lightly greased bowl or large (8-cup) measuring cup, cover it, and let it rise for 1 hour, or until it's quite puffy, though not necessarily doubled in bulk.

Gently deflate the dough, and divide it into 12 equal pieces. A scale makes this job easy; each piece will weigh about 92g, or 3 1/4 ounces.

Shape the pieces of dough into rough logs, and let them rest, covered, for about 10 minutes. This gives the gluten a chance to relax.

Roll each log into a 15" to 18" rope. They'll shrink once you stop rolling; that's OK.

Shape each rope into an "S" shape. Tuck a golden raisin into the center of each of the two side-by-side coils, if desired.

Place the buns on a lightly greased or parchment-lined baking sheet, leaving an inch or so between them. Cover them, and let them rise for about 30 minutes, till they're noticeably puffy, but definitely not doubled. While they're rising, preheat the oven to 375°F.

Brush each bun with some of the egg white/water glaze. Sprinkle with coarse white Swedish pearl sugar, if desired.

Bake the buns until they're golden brown, about 18 to 20 minutes. If you've used raisins, tent them with foil for the final 3 minutes, to prevent the raisins from burning.

Remove the buns from the oven, and transfer them to a rack to cool.

Yield: 12 large buns.
Tips from our bakers
For smaller buns, divide the dough into 24 pieces. Roll each piece into an 8" to 10" log, and shape as directed. Bake the buns for about 12 to 15 minutes, till they're golden brown.