A customized print-friendly version of this recipe is available by clicking the "Print Recipe" button on this page.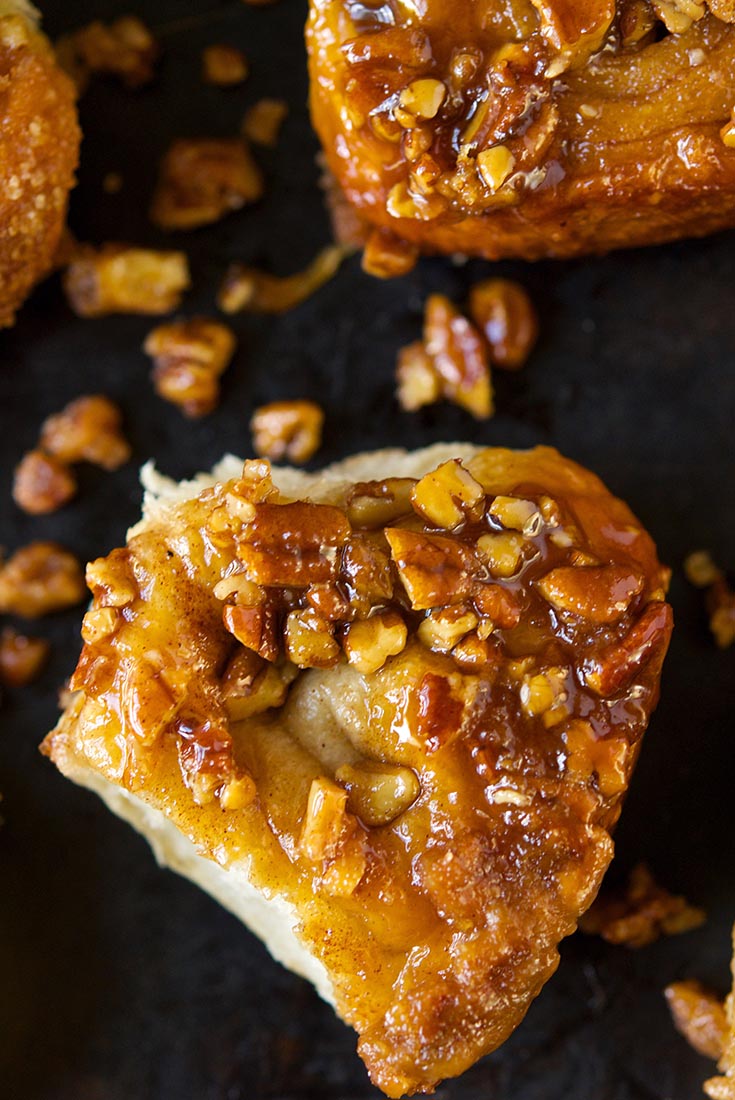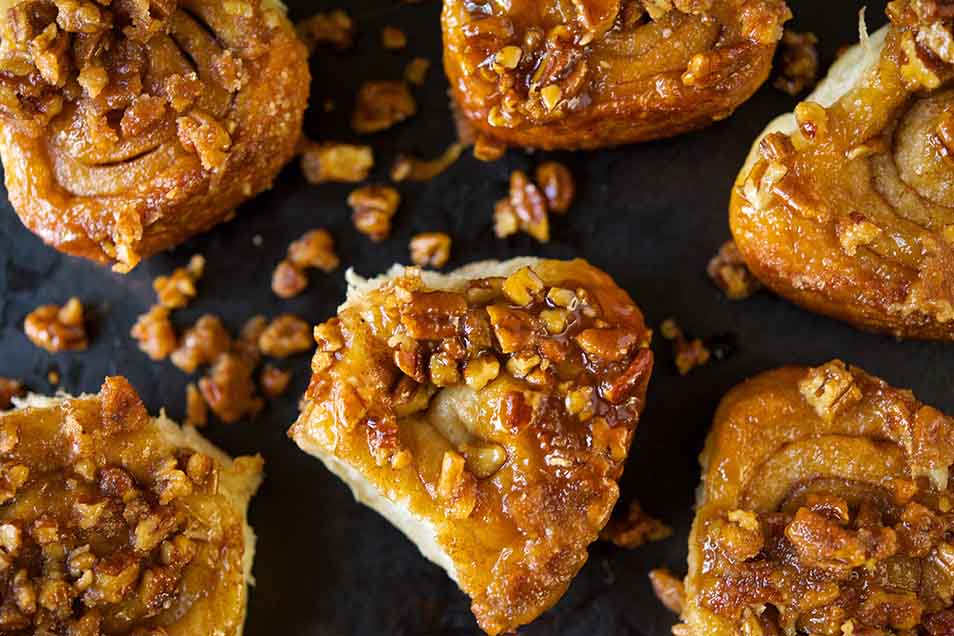 Sticky buns are a quintessential American breakfast treat. Our version features soft, milk- and butter-enriched buns stuffed with aromatic cinnamon filling and glazed with a sticky, sugary topping loaded with pecans. It doesn't get any better than this!

Our guarantee: These buns will be soft and sticky right out of the oven, and will firm up as they cool. Moderately scented with cinnamon, their main flavor is SWEET. They'll rise about 2" high.
Ingredients
Dough
1 packet "highly active" active dry yeast; or 2 1/2 teaspoons active dry yeast; or 2 1/2 teaspoons instant yeast
7/8 to 1 1/8 cups lukewarm water*
6 tablespoons unsalted butter, at room temperature
3 tablespoons sugar
1 1/4 teaspoons salt
1/4 cup Baker's Special Dry Milk or nonfat dry milk
1/2 cup instant mashed potato flakes
*Use the lesser amount in summer (or in a humid environment), the greater amount in winter (or in a dry climate), and somewhere in between the rest of the year, or if your house is climate controlled.
Glaze
1/2 cup light corn syrup or maple syrup
1 tablespoon rum, optional
3 tablespoons butter, melted
1/2 cup Sticky Bun Sugar; or 1 cup brown sugar, light or dark, firmly packed
1 cup diced pecans
Instructions
First, make the dough. If you're using active dry yeast, dissolve it with a pinch of sugar in 2 tablespoons of the lukewarm water. Let the yeast and water sit at room temperature for 15 minutes, until the mixture has bubbled and expanded. If you're using instant yeast, you can skip this step.

Combine the dissolved yeast (or instant yeast) with the remainder of the dough ingredients. Mix and knead everything together—by hand, mixer or bread machine set on the dough cycle—till you've made a smooth dough. If you're kneading in a stand mixer, it should take 5 to 7 minutes at second speed, and the dough should barely clean the sides of the bowl, perhaps sticking a bit at the bottom. In a bread machine (or by hand), it should form a smooth ball.

Place the dough in a lightly greased bowl. Cover the bowl, and allow the dough to rise, at room temperature, for 1 to 2 hours, or until it's nearly doubled in bulk. Rising may take longer, especially if you've kneaded by hand. Give it enough time to become quite puffy.

While the dough is rising, lightly grease two 9" round cake pans.

To make the glaze, whisk together the syrup, rum (if you're using it) and melted butter.

Divide the glaze evenly between the pans. Sprinkle the sugar and pecans atop the glaze.

Transfer the dough to a lightly greased work surface, and pat or roll it into a 16" x 12" rectangle. It's a nice, soft dough, and pats out easily.

To make the filling, whisk together the sugar, cinnamon, and flour.

Sprinkle filling evenly over the dough, leaving an uncovered strip about 1" wide along one long end of the rectangle.

Starting with the sugar-covered edge, roll the dough into a log the long way.

Using a serrated knife, slice the log into 16 slices. In order to cut down on drag, it helps to rinse the blade in hot water, and wipe it off, between slices.

Space eight buns in each of the prepared pans. Cover the pans, and let the buns rise till they spread out and touch one another, about 60 to 90 minutes.

While the buns are rising, preheat the oven to 350°F.

Bake the sticky buns for 15 minutes. Tent them lightly with aluminum foil, and bake till they're a light golden brown, about 10 more minutes.

Remove the buns from the oven, and loosen their edges with a knife. Carefully—the sugar is hot!—turn them out onto a rack or parchment-covered sheet pan to cool, scraping any glaze that may have stuck to the pan onto the warm buns.

Serve warm, or at room temperature. Wrap airtight and store at room temperature.
Nutrition Information
Serving Size

1 sticky buns (97g)

Servings Per Batch

16
Amount Per Serving:
Calories

340

Calories from Fat

110

Total Fat

12g

Saturated Fat

4.5g

Trans Fat

0g

Cholesterol

15mg
Sodium

200mg

Total Carbohydrate

57g

Dietary Fiber

2g

Sugars

32g

Protein

4g
* The nutrition information provided for this recipe is determined by the ESHA Genesis R&D software program. Substituting any ingredients may change the posted nutrition information.
Tips from our bakers
Don't like nuts? Not a problem; leave out the pecans.
Be sure to turn the buns out of their pans immediately. If you wait, the sticky topping will remain in the pan, not on the buns
When making anything with yeast, including these buns, let the dough rise to the point the recipe says it should, e.g., "Let the dough rise till it's doubled in bulk." Rising times are only a guide; there are so many variables in yeast baking that it's impossible to say that bread dough will ALWAYS double in bulk in a specific amount of time.
Want to make these fresh and hot for breakfast? Make the dough, shape the buns, and place them in the pan (with the glaze); don't let them rise. Place the pan of buns in the refrigerator for up to 16 hours before you want to serve hot buns. Remove the buns from the fridge, and let them rest at room temperature for 1 hour. Bake them in a preheated 350°F oven for 35 minutes, until they're golden brown and the filling is bubbly.
Reviews
I've been using the dough recipe for a couple of years - best I've ever come across. Use it for sticky buns, cinnamon rolls, monkey bread, dinner rolls...
I have my dough rising in my proofer, but I have a question. When I make buns and bread I always add dough improver and cake enhancer do I need to increase my water amount? I live in a great neighborhood with wonderful teenage kids they will be surprised with these sticky buns.

Sue, we love adding 1 tablespoon of Cake Enhancer to soft breads and cakes to ensure a super moist and tender texture. When using it in these quantities, you shouldn't need to adjust the amount of liquid that's added. Happy baking! Kye@KAF
They were picture perfect going into the oven, 2-9" pans, but when they had baked the allotted time and were light golden brown and I turned them out they were not done! They did not want to go back in the pan to finish, what did I do wrong? Oven was good. I used aluminum pans, did not have glass. The sugar had not caramelized either (used brown sugar)and buns were not done inside.

Heidi, while the recipe initially calls for baking the buns for 15 minutes, we're wondering if perhaps you pulled them at this point rather than continuing to bake them for an additional 10 minutes after tenting them with foil (the second part of step 10). If you did bake them for a full 25 minutes and they still weren't done, we'd recommend using an instant read thermometer next time to test for doneness. They should reach at least 190°F in the center when they've finished baking. We hope that helps! Kye@KAF
The recipe itself was wonderful, however the instructions or perhaps the headnote would've been easier if you had stated earlier about putting the pool of glaze into each 9 inch pan

Hi Lin, we appreciate your feedback about how this recipe could possibly be made more clear. Step 5 instructs how to make the glaze and immediately following in step 6, the baker is instructed to divide it evenly between the two pans so they're ready to go when the buns are shaped. We've shared your feedback with our Recipe Team to consider moving these steps earlier in the process. Happy baking! Kye@KAF
The buns were very easy to mix and knead in my standing mixer. I loved how the dough handled after rising. I have found that the Baker's Special Dry Milk enhances doughs. I have used it in other bread recipes which call for milk. Back to the Sticky Buns...I didn't have instant mashed potato flakes on hand, I used maple syrup in the glaze and didn't have Baker's Cinnamon Filling so used the sugar, cinnamon and flour. If you're looking for a recipe for a cinnamon roll with a nummy, caramel that sticks nicely to the roll, this is the recipe for you!
Outstanding recipe. Followed the recipe, with the only alteration being I doubled the cinnamon filling because it was such a thin layer. Doubling it was perfect, not over the top at sll.
My oh my these are delicious!!! I was looking for a recipe similar to something my great-grandmother used to make. It was like these only the topping wasn't super sticky...when cooled it hardened to a kind of candy coating. One of the wonderful King Arthur bakers suggested replacing half of the butter with water in the topping recipe. It worked great! I also did not have any instant potato flakes on hand so omitted them from the recipe - still turned out fantastic. Overall extremely pleased with this recipe, and especially pleased with the help I received from the King Arthur staff. A+!
Thank you for publishing these recipes. I just have a question. This is the same dough recipe as for Cinnamon Rolls with one difference. The Cinnamon Roll recipe requires brushing 2 tsp of milk on the rolled out dough prior to sprinkling on the cinnamon sugar filling. That step is not required here, just wondering why.

Brushing the dough with milk isn't an essential step for getting the cinnamon-sugar filling to stick. It's sometimes helpful if the dough feels dry, but it's not included here since the glaze adds additional moisture. Feel free to include this step or not. Kye@KAF
I can't say that I don't recommend this recipe, because I have made it successfully, both using 8" square glass dishes and a metal, darker non-stick Baker's Secret brand pan (8x8x2" deep). This time, I'm trying to track down why the buns didn't bake through completely. I had them in an extra 10 minutes with the foil off. The pan that did worse was an 11x9x2.7 inch pan made of shiny metal. I thought perhaps the extra depth of the larger pan could have been an issue, or maybe the fact that it's shiny versus dark? But perhaps the most likely issue was that my oven doesn't always preheat completely to the temperature I've set it for. It's like it always needs another 15-20 minutes past when it indicates that it's ready. I was just in a rush because i didn't get to do the rolling, etc. until 11pm and wanted to get to bed so I could get up on time for church Sunday morning. I do have a question about the dough, though. Most all other recipes of sticky bun dough has an egg or two in it. Why doesn't this one have any egg? Also, why does the recipe direct to bake the pans at first with nothing on top, then with foil on top? The buns didn't even brown when I kept them in the oven the extra 10 minutes with the foil off.

Becki, we recommend using two 9" cake rounds to ensure the buns are baked all the way through completely. The large volume of dough in the 11" by 9" pan will take more time to bake through entirely, and the outer buns may be over-baked by the time the center has finished baking. As for your question about covering the buns with foil, we recommend tenting during the last 10 minutes to prevent the tops from over-browning. If your oven heats different (not top down), and you find that the buns aren't browned at this point during the bake, you can simply let them finish without the aluminum foil. I hope that helps! Kye@KAF
I made the buns yesterday, put them in the fridge after cutting them and placing them in a large glass dish. Took them out this morning, let them sit for a little over an hour, baked them for 20 minutes, uncovered, then tented with foil and cooked for 13 minutes more. Flipped onto non-stick foil covered baking sheet. They were perfect! Soft dough, lots of sticky topping - yum! I used bread flour and rapid rise yeast, but followed directions otherwise. Hubby loved them, said they moved to the top of his favorite "special" breakfast homemade baked treats. I wrapped the leftovers in parchment, put in a freezer bag, and will enjoy another day. Easy to make and highly recommended!!!