A customized print-friendly version of this recipe is available by clicking the "Print Recipe" button on this page.
Stovetop Chocolate Pudding & Pie Filling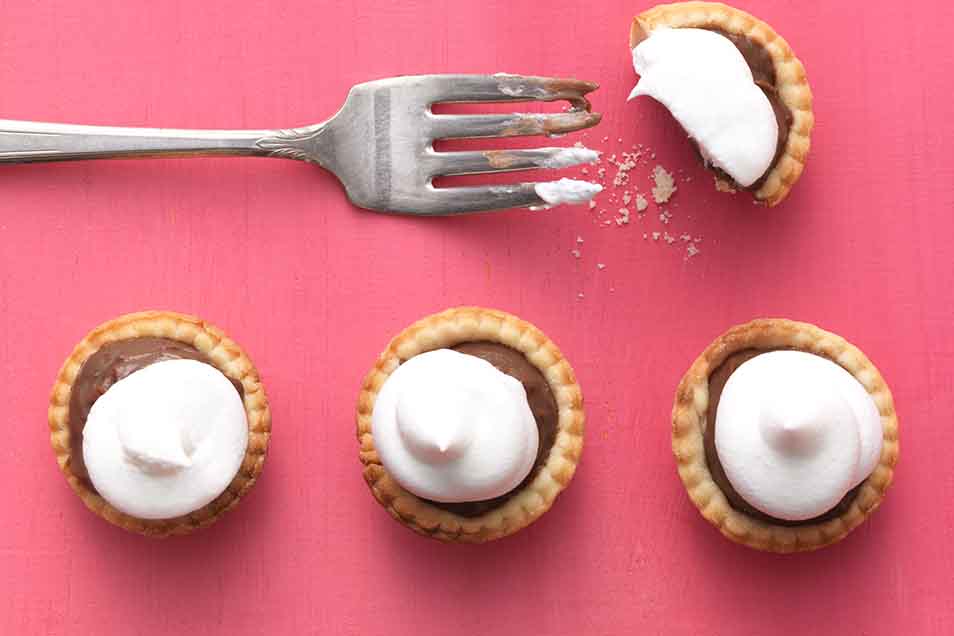 Take a ride in the Wayback Machine to a time when puddings and pie fillings were made from pantry staples, in a pan set over a burner. Every ingredient in this classic chocolate pudding is easily found and easily pronounced — no fillers here! Simply rich, creamy and just chocolate-y enough, your cream pies and parfaits never had it so good.
Ingredients
1/3 cup unsweetened cocoa powder, natural or Dutch-process
1/4 cup cornstarch
1 2/3 cups water
14-ounce can sweetened condensed milk
3 large egg yolks
2 tablespoons soft butter
1 teaspoon vanilla extract
1/2 teaspoon espresso powder, optional
Instructions
Place the cocoa, cornstarch and water in a heavy-bottomed sauce pan over medium heat. Stir everything together; don't worry about a few small lumps.

Whisk in the sweetened condensed milk and egg yolks. Since the mixture is barely warm, there's no need to worry about the yolks cooking.

Cook the pudding for 4 to 5 minutes, or until it's thick and creamy. Remove it from the heat and immediately stir in the butter, vanilla and espresso powder. The pudding will become very smooth and glossy.

If desired, press the pudding through a sieve to remove any lumps. Place a piece of plastic wrap directly on top of the pudding to prevent a skin from forming, and chill for several hours.

To use as a pie filling, place the cooked filling in a pre-baked 9" pie shell and chill until firm.

Yield: approximately 3 cups pudding or pie filling.
Tips from our bakers
Need s'more ideas? Use your leftover egg whites to make marshmallow topping to top your pie.
Tiny pie shells baked in a muffin tin, filled with this luscious pudding and topped with fresh whipped cream, make dainty bite-sized pies.
Reviews
I used whole milk in place of water and it was awesome
This is my first time making homemade pudding ( instead of a box mix) and this was easy. Cooling right now. I made this with the triple blend cocoa blend. The pudding was excellent warm. Can't wait to try the pudding after it has cooled.
I made this to use as a pie filling and even though it chilled for 8 hours, it wasn't even close to being set come dessert time. We still ate the very soft pudding and the flavor was good, but the result was pretty disappointing. I suppose I shouldn't have tried a new recipe for Thanksgiving.

We're sorry to hear that this recipe didn't turn out well for you, Meaghan. It sounds like it needed a little longer on the stove to really activate the cornstarch so the pudding would set up firmer. We hope this helps for future baking adventures! Kindly, Morgan@KAF
Really simple to make and tasty! Anytime I can make something and don't have to use a box mix is a win. Just wondering if you could replace the water with milk to make it even richer?

It isn't something we've tested, Jessie, but you're welcome to give it a try! In step 1, be sure to stir frequently to ensure the milk at the bottom of the pan doesn't scorch. Annabelle@KAF
Made this today and poured into a homemade graham cracker crust. I put it in the fridge at 11:00 to serve at 6:00. Checked on it at 3:00, still not set. By 4:00 I knew I had to put it in the freezer to serve in 2 hours. Served the pie half frozen with whipped cream on top. It was absolutely delicious-no leftovers-and perfect for this August heat. However, I would caution anyone making this recipe to chill it overnight. Several hours is not long enough to set.
Wow! It's chocolatey, thick, rich, and approximately semi-sweet in flavor. It made wonderful chocolate cream pie. The spoonful I had warm was incredible. It's only a distant cousin of boxed pudding - so much nicer.
I'll never make box pudding again! Made this for turnover filling (blitz pastry FTW!) and it was delish! It did seem to take longer to thicken than suggested. I wisked constantly, probably slowed it down, but I didn't want lumps. Nice and smooth! I used regular Hershey's cocoa and didn't find it bitter at all.
Great pudding recipe, very easy and fast. Add some leftover egg yolks around that I wanted to use up. I substituted some of the water (about 50 g) for Kahlua and it came out wonderful! Definitely a remake and will try to use it as a tart or pie filling some day.
This was delicious and so easy. It came together quickly. I had some lumps but I think I didn't stir enough while it was cooking. I strained it and it took those little lumps out. I will definitely be making this again.
This is a great recipe! My only warning is that the thickening stage does take longer than 4 to five minutes and I would add the expresso powder since the unsweetened cocoa makes it very bitter. Other than that it is really yummy and easy to make. I will definitely be keeping this in my roster.