A customized print-friendly version of this recipe is available by clicking the "Print Recipe" button on this page.
Strawberry Cream Shortbread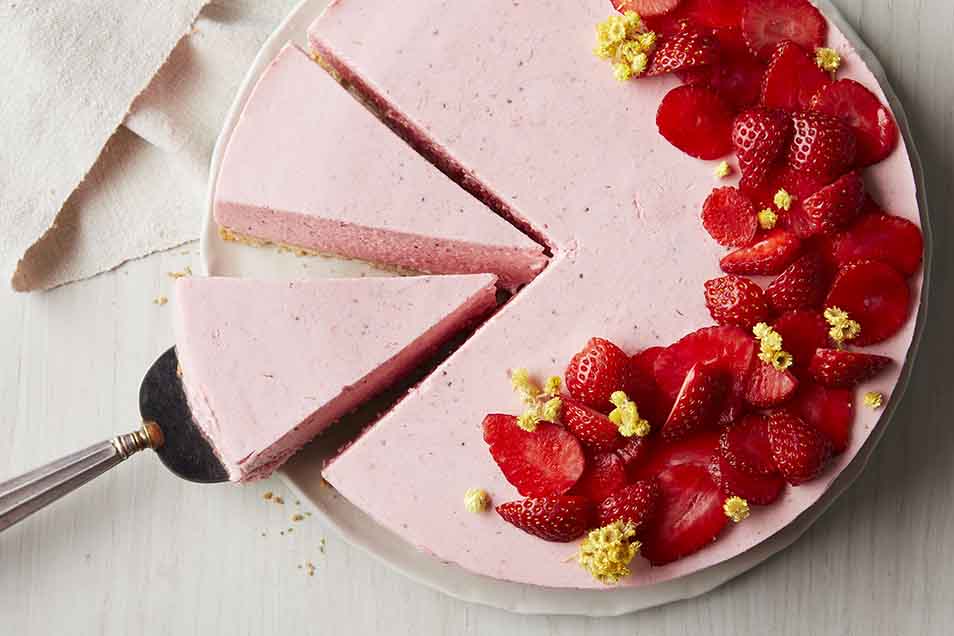 This is a wonderful company dessert. The buttery, golden crust and creamy strawberry filling complement one another beautifully. Garnish with fresh strawberries for an extra-special presentation.
Ingredients
Filling
16-ounce container fresh strawberries (about 4 cups), with additional for garnish, if desired
2 tablespoons lemon juice
3/4 to 1 cup granulated sugar, to taste
1/3 cup cold water
two 1/4-ounce packages plain gelatin
2 cups (1 pint) heavy cream or whipping cream
fresh strawberries, to garnish
Instructions
Preheat the oven to 350°F. Lightly grease a 9" square or 9" round springform pan.

For the crust: Put all the ingredients in a mixing bowl and beat at medium speed until the dough comes together; this could take up to 2 minutes. If the dough won't come together, drizzle in a teaspoon of milk at a time until it does.

Pat the dough into the bottom of the prepared pan, and prick it all over with a fork. Bake the crust for 10 minutes, then reduce the heat to 300°F and bake 15 to 20 minutes longer, until golden. Remove the crust from the oven, and let it cool completely.

To make the filling: Hull the strawberries, but don't bother slicing them. Place them in a food processor or blender, along with the lemon juice and granulated sugar.

Place the 1/3 cup cold water in a microwave-safe bowl or very small saucepan. Add the gelatin, stirring to combine; the mixture will become stiff and jelly-like.

Heat gently, in the microwave or over a low burner, just until the gelatin dissolves, and the mixture liquefies.

Add the liquefied gelatin to the strawberries in the food processor, and process until the berries are puréed.

Refrigerate the purée until it thickens enough to mound on a spoon, about 45 minutes. Stir it every 15 minutes, so it thickens consistently throughout; you want to avoid as much lumpiness as possible.

Whip the 2 cups cream until stiff. Fold in the strawberry purée gently but thoroughly.

Spoon the filling over the crust in the pan, smoothing the top. Refrigerate until ready to serve.

Cut in squares or slices, and serve with fresh sliced berries. Refrigerate any leftovers, well wrapped.
Nutrition Information
Serving Size

107g

Servings Per Batch

16
Amount Per Serving:
Calories

249

Calories from Fat

162

Total Fat

18g

Saturated Fat

11g

Trans Fat

1g

Cholesterol

53mg
Sodium

48mg

Total Carbohydrate

20g

Dietary Fiber

1g

Sugars

12g

Protein

3g
* The nutrition information provided for this recipe is determined by the ESHA Genesis R&D software program. Substituting any ingredients may change the posted nutrition information.
Tips from our bakers
Feel free to use unsweetened frozen strawberries, thawed, in place of fresh.
The range of sugar in the filling is given because some strawberries are sweeter and tastier than others. Make the berry purée a bit sweeter than you think you should; by the time you add the whipped cream, the filling should be perfectly sweetened.
Be sure to measure the flour for the crust using the "sprinkle and sweep" method. If you don't, you're liable to use too much flour, which will make the crust hard to work with.
For extra-elegant presentation, bake the crust in a 9" round springform pan, adding about 5 minutes to the baking time. Fill and finish as directed.
For easiest slicing, place the pan in the freezer for about 30 minutes before serving. But any way you slice it, it's difficult to get the first piece out intact; that first square is "baker's treat"!
Reviews
Made this 2 weekends in a row for different sets of guests. It was a big hit both times. This is one of those very easy recipes that looks like I worked much harder than I did. I made it in a springform pan which made it easy to serve. Topped with sliced strawberries.
Please check your conversions. 1/3 cup of sugar is not 39 grams. I originally tried 1 for 1 with your gluten free and that failed. So I tried it with AP. But decided to go by weight. That's when I discovered the discrepancy.

We're sorry to hear that this recipe didn't work well using gluten-free flour. We'd love to chat with you at 855-371-BAKE (2253) to determine what may have happened as this recipe should have worked using a 1:1 substitute. Per the weight of the confectioners' sugar, we've confirmed that 1/3 cup of confectioners' sugar weighs between 38 and 39 grams, as one cup of confectioners' sugar weighs approximately 4 ounces, or 114 grams. You can view our full weight chart if you're interested. It can be found in the Learn section of our website under Resources & references. If you reach out to the number above, our friendly Baker's Hotline is happy to help. Kindly, Annabelle@KAF
It's summer cool. My shortbread was a bit tough, but next time, I'll cut back a little on the flour. I doubled the recipe for a crowd and used a 9x13 pan. The shortbread stayed crisp through the 2nd day.
Took to a cook out 2 weeks who went to the same place for a 4th cool out did not bring and thought I was going have leave very upset I didn't bring. Needless to say it was a high success. Question can you make the short bread in advance and add the fruit mixture later?

We're glad this dessert was a crowd-pleaser, Peggy! You can make the shortbread crust 2-3 days in advance if you store it well rapped in plastic at room temperature. If you'd like to make it further ahead than this, consider freezing it. Just be careful it doesn't break in your freezer. Happy baking! Kye@KAF
Wonderful summer dessert. Easy to make with little oven time. I'm wondering how it would work with other fruits - peaches, cherries? What were the small yellow fowers scattered over the berries in the illustration?

We're glad you've been loving this seasonal dessert! You're welcome to explore using other fruits as an option in the filling if you'd like. The fruits that will work the best are those that have a similar moisture content to strawberries: Raspberries and blackberries would work particularly well. You could even try using blueberries by cooking them down slightly and then pureeing and straining before incorporating them into the filling.

Stone fruits like peaches, nectarines, and plums could also be delightful. They're slightly lower in moisture content than berries, so you might want to add a few tablespoons of peach nectar or fruit juice to loosen up the filling a bit.

Now that you know what the consistency of the strawberry filling looks like, you can make small adjustments until you get a similar texture when experimenting with other fruits. Happy baking! Kye@KAF
I made this for a family BBQ on the 4th and it was fantastic. My family gave it 6 stars and said that it tasted like summer. Having never used gelatin in any baking, I had no diffuculties. I wasn't sure how the crust would turn out, but it was delicious too. I made it in a 9 inch springform pan as suggested in the recipe tips. The presentation was simple and beautiful. I will definitely be making it again! Thanks you KAF!
I used four cups of fresh mango for the strawberries because they were on sale, and it came out great. We had this for company on the 4th of July and everyone loved it. If you don't want to use gelatin, you should experiment with agar agar, which is a plant based substitute. Goes without saying that you can purchase agar agar from Amazon if you can't find it locally.
I made this for the 4th of July, and topped it with whipped cream, then arranged cut strawberries and blueberries to resemble the flag. It was a hit. Very creamy. My only comment is if you are transporting it anywhere it needs to be frozen for a bit first. In the heat it started melt very quickly. Also, the cookie is hard and will slide in the cake carrier if it is not anchored. Yummy and light flavored summer time dessert!
Made this in a 9" springform pan...thought the crust was just a bit thicker than we prefer but the flavor was good! For the strawberry part, I thought I had heavy/whipping cream but did not! What I did have was regular size sugar free cool whip...I know, not great but convenient!...anyway, used that in place of whipping cream. I used about 4 oz of sugar, followed everything else and it was quite good. Strawberry flavor was quite clear and the dessert was hit...I kinda liked the cool whip because I figure it the calorie count was better. Guess everyone liked it, the fellas described the strawberry part as a 'really good milkshake'...six of us and there is only a tiny piece left!!