A customized print-friendly version of this recipe is available by clicking the "Print Recipe" button on this page.
Strawberry-Filled Angel Food Cake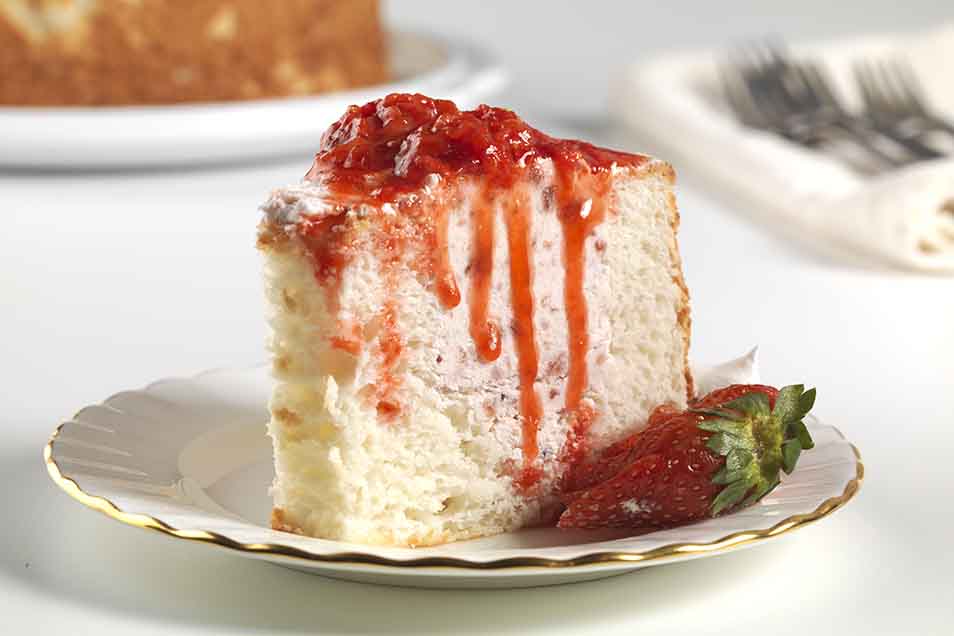 Light and fluffy angel food cake, filled to bursting with fresh strawberry mousse, offers creamy clouds of berry goodness. Serve just out of the freezer for a cool and creamy summer treat.
Ingredients
Cake
1 1/2 cups confectioners' sugar
12 large egg whites
1 1/2 teaspoons Original Bakewell Cream or cream of tartar
1 cup granulated sugar
1 teaspoon vanilla
1/4 teaspoon salt
Filling
2 cups fresh or frozen strawberries, mashed
1 envelope unflavored gelatin (e.g., Knox)
2 cups heavy cream
1/4 cup sugar
1/2 teaspoon vanilla
3 to 4 drops strawberry flavor, optional
Instructions
Preheat the oven to 325°F. Get out a 10" angel food pan; do not grease the pan as this will inhibit the rise of the cake.

To make the cake: In a small bowl, sift together the flour and confectioners' sugar. Set aside.

Place the egg whites and Bakewell Cream (or cream of tartar) in a large bowl. Whip until foamy at medium speed; this will create lots of smaller bubbles, which are best for structure.

When nice and foamy, slowly add the granulated sugar. Increase the mixer speed to high, and beat for 4 to 5 minutes, until the whites are stiff but not dry — think shaving cream consistency.

Remove the bowl from the mixer and sift 1/3 of the flour/sugar mixture over the meringue. Add the vanilla and salt; fold everything in gently, until no streaks of flour remain. Repeat with the rest of the flour/sugar mixture, in two more additions.

Scrape the batter into the pan. Bake for 40 to 45 minutes, or until the top is golden brown and springs back when lightly touched.

Cool the cake UPSIDE DOWN over a bottle (or using the pan's feet) for 2 hours, or until completely cool. Remove from the pan carefully, and place in the freezer for an additional 2 hours, to firm up before hollowing.

While the cake is cooling and chilling, prepare the filling. Place the mashed strawberries, sugar and gelatin in a microwave-safe bowl. Stir together, then microwave for 1 minute. This will melt and "bloom" the gelatin.

Remove the mixture from the microwave, and chill in the refrigerator for about 30 to 60 minutes, or until thickened.

Place the strawberry mixture in the clean bowl of your mixer and pour in the cream, vanilla, and strawberry flavor, if using. Whip until thick.

To assemble: Turn the cake bottom-side up and cut a channel in the cooled cake with a serrated blade. Think of it as digging a moat through the center of the cake, leaving inner and outer walls for support. Be careful not to cut through the bottom of the cake.

Dollop the filling in evenly, spreading it over the entire "moat." Fill to the top, then use the remaining filling to cover the entire cake, like frosting. Place the cake back in the freezer for 2 to 3 hours, or up to overnight. The filling will freeze into a lovely semifreddo consistency that will slowly melt as you enjoy your slice of cake.

Serve with strawberry sauce or crushed strawberries mixed with sugar, if desired. Store any leftovers, well wrapped, in the freezer or refrigerator.

Yield: one 10" filled cake, about 12 servings.
Reviews
Made this cake for a friend's birthday. Wow! It was such a success that I have already shared the recipe with one of the guests at the party. I found it a very easy recipe to make and it turned out of the pan beautifully. The stawberry filling was a nice change from the traditional "strawberry on top of the cake". Additionally, there was a small piece left over and so I did freeze that piece. Worked great, the frozen piece was delicious also. I will keep this in my recipe file and use when I need a lighter desert. Thank you!
We absolutely love the cake, the filling's gelatinous texture a smidge less, so I'll just serve it with berries and cream in the future. In the cake itself I used vanilla plus a few drops of almond flavor and a few drops of your Fiori di Sicilia per other reviewers suggestions. Wow! Everyone agrees. The second time I made it, I wonder if I under-baked it a little because although it was in for the full 45 minutes and oh so slightly colored, it fell out of the pan while cooling. I found it after 45 minutes on my counter, almost cool and not horribly sunken, scraped it up intact, and put it into the freezer in a hurry. The texture where it was in contact with the granite was a smidge wet/funky, but internally it's very nice and I was able to pull off the little hunk that stayed in the pan and put it right back onto the cake. The filling/icing covered it all up beuatifully. What could I have done differently when I realized the batter was almost done & the oven not preheated? Could the batter have held a bit longer before baking? Should I have checked it with an instant read thermometer before taking it out of the oven? I was worried that would collapse it.

Hi, M! ideally you don't want the batter to sit around at all once it's been whipped, but in a pinch, it's better to let it be out for five minutes rather than putting it into a colder oven. Next time, start preheating a good 15 minutes before you even start mixing so it's hot and ready when you are. Annabelle@KAF
I made this cake for my son's 17th birthday because he asked for a "strawberry cake." I didn't personally care for it, but I'm more of a chocolate person. My son and my mother both love sugar, berries, frosting, and whipped cream, and they loved this cake so I probably will be making it again. The angel food cake itself came out great and the chunks that I cut out to dig the moat were very tasty. The strawberry mousse was kind of a goopy mess, though. Since I'm baking this in December I used thawed frozen strawberries, and I tried to mash them with a fork but there was a fair amount of liquid strawberry juice in the bag that perhaps I should have strained out and the berries themselves still had stringy clumps when I added them to the heavy cream. There was way too much of the strawberry mousse even after filling the channel, frosting the top AND sides of the cake with it, and as I mentioned, I found the whole thing overly sweet. So... If/when I bake this cake again, I will follow the cake recipe exactly. However, I will halve the strawberry mousse. I will try fresh strawberries or I will drain the defrosted frozen berries, and I will probably pop them into the blender and puree the berries rather than just trying to smash them with a fork. And, instead of digging a channel through the cake and frosting it with the mousse, I would serve the cake plain with a dollop of strawberry mouse and a garnish of fresh sliced strawberries. That way my mom and my son can glop on as much of the strawberry whipped cream as they want and those of us with a more moderate sweet tooth can still enjoy a slice of plain angel food cake.
This was the first angel food cake recipe I ever used - and I will never use another one! Light, fluffy and perfectly soft, I've made the cake multiple times - as written with strawberries, once with an addition of lemon zest in to the cake and blueberries in the filling (and topped with some limoncello macerated blueberries for serving), and once just plain. All 3 cakes came out perfect and were met with rave reviews. I love this recipe.
I have never made an angel food cake before, but the recipe was easy and it came out beautifully! I didn't notice the blog post about the recipe until after I finished, but I didn't need it. The strawberry cream was not too sweet and paired wonderfully with the cake. This will definitely make appearances at picnics for years to come.
This is a great tasting Angel Food Cake and I'd like it with Raspberries also. But finding a Raspberry in the desert without mold is impossible. I used to make a similar cake when my kids were small and the only difference was I mixed the berries with cool whip or whipped cream and stuffed the cake and then frosted it with the left over. This one has much better flavor and the filling is to send you to the gym. loved it
although i haven't baked this, i did want to share that 10X sugar is not just sugar. 10x combined with corn starch to prevent clumping.
Delicious!! A note to others - when 1st trying a recipe, especially when baking, always follow as stated; no substitutions!! Baking requires certain chemical reactions in order for the food to turn out perfectly. This eliminates a lot of grief. Experimentation can be done next time, but only change by one ingredient at a time. This way you know exactly what worked or failed. I loved this recipe without the almond extract. That is the one thing I don't like about most angel food cakes. It tastes like "fake almond" to me.
Thanks, Jan - for eloquently saying what we profess about recipes and substitutions. Happy Baking! Irene@KAF
I am confused with the following direction: "11) To assemble: Turn the cake bottom-side up and cut a channel in the cooled cake with a serrated blade. Think of it as digging a moat through the center of the cake, leaving inner and outer walls for support. Be careful not to cut through the bottom of the cake." If the cake is resting on its top with the bottom exposed and I should not cut into the sides or bottom ... I guess I need a picture. Or do I channel the moat in the top, bottom, sides or ?? of the cake? Recipe sounds good.
Think of it this way - you've baked the cake, then flipped it to turn the bottom (as it bakes in the pan) into the top (read flat surface here). Cut through this new top to create a U shaped cake casing or a channel that will hold the creamy filling. Cutting through the bottom or sides of the cake spoils the surprise of it all. We hope this helps - you can always call us at 855-371-2253. Happy Baking! Irene@KAF