A customized print-friendly version of this recipe is available by clicking the "Print Recipe" button on this page.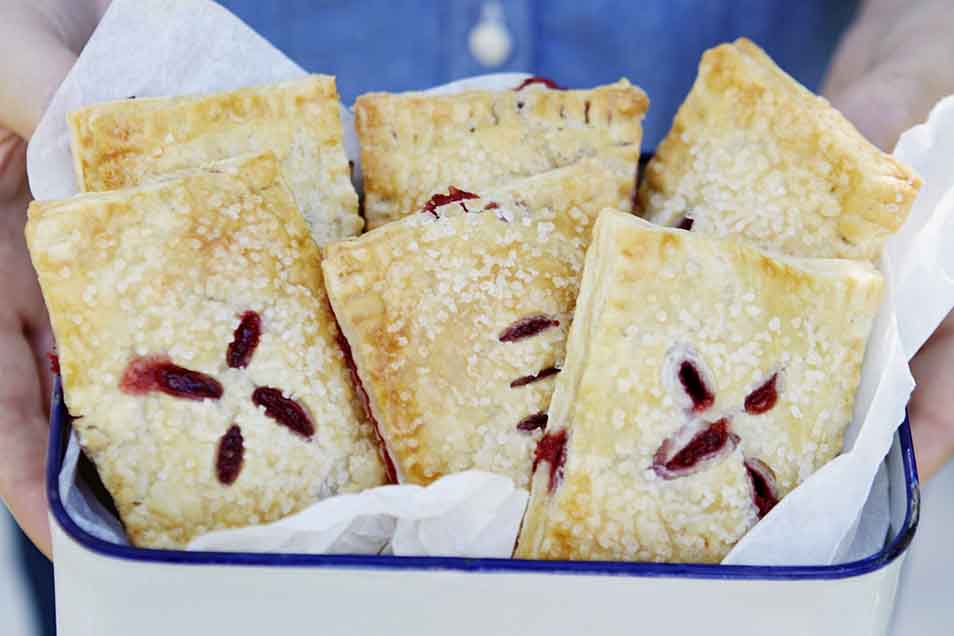 Easy-to-assemble hand-held pies make a satisfying treat any time of the day.
Ingredients
Crust
1 tablespoon sugar
1 teaspoon salt
1 cup (16 tablespoons) cold unsalted butter, cut into pats
1 large egg
2 tablespoons cold milk
Filling
1 2/3 cups trimmed, quartered fresh or frozen strawberries
2 tablespoons sugar
1 1/2 teaspoons Instant ClearJel or cornstarch
1 teaspoon lemon juice
1 large egg, beaten; for sealing dough
Topping (optional)
Instructions
To make the pastry: Whisk together the flour, sugar, and salt.

Work in the butter until pecan-sized lumps form.

Add the combined egg and milk, mixing to make a cohesive dough.

Divide the dough in half, shape each half into a 3" x 5" rectangle, wrap in plastic, and refrigerate for 1 hour.

To make the filling: Combine all the ingredients except the egg in a saucepan set over medium heat.

Cook until the mixture starts to thicken, about 5 minutes. Transfer to a bowl. and cool to room temperature.

Preheat the oven to 350°F. Lightly grease a baking sheet, or line it with parchment.

To assemble the pies: Place one piece of dough on a lightly floured work surface, and roll it into a 9" x 12" rectangle. Trim the edges to make them straight. Cut out nine 3" x 4" rectangles. Repeat with the remaining dough.

Divide the filling among nine of the rectangles, using a heaping tablespoon for each. Brush some beaten egg along the edges.

Cut a vent into the remaining rectangles, using a decorative cutter.

Top the filled rectangles with the vented rectangles. Press along the edges with the tines of a fork or a crimper to seal.

Brush the tops of the pies with beaten egg, and sprinkle with sparkling sugar, if desired. Transfer to the baking sheet.

Bake the pies for 28 to 33 minutes, until they're a light golden brown. Remove them from the oven, and cool on the pan.

Yield: 9 hand pies.
Tips from our bakers
There are many different thickening options available for fruit pies, from flour to cornstarch to Instant ClearJel and more. For an easy guide to thickener substitutions, see our Pie Filling Thickeners Guide.
Reviews
These turned out fantastic. Made the crust as written, chilled in freezer. Made 1.5x the filling using frozen mixed berries because that's what I had, and I used crystallized honey to sweeten the filling rather than sugar, to taste. I used a generous amount of filling per pie. I used a notecard as a template to cut out the rectangles, and vented the tops with a tiny cookie cutter before assembling. I chilled them in the freezer while the oven preheated, and I had no issues with butter leaking out. I'm glad I made these, they were amazing.
Great crust- very easy to work with, sturdy, and delicious. Everyone loved the cute hand pies. I used a square biscuit cutter to avoid measuring- workedgreat.
I loved the idea of this- I did not get 9 hand pies; I got 7. The pie crust is very buttery, almost like a shortbread. I made the crust and filling the night before and baked the pies the next day, which gave the dough a good rest (south Florida weather is not always so forgiving for cold butter pies). I also stuck the pies on a parchment-lined baking sheet when they were filled and shaped (before the egg wash) into the freezer for at least 20 minutes before putting them in the oven. For me, I wanted more filling, so next time I think I will turn them into strawberry "empanadas", or at least, give it that shape, which might be easier, as I do not have the patience for rolling out and cutting dough. The filling was super delicious, and the dough was easier to work with since it had the egg and milk in it. Very tasty, will make it again for sure.
I loved this! I also loved the blueberry hand pie recipe. Can I use the sour cream crust recipe for these strawberry pies?

Hi Holly, the sour cream-based crust in the Blueberry Hand Pie recipe sure is delicious. Feel free to use that as a base for the strawberry filling. Enjoy! Kye@KAF
Love these. Have made them multiple times
Absolutely wonderful. I was wondering though if I could make the filling up ahead of time? I went strawberry picking and would like to make up a triple batch and then another day make up the pies and freeze them.

Sure can! The pre-cooked filling should keep just fine in a clean, airtight container in the refrigerator for a few days. Happy baking! Mollie@KAF
Can you freeze these pies? If so should you freeze before or after baking?

These hand pies should freeze beautifully before baking! Assemble them fully (without the egg wash or sprinkled sugar), freeze on a sheet tray until solid, then move them to an airtight container. When you're ready to bake, move them back to a greased or parchment line baking sheet and top with egg wash and sugar, then bake as directed, adding a few minutes to account for the frozen state. Enjoy! Mollie@KAF
I think this recipe is a great idea for adding your favorite fruits to the center of the buttery crust. I used it with strawberries and to add a bit more sweetness to the filling have paired it up with peach Preserves. What an excellent Summer dessert which is rather easy to assemble and a whole lot more fun to eat. Thank you for a great use for ripe strawberries.
I should start by saying that these were quite yummy (hence 3 stars), but I had similar issues that other reviewers had and did a little experiment to see if I could solve my problem. I followed the recipe except that I left my dough in the fridge for longer than an hour (1.5 hrs maybe?) and when I put the pies in the oven, the butter all melted out. :( BUT I thought that maybe I should have put the pies in the fridge for a bit to let the butter harden up again, so I tried this with the excess pieces cut off earlier. I left the extra pieces in the fridge for ~40min, then quickly tossed some jam between my to chilled pieces and immediately put it in the oven. Much to my dismay, the butter melted out of these too. I'd like to take a second crack at making these again, but I'm going to have to think of some way to get around the butter issue. I haven't tried my strawberry pies yet, but my jam scraps were quite tasty so I'm hopeful for the strawberry ones.
This recipe uses 2 cups flour and 1 cup butter or a 2 flour:1 fat ratio. Many home bakers learned to make pie crust with a 3:1 ratio, which may work better for you. The butter may be disconcerting as it sizzles, but the results are so tasty and tender! Either way, we hope you find the crust of your dreams for this sparkling fresh strawberry filling. Irene@KAF
Everything went well until the last 10 minutes in the oven when the filling came out everywhere...in spite of having sealed them with egg wash as tightly as I could and piercing the tops to let out steam. They seemed well sealed when I moved them onto the pan. Probably won't try this again.