A customized print-friendly version of this recipe is available by clicking the "Print Recipe" button on this page.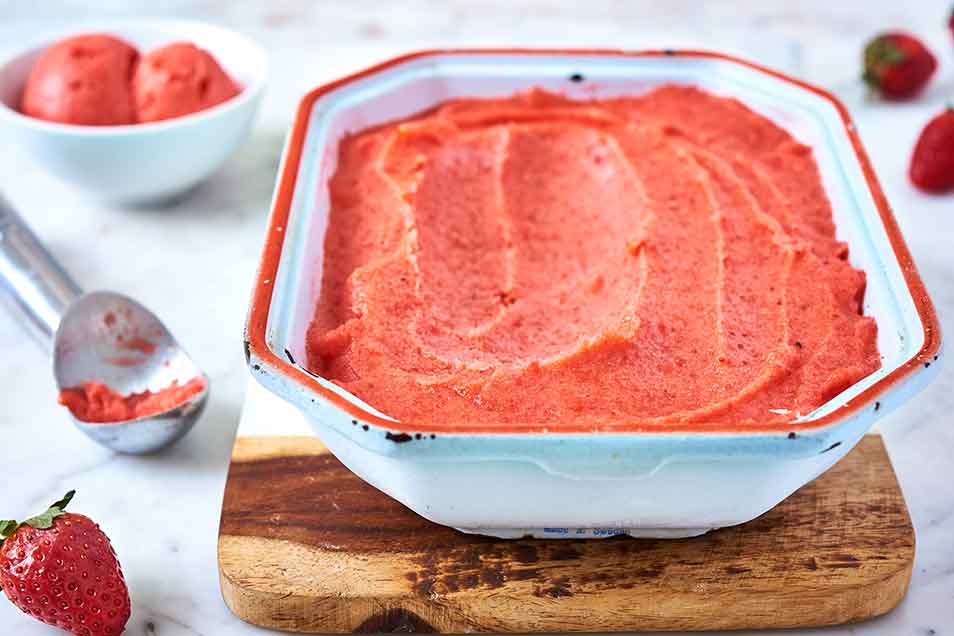 Sorbet includes just a few simple ingredients, and is incredibly simple to make. Intensely strawberry-flavored, it's also a brilliant red. It's a striking dessert, whether served alone or paired with simple butter cookies.

The first recipe makes an icy/granular sorbet; the second, a smoother sorbet, due to it being "churned" in an ice cream maker. (By the way, our thanks to the folks at Cuisinart for this recipe, which comes with their ice cream maker.) Feel free to use the citrus juice you prefer, whichever sorbet you make; lemon, lime, and orange are all good choices. We haven't tried grapefruit, but assume that would be fine, too.

Once you have the method nailed, it's fun to experiment with other fruits. Peaches spring immediately to mind; bananas and oranges should work, too. Don't be afraid to try combinations, too; what's the worst that can happen? You'll have a tasty "slushy" to drink.
Ingredients
Simple Freezer Sorbet
1 cup water
3/4 cup sugar
2 1/2 cups strawberries; frozen are fine
1/3 cup freshly squeezed lemon juice
Churned Sorbet
1 cup sugar
1 cup water
1/4 cup light corn syrup
1 quart fresh strawberries
1/4 cup freshly squeezed lime juice or lemon juice
Instructions
First, decide which sorbet you'd like to make. The Simple Freezer Sorbet requires only a food processor and freezer; the Churned Sorbet requires an ice cream maker.

To make Simple Freezer Sorbet
Combine the water and sugar in a medium-sized saucepan. Bring the mixture to a boil over medium heat, stirring to dissolve the sugar. Simmer for 5 minutes, without stirring. Remove the syrup from the heat, pour it into a bowl, and set in the refrigerator to cool.

If you're using frozen strawberries, thaw them enough that they're not rock-hard; a few icy spots are OK.

If you're using fresh strawberries, wash and trim off the hulls.

Place the strawberries in the work bowl of a food processor. Process until fairly smooth, but not puréed.

Add the syrup and lemon juice, and pulse briefly, just to combine. The syrup doesn't have to be cold, but it shouldn't be boiling hot, either. Lukewarm or cooler is fine.

Place the mixture in a shallow pan; an 8" x 8" or 9" round cake pan are both good choices. Place the pan in the freezer. There's no need to cover it.

After 2 hours, use a fork or spoon to stir it around, bringing the frozen edges into the center. Return to the freezer.

Continue to stir every hour or so, until the sorbet is nearly as firm as you like. This may be as little as 4 hours total, start to finish; or it may take longer, depending on the temperature of your freezer. Once the sorbet is entirely icy (like a slush drink), you can purée it in a food processor or using a hand blender, if you like. Place in a bowl, cover, and return to the freezer.

Sorbet should be ready to serve about 4 to 6 hours after you first put it into the freezer. Waiting a couple of hours beyond that will solidify it beyond scoopable. To serve beyond that window, allow sorbet to soften slightly at room temperature; this will only take about 10 minutes. Scoop into dishes and serve.

Yield: about 1 quart.

To make Churned Sorbet
Combine the water and sugar in a medium-sized saucepan. Bring the mixture to a boil over medium heat, stirring to dissolve the sugar. Simmer for 5 minutes, without stirring. Remove the syrup from the heat, pour it into a bowl, and set in the refrigerator to cool.

Place the strawberries and citrus juice in a food processor, and purée till completely smooth.

Press the purée through a fine-mesh strainer, to remove the seeds.

Combine the seedless purée with the corn syrup and sugar syrup. Chill for 1 hour, or until refrigerator-cold.

Make the sorbet according to the manufacturer's directions for your ice cream maker. The finished sorbet will be fairly soft; "ripen" it for a couple of hours in the freezer to firm it up, if desired.

Yield: about 1 quart sorbet.
Tips from our bakers
To keep sorbet hard but still "scoopable" in the freezer, stir 3 tablespoons vodka into the berry/sugar mixture before freezing. The alcohol will keep the sorbet from becoming ice-cube solid.
Reviews
heck yeah, sorbet! me and my little sisters made this recipe together, and they're still in grade school. super easy and quick!
I made the 'simple freezer' version with frozen berries. Mistakenly poured/eyeballed ~1 1/2 Tablespoons of lemon juice concentrate (that's all I had) into the simple syrup; I also added a small dash of salt to make it less sweet. Followed the instructions to a T other than the one minor mistake; it was WICKED good, and I made it kind of like an Italian granita. Guys and girls, you will LOVE this!
Delicious, a hit with everyone. I used agave syrup as I was out of corn syrup & didn't strain the berries (my family doesn't mind the seeds) and if turned out perfect.
I made this both ways, and my husband was very happy. The freezer method is convenient and came out just fine, but the churned version was even better. I could hardly keep my husband out of it while I was packing it down to ripen. I suspect I will need to make a new batch this weekend.
The churned version calls for 1/4 cup light molasses and we found it delicious but way too sweet. Will taste and add only if needed in future. Unfortunately local strawberries are gone so I will wait until next June. Local produce made it really special.
Have made this several times for excellent sorbet (use good strawberries-duh) but this recipe's highest and best use is for, in my opinion, killer strawberry daiquiris: make the churned recipe as directed, using lime juice and either grated lime rind or lime oil, then, when sorbet is fully churned, add rum as desired. Scrape from cylinder and place in desired container in your freezer until ready to serve. In our house, the rule is we can only make this when the temps are above 90F; they are just too easy to drink. Some of our group, who will remain nameless, top these with whipped cream. Not my fault.
I LOVE this Sorbet. I took 1-1/2 pounds of fresh strawberries to make the Churned Sorbet recipe. The things I did a little differently than the original recipe: 1. After cleaning and coring the strawberries, I placed them in my Blendtec blender along with the lemon juice and processed on the soups, syrups, fondues setting. This pulverized the seeds, so no need for straining! 2. I substituted 3 Tablespoons of Lemoncillo Liqueur for the vodka. Other than those changes, I followed the recipe and used my Cuisinart Frozen Yogurt/Ice Cream/Sorbet maker to finish the sorbet. Once it completed the cycle, I divided it among 6 Ball (8ounce) jelly jars and put them in the freezer. I'm so glad I will have single servings whenever I feel the urge for a frozen treat! Thanks for another recipe favorite.
This sorbet is the best! Can't get enough..I added a wonderful ice cream maker attachment to my ever faithful KitchenAid and it so easy and fun. I followed advice of others and just used my immersion blender v. straining out good stuff. Faster/easier and Gramp would have flipped if I wasted anything strawberry 😐 I also would really like to contain my wt. while enjoying everything, so, I tried substituting this safe//sweet, old really, sweetener called Truvia (Stevia). Excellent! I used the same amount as sugar, sweet is big here. The only difference was that it was more aerated, which I really loved. Our best Sturgeon Bay WI cherries were my second attempt. They can be quite "tart", but, with the Truvia, and everything else the same, it was beyond words 😊