A customized print-friendly version of this recipe is available by clicking the "Print Recipe" button on this page.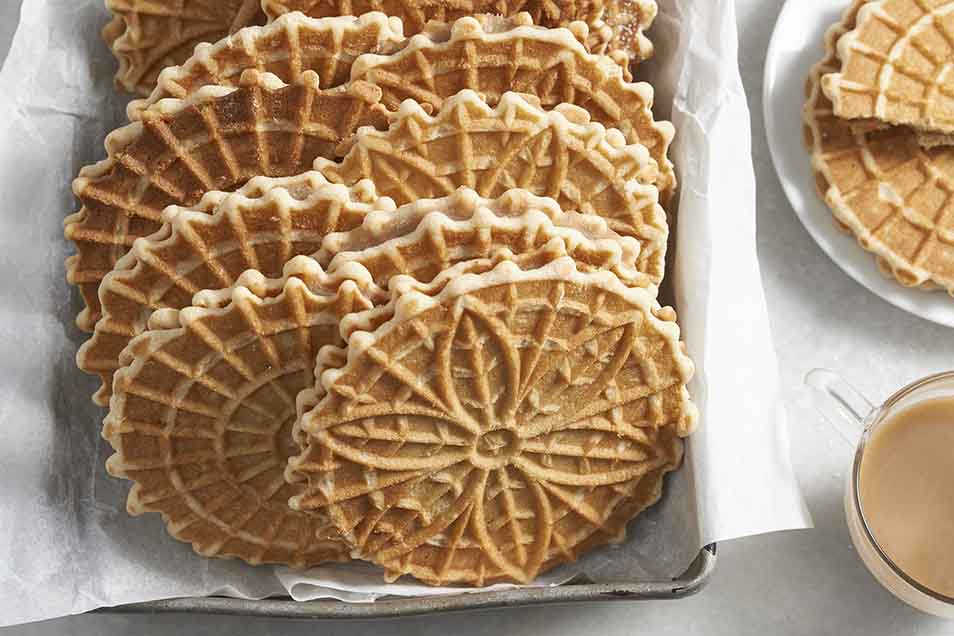 These caramel-cinnamon treats elevate the term "sandwich cookie" to new heights! You must have a pizzelle (or krumake) maker, preferably a "mini," to prepare these. You may use a regular-size pizzelle maker; the cookies will just be larger.
Ingredients
Cookies
3 large eggs
3/4 cup brown sugar
1/4 teaspoon salt
1 3/4 cups Pastry Flour Blend or King Arthur Unbleached All-Purpose Flour
1/2 teaspoon cinnamon
2 teaspoons baking powder
2 teaspoons Vanilla extract
1/2 cup (8 tablespoons) unsalted butter, melted
Filling
2 tablespoons water
1 cup brown sugar, lightly packed
3/8 cup (6 tablespoons) butter
1/4 cup Lyle's golden syrup or corn syrup
1 teaspoon ground cinnamon
Instructions
To make the cookies: In a large mixing bowl, beat together the eggs, brown sugar and salt. In a medium-sized bowl, whisk together the flour, cinnamon and baking powder, then stir these dry ingredients into the egg mixture.

Fold in the vanilla and melted butter. Cook in a mini-pizzelle iron according to the manufacturer's directions.

To make the filling: Combine the water, sugar, butter and syrup in a medium-sized saucepan, stir over low heat until the sugar dissolves, then cover the pot and boil the mixture for 3 minutes.

Add the cinnamon, and continue to boil until the syrup reaches "soft ball stage" (234°F to 240°F on a candy or instant-read thermometer).

Remove the saucepan from the heat, and allow the mixture to cool for about 10 minutes.

Place one teaspoonful of filling (more for larger cookies) onto a cookie.

Top with a second cookie, pressing together to spread the filling. Be careful, as the sugar syrup will be very hot. If the syrup cools and becomes hard to spread, rewarm it slightly.

Store the cookies in a cool, dry place for 1 week, or freeze them for 1 month.
Reviews
Made these cookies and liked them so much that I ordered the mini pizzelle maker. Used the regular size one this time. Think I cooked the filling a bit long though. It hardened too much. Still very tasty. My daughter brought these cookies back from the Netherlands years ago ...delicious. New machine will be here tomorrow. I'll try again. Thanks for the recipe !
Very good recipe, we all enjoyed making these. A note on cinnamon in the cookie, good quality Vietnamese Cinnamon is best. Some of the grocery store brands have objectionable flavors (e.g., burnt wood, mossy, or old wood). Mix a bit of your cinnamon with sugar and sprinkle on white buttered toast to get a idea of how it tastes in your recipe.
We put them side by side with the Daelmans stroopwafels from the international aisle. These were hands down 10x better. Each part was ok on it's own, but put them together and they are amazing.
I thought these were delicious! Easy to make. I used a pizelle iron and had to adjust the time to make them more crispy. About 1 minute on the iron. These are fantastic with a hot cup of coffee.
This baking powder version of recipe makes thinner wafels, easier to bake and far less greasy than yeast version. Used dark corn syrup in filling with a bit of molasses, tasty!
These were lovely. Without a super-ultra-thin magic-o waffle press thing, I don't think you can really get any closer than this. I've made two batches. The first time I follow the recipes instructions. They were delicious, if a bit-overindulgent, cookies. The only variation the first time was that I let the cookies sit overnight, because after pressing a double batch I wasn't in the mood to fuss with caramel. I think this helped a lot in that the cookies had less moisture and a little more snap to them when it was caramel time. I wanted to bring some for Christmas so it was either quarter them into reasonable sizes which takes something away, imo. So for the second batch I used a 3.5 inch biscuit cutter on the pizells as they came out of the press. Basically pull cookie from iron, lay on counter, poor more batter, trim cookie, then pull next cookie from iron, repeat. It was a pretty goo system. The result was a perfectly round cookie that was prettily matched with it's counterpart when sandwiching the caramel. It did leave a lot of trimmings - a LOT. I'm a heavy hand with the dough anyway, and using the biscuit cutter just left more. The Solution: I let them dry out a couple of days, then ground them up and used them in place of nilla wafers for Rum Balls. Oh my, yes.
If you are expecting the stroopwafels you buy in packages, you will be disappointed for these taste nothing like that. If I made them again I would omit the cinnamon, which I think lent a somewhat burnt taste to the filling. The wafer part was fine, nothing spectacular, but the filling is tricky and got very hard very fast.

Kate, we're sorry to hear these stroopwafels weren't a stand out recipe for you. Feel free to adjust the spices included in the filling (you can use nutmeg or even one of our spice blends — speculaas spice would be delicious). You can also consider replacing it with a melted caramel sauce if you're looking for something a bit softer, too. Feel free to give our Baker's Hotline a call at 855-371-BAKE(2253) if you'd like to run any of these ideas by us. I hope that helps! Kye@KAF
Thought recipe was very good
This was a successful first attempt at Stroopwafels. I enjoyed using the Pizelle maker I purchased from KAF catalog. The wafel iron worked beautifully. I overcooked several pizelles as I was cooking the caramel filling. Neither recipe is particularly difficult As there are few flavors, I was sure to use fresh, high quality ingredients. I whipped them up in about 1.5 hours .I ended up with about 12 finished sandwiches after tasting & discarding 8 pizelles for being too dark. It is better if you have a helper or partner. I, alas, was alone. One might be wise to finish baking pizelles before beginning cooking the sugar sauce/caramel filling recipe. The flavors are delicate and lovely. The presentation is beautiful and versatile. They wafel sandwiches will be given to friends as gifts. I had quite a bit of fun with this recipe. A creative baker may play with flavorings in both the filing recipe and the wafel recipe....
Delicious! Neither the cookie nor the filling was spectacular on their own, but together they were really fantastic. I have a full sized pizelle maker and just didn't put as much batter in it, but still the cookies are big. They are pretty easy as long as you watch the pizelle maker- they can burn fast! But are impressive and special enough to give for Christmas gifts- in my opinion.