A customized print-friendly version of this recipe is available by clicking the "Print Recipe" button on this page.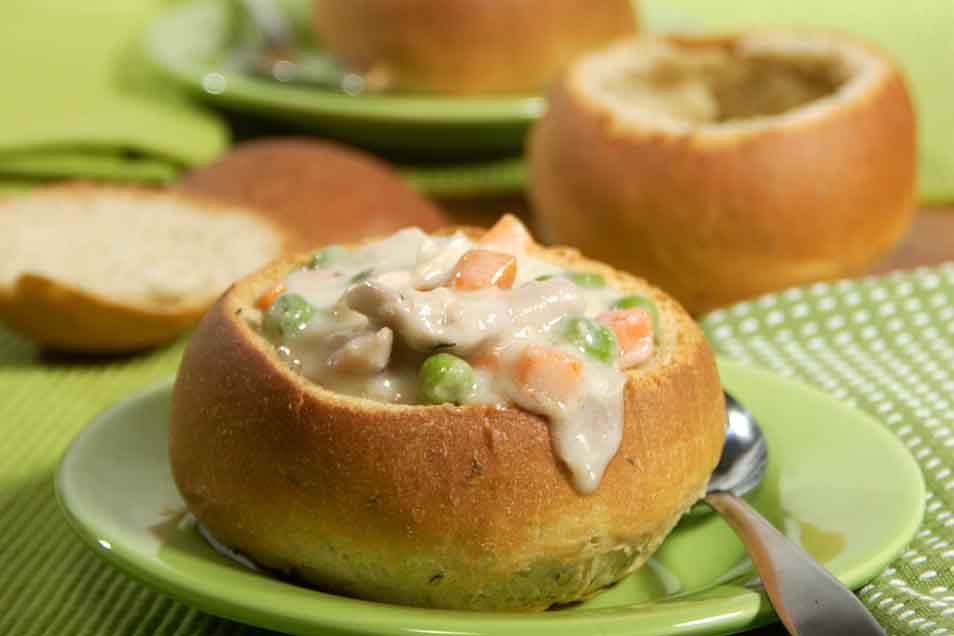 These crusty, single-serve bread bowls are scented with sage and thyme, reminiscent of the stuffing you enjoy with your holiday bird. We've filled them here with turkey (or chicken) pot pie filling, the perfect solution to "what can I do with this leftover turkey?" Read our blog about these bread bowls, with additional photos, at Flourish.
Ingredients
Bread bowls
1 1/4 cups lukewarm water
1/4 cup vegetable oil
1/2 cup semolina
2 teaspoons ground sage
1 teaspoon dried thyme
1 1/4 teaspoons salt
1 tablespoon sugar
3 tablespoons potato flour or 1/2 cup dry potato flakes
2 tablespoons Baker's Special Dry Milk or nonfat dry milk
2 1/2 teaspoons instant yeast
Filling
6 tablespoons butter
6 tablespoons King Arthur Unbleached All-Purpose Flour
1 3/4 cups chicken stock or broth
1/2 cup half and half or milk
5 1/2 to 6 cups cooked turkey or chicken, cut or torn into bite-sized pieces
1/4 to 1/2 teaspoon salt, depending on the saltiness of the broth
1/4 teaspoon dried thyme
2 tablespoons dry sherry, optional, for flavor
1 1/2 cups frozen peas and carrots, cooked and drained
1 cup frozen pearl onions, cooked and drained
Instructions
Combine all of the dough ingredients, and mix and knead them, by hand, mixer, or bread machine, to make a smooth dough.

Place the dough in a bowl or rising container, cover it, and let it rise for about 90 minutes, until it's just about doubled in bulk.

Gently deflate the dough, and divide it into six pieces.

Round each piece into a ball.

Stagger the balls on a lightly greased or parchment-lined baking sheet. Cover, and let rise for about 1 hour.

The balls should become quite puffy. Towards the end of their rising time, preheat the oven to 350°F.

Bake the buns till they're a deep, golden brown, about 25 minutes. Remove them from the oven, and let them cool right on the pan.

When you're ready to make bread bowls, cut the top 1/3 off each bun.

Gently and carefully scoop out the bread inside. Reserve it to make herb-flavored crumbs, if desired.

Place the bread bowls on a baking sheet or platter, and set them aside while you make the filling.

Melt the butter in a heavy saucepan and add the flour, stirring to combine.

Slowly add the broth in a stream, stirring constantly to keep the mixture from becoming lumpy. If it does get lumpy, just keep stirring till it smooths out.

Add the half and half or milk, stirring till smooth. Bring just to a boil, then simmer gently, stirring frequently, for 5 minutes.

Add the chicken or turkey, salt, thyme, and sherry, stirring to combine.

Add the cooked, drained vegetables, stirring to combine.

Bring the mixture just to a simmer, and immediately spoon a generous 1/2 cup into each bread bowl. Serve immediately.
Tips from our bakers
Semolina gives these rolls a bit of extra crunch and golden flavor. If you don't want to use it, substitute all-purpose flour.
Feel free to substitute whatever leftover veggies you like for the peas, carrots, and onions. You want about 2 1/2 cups of cooked vegetables.
You can make these ahead of time, and reheat just before serving. Fill the bread bowls, let them cool to lukewarm, then cover and refrigerate. Just before serving, heat each bowl in the microwave individually; about 1 minute should do it, depending on your microwave. Alternatively, wrap the bread bowls; cool and store the filling in the fridge; then reheat the filling and fill the bowls just before serving.
Reviews
I made the bread bowls, substituting poultry seasoning and a little onion powder for the sage and thyme. I also left out the dried milk, because I didn't have any. My family loved them. I was planning to toast the crumbs that were excavated from the bowls, and use them for some other dish, but my kids and husband gobbled them up. This recipe is a winner. Next time I may try different seasonings and serve them with a different filling.
Just made this bread bowl recipe today to serve with homemade chili. They turned out awesome! Thinking of other fillings to serve with them. Hubby likes to eat them as giant rolls...oh, no! If he eats them all what shall I do???!!!
Very good! I made 4 bowls and baked for the same amount of time. Also, I was concerned my dough might spread out too much so I put the dough into my oven safe cereal bowls for rising and baking. I didn't need to worry - the dough did not spread and it made nicely rounded buns. I made the dough in the bread machine then when the cycle was complete I divided the dough, put it in the greased bowls, covered, and let it rise. Three small changes I would make next time 1)I thought the filling was a bit thick and added extra broth and milk to thin it. I like the filling a bit thinner to soak into the bowl. 2) Next time I will double the filling - it just didn't seem to make enough. 3) I will use less meat - 3 cups instead of 6 cups.
This recipe makes excellent dinner rolls. After the dough rises I make 11/8 ounce balls. This will make 26 rolls. I let them rise one hour and bake at 350 for 15 minutes. The internal temp was 195.
These did not rise enough for a bread bowl....They came out more like small rolls.
"I'm sorry to hear that you experienced problems with these. Please call our baker's hotline if you would like to receive any assistance.
I made this for my family Friday and they went crazy!! The bread bowls were crispy on the outside and chewy and tasty on the inside. The proportion of the bowl was perfect for individual servings.
simply spectacular, just made these bread bowls and every one said they were great. something i don't hear too often.
These are just fan-freakin'-tastic! I confess, I have a hearty beef stew in my bread bowls instead of the chicken filling, but I love these bowls. I made them according to recipe the first time about a month ago and enjoyed them immensely, then I made them again yesterday. This time I left out the herbs. After I had scarfed down one of them with my freshly-made stew (the bowl held up for seconds) I ate another one just sliced with butter. M-m-m-m. I like to take the crumb that I have removed from the center, toast it, and sprinkle it over the top of the stew. If a person divided the dough into eight pieces these would make fantastic hamburger buns. Oh, I made one other change: instead of using oil in the dough I used melted butter. The next time I go to my mother's for a visit I am taking this recipe with me so I can wow her with them. Thanks for another great recipe. This is now my favorite recipe site.
I tried this recipe twice--both times they didn't raise like recipe stated and didn't get crusty at all. They tasted great--not sure if I'd make again tho.
Please call our hot-line to see if we can help you with this recipe. Joan @bakershotline
In one word: excellent. My husband and I both loved the bowls and the pot pie filling. I will definitely make these bread bowls again for other soups. They were perfect shape and size. I was worried about getting the insides out, but it easily pulled away and was better than any store bought or restaurant one I've had. I used 3/4 whole wheat flour and instead of carrots I used radishes (I didn't have carrots but had radishes) but other than that followed the recipe exactly. Another great King Arthur recipe.