A customized print-friendly version of this recipe is available by clicking the "Print Recipe" button on this page.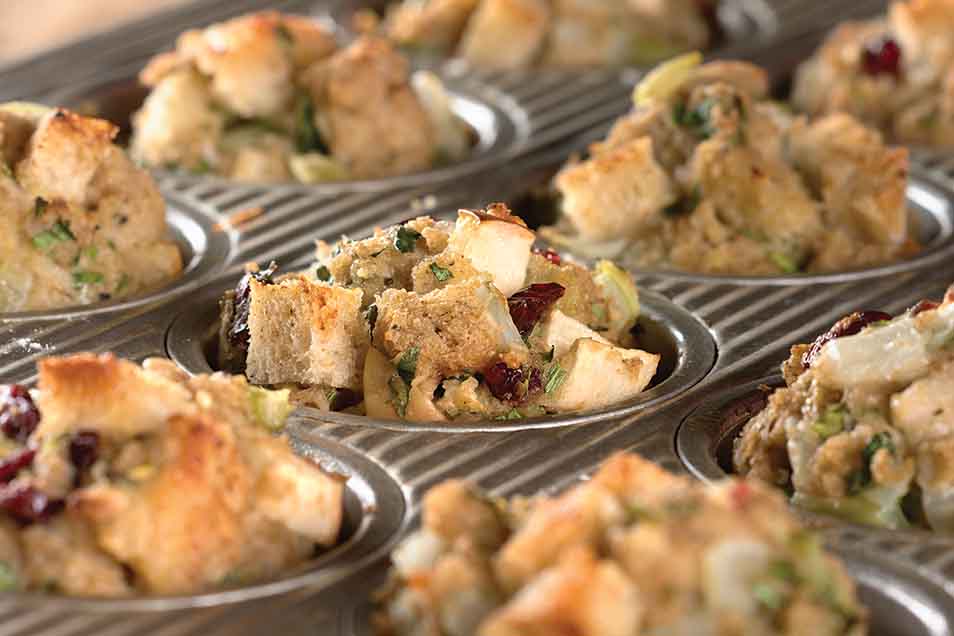 Delicious and easy to serve, these individual servings of stuffing allow everyone to enjoy some crispy edges. Using our Harvest Grains Stuffing Loaf recipe makes seasoning simple.
Ingredients
8 cups cubed Harvest Grains Stuffing Loaf or other sturdy bread (day-old or stale preferred)
1/2 cup dried cranberries
1/4 cup chopped fresh parsley
2 tablespoons olive oil
2 cups (5 medium stalks) chopped celery, with some inner leaves
3/4 cup peeled, chopped yellow onion; about 1 medium onion
1 3/4 cups chopped apple (1-2 Granny Smiths, Gala, or your favorite cooking apple; peeling is optional)
salt and pepper to taste
1 tablespoon poultry seasoning (only if you don?t use the Harvest Grains Stuffing Loaf)
3/4 to 1 1/4 cups chicken stock
2 large eggs
2 to 4 tablespoons melted butter
Instructions
Preheat your oven to 375°F. Lightly grease or butter a 12-cup standard muffin pan.

Place bread, cranberries, and parsley in a large bowl.

Heat the oil in a large frying pan over medium heat. Add the celery, onions, and apples, and cook until the onions are translucent, 5 to 10 minutes. Sprinkle with salt and pepper to taste (don't bother with salt if you're using regular canned chicken stock, rather than low- or no-salt stock), and the poultry seasoning.

Remove the vegetables and apples from the heat and add to the bread mixture.

Beat the eggs into 3/4 cup of chicken stock and stir into the bread and vegetables. If the mixture is too dry to scoop, add the additional stock.

Place a heaping 1/4 cup stuffing into each well of the prepared pan; our muffin scoop is handy here.

Bake until set and crisp on top, 40 to 45 minutes.

Remove from the oven, brush the tops with butter, cool in the pan for 5 minutes, then turn out and serve.

Yield: 12 stuffing cups.
Reviews
I made this for the first time on thanksgiving day and I used the thanksgiving stuffing bread for the bread cubes. Other than the different bread loaf recipe I followed it "exactly" and boy was it a hit, I didn't have space for the muffin tin in my oven so I just put it in an 8x8 pan. I did think that the onion was almost too much with the additional onion in the bread, but I think a little more apple may have balanced out the onion flavor. I chose this recipe because my dad wanted to try a bread stuffing in place of our usual rice stuffing. I told him that there were craisins in this recipe and he said he's not a fan of cranberries but that he'd give it a try; to his surprise he actually loved it and went back for 2nds and has loved the leftovers as well! I enjoyed this recipe so much that I may make some whenever I roast a chicken. :)
Wonderful taste, made with old bread. Has anyone made and frozen these?
I haven't tried freezing these, but I believe you could. Just bake them, allow them to fully cool, seal them tightly in a plastic bag and pop them into the freezer! kelsey@KAF
Fabulous recipe! I used 2 day old stuffing loaf (recipe on this site) to make the cups to accompany a roast chicken this weekend. What a wonderful dinner we had. I cannot wait to make these for Thanksgiving. It will cut my stuffing making work by more than half.
I love these... Ive been making them for years, but liked your recipe a lot too! Tho I call mine "Stuffins" as they are stuffing-muffins! :-D