A customized print-friendly version of this recipe is available by clicking the "Print Recipe" button on this page.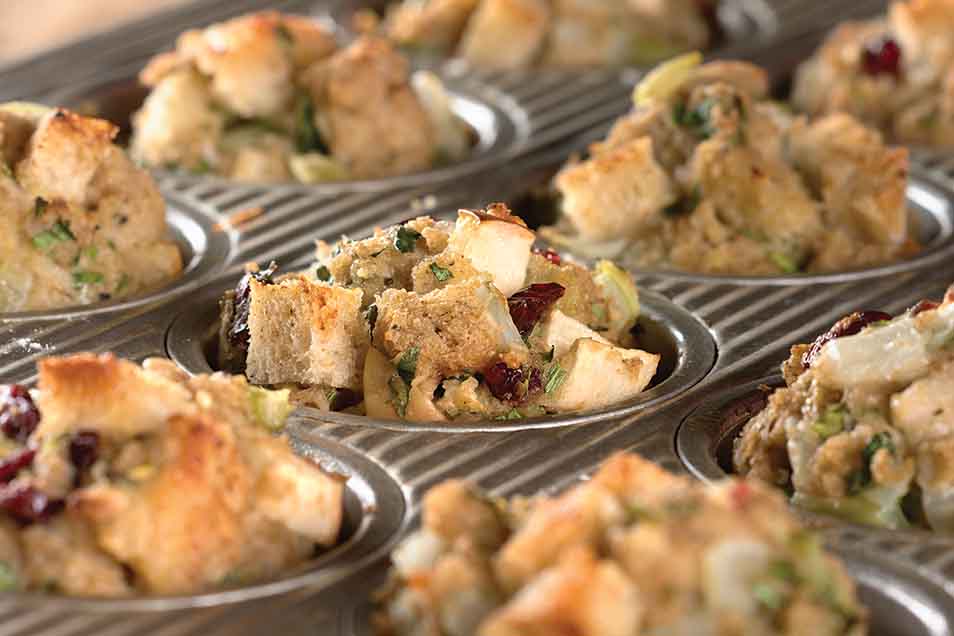 Delicious and easy to serve, these individual servings of stuffing allow everyone to enjoy some crispy edges. Using our Harvest Grains Stuffing Loaf recipe makes seasoning simple.
Ingredients
8 cups cubed Harvest Grains Stuffing Loaf or other sturdy bread (day-old or stale preferred)
1/2 cup dried cranberries
1/4 cup chopped fresh parsley
2 tablespoons olive oil
2 cups (5 medium stalks) chopped celery, with some inner leaves
3/4 cup peeled, chopped yellow onion; about 1 medium onion
1 3/4 cups chopped apple (1-2 Granny Smiths, Gala, or your favorite cooking apple; peeling is optional)
salt and pepper to taste
1 tablespoon poultry seasoning (only if you don?t use the Harvest Grains Stuffing Loaf)
3/4 to 1 1/4 cups chicken stock
2 large eggs
2 to 4 tablespoons melted butter
Instructions
Preheat your oven to 375°F. Lightly grease or butter a 12-cup standard muffin pan.

Place bread, cranberries, and parsley in a large bowl.

Heat the oil in a large frying pan over medium heat. Add the celery, onions, and apples, and cook until the onions are translucent, 5 to 10 minutes. Sprinkle with salt and pepper to taste (don't bother with salt if you're using regular canned chicken stock, rather than low- or no-salt stock), and the poultry seasoning.

Remove the vegetables and apples from the heat and add to the bread mixture.

Beat the eggs into 3/4 cup of chicken stock and stir into the bread and vegetables. If the mixture is too dry to scoop, add the additional stock.

Place a heaping 1/4 cup stuffing into each well of the prepared pan; our muffin scoop is handy here.

Bake until set and crisp on top, 40 to 45 minutes.

Remove from the oven, brush the tops with butter, cool in the pan for 5 minutes, then turn out and serve.

Yield: 12 stuffing cups.