A customized print-friendly version of this recipe is available by clicking the "Print Recipe" button on this page.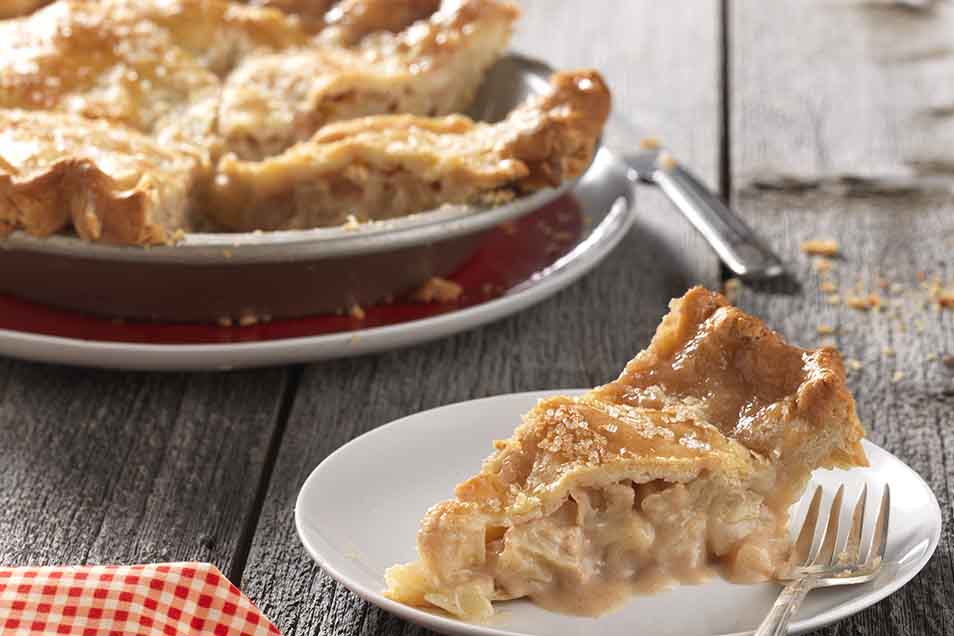 This apple pie isn't one that'll make you sit up and take notice. Instead, it'll invite you to snuggle into your favorite chair, heave a comfortable sigh, and enjoy bite after bite of this perfectly simple pie. The spices in the filling are understated, rather than overwhelming, and allow the flavor of vanilla to shine through. Meanwhile, the vanilla is pairing with the cream to give an impression of ice cream inside the pie, mirroring the scoop of vanilla you may have piled on top.
Ingredients
Filling
2 tablespoons Instant ClearJel or King Arthur Unbleached All-Purpose Flour
3/4 to 1 cup sugar, to taste, depending on the tartness of the apples
1/4 teaspoon nutmeg or ground cardamom
1/2 teaspoon cinnamon
1/4 teaspoon salt
4 to 5 cups (about 1 1/2 to 2 pounds) cored, peeled and 1/2" diced apples (Granny Smith and/or Cortland are our favorites)
1 tablespoon vanilla extract
2/3 cup half & half, light cream, or heavy cream
Topping
2 teaspoons sugar
1/8 teaspoon cinnamon
2 teaspoons milk
Instructions
Preheat the oven to 450°F.

To make the filling: In a large bowl, whisk together the Instant Clearjel or flour, the sugar, spices and salt. Add the apples, and toss to combine thoroughly. Add the vanilla and cream, and stir well.

Roll one piece of the pie crust out to about 13" in diameter, and carefully transfer it to a 9" pie pan (a giant spatula works well here). Fold the edges under.

Spoon the filling into the crust. Roll the second crust to a diameter of about 10" to 11", lay it atop the filling, and crimp to seal.

Stir together the sugar and cinnamon for the topping. Brush the pie with the milk and sprinkle the topping on the pie.

Bake the pie for 15 minutes, then reduce the heat to 350°F, and bake for an additional 40 to 50 minutes, until the top is medium-brown and the juices are clear and bubbly.

Store, covered, on the counter for a day, or refrigerate for up to 5 days. Freeze for up to 3 months.
Tips from our bakers
If the crust appears to be browning too quickly, cover it with a pie crust shield, or strips of aluminum foil.
Note: If you're using a light or shiny pie pan rather than a dark one, be sure to bake the pie for at least 50 minutes, to ensure that the bottom crust is done.
Need some tips to make your pies perfect? Check out our Pie Baking Guide.
There are many different thickening options available for fruit pies, from flour to cornstarch to Instant ClearJel and more. For an easy guide to thickener substitutions, see our Pie Filling Thickeners Guide.
Reviews
This will be my go-to apple pie from now on! Absolutely delicious. I was a little unclear when the directions said to "spoon filling into the crust" instead of "pour". Wasn't sure if that meant that not all the liquid should go in. Since there was a lot of liquid I was worried it would be too much and make for a soggy bottom crust so I only put a few spoonfuls of the liquid. It was fine but I think I should have put it all in, which is what I will do next time. I made this plus another apple pie from another recipe site for Thanksgiving. This one won, hands down. I also used the Classic Double Pie Crust. My first time making pie crust from scratch (it always intimidated me). Not hard at all! Yum!

We definitely like adding all of that flavorful juice to our apple pie fillings, MA. If it seems like quite a lot of liquid, you can consider cooking it down over heat slightly until it thickens, then pour it over your apples. Enjoy! Kindly, Kye@KAF
I loved the creamy, comforting filling of this pie. Instead of too much nutmeg and cinnamon, it was delightful, with a nice flavor of vanilla (my all-time favorite flavor). My new favorite for turning mountain apples into pie!
This made one of the best apple pies I have ever had. I would consider upping the cardamon even mode when I bake it again.
This was the best apple pie I have ever had! Next time I would consider upping the cardamon a little bit more.
Using the recipe for this filling, I won first place in an apple pie contest. I used my tried and true crust recipe with Crisco.
I have made many apple pies in my life but this one was really special. I was a bit skeptical about adding the cream so I went with 1/2 cup and I added 2 TBS of honey and kept the sugar at 3/4 cup. ( I have been adding honey to everything lately since I keep bees and have soo much honey. ) The pie came out great and the apple filling was so delicious. It really was the most flavorful apple pie I have ever made. I will make all my apple pies this way from now on!
Haven't made it but will be tomorrow so I was wondering what the directions are for the topping (cinnamon and sugar)? Thanks!

Take 2 teaspoons sugar mixed with 1/8 teaspoon cinnamon and sprinkle it onto the pie crust before baking to give it a sweet, shiny top. Brushing the crust with a bit of heavy cream before sprinkling with sugar and help it adhere better. We hope you enjoy this pie! Kye@KAF
Made this pie exactly including KAF pie crust recipe. Oh my, what a delicous pie. Didn't get done baking it until about 11pm. Thought I would try a little piece, hot and fresh. But couldn't stop with just a little piece. 2 pieces later, after midnight, I finally went to bed.

Sue, we all love a freshly baked midnight snack! Bryanna@KAF
As an ex-pat living in Norway (and a little homesick on 4th of July) I wanted to share an American Classic with my Norwegian in-laws at a grill party. They loved it. There was not one crumb left to take home. I did use heavy cream and recommend it to get the ice cream flavor. Thank you for the taste of home!
I've been making this pie for years and it's a family favorite. Just perfect.