A customized print-friendly version of this recipe is available by clicking the "Print Recipe" button on this page.
Super-Fast Thin-Crust Pizza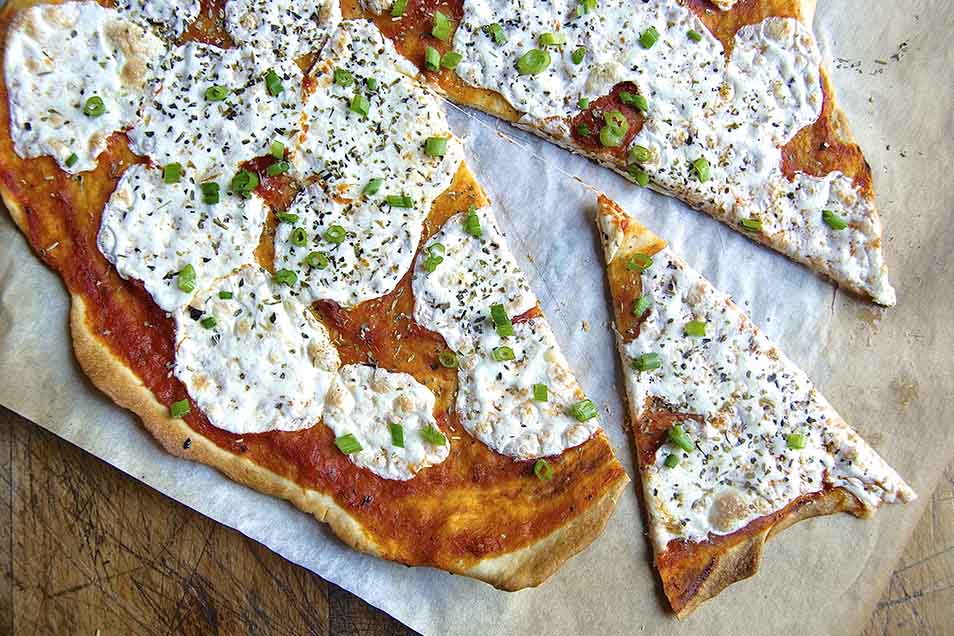 Looking for delicious homemade thin-crust pizza in under an hour? This recipe uses a simple dough made with both baking powder and yeast, which yields a super-thin yet light crust. Mildly crunchy while still pliable (you aficionados of foldable pizza will appreciate this), this crust is ready for any topping you care to throw on it. One caution: use any topping, but go light; the crust won't support too much weight.
Ingredients
2/3 cup lukewarm water
1 1/2 teaspoons instant yeast or active dry yeast
2 cups King Arthur Unbleached All-Purpose Flour or Gluten-Free Measure for Measure Flour
1/2 to 3/4 teaspoon salt*
1 teaspoon baking powder
3 tablespoons olive oil
*Use the greater amount of salt if you lean towards saltiness, and/or your toppings aren't overly salty.
Instructions
Preheat the oven to 450°F with a pizza stone in the bottom, if you're using one.

In a medium-sized bowl, whisk together the lukewarm water and yeast until the yeast dissolves.

Measure out the flour by gently spooning it into a cup and sweeping off the excess; or by weighing it. Add the flour and the remaining ingredients to the water/yeast, stirring to make a cohesive, somewhat sticky dough. The dough should only be mildly sticky, and easy to work with. If it's sticking to your fingers, mix in additional flour.

Divide the dough in half, pat each half into a disk, and place on a lightly floured piece of parchment or waxed paper. Let the dough rest for 30 minutes, while your oven gets good and hot.

Working with one piece of dough at a time, roll between two pieces of lightly greased parchment. Don't have parchment? See "tips," below. Roll a 12" circle; don't worry about making it perfectly round, an oval is fine. The rolled crust should be very thin.

Top the crust with about 3 to 4 tablespoons sauce, and your preferred toppings.

Transfer the pizza, parchment and all, to your baking stone. Bake for about 8 minutes, until the crust is brown and the toppings are heated through. Remove from the oven and serve.

If you're not using a stone, transfer the pizza, parchment and all, to a baking sheet. Bake in the center of the oven for 10 to 12 minutes, until the crust is brown and the toppings are cooked through. Remove from the oven and serve.
Tips from our bakers
Parchment paper makes it very easy to move this pizza from counter to oven to table. If you don't have parchment, roll the dough on a lightly floured surface. Use a pizza peel or the back of a baking sheet to transfer the crust to the hot pizza stone, or to a baking sheet, and bake as directed above.
Just how thin as thin? Dough rolled about 1/8" thick will bake to a crust about 1/4" to 3/8" thick. The longer the dough sits, the thicker the crust will be; for thinnest crust, shape and bake dough immediately, without any rest.
Reviews
I wasn't on the hunt for good, easy basic thin crust pizza dough and this one ticks all the boxes. I liked that it used simple ingredients, and is quite easy to roll out. I made a few tweaks - I par-baked the crust on both sides a few mins only until some of the edges get the hint of the lightest brown. (I didn't read the detail that the stone should be on the lowest rack of the oven so I don't know if this step can be skipped). It came ojt beautifully, the crust was soft but crispy. I've tried cracker crust pizza doughs where it used bread flour and while the result was crispy, it was too hard. Another detail is it didn't quite mention how long to knead the dough. I kneaded it until the dough came together and no more. It should look lumpy but it came out great and rolled beautifully. Gave this 4 stars since it still doesn't rival the restaurant quality pizzas, it's definitely good enough to keep in your recipe file. Will make this again!
Pros: super-fast, as promised; dough was not sticky, very easy to work with. Cons: I took the first pizza off the stone at 8 minutes, the toppings were pretty melted and the edges were cracker-like; however, the interior of the dough had a cardboard-like texture and tasted like a baking powder biscuit. Leaving the second pizza in for about 13 minutes (did not pay strict attention) made for a more evenly- crisp crust with the toppings well-melted but not burnt. I still think the dough lacked flavor, so I recommend the recipe with reservation. I liked another reviewer's suggestion of Italian seasoning and maybe use the maximum recommended salt.
I liked it. I did cut the olive oil in half and made one large pizza. Mine did not bake as fast as the other reviewers probably since I made one large pizza. I did bake it on a stone sprinkled with cornmeal. Do you think parchment paper would make the difference in bottom of pizza cooking? If not, the next time I am going to bake the crust for about 5 minutes and then put on toppings. I do like the combination of the yeast and baking powder. Delicious. I will use this as my favorite pizza crust.

Parchment will work beautifully and shouldn't affect how the bottom turns out — it'll just be easier to transfer it. We're glad it was a hit! Annabelle@KAF
I am an experienced cook/Baker . Made this crust as written and it was very good. First attempt I hit the ball out of the park. We like our crust crispy so I let it to cook 13 M. Simple but very yummy ! Thanks again for another great recipe!
Wonderful thin crust! Easy to work with and supper cracker like thinness! Everyone in my family loved it. only thing i had to do was increase the baking time (I might have added a lot of toppings) ;)
Sorry to give this a bad rating! I followed the recipe to a T but it tasted like cardboard, barely edible. I love thin crust pizza and loved how easy these directions were. How did I go wrong?

Dawn, we appreciate you sharing your genuine thoughts with us, and it's our goal to help you have the very best baking experience, no matter what you're making. It's possible that your flour had gone rancid or perhaps your yeast was no longer fresh if your crust didn't rise even slightly. In order for us to troubleshoot more completely, we encourage you to give our Baker's Hotline a call at 855-371-BAKE(2253). We look forward to helping you further. Kye@KAF
DH just made this for our pizza night dinner. It is fantastic! We enjoy all kinds of pizza--thick crust and grilled being our favorites. But THIS crust has topped even those two favorites. This is an delicious crust and makes up easily. Foldable? You bet! YUM! One question--DH wants to make a double batch and freeze the dough for use in future. Is this good for this dough? When should the dough be frozen, before or after the 30 minute rest? Thank you for your reply and another excellent KAF recipe

We're glad this recipe was a hit with your family, Mary. If you'd like to freeze the dough, do it before the 30 minute rest, right after kneading. Freeze it in a plastic bag where the dough has some room to expand so you can thaw it in the fridge overnight. Take it out the next day and shape, let rise until it's as puffy as you like, top, and bake! Kye@KAF
Came out great! And in no time at all! Love it!
This is a great recipe for thin-crust pizza. Everyone loved it so much we are made it again a few days after we first tried it. The notes were great and really helped me to get the thin crust that my family and I love. Thank you very much.
This recipe is easy and doesn't require a lot of prep time. It is thin but I like it that way. I also folded my pizza up to eat it. I made this using the Measure for Measure Flour and topped one of them with sauce / Dairy Free cheese / pepperoni and one with sauce / real cheese / pepperoni. Of course the real cheese one looked and smelled better. My husband said it was fine and he would eat it again. I was happy with my dairy free one and would absolutely make again if I wanted a quick pizza. I baked it for 10 mins ( I was afraid to burn it ). Also, I think a little italian seasoning in the dough would be good. I like having options for pizza crust depending on how much time I have or what ingredients I have available. In my opinion this is better than some of the frozen GF pizza crusts.