A customized print-friendly version of this recipe is available by clicking the "Print Recipe" button on this page.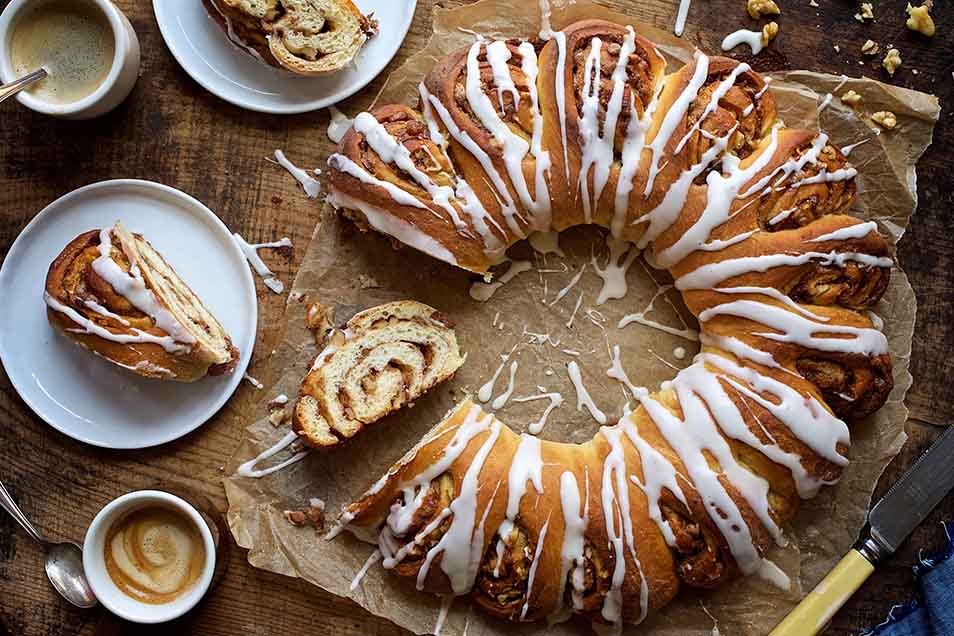 In Sweden this tea ring is most often enjoyed at Christmas time. Think cinnamon roll in the shape of a ring. This — and many European pastries — aren't as over-the-top decadent as the typical American sticky buns, cream-filled layer cakes, and gooey fudge brownies. If you're after a classic Swedish tea ring, this is it; for a more "Americanized" version, see "tips from our bakers," below.
Ingredients
Dough
1 cup milk
1/4 cup sugar
3/4 teaspoon salt
1 large egg
3 1/2 cups King Arthur Unbleached All-Purpose Flour
2 teaspoon instant yeast, SAF Gold instant yeast preferred
Filling
3 tablespoons sugar
1 tablespoon ground cinnamon
1 tablespoon Instant ClearJel, optional; to keep the filling from seeping out during baking
3 tablespoons unsalted butter, melted
1/2 cup chopped walnuts
1/2 cup cinnamon chips
Instructions
To make the dough: Combine all of the dough ingredients and mix and knead — by hand, mixer or bread machine — to make a soft, smooth dough. Let rise, covered, for 1 hour.

To make the filling: Stir together the sugar, cinnamon, and ClearJel, then add the melted butter. Combine the walnuts and cinnamon chips separately.

Transfer the dough to a lightly greased work surface, and roll it into a 12" x 18" rectangle.

Spread the filling over the dough. Top with the walnuts and chips.

Starting with one long side, roll the dough into a log and form it into a ring, pinching the edges together to seal. Place the ring on a greased or parchment-lined baking sheet.

Using a pair of scissors, cut two-thirds of the way into the edge of the ring at 2" intervals. Turn each cut section onto its side.

Cover and let rise for 30 to 45 minutes, until puffy.

While the bread is rising, preheat the oven to 375°F.

Bake the tea ring for about 25 minutes, until golden; tent it with foil after 15 to 20 minutes if it's browning too quickly.

Remove the loaf from the oven, and carefully transfer it to a rack to cool.

Yield: 1 ring.
Tips from our bakers
For an added touch of decadence, make a glaze with 1 cup glazing sugar or confectioners' sugar, 1 teaspoon vanilla extract, and 3 tablespoons cream or 2 to 3 tablespoons water or milk. Drizzle the glaze over the warm tea ring.
For a sweeter, richer, more cinnamon-y treat, add 2 tablespoons butter to the dough; and double the amount of sugar, cinnamon, Instant ClearJel, and butter in the filling.
Reviews
I've lost track of how many times I have made this recipe - more than 30 times. The first time, I followed the recipe exactly. After that, I never used the Instant ClearJel again because I thought it made the filling too dry. I like a moist filling, which you won't get if you use the ClearJel. I have used a wide range of fillings besides the cinnamon-walnut, includng apricot with slivered almonds, raspberry, prune anda poppy seed filling. My filling never seeps out, but maybe that is because, even though I make deep cuts on the top of the ring, I don't cut it 2/3 of the way through as the recipe tells you to do. One caveat on the baking time. Thank goodness, I checked the tea ring after 15 min. the first time I made it. At 375 deg, the dough was almost too brown after 15 min.. I don't see how anyone could bake it at that temperature for 20-25 minutes without nearly burning it. (No, it was not my oven. I have tried 375 deg, in both my homes in different ovens.) Then, I tried 360 deg, but still had to tent the ring after 15 min. and it was done a few minutes later. After that, I have always baked the ring at 350 deg, tent it after 15 min. and it is always done in 20 minutes. Whatever temperature you set your oven, just watch the ring like a hawk after 15 min. I would rate this recipe five stars, omitting the ClearJel and lowering the baking temp and time.
I have been making this tea ring since I first found the recipe in your anniversary cookbook. I have tweaked it slightly; I add a dash of your potato flour for softness; I brush melted butter, sprinkle brown sugar and cinnamon over the rolled out dough in ample quantity to cover; I always use scalded whole milk cooled to lukewarm; and I use ground cardamom (mortar and pestle, grandkids love to do it); and I gently slash the top but not all the way to the bottom to prevent filling leakage. Baking on parchment with the edges folded up makes a barrier for any leakage, but the gel is a good alternative. Perfect ring every time, so soft, awesome flavor, rave reviews.
This is a fantastic bread! I made a few changes to the recipe-included the 2 TBSP of butter in the dough, omitted the sugar from the cinnamon filling (ok, that was a mistake on my part, but taste testers agreed the filling still tasted great). For the icing, I was out of vanilla so added 1/4 tsp of fiori di sicilia--that gave the bread a slightly citrusy taste that worked well with the other flavors. Baked 25 mins, which was just right for my oven.
Used 3cups of Flour and mixed slightly heated white chocolate with ground cinammon instead of cinammon chips. Baked for 20 minutes. Perfect! I like the mild sweetness of the bread!
This was easy and delicious. Baking for 25 minutes was too long for my oven. The presentation is exceptional - I'd love to bring this treat to a brunch or party.
Just the right combination of bread and sweetness. I like the fact that the tea ring is not overly sweet. This is a family favorite for Sunday brunch.
Beautiful presentation for a breakfast, brunch or tea. I followed the directions exactly except I didn't have cinnamon chips and used chocolate chips instead. I found the bread dry, but I thought the filling was an adequate amount although not very sweet. Next time I will add butter to the dough, reduce the cook time and add more sugar to the filling.
Delicious! The ring was easy, fragrant and had a beautiful presentation. Just be careful not to overbake. This recipe has become a family favorite.
I agree with some of the other reviewers that the filling quantity is sparse. I would increase it by 50%. I also noted the comments that the pastry was "dry." I found that a baking time of about 21 minutes (rather than 25 minutes) gave a nice result. Other than decreasing the bake time, I followed the recipe exactly, omitting the optional glaze. I might use an egg wash or syrup glaze next time. My wife and I thought it was very good. I'll be making it again and using the dough recipe for other pastries.
I baked this yesterday and was pleased with the results. I didn't think it took too long at all - seemed pretty speedy for a yeast bread, and super easy. The dough handled very easily when it was time to roll it out, apply the filling, and form the ring. Based on the other reviews here, I baked it only about 22 minutes, and it was done inside but not dry at all. I have to disagree with those who feel that there's not enough filling - it's true that it looked awfully sparse when spread over the dough, but the final product had enough.