A customized print-friendly version of this recipe is available by clicking the "Print Recipe" button on this page.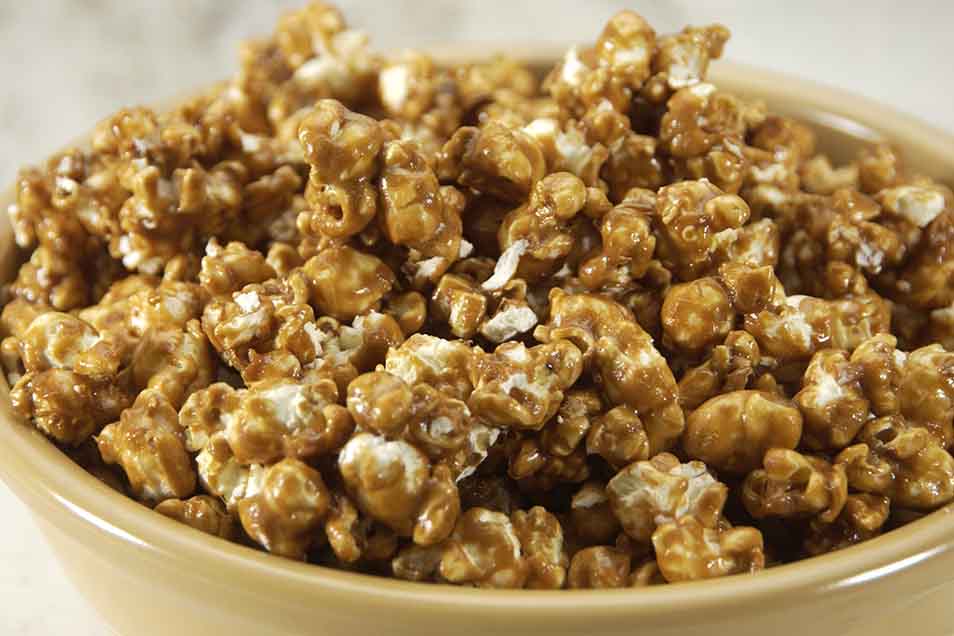 Crunchy popcorn, caramelized sugar, and a touch of salt — what's not to love? Caramel corn isn't just for Halloween or Christmas; it's also a real "take me out to the ballgame" summertime treat.
Ingredients
6 quarts popped corn, spread in a lightly greased or parchment-lined pan and kept warm in a 250°F oven (See"tips", below.)
2 cups light brown sugar, firmly packed
1/2 cup light corn syrup
1 cup (16 tablespoons) butter
1 teaspoon salt
1 teaspoon lemon juice
1 tablespoon vanilla extract
1 teaspoon baking soda
Instructions
In a deep, heavy pan, bring to a boil the sugar, corn syrup, butter, salt, lemon juice, and vanilla; stir gently until the sugar dissolves.

Cover the pan and boil for 3 minutes. Uncover the pan and cook, without stirring, until the syrup reaches 260°F (the hard-ball stage of the syrup).

Remove the syrup from the heat and quickly stir in the baking soda; the mixture will foam up. Immediately pour it over the warm popcorn, spreading evenly.

Reduce oven heat to 225°F and bake the popcorn for 1 hour, stirring every 20 minutes, until it's light- to medium-brown.

It will become very crunchy as it cools. If you haven't used parchment paper, turn the popcorn out onto buttered baking sheets to cool. Cool completely, break apart, and store in airtight containers.
Tips from our bakers
Start with about 1 1/8 cups of unpopped corn to yield about 6 quarts. For best results, pop in an air popper.
Reviews
I made this twice...in a week. I did a few things differently but not enough to cause issues, mainly by subbing Honey for molasses, omitting the lemon juice and using salted butter instead of extra salt. Holy moly this is my new snack-crack. I made the mistake of doubling it and now I have more sitting around my house tempting me! Wonderful recipe just like I remember from the holiday tins!
Great! Just the normal amount of trouble for making caramel, which isn't much. The texture is nice and crisp, and the flavor is excellent - the brown sugar flavor is very present. The texture seems a little grainy... which I was surprised by... but still crisp. I found it helpful to use the biggest, highest-sided baking thing I own for the oven-drying process, to minimize spilling during stirring (for me a 14" cake pan).
I have used a similiar recipe before and is delicious as always. The lemon juice is a nice touch. I also used a bit of the King Arthur vietnamese cinnamon for a little touch of heaven.
I can't believe that I'm the first person to rate this recipe. This is the best caramel corn I have ever tasted. I make it every Halloween for my kids and grandkids, and send it every Christmas to my brother. It has a rich flavor, and the popcorn turns out very crisp, not soggy and soft. It's a "must have" for the holiday season. My only problem is getting it packaged and mailed before my husband and I eat it all.