A customized print-friendly version of this recipe is available by clicking the "Print Recipe" button on this page.
Sweet Vanilla Spiced Pecans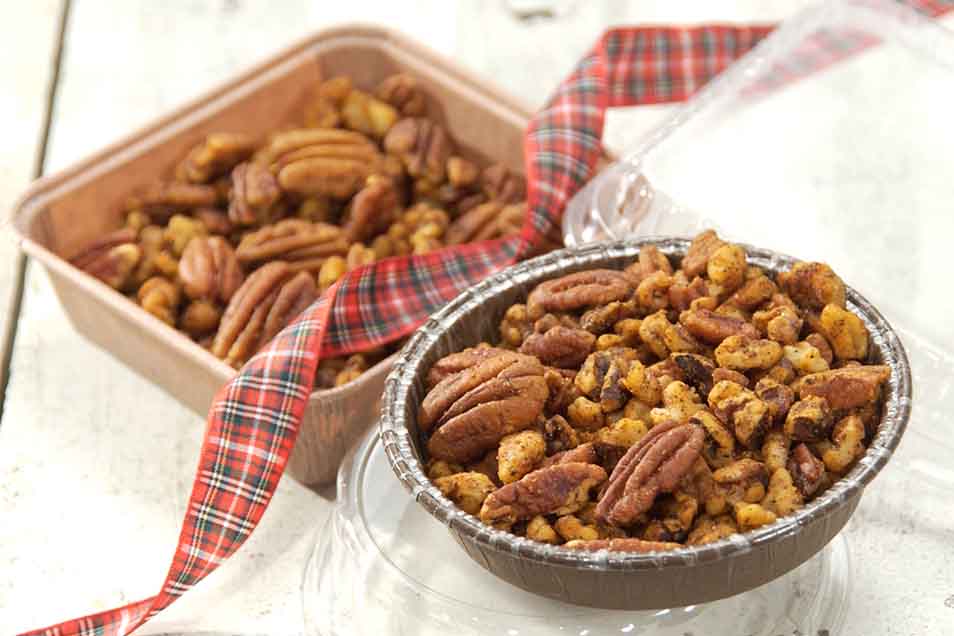 As a child, I remember our friends always having a big wooden bowl of nuts in the shell at every holiday gathering. I remember the odd little wooden nutcracker and the crisp, sharp CRACK each nut made as it gave way. While those nuts have a special place in my memory, these days I fancy these sweetened nuts, already shelled and ready to be eaten out of hand while watching classic holiday movies with my own family. I'd say they deserve a major award!
Ingredients
4 cups pecan halves
1/2 cup butter, melted
1/2 cup confectioners' sugar
2 teaspoons apple pie spice
1-2 teaspoons vanilla powder
salt to taste
Instructions
Note: Thanks to reader feedback, as of as of 6/19/12 this recipe has been corrected/revised to use 4 cups of nuts (16 ounces), rather than the 2 cups previously listed. Thanks, readers - and sorry for the mistake.

Preheat oven to 250°F. Line a baking sheet with parchment or foil for easy cleanup.

Combine the melted butter, sugar, and apple pie spice in a large bowl. Stir until smooth. Add pecan halves. Stir and toss until the nuts are well coated.

Pour nuts and any leftover butter/sugar onto a lined baking sheet and place in the oven for 10 minutes. Remove from the oven and sprinkle with half of the vanilla powder. Stir well and return to the oven for an additional 10 minutes.

Remove nuts from the oven for a second time. Add the remaining vanilla powder and stir well again. If any butter/sugar liquid remains, return the pan to the oven briefly until most of the mixture has cooked onto the nuts.

Set the nuts aside on the pan to cool. Serve slightly warm, or at room temperature. Sprinkle with additional vanilla powder and/or salt if desired. Store at room temperture in an airtight container for up to one month. These sweet nuts make an excellent stocking stuffer or hostess gift.
Tips from our bakers
If you don't have Apple Pie Spice, you can use a combination of cinnamon, nutmeg and cloves, or your favorite baking spices. Experiment with your own personalized blends.
If you chose not to use vanilla powder, add 1/2 teaspoon of vanilla extact to the melted butter.
Reviews
As the previous reviewer discovered, the volume measurement of the nuts is listed incorrectly. This is a great recipe if made by weight which ends up to be 4 cups of nuts instead of 2. The blog is great for the step-by-step process, but nowhere does it indicate the measurement for the nuts. I can understand why others gave the recipe a low rating if they followed the volume measurements. It would be a disappointing waste of expensive ingredients. Following Lisa from Lakeland, TN's advice, I made the recipe with 4 cups of nuts and it turned out beautifully. I'm giving the delicious results for Father's Day tomorrow. KAF, please correct the measurement in the recipe so that everyone can have success with this recipe. I hope others will give it a second try.
I'm sorry to hear of the difficulty. I'll ask the test kitchen to take a second look at this one. Frank @ KAF.
There is a problem with this recipe. The conversion between volume and weight is off. 16oz. or 454g of pecans is 4 cups, not 2 as stated in the volume version of the recipe. Maybe that's why everyone is having problems. I made it by weight and they came out really well. They are subtle, not real sweet, could use a little more spice.
I kept re-reading the recipe thinking I had misread the butter amount. A 1/2 cup is WAY too much for the sugar to absorb. I soaked up a LOT of butter but that also took some of the spices as well. The pecans just came out EXTREMELY oily and bland. To me it was a total WASTE of expensive pecans. I would not make them again unless I cut the butter in at least half. I was totaly disappointed in the outcome.
The blog may be able to help with this recipe as it takes us step by step through the process "Go nuts this holiday season: Sweet Vanilla Pecans and Spicy Garlic Nuts". Irene @ KAF
Hi, They do have a nice flavor , however I used light olive oil instead of the butter and I cut it in half- So I only used 2.5 tablespoons of the oil I took away the confection sugar and used Ikea s Vanilla sugar and I used the suggested amount of the apple pie spice. I added 1 tsp of course salt. Mixed together and baked 30 mins as 250...I also used a bakers mat, and 15 minutes in I stirred them around. Its a wonderful recipe and a sure crowd pleaser.
This recipe needs some tweaking, but is definitely worth it. I had some of the same problems as the other posts, and took their suggestion to add more powder sugar to "soak up" the butter. That worked fine, but you could reduce to butter, too. It DEFINITELY needs salt - not as "optional" and I did add more apple pie spice. Very good! Nice for snacking, and/or tossed on a salad. IF KA has any other suggestions, would love to hear them. Otherwise, I will remake them with my own little tweaks.
I agree with the previous review that these nuts are different than any other I've made. I did think they were good but I had to do a few things differently to get them to come together. I did not have vanilla powder so I used the suggested substitute (1/2t extract). I think sprinkling the powder on the nuts must absorb some of the butter mixture. I ended up cooking my nuts for 30 minutes and still had a lot of liquid on the pan. After cooling for a few moments I tasted a nut and found them not to be very sweet or cinnamon tasting. So I sprinkled some powdered sugar over the nuts and liquid and mixed thoroughly. This seemed to help the nuts and liquid come together. And it made them a little more flavorful. I kept a few nuts/liquid over to the side as my "control" experiment, they never did absorb. Even after cooling all afternoon the nuts are buttery/oily, you have to wipe your hands after eating them. If I were to make these nuts again I would make sure I have vanilla powder on hand or cut back a few tablespoons on the butter.
This recipe was different than any of the spiced nuts I have ever made. The butterfat from the butter separated even though it was supposed to "cook onto the nuts" eventually. The nuts did not have much flavor and were not very sweet except where there were chunks of the coating. The name "Sweet Vanilla Spiced Pecans" made one think of a special holiday treat, but, unfortuantely, the product fell short.