A customized print-friendly version of this recipe is available by clicking the "Print Recipe" button on this page.
Sweet Vanilla Spiced Pecans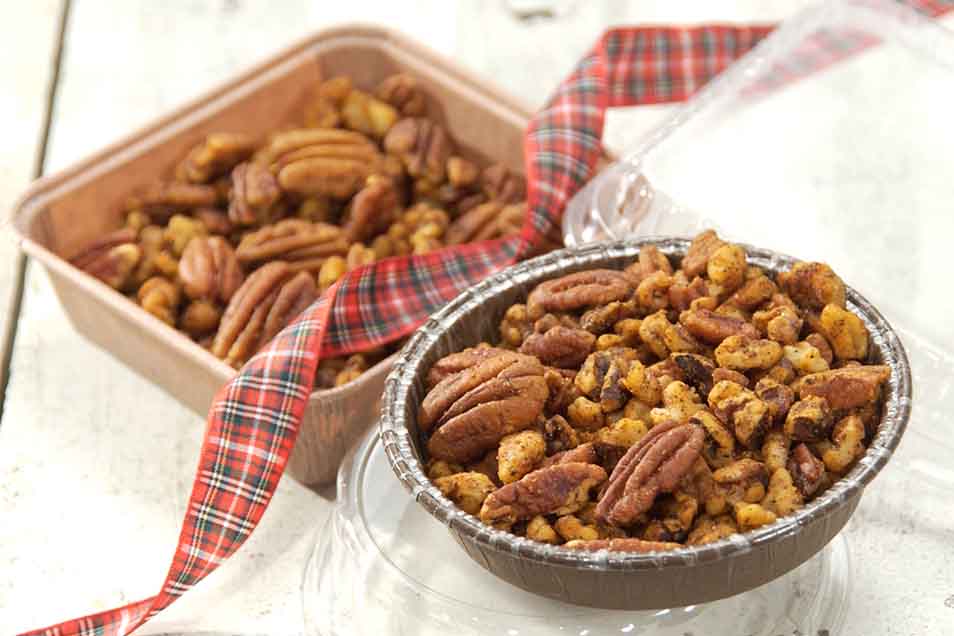 As a child, I remember our friends always having a big wooden bowl of nuts in the shell at every holiday gathering. I remember the odd little wooden nutcracker and the crisp, sharp CRACK each nut made as it gave way. While those nuts have a special place in my memory, these days I fancy these sweetened nuts, already shelled and ready to be eaten out of hand while watching classic holiday movies with my own family. I'd say they deserve a major award!
Ingredients
4 cups pecan halves
1/2 cup butter, melted
1/2 cup confectioners' sugar
2 teaspoons apple pie spice
1-2 teaspoons vanilla powder
salt to taste
Instructions
Note: Thanks to reader feedback, as of as of 6/19/12 this recipe has been corrected/revised to use 4 cups of nuts (16 ounces), rather than the 2 cups previously listed. Thanks, readers - and sorry for the mistake.

Preheat oven to 250°F. Line a baking sheet with parchment or foil for easy cleanup.

Combine the melted butter, sugar, and apple pie spice in a large bowl. Stir until smooth. Add pecan halves. Stir and toss until the nuts are well coated.

Pour nuts and any leftover butter/sugar onto a lined baking sheet and place in the oven for 10 minutes. Remove from the oven and sprinkle with half of the vanilla powder. Stir well and return to the oven for an additional 10 minutes.

Remove nuts from the oven for a second time. Add the remaining vanilla powder and stir well again. If any butter/sugar liquid remains, return the pan to the oven briefly until most of the mixture has cooked onto the nuts.

Set the nuts aside on the pan to cool. Serve slightly warm, or at room temperature. Sprinkle with additional vanilla powder and/or salt if desired. Store at room temperture in an airtight container for up to one month. These sweet nuts make an excellent stocking stuffer or hostess gift.
Tips from our bakers
If you don't have Apple Pie Spice, you can use a combination of cinnamon, nutmeg and cloves, or your favorite baking spices. Experiment with your own personalized blends.
If you chose not to use vanilla powder, add 1/2 teaspoon of vanilla extact to the melted butter.