A customized print-friendly version of this recipe is available by clicking the "Print Recipe" button on this page.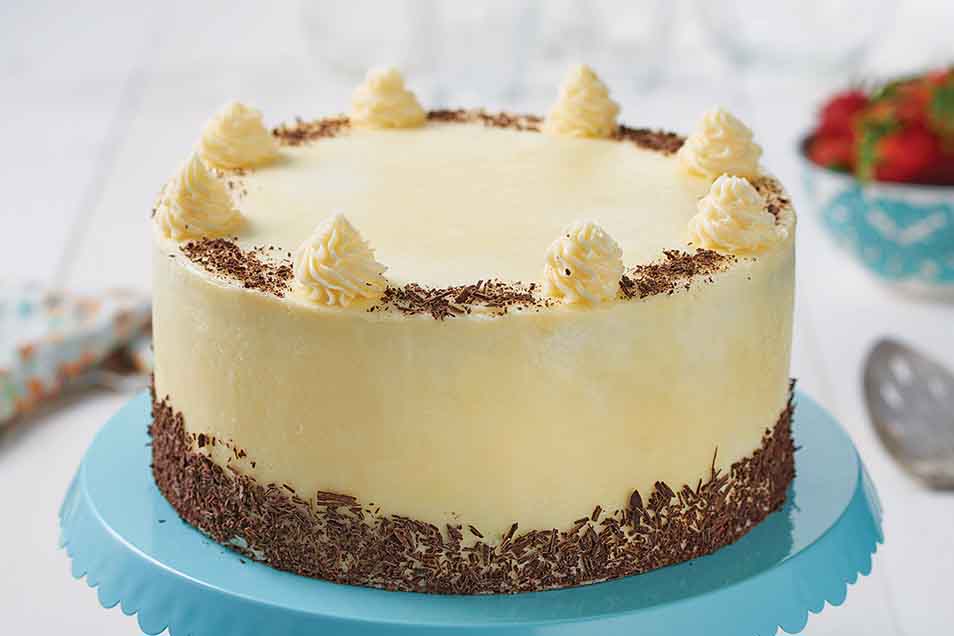 Swiss Buttercream is the quickest way to a silky buttercream frosting that both spreads beautifully, and pipes well. You can flavor it with any extract you choose; or see the tips below for flavor ideas.
Ingredients
1 1/4 cups sugar
1/2 cup (3 large) egg whites
1/8 teaspoon salt
2 cups (4 sticks) unsalted butter, at room temperature
Instructions
In a large mixing bowl, combine the egg whites, sugar, and salt.

Place over a saucepan of simmering water (you should just barely see some lazy bubbles coming up), and whisk constantly until the mixture measures 161°F (71.7°C) on an instant-read thermometer.

Attach the bowl to your mixer and beat the meringue with the whisk attachment until it's stiff.

Add the butter a few tablespoons at a time, with the mixer running. Let each blob of butter get completely mixed in before adding the next.

Once half the butter is in the bowl, stop and scrape the sides and bottom to make sure all the meringue is getting incorporated. Then finish adding the rest of the butter.

Beat in the flavoring of your choice.

If the frosting seems soft, chill for 15 minutes before using.

Store for up to 6 months in the freezer, or up to 1 week in the refrigerator.

Yield: 5 cups frosting.
Nutrition Information
Serving Size

41g

Servings Per Batch

20 servings
Amount Per Serving:
Calories

214

Calories from Fat

163

Total Fat

18g

Saturated Fat

12g

Trans Fat

1g

Cholesterol

49mg
Sodium

27mg

Total Carbohydrate

12g

Dietary Fiber

0g

Sugars

12g

Protein

1g
* The nutrition information provided for this recipe is determined by the ESHA Genesis R&D software program. Substituting any ingredients may change the posted nutrition information.
Tips from our bakers
The most basic flavor for this frosting is vanilla. But you can change it in all kinds of ways.

*For coconut, add 1/2 teaspoon coconut flavoring and 1/2 cup coconut milk powder.

*For chocolate, reserve 3/4 cup (6 ounces) of the butter from the recipe. Melt 1 cup (6 ounces) bittersweet chocolate and cool to room temperature. Combine the melted chocolate and the butter until mixed, then add this mixture to the frosting.

*For raspberry, add 2 tablespoons raspberry purée, or simply mix a half pint of fresh raspberries into the finished frosting.

*For lemon (or orange), add 1 tablespoon fresh lemon (or orange) zest and 2 teaspoons fresh lemon (or orange) juice. You can also add 1 tablespoon lemon or orange juice powder to the egg whites before beating.
Reviews
I make this recipe often but I use the "genius " method. I cook the whites with the sugar as per the recipe, then I chill that mixture. Once it's cold, I whip the butter til it's light then pour in the egg white/sugar mixture in a stream. Whip to combine and it's done! Same results, just easier!
This is my go to recipe for buttercream frosting. It's smooth, light, and silky. Even though whipping egg whites can be a bit nerve wrecking, this recipe has always turned out perfect! Thanks KAF!
I tried this twice, and both times, after cooking and whisking egg whites, they would never whip up, just stayed really creamy. What went wrong? Both times they wouldn't whip up. I was using my big kitchen aid mixer, and it should have done the job.

Hi Tammy, we'd be happy to help you troubleshoot further to ensure your next batch whips up just right. Two things that may have compromised the egg whites whipping up is any trace amounts of fat left in the bowl or on your whisk. Try wiping out your bowl with a paper towel that has a bit of vinegar on it before adding the egg whites and sugar next time to remove any trace amounts.

Also, we've found that some styles of stand mixers that have narrow bowls prove to be troublesome when whipping meringue. The meringue can't cool effectively because of the large volume that pools at the bottom of the bowl, which limits the volume the whites can reach during whipping. If you have a hand mixer, you might want to try whipping it up in a wide-bottomed bowl using that tool next time. Feel free to give our Baker's Hotline a call at 855-371-BAKE(2253) to troubleshoot further. Kindly, Kye@KAF
Beautifully silky texture and pretty easy to make. It was my first time making Swiss buttercream and I was happy with the result. It worked well for vanilla and chocolate but it split and looked curdled when I added food color (I tried both powdered and liquid food color)
I'm finishing my 3rd attempt of this recipe. The first tone it turned out flat and grainy, after checking my equipment I realized I had set my thermometer to Fahrenheit and was using the celcius temperature. The next time the texture was amazing (and a breeze to pipe), but, my butter was old and also salted so the flavor was not what I wanted. But, I had faith that if I just did everything right it would be excellent and the recipe did not fail! It is silky and lightly sweet. My only note would be to wait for the egg/sugar/salt mixture to cool (while continuing to whip) before adding the butter. I have tired upwards of 20 recipes this is my favorite.
This recipe is complicated and the amount of butter makes the frosting too rich. After much research, tweaking and practice, here is how I make foolproof Swiss meringue buttercream. I use plain dried egg white powder (NOT meringue powder) instead of fresh egg whites to make SMBC. Then I don't have to worry about bringing the meringue to a high enough temperature to kill bacteria since there's no chance of contamination with dried egg whites. Cook's Illustrated recently compared how easily fresh egg whites, refrigerated pasteurized egg whites, and reconstituted egg white powder could be whisked until stiff, and found that reconstituted egg white powder was superior even to fresh egg whites. My recipe for Swiss Meringue Buttercream uses the proportion by volume of 1 part egg whites to 2 parts sugar and 2 parts room temperature butter because to my taste, that makes the perfect balance of sweetness and creaminess without being too rich. Note that room temperature butter is 65-67 degrees and can be bent without breaking or cracking. Dried egg white powder reconstitutes the equivalent of four egg whites with 1/2 cup water. With my proportions, I combine that equivalent of four egg whites with one cup sugar and one cup of unsalted butter. I also add a pinch of salt and 1 teaspoon vanilla. I use warm water to reconstitute the egg white powder, since room-temperature egg whites whip more easily. I also add 1/4 teaspoon cream of tartar or 1/2 teaspoon lemon juice to help make the egg foam stiffer. Whisk the reconstituted egg whites and sugar, in a bowl set over a pan of simmering water, until the sugar is completely dissolved. When rubbed between the thumb and forefinger, the meringue will be feel smooth, with no grit. Transfer the hot meringue to the bowl of a stand mixer (I use my Kitchenaid), and whisk it at the highest speed until it is completely cooled. This takes my mixer 10 minutes. The bottom of the mixing bowl will at room temperature, with no warm spots. Change to the paddle attachment, then add the butter all at once, and beat the mixture until the buttercream is smooth. Add the salt and vanilla and blend until combined. I use gel food color to tint the frosting. This makes about 3 cups of smooth, pipeable, delicious buttercream frosting. CHOCOLATE: To the above recipe, fold 4 ounces of melted, cooled semisweet or unsweetened chocolate after blending in the salt and vanilla. STRAWBERRY: To the above recipe, thaw 6 ounces of frozen strawberries and puree in a food processor. Cook in the microwave at low to medium power, stirring every 1-2 minutes, until cooked down to 1/2 cup; cool completely. Add 1/2 teaspoon lemon juice with the vanilla and salt to the buttercream and blend until smooth. Then fold in the cooled strawberry puree. LEMON: To the above recipe, fold 1/2 cup lemon curd into buttercream after blending in the vanilla and salt.
This was my first time making buttercream frosting - and this recipe was easy to follow - just take time to read each step carefully. The result was a creamy buttery not too sweet frosting that was easy to decorate the peppermint fudge cupcakes (instead of making the peppermint frosting called for in the recipe) . I will definitely make this again!
I am fairly new to Italian/Swiss buttercream making. I read that Swiss was easier to make so decided to try it for some cupcakes. I love the flavor, it is delicious. Only trouble I had is it was too soft even after chilling for about 20 minutes. Definitely could not pipe with it. Will definitely make again.
First time attempting this meringue based frosting - turned out excellent. It is richer than the typical confection sugar based recipes, however I didn't feel it had an overwhelming butter flavor. I also used superfine sugar which I think avoids the gritty result. Added about a teaspoon of vanilla since I didn't see an amount written anywhere.
The directions for this were fine, though a picture of "stiff" would have been helpful. However, there is way too much butter in this recipe. All you can taste is the butter. KAF is my go to start place for a new type of recipe; this is the first one that has really disappointed me.