A customized print-friendly version of this recipe is available by clicking the "Print Recipe" button on this page.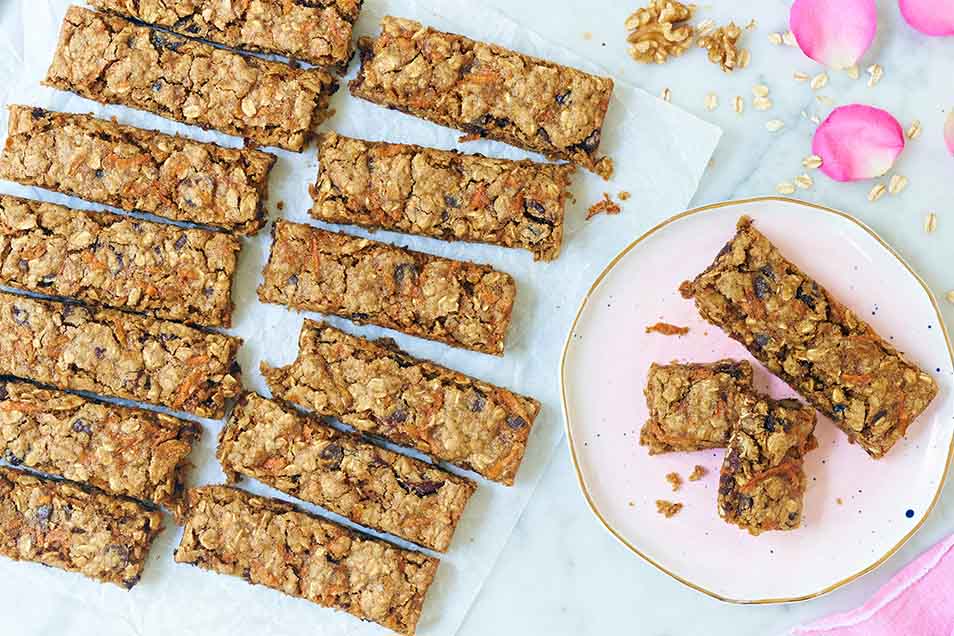 Super, because they're moist, chewy, and packed with tasty ingredients. Take-10, because 10 of those ingredients* (marked with an asterisk) are considered by cancer researchers to be "breast-cancer prevention friendly."

We've recently taken to making these cookies into bars, both to save time, and because they make a light, tender, tasty bar, perfect for bringing to a potluck or kids' sporting event. In the end, these cookies aren't to die for... they're to LIVE for.
Ingredients
1/3 cup canola oil or mild olive oil*
1 cup brown sugar
1/2 teaspoon baking powder
1/4 teaspoon baking soda
1 1/2 teaspoons ground cinnamon*
1 teaspoon ground ginger*
1/4 teaspoon ground cloves*
3/4 teaspoon salt
2 teaspoons vanilla extract
1 large egg
2 tablespoons boiled cider (for great flavor; substitute maple syrup or dark corn syrup, if desired)
1 cup shredded fresh carrots*
1/2 cup dried cranberries, packed*
1/2 cup semisweet or bittersweet chocolate chips*
1 cup diced walnuts or blanched slivered almonds, toasted in a 350°F oven until golden, 9 to 12 minutes*
1 cup King Arthur White Whole Wheat Flour, organic preferred*
1 1/2 cups (4 3/4 ounces) quick rolled oats*
*Wondering about all the asterisks? Check out the recipe headnotes, just under the title at the top.
Instructions
Preheat your oven to 350°F. Lightly grease (or line with parchment) two baking sheets. For bars, lightly grease a 9" x 13" pan.

In a large mixing bowl, combine the oil, sugar, baking powder, baking soda, spices, salt, vanilla, and egg, beating until smooth.

Add the boiled cider or syrup.

Stir in the carrots, cranberries, chips, and nuts, then the flour, beating gently until well combined.

Add the oats last, making sure they're thoroughly distributed throughout the bowl.

To make cookies: Drop tablespoon-sized balls of dough onto the prepared sheets, leaving about 1 1/2" between them.

Bake the cookies until they're just barely set on top — about 12 minutes.

Remove them from the oven, and cool them on the baking sheets; they'll be very soft, so don't try to transfer them to a rack.

To make bars: Press the dough into the prepared 9" x 13" pan.

Bake the bars for 25 minutes, until a toothpick inserted into the center comes out clean.

Remove the bars from the oven, and press them down gently but firmly in the pan; this will make them slightly chewier. Serve them right out of the pan.

Once cooled and cut, store in a covered container, with waxed paper or parchment between the layers to keep cookies or bars from sticking to one another.
Nutrition Information
Serving Size

1 cookie, 33g

Servings Per Batch

30 cookies
Amount Per Serving:
Calories

130

Calories from Fat

50

Total Fat

6g

Saturated Fat

1g

Trans Fat

0g

Cholesterol

5mg
Sodium

85mg

Total Carbohydrate

18g

Dietary Fiber

2g

Sugars

11g

Protein

2g
* The nutrition information provided for this recipe is determined by the ESHA Genesis R&D software program. Substituting any ingredients may change the posted nutrition information.
Reviews
While the flavor of these was great and a crowd pleaser, I found the texture soft and crumbly rather than chewy. I baked them as bars, following the directions using metric weight. I baked them for 28 mins, until the toothpick came out clean. As suggested, I pressed down upon them right after they came out to increase chewiness (I used KAF's giant spatula, which worked great for this). Yet, they weren't chewy buts off and crumbly. Nevertheless, everyone loved them and asked for the recipe.

Thanks for trying out this recipe, GLH, we're glad to hear that they were enjoyed. While making them as bars and pressing them down does make them chewier than they would be as individual cookies, this recipe doesn't produce a particularly chewy cookie. However, we're happy to give a couple of tips. Using a bit of an invert sugar (a sugar that's liquid at room temperature) such as corn syrup, honey, or maple syrup, lends a more bendy, chewy texture. Replacing 2 tablespoons of the brown sugar with 2 tablespoons of one of these invert sugars should help the texture be a little closer to what you're looking for without altering the flavor. You could also use 2 extra tablespoons of brown sugar instead, which contains molasses, another invert sugar. It won't be as effective as the liquid sugars will, but it will be a step in the right direction. You may also enjoy trying out our Granola Brownie recipe. Kindly, Annabelle@KAF
Love this recipe. The first two times I made it mostly as written using almonds (but based on other reviews cut the sugar back to 3/4 cup, and omitted the cloves). Now I double the recipe and bake it in a 9x13 pan. I individually wrap them and freeze them-- they're great straight out of the freezer, but also travel well on hikes. I made them again today substituting shredded zucchini for the carrots, walnuts and 2 TBSP KAF's Chai Spice Blend for the spices. I was out of boiled cider, so I substituted Lyle's Golden Syrup. Also very good. It's fun to think of different combinations: I think the next time I'm going to use the zucchini, dried cherries instead of raisins, toasted almonds and try substituting 1/4 of the flour for cocoa powder. I also want to try one with shredded apples, walnuts and chopped dried apple +/- dried cranberries.
I am so glad I finally got around to baking these. They are delicious! Next time, I will increase the dried cranberries and cut out the chocolate chips. I like chocolate as much as anyone, but this recipe doesn't really need them. No matter what, these are a winner.
I have been making this recipe at least, twice a month. I have tweaked it, and feel I have the perfect cookie/bars "for me". I use whole dried cranberries for full flavor and really pack-it, into 1/2 cup. On my first try, I cut the cranberries in half and felt the bars lacked a punch in flavor. I've also reduced the brown sugar to 1/2 cup. Love the taste. A hint of sweet with all the flavor of the spices and whole dried cranberries. The oatmeal fills me up! The carrots and walnuts make me feel, I'm eating a healthier carrot cake. I added a Tbsp of wheat germ and flax meal. Salt is just one packet I get from a fast food take-out. These bars are so delicious the next day and everyday after that ! I'm also crumbling a bar in my vanilla yogurt. What a treat !! ThankU!
The incredible flavor of these cookies earns them a definite five. I made them exactly according to the instructions, using the boiled cider and all of the spices. Mine, too, came out a bit crumbly, and I would appreciate some feedback on how to avoid this issue in the future.

Sounds like your cookies are just a tiny bit shy of perfection, Susan. One of the most common reasons why baked goods turn out dry is because too much flour is used. To ensure you're using the right amount, we recommend measuring your flour by weight with a scale or gently fluffing and sprinkling the flour into your measuring cup one spoonful at a time before levelling off with a knife. This will help you accurately measure light cups of flour that should make your cookies turn out perfectly. Good luck! Kye@KAF
I love the recipe, made it twice now. I'm wondering if anyone has suggestions to tweak it a bit, my bars come out very crumbly
I made these as bars, and they are yummy. I have questions regarding the nuts, I weigh my ingredients and the recipe calls for 1 cup, or 2 oz, of nuts. But in my world one cup is 4 oz. So just wondering if it should be 1/2 c. or 4 oz.? Also the recipe says to toast for 9 - 12 minutes, and I usually toast for 5 -6 minutes. I would think the recipe time would result in 'blackened' nuts? Just wondering!? Keep up the good work!

We apologize for any confusion, Linda, and we appreciate you reaching out to us about this. You're right that 1 cup of chopped walnuts or slivered almonds weighs 4 ounces, and we've asked our Recipe Team to update this accordingly. We've found that toasting nuts for around 10 minutes tends to be just about right for our ovens, but we encourage you to adjust the baking time as necessary to get fragrant, toasted nuts using your equipment. Kye@KAF
I made these a few weeks ago for the first time and put some in the freezer to keep us from eating them so quickly. They froze well but we had finished them off so I baked another batch this week. My husband doesn't like carrots and I had a banana that needed to be used up, so I replaced the carrots with mashed banana. The first time that I made these, I felt that they were overly sweet b/c the dried cranberries adding sweetness on top of the brown sugar and boiled cider/maple syrup. This time I cut the sugar to 6 oz and omitted the maple syrup completely. They were PERFECT! With only using 1 banana, you don't taste banana at all but it just adds moisture. I'll definitely make them like this again and also try zucchini to replace the carrots. One other thing that I would love to try is swapping out the cranberry for crystallized ginger bits. I love this recipe. It has so many healthy ingredients and after dialing back the sugar, I don't feel guilty eating them.
When I tried this cookie straight from the oven I thought it was just a 4 star but after a couple hours, it's definitely a 5 star cookie/bar. The batter is very moist and does take a little more to put together due to toasting the nuts and shredding the carrots. The only change I made was for the 1 cup carrots, I used 1/2 c apple shredded/drained and 1/2 cup carrots. (My husband doesn't like carrots not even carrot cake, so I was hoping he didn't notice the reduced amount of them but he still noticed them. He still liked these even with the carrots.) Otherwise I used the maple syrup since I don't have boiled cider. I would keep the syrup in it due to the flavor but I will use others recommendations to reduce the remaining sugar. I had used parchment paper to toast the nuts on and just used that same paper to line the 9x13 pan with and I'm so glad that I did because the cookies are just SO moist that I think the would be difficult to get out of the pan otherwise.
Made these as bars for my daughter and roommates who are doing an intensive dance program this summer. They are a great high energy, lower sugar snack to grab before a two-hour dance class and the dancers loved them! I reduced the sugar as others have done and added ground flax seed and wheat germ to add healthy Omega-3's and boost the fiber. This is definitely a keeper!