A customized print-friendly version of this recipe is available by clicking the "Print Recipe" button on this page.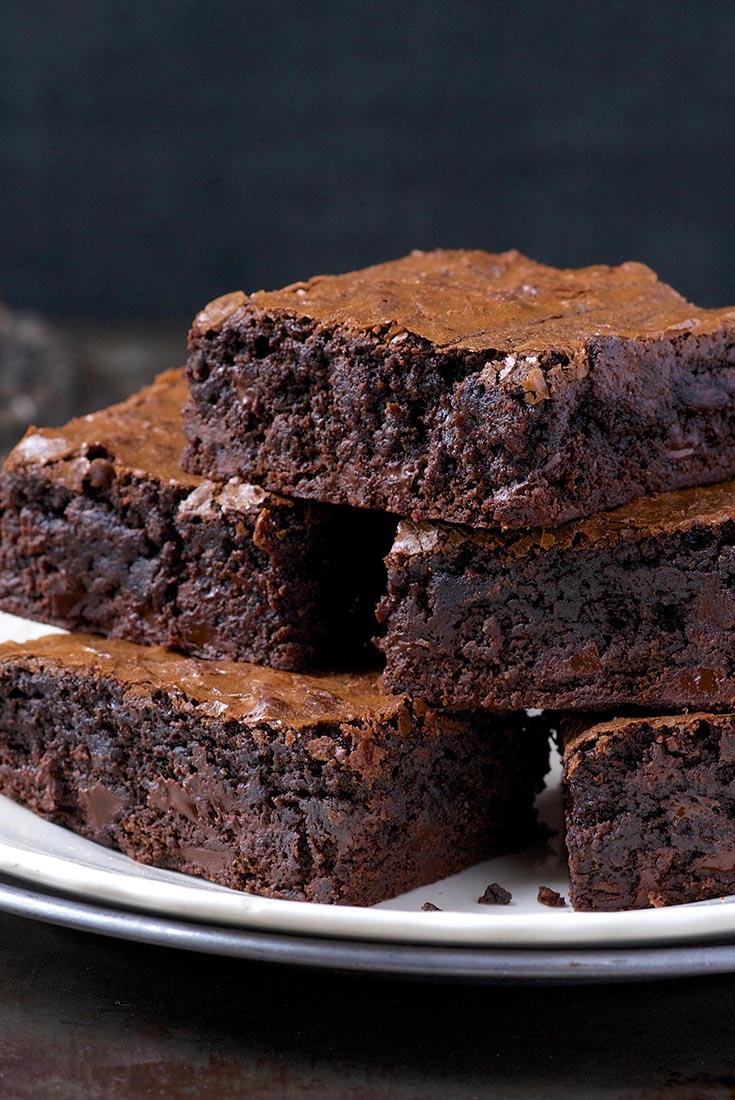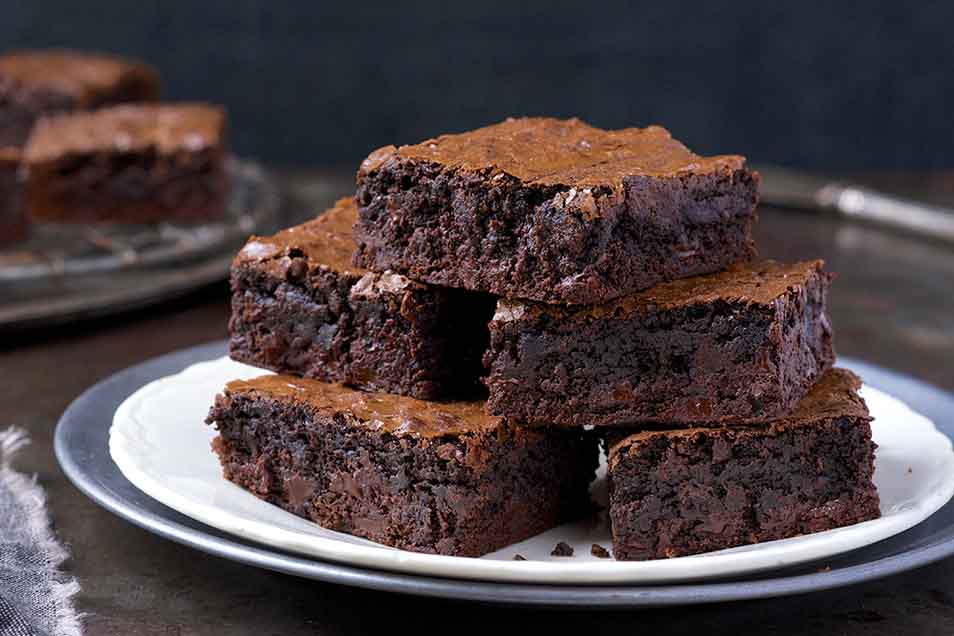 Tasting is believing! These whole wheat brownies are the treat we serve when we're trying to convince folks that baking with whole grains doesn't have to be an exercise in deprivation! Moist, rich, and deeply, darkly chocolate, these brownies are the ones to go through life with.
Instructions
Preheat the oven to 350°F. Lightly grease a 9" x 13" pan; line the pan with parchment paper if desired.

In a medium-sized microwave-safe bowl, or in a saucepan set over low heat, melt the butter, then add the sugar and stir to combine.

Return the mixture to the heat (or microwave) briefly just till it's hot (about 110°F to 120°F) but not bubbling. Don't worry if it separates; just stir it briefly to recombine a bit. Heating this mixture a second time will dissolve more of the sugar, which will yield a shiny top crust on your brownies.

Transfer the mixture to a bowl, and stir in the cocoa, salt, baking powder, espresso powder if using, and vanilla.

Add the eggs, stirring till smooth.

Then add the flour and chips, again stirring till smooth. Spoon the batter into the prepared pan.

Bake the brownies for 30 minutes, until a cake tester or sharp knife poked into the center reveals wet crumbs, but not raw batter. The brownies should feel set on the edges and in the center. Remove them from the oven, and cool completely on a rack.
Nutrition Information
Serving Size

60g

Servings Per Batch

24
Amount Per Serving:
Calories

247

Calories from Fat

120

Total Fat

14g

Saturated Fat

8g

Trans Fat

0g

Cholesterol

56mg
Sodium

134mg

Total Carbohydrate

32g

Dietary Fiber

2g

Sugars

25g

Protein

3g
* The nutrition information provided for this recipe is determined by the ESHA Genesis R&D software program. Substituting any ingredients may change the posted nutrition information.
Tips from our bakers
You can add 1 cup of nuts, or try other flavor combinations that appeal to you: toffee chips, or white chocolate, peanut butter, cappuccino, or mint chips. The total volume of mix-ins shouldn't exceed 3 cups, and may increase baking time by 3 to 5 minutes.
If you want to cut shapes out of the brownies, line the baking pan with a sheet of parchment paper. Use a paper or metal spring clip to secure the parchment to the edge of the pan so it doesn't flop down on the batter as it bakes. After the brownies are cool, you can use the parchment to lift the slab of brownies out of the pan, making them easier to frost or glaze, and cut.
We discovered something interesting when sampling these. For those finicky about texture (kids!), try waiting 24 hours before cutting into these brownies. Why? The wait gives the wheat bran a chance to soften and "disappear," texture-wise.
Reviews
I made these today and they are wonderful. I added black chia seed, flaxseed meal, and orange zest. Can anyone recommend any substitutions to help decrease the calories from fat? Canola oil? Thanks!

Derek, you can try replacing up to half of the butter with a plain, sweetened yogurt (whole milk is best) or applesauce. The brownies may be slightly less tender with this adjustment, but you'll reduce the fat and the flavor should still be ultra chocolatey and delicious. You might also want to consider checking out the recipe called Cut-The-Calories-Brownies, which only has 1/4 cup of oil or butter added to it. Happy baking! Kye@KAF
I made this recipe twice using natural cocoa powder both times. The first time was in a 9x13 pan while the second time was in mini cupcake pans (11 minutes, ended up with 3.5 dozen - could've easily gotten 4 if I was more careful filling the cups). If making mini cupcakes, I would recommend checking at 8 minutes because I think mine were overbaked a tad. Both times the brownies turned out quite puffy and cakey - I assume this is because of the natural cocoa causing the batter to rise quite a bit. I still enjoyed them (it makes a rather rich chocolate cake!) but I would recommend slightly underbaking them for a fudgier texture. I may try this recipe a few more times and tinker with it to try and get the fudgy texture I dream of. Any good tips? :) I think I would first try cutting the baking powder down to 1/2 tsp and maybe use 3 eggs instead, based on the 'Quick and Easy Fudge Brownies' - alternatively, I may just use that recipe instead and swap out the all purpose flour with whole wheat flour (1:1 replacement by volume)

Your initial thoughts about how to make fudgier brownies are spot on: reduce the leavener, cut back on the baking time and consider reducing the liquids (and/or eggs). You also might consider using our Fudge Brownie recipe as a base, which doesn't have much flour added to it in order to achieve that fudgy consistency. Happy brownie baking! Kye@KAF
I made this recipe twice with whole wheat and with all purpose einkorn (just added one extra egg and sifted the flour three times). I love Duncan Himes Red Velvet Brownies, and I would like to make red velvet brownies using this tried and true recipe. However, I do not want to use artificial food coloring. I have canned beets and beet powder. Does anyone have any recommendations of how I can do this alteration and still get a lovely red color? I have made my own red velvet brownies before and they turned brown instead of red even though I used the right kind of chocolate. Thanks so much!

Hi Amy, we don't currently have a recipe developed using these ingredients to share with you. We also haven't tried adding canned beets or beet powder to this recipe, but there are some bakers who report successfully adding beet puree to their brownie batter to get the desired results. This can be tricky since there's no liquid to reduce in this brownie recipe, so we'd recommend starting with a recipe designed to give you the color, flavor, and texture you're looking for, otherwise you'll need to do some experimenting in the kitchen. Good luck! Kye@KAF
Superb! Definitely worth it and I will be making these again. We are trying to cut back on butter, so I used only 1/4 cup butter and added 7 oz. olive oil (we have our own harvest), and cut the sugar back to 1 and 1/2 cups (as suggested by another reviewer). I used semi sweet chocolate chips and had no espresso powder at home so I used 1 tsp. ground cinnamon in its place. Just right, not too sweet and very moist. If you want a chewier brownie, cut back the baking time a bit. Thanks KAF for the great recipes on this site.
These are the absolute best brownies. I added a cup of walnuts. We freeze the Beronies and they are extra good. When frozen. The addition of chocolate chips and the coffee give an exceptional taste.
I really liked this brownie. My 10 year did not care for the espresso so if you are making this for kids you may want to leave that out. I plan to make it again but leave that out. These freeze well for lunch boxes, etc. Great recipe!
My go-to recipe for perfect brownies with home ground flour. It can be made with one arm when the other is holding a baby, it works every time, and the flavour is fantastic. I add toasted almonds & instant coffee, chocolate chips & walnuts or rum raisins ... For kid parties, baked in two 8" pans with a little icing it makes for a perfect birthday cake to go with ice cream.
I made this recipe (half the quantity) several times and every single time it was a big hit. But when I wanted a bigger batch and made the full recipe, it flopped. The batter was raw in the middle even after 1 hour and because of that the edges turned rock hard. Is there a reason for this?

Sudha, we're glad to hear you enjoy making this recipe, and we'd love to help you get good results from a bigger batch. We recommend using a medium colored metal pan (as opposed to glass or ceramic) to ensure even baking. You can also turn down the temperature about 25°F and extend the baking time so that the edges of the brownies don't over-bake before the center is done. You can also use two 8" round cake pans if you'd like to make a full batch and want them to bake through faster. I hope that helps! Kye@KAF
These are our favorite brownies! I always sub a few tablespoons of black cocoa in place of the regular Dutch-process and they come out the deepest, darkest, yummiest brownies ever! I even make them with my own fresh-milled wheat, and you never would know these are whole grain!