A customized print-friendly version of this recipe is available by clicking the "Print Recipe" button on this page.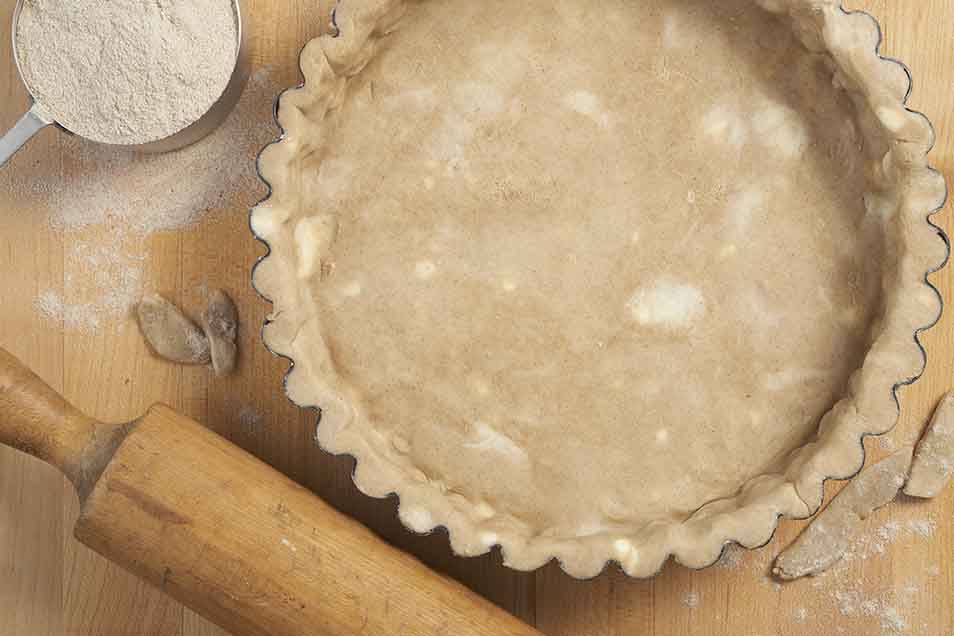 Teff flour adds tenderness and distinct clean and wholesome flavor to this single-crust pastry dough. Without the sugar, it's the ideal crust to complement most any savory quiche or pot pie filling, and with the sugar you'll have a wonderfully flaky and slightly nutty crust in which to bake your favorite seasonal pies.
Ingredients
3/4 cup teff flour
1/2 teaspoon salt
1 1/2 teaspoons sugar, optional
1/4 cup vegetable shortening
6 tablespoons cold unsalted butter
3 to 5 tablespoons ice water
Instructions
In a medium mixing bowl, whisk together the flours, salt, and sugar.

Work in the shortening until the mixture is evenly crumbly.

Cut the butter into 1/2" cubes, and work them into the flour mixture. The mixture should be unevenly crumbly at this stage, with some larger dime-sized pieces of butter among smaller ones.

Add 3 tablespoons of water, and toss to combine.

Allow the mixture to rest for 3 to 5 minutes (the teff flour will slowly absorb more water during this time), then toss with enough additional water to make the dough barely cohesive. If you grab a handful, it should hold together.

Shape the dough into a disk about 1" thick, and refrigerate it for 30 minutes or longer.

Remove the dough from the refrigerator, and roll it to the size needed (about 12" to 13" for a 9" pie).

Place it in a pie pan, and refrigerate it while you prepare your filling. Fill and bake as directed in your recipe.
Reviews
I was pleased with this crust & will use again. I used for a pot pie & we enjoyed it. I don't use shortening so I added a little coconut oil instead. I may try to adapt a little because we try not to eat too much butter.
of course i didn't use the weirdo teff flour. i get it king arthur's flour, you want us to buy every obscure flour on earth. barley flour worked just fine and it was a nice tasty crust for a leftover easter ham and onion quiche recipe.
This is a wonderful crust. The teff add a nutty great flavor to the crust. I made a quiche with leeks, eggs, cheese and onions . There was no left overs. Next time I will bake two . Thank you