A customized print-friendly version of this recipe is available by clicking the "Print Recipe" button on this page.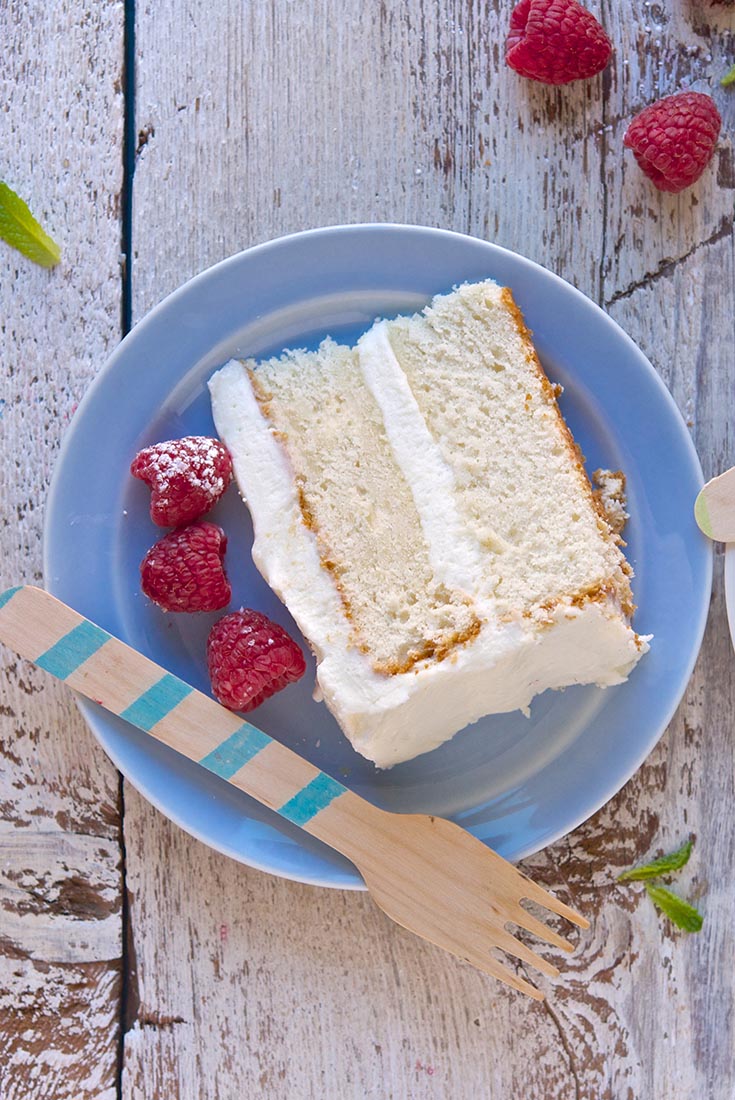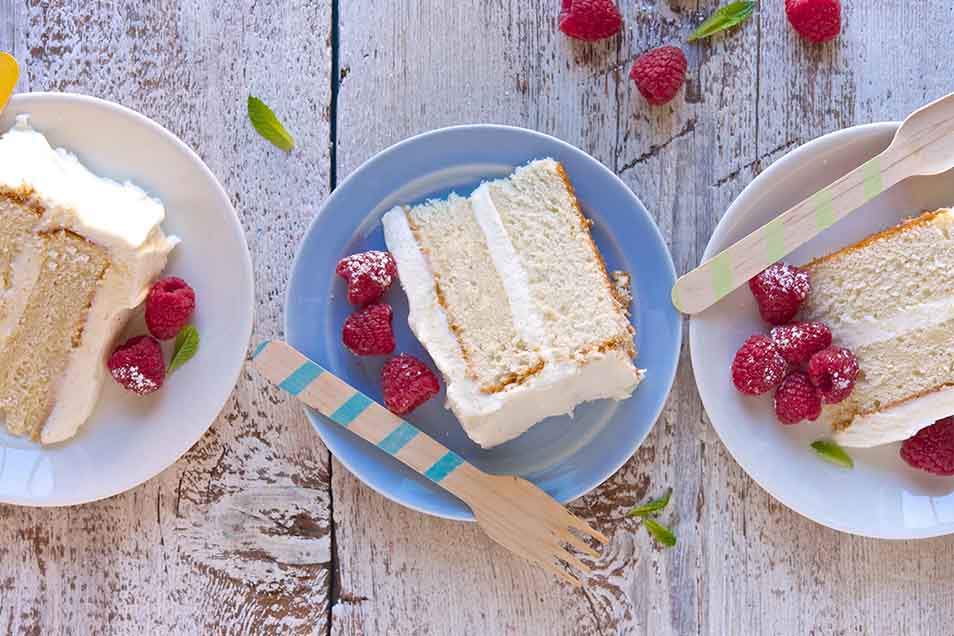 The ultimate tender, moist cake perfect for birthdays and special occasions, yet simple enough for everyday cupcakes. Vanilla and almond flavors combine to give you smooth, mellow flavors reminiscent of your favorite bakery cakes. This recipe uses King Arthur Unbleached Cake Flour Blend, which results in a high rising cake with a moist, tender crumb. The cake also uses the paste method, so no need to cream the butter and sugar. We do recommend a stand mixer for this cake, or a sturdy hand mixer.
Instructions
Preheat the oven to 350°F. Prepare two 8" x 2" or 9" x 2" round pans; a 9" x 13" pan; or 2 standard cupcake pans (20 to 24 cupcakes) by greasing and flouring; or lining with parchment, then greasing the parchment. Note: Make sure your 8" round pans are at least 2" deep; if they're not, use one of the other pan options.

Mix all of the dry ingredients on slow speed to blend. Add the soft butter and mix until evenly crumbly, like fine damp sand. It may form a paste, depending on the temperature of the butter, how much it's mixed, and granulation of the sugar used.

Add the egg whites one at a time, then the whole egg, beating well after each addition to begin building the structure of the cake. Scrape down the sides and bottom of the bowl after each addition.

In a small bowl, whisk the yogurt (or milk) with the vanilla and almond extracts. Add this mixture, 1/3 at a time, to the batter. Beat 1 to 2 minutes after each addition, until fluffy. Be sure to scrape down the sides and bottom of the bowl.

Pour the batter into the prepared pans. Bake for 25 to 30 minutes for 8" or 9" rounds; 23 to 26 minutes for a 9" x 13" x 2" sheet cake; or 20 minutes for cupcakes. A toothpick or cake tester inserted into the center will come out clean when done. Remove from the oven, remove from the pan, if desired (not advisable for a 9" x 13" sheet cake), cool on a rack, and frost.

Yield: Two 8" or 9" round layers; one 9"x 13" x 2" sheet cake, or 20 to 24 cupcakes.
Nutrition Information
Serving Size

1 piece

Servings Per Batch

22
Amount Per Serving:
Calories

180

Calories from Fat

60

Total Fat

7g

Saturated Fat

4.5g

Trans Fat

0g

Cholesterol

25mg
Sodium

160mg

Total Carbohydrate

27g

Dietary Fiber

0g

Sugars

16g

Protein

3g
* The nutrition information provided for this recipe is determined by the ESHA Genesis R&D software program. Substituting any ingredients may change the posted nutrition information.
Tips from our bakers
To make a classic yellow cake, use 3 whole eggs and 2 egg whites instead of 4 egg whites and one large egg. Delicious with rich chocolate icing!
This cake is very tender. We advise handling layers with care when turning them out of the pans; and if you've made a 9" x 13" sheet cake, it's best served straight from the pan, to avoid crumbling.
Reviews
Hello, So I made this cake and to my horror, it didn't rise! I checked the steps over and over again to see if I did something wrong but I did everything exactly as described...well except for the superfine sugar. I used granulated instead. But then I doubt that would affect a rise. I was very careful with beating the batter since the flour was already in it. Trying that method left me all muddled and a bit frustrated. So I decided to tweak the method. Creamed the fat, sugar and egg whites plus whole egg then folded in the dry ingredients. Whoa! The air whipped into the butter and egg mixture helped with the outcome! The cake was fluffy white, soft and tender!!! The recipe is great, the method is somewhat tricky. If anyone is a lover of the classic creaming method like I am, you may want to stick with that!

Hi Adeola. We're glad you were able to get a tasty cake in the end! We encourage you to check out the blog article associated with this recipe as it shows this different "paste method" of mixing. While it's certainly a different route and takes some getting used to, it does produce a beautifully tender cake. We hope the blog article's descriptions and visuals help clarify this technique, but as we said, we're just happy to you wound up with a cake! Kindly, Annabelle@KAF
I just made a Gluten Free blue & white checkerboard version of this cake for a baby shower, and it was fantastic! The mommy to be needed GF, but none of the guests had a clue; it was simply delicious, and the texture was spot on. I used KAF Gluten-Free Measure for Measure Flour, as suggested by the rep at KAF, but when I made it, I realized the recipe called for cake flour, so I added 2 tablespoons of GF cornstarch (per cup of flour) to the bowl on my mu scale, before adding the GF flour.* I used unsweetened full fat yogurt, but I still thought the cake was really sweet, so next time I'll cut the sugar back by 1/3 cup. I skipped the almond flavoring because the cake also had to be nut free, but unless I was in the mood for an almond cake, I'd probably just increase the vanilla, slightly, as I did this time. I also really like the method of mixing the dry ingredients with the butter, first, instead of creaming just the butter and sugar; cakes just seem to come together better with this method. * (The rule for substituting AP flour for Cake flour is to use 1 3/4 cups all-purpose flour with 1/4 cup cornstarch; or put 2 tbsp of cornstarch in the bottom of a 1-cup measuring cup, then fill the cup as usual with all-purpose flour and level top.) The decorating came out so cute, that I wish I could show a photo! I made horizontal rows of blue petals of KAF"s Quick Buttercream Frosting (all butter), shading each row to create a blue ombre effect, then made blue baby shoes (for the top) in a choc mold, and brushed them with gold powder to highlight the details. To finish, I made 2 circles of sixlet chocolate balls, around the top edge, alternating blue and white.
This recipe is fantastic! I baked a couple batches for a coworker's birthday cake (3 nine inch rounds and pne loaf pan for the extra). I used a hand mixer and it went great. I made certain to mix it just long enough to incorporate some air, but that really only took a few seconds. I didn't want to overmix like some of the reviews I've read. The cake was fluffy, perfectly sweet to pair with a swiss meringue buttercream, and it held up really well in a /hot/ room for the birthday party. I also filled it with a vanilla bavarois and topped it with tons of berries. Everyone loved it. A couple comments I got were, "I don't even feel like I've just eaten cake, in the best way possible," and "That cakes looks... refreshing?!" I think I'm officially the cake maker for my office, so thanks KAF!
Hi, It's me again. I tried making this cake 3x, but still couldn't get it soft and fluffy? Here's what I did: - halved the recipe (2 whites + 1 whole egg) as advised - watered down Greek yoghurt as advised I did everything by hand as I don't have a standing mixer: - rubbed softened butter with dry mix, by hand - lightly mixed the whites, then added in one by one (with a spatula) - added whole egg, mixed - added dairy + extracts, then mixed using a balloon whisk The cake always turned out chewy and tough (when cold). Tasted delicious, nicely chewy and soft when warm. But I felt that the gluten was developed too much?? I really don't know whether I mixed too little or too much. This method is too different to any 'classic' methods, i.e. don't overmixed once flour is added. Please help. Thank you.

Thanks for writing back, Devy. We have a very good feeling that the lack of a stand mixer or hand mixer here is the culprit. This is a cake that really needs that air developed with a mixer, and we're unsure if it would ever really lighten when whipped by hand. (We don't want you to develop tendonitis or anything!)

Since we don't expect you to run out and buy a mixer for this recipe, there are a few other things to check and tweak for a lighter texture. Making sure to use Cake Flour and adding the Cake Enhancer will lend a very tender, moist texture. Weighing ingredients will help make sure exta flour isn't getting packed into measuring cups, which would cause the cake to be dense and potentially dry as well. Often cakes that have been over mixed will have gummy streaks inside, so if yours doesn't have those, that probably wouldn't be the problem. We'd love to talk through the recipe with you, so we encourage you to reach out to our free and friendly Baker's Hotline (linked at the bottom of our website under Customer Service) either by online chat or email at customercare(at)kingarthurflour(dot)com. Kindly, Annabelle@KAF
Hi, Could you please advise how much egg whites and yolk I need to put in for half a recipe? Also, I've been wondering if using Greek yoghurt would affect the batter consistency for cakes that call for regular yoghurt. Many thanks.

To make a half batch of this Tender White Cake, you can use 2 egg whites plus a whole egg in the cake batter. (When it comes to eggs, it's usually an ingredient that you can round up when necessary.) You're also welcome to use Greek yogurt if you like, but you might consider thinning it out with a bit of milk. (Try using 1/3 cup of Greek yogurt and then fill up the measuring cup the rest of the way, until 1/2 cup, with milk.) No other adjustments are necessary. Happy baking! Kye@KAF
I baked the recipe as cupcakes, it made 28. The cake texture is light and tender. I have been looking for a good white/yellow cake to make. This will be my go to from now on. I used the weight as opposed to volume as suggested I think this helped make the cake a success, When making cupcakes should the cupcake papers be sprayed with a little vegetable non stick spray to prevent sticking? I did this and wondered if it was why a couple of the cupcakes flowed over the edge a little.

If your cupcake liners are non-stick, you shouldn't need to spray the liners before adding the batter. If they don't say non-stick, a light coat of non-stick spray will help them release from their paper easier when you're ready to enjoy them. To prevent the cupcake batter from overflowing, consider using a muffin scoop when scooping the batter. This helps you portion out the batter evenly into each and every cup. Happy baking! Kye@KAF
I made this cake for my husband's birthday based on all the high reviews. We were very disappointed that it was very dry and dense. A box cake would have been more moist. :( Will not make it again.

We're genuinely sorry to hear this Tender White Cake didn't have the texture you were looking for, especially since you were baking it for a special occasion. There are a few common reasons why cake sometimes turns out heavier than expected, including using too much flour, over-mixing the batter, or not using room temperature ingredients for example. If you'd like to troubleshoot further and gather some ideas about what may have gone awry, we encourage you to give our Baker's Hotline a call at 855-371-BAKE(2253). This might make future cake baking experiences more successful and joyful, regardless of what recipe you use. Kye@KAF
Came out absolutely beautifully. Tender and bouncy. Almost like angel food. Im saving this one for sure!
Best white cake I've ever tasted. Moist fluffy and scrumptious. I was wondering about what adjustments to the cooking time I might need to make because I want to try making a smaller 9 x 5 1/2 x 3 inches loaf cake from the recipe? I figured I'd just need to cut the ingredients by half but I'm not completely sure?

Hello! You can actually just make a single batch. In most cases, a recipe that makes 2 8" or 9" round cakes also fills one loaf pan. Aim to fill it about 2/3 of the way up. If you have any leftover batter, tester cupcakes! Annabelle@KAF
I use this cake recipe, with a few modifications, as a base for a chocolate chip cake I was making tonight. Rather than using vanilla yogurt, I used salted caramel yogurt and added chocolate chips (obviously :) ). I also added about a half a cup of caramel coffee creamer, because I thought the batter was a little too doughy. The creamer helped thin the batter out a bit. I also used three 9in round pans. Otherwise, I baked it as directed and it turned out wonderfully! The cake is moist and dense and perfectly crumbly, and it's sweet; the perfect foil to a more tart cream cheese frosting! After frosting the 3-tier cake, I topped it off with a homemade bourbon caramel drip glaze, and fresh peaches, apricots, and Washington cherries. It. Is. Delicious!! Thanks for the recipe!