A customized print-friendly version of this recipe is available by clicking the "Print Recipe" button on this page.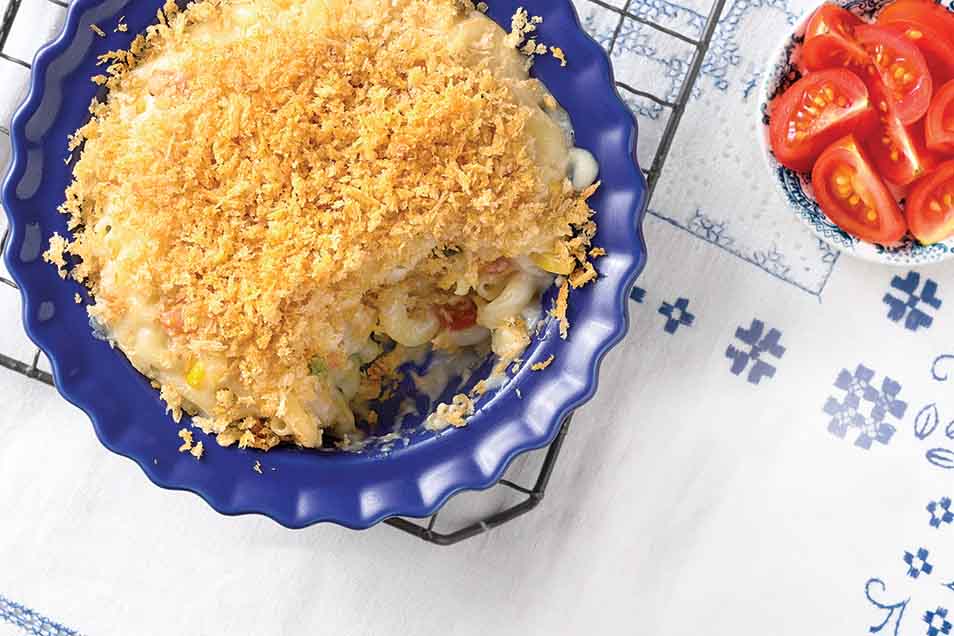 Macaroni and cheese with a south-of-the-border twist.
Ingredients
Macaroni
8 ounces (about 2 cups) uncooked elbow macaroni or the pasta of your choice
2 3/4 cups milk
1/2 cup Vermont cheese powder or grated Parmesan cheese
2 cups shredded cheddar cheese
1/2 teaspoon ground black pepper
1/4 to 1/2 teaspoon cayenne pepper, to taste
1/4 to 1/2 teaspoon salt, to taste
1 tablespoon butter
1/2 cup diced onion (1/2 medium onion)
1/4 cup seeded, sliced jalapeño peppers (about 2 medium)
1/2 cup fresh or frozen/thawed corn
1/2 cup seeded, diced tomato (1 medium tomato)
Topping
4 tablespoons butter
1 1/2 cups coarse, dry bread crumbs (e.g., Panko)
1/8 teaspoon cayenne pepper
Instructions
Preheat the oven to 350°F. Grease four 1 1/2-cup (12-ounce) porcelain baking dishes, or a 2-quart casserole dish.

To make the macaroni: Cook the pasta in boiling salted water according to the package directions. Drain and rinse with cool water.

In a large saucepan set over medium heat, whisk together the Signature Secrets or flour, milk, and cheese powder. Bring to a boil.

Remove from the heat and add the cheese and seasonings, stirring until the cheese is completely melted.

In a small skillet, melt the butter and sauté the onions and peppers until they start to soften. Stir in the corn and tomato.

Stir the pasta and vegetable mixture into the cheese sauce. Spoon into the baking dishes.

To make the topping: Melt the butter, then stir in the bread crumbs and cayenne.

Sprinkle a thick layer of topping over the pasta and cheese.

Bake the macaroni for 25 to 35 minutes, until bubbly and browned. Remove from the oven, and serve hot.

Yield: 6 cups, about 4 servings.
Reviews
LOVE this mac and cheese recipe!! My husband could wipe out the entire pan, and he isn't a tomato lover but prefers the recipe with them! So creamy, cheesy - it's a tex mex party in the mouth for sure!! Love the heat from the peppers - easy to adjust to personal preference. Easy to play around with the amounts for more or less cheese, heat, etc depending on your family's likes. Excellent recipe!!
I LOVE this recipe! It's easy and delicious. Each bite is an explosion of flavor. I love finding new ways to use Vermont Cheese Powder, and this is my favorite so far. My husband loves this recipe, too, and asked me to make it for him to bring to work for a potluck. It got rave reviews there, too!
This is not chili-mac, much less Tex-Mex chili-mac. Just adding a couple of jalapinos to a mac &cheese recipe does not make it so.
You are correct. It is not a Tex-Mex CHILI mac. This is strictly another version of a macaroni and cheese. Elisabeth@KAF
Incredible! I actually was hesitant to make this, because my husband doesn't normally like anything other than the traditional mac and cheese; however, I had recently added a few jalapenos to my cornbread, and he went crazy over it, so I took a chance. I used both the VT cheese powder and the Signature Secrets, but was forced to add canned diced tomatoes in lieu of a fresh one, and left out the corn because I didn't have any. It didn't matter. My husband could hardly stop eating it, it's that good. I believe the panko bread crumbs put this over the top. Just as good the following day nuked in the microwave for a minute.
Simple tasting but addictive! Husband thought it was good.
I made this a while back for a get together and it is MAGICAL!! A lot more simple than the normal mac and cheese I make, but a lot more delicious. This is going to sounds SUPER weird, but I did not have any of the cheese powder, and the idea of Parmesan didn't appeal to me, so I use a bit of white cheddar popcorn flour. Not quite the called for amount, but enough. It was extremely delicious inside of the mac and cheese! Have made it twice already, and will definitely keep this recipe around! Thanks for this :)
What?? Only one review?? This macaroni and cheese recipe is phenomenal. I made it tonight for my 11year old granddaughter who has recently become a vegetarian ... She loves it! Like fist pounding the table with a mouthful of creamy goodness loved it. Ha! We left out the tomatoes, but otherwise didn't change a thing. I used the Vermont cheese powder and the culinary thickener. DH says this will be the Mac and cheese we serve at all of our barbecues from this day forward. Divine (Iknow, really? It's Mac and cheese. But it's THAT good)!
This was easy and wonderful. The slight heat was perfect to my taste. Next time I'll double it and make it in a large casserole so we have leftovers. Though I hate to change a recipe the first time I make it, I did change a few things for convenience. I used canned diced tomatoes and chopped jalapenos from a jar. I didn't have the fresh versions on hand. I hesitated to use so much Vermont cheese powder as it is expensive and one of my favorite ingredients, but it was well worth the use. I also used the Signature secrets instead of the flour. This is already a keeper my family is asking for!