A customized print-friendly version of this recipe is available by clicking the "Print Recipe" button on this page.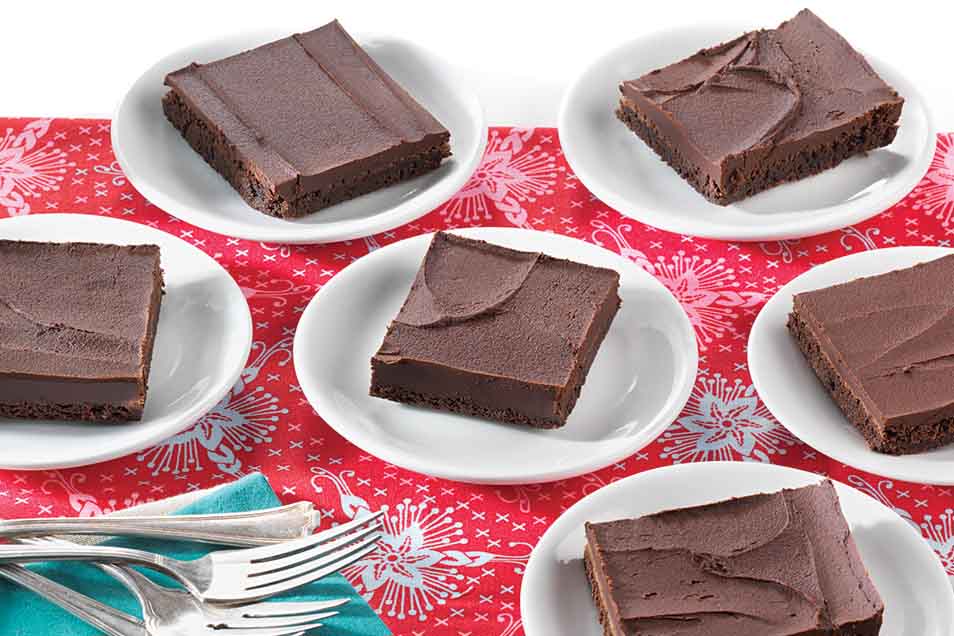 This is a big cake with big flavor. It's ideal for feeding a crowd, particularly a crowd of chocolate-lovers. The soft, moist cake is nicely accented by the dense, fudgy icing, which makes it deserving of a tall glass of your coldest milk. We thank Food52 and Gibson2011 for the idea for this recipe.
Ingredients
Cake
1 1/3 cups semisweet chocolate wafers, chunks, chips, or chopped semisweet chocolate
1/4 cup (4 tablespoons) unsalted butter
3/4 cup vegetable oil
3/4 cup water
1/2 cup King Arthur Triple Cocoa Blend or Dutch-process cocoa
2 cups sugar
1/2 teaspoon baking soda
1/2 teaspoon salt
2 large eggs
1/4 cup buttermilk or yogurt
2 large egg yolks
2 teaspoons vanilla extract
Instructions
Preheat the oven to 350°F. Grease a half-sheet pan (13" x 18"), line it with parchment, and grease the parchment.

To make the cake: Combine the chocolate, butter, oil, water, and cocoa in a medium saucepan or microwave-safe bowl.

Heat, stirring occasionally, until the mixture is smooth. Transfer it to a mixing bowl.

In a separate bowl, mix together the flour, sugar, baking soda, and salt until evenly combined.

Add the dry ingredients to the chocolate mixture, stirring until just combined.

Mix together the buttermilk, eggs, yolks, and vanilla, then add to the other ingredients, again mixing until just combined.

Pour the batter into the prepared pan, spreading it into an even layer.

Bake the cake for 18 to 20 minutes, until a cake tester inserted into the center comes out clean. Remove it from the oven, and allow it to cool completely in the pan.

To make the icing: Combine the chocolate, corn syrup, vanilla, and heavy cream in a microwave-safe bowl.

Microwave until the cream is very hot, and the chips have softened. Stir until the chips have melted and the mixture is smooth, reheating briefly if necessary.

Add the confectioners' sugar and cocoa, and beat until smooth.

Spread the icing evenly onto the cooled cake, and allow it to set for 30 to 60 minutes before serving.

Yield: one 13"x 18" sheet cake.
Nutrition Information
Serving Size

1 piece (78g)

Servings Per Batch

28
Amount Per Serving:
Calories

310

Calories from Fat

170

Total Fat

18g

Saturated Fat

8g

Trans Fat

0g

Cholesterol

40mg
Sodium

85mg

Total Carbohydrate

38g

Dietary Fiber

2g

Sugars

27g

Protein

3g
* The nutrition information provided for this recipe is determined by the ESHA Genesis R&D software program. Substituting any ingredients may change the posted nutrition information.
Reviews
Very moist and I received lots of compliments from co-workers. I substitute King Arthur buttermilk powder for fresh and used the King Arthur dark cocoa. I also ran out of regular chocolate chips by the time I made it to the frosting so I substituted the Andres mint chocolate pieces and had mint frosting. Yummy!
A wonderful recipe, perfect for a crowd. The cake is very brownie-like: rich tasting, great texture, perhaps a tad too much on the "cakie" sude, but the frosting provides the missing fudginess. The recipe satisfied twenty people, with leftovers to take home. Definitely the go-to cake when a crowd is coming
The Texas Sheet Pan recipes I have used in the past never seemed to have much flavor, except for the icing. THIS recipe has fabulous flavor! I used Greek yogurt and only 1/2 cup of choc chips and KA Dutch processed cocoa in the cake batter. I didn't have heavy cream for the icing so I used milk and an extra cup of powdered sugar and it was still Fabulous. As for pecans, I grew up in WI and the recipe we use never had pecans...or we just didn't use them. Great recipe.
I can't speak to how authentically Texan this is - I'm a native New Englander - but my coworkers certainly rushed to eat every last slice of this yummy cake! It was intensely chocolate, but not overly sweet. Better, in fact, than some other cakes I've made that took more work and more ingredients. It's not a thick cake, but you don't mind, because it's rich. I decided to make it as written, because it allowed me to bake the cake last night after dinner, keep it out at room temperature overnight, then make the frosting and ice the cake this morning before work (it only took a few minutes). If I'd done it the authentic Texan way described by others, I'd have needed to clear out a huge amount of refrigerator space to store it, since I'm reluctant to leave icing with a lot of cream out at room temperature all night and half the next day before serving. So, on taste, and popularity with others, I give this 5 out of 5 stars.
Love this recipe. Easy to prepare and serves many. I know this is not really a traditional Texas sheet cake, but I do not care for cinnamon in chocolate cake, and some of my friends and family cannot eat nuts, so this is a better recipe for me. Many thanks.
I made this today for my friend's going away party, he loves chocolate. I have a lot of raspberries so I decided to use the chocolate cake as a base for a raspberry shortcake. When the cake was hot out of the oven I brushed raspberry liqueur over the cake. To serve, I split each piece in half & placed raspberries in the middle topped with fresh whipped cream and had a hit. The cake isn't over sweet. So it was a perfect base as a shortcake, pretty & everyone loved it.
Delicious!! Add the frosting while the cake is warm if thats what tradition calls for. This step does not change the flavor or the yum factor. It just makes for a smoother frosting.
The name of this sheet cake should be changed to Chocolate Sheet Cake. A Texas Sheet Cake has pecans in the frosting and the warm frosting is added to a hot cake so they meld together. Without those two things, this is just a plain chocolate sheet cake.
Thanks for the input, Beth. MJR @ KAF
I haven't tried this yet. I just wanted Gail to clarify something. Gail, you do mean you substituted coffee for the water (instead of using water instead of coffee), right? The recipe I'm looking at calls for water, so I think you mean you substituted coffee for it. Or was the recipe changed after the original recipe? Please "un-confuse" me. :)
My guess would be that Gail used coffee for water, but we'll wait to see from the lady directly. MJR @ KAF
I made this for the first time today. Oh My Goodness!! By itself, the cake recipe could be the perfect brownie recipe I've always looked for. Intensely chocolately without being overly sweet; dense without being mushy or dry. However, add the frosting-*trumpets sounding*- it may possibly be the perfect casual chocolate cake;perfect for summer picnics or other casual gatherings. I did take another reviewer's suggestion, and substituted the water for coffee. Sure, for other occasions you may want a traditional layer cake, or what have you, but I've been baking for quite a while, and I am completely blown away by just how scrumptious this cake is. I highly recommend it.