A customized print-friendly version of this recipe is available by clicking the "Print Recipe" button on this page.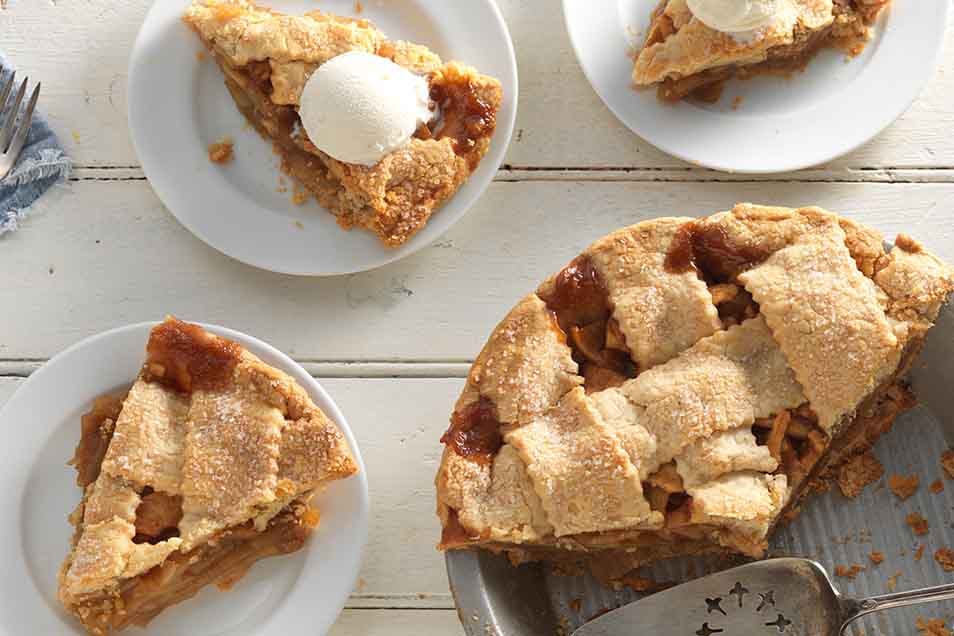 We've made many apple pies over the years, and this is our favorite — so far. The experimenting is so much fun, we'll probably just keep tinkering forever!
Ingredients
Crust
2 cups King Arthur Pastry Flour Blend or King Arthur Unbleached All-Purpose Flour
heaping 1/2 teaspoon salt
1/2 cup (8 tablespoons) cold unsalted butter
3 to 5 tablespoons ice water
Filling
9 whole apples (about 10 cups) Cortland or other baking apples, peeled, cored and sliced
3/4 cup granulated sugar
1 1/2 teaspoons Apple Pie Spice
1/4 cup boiled cider
1 tablespoon rum (optional)
1/4 cup King Arthur Pie Filling Enhancer
1/8 teaspoon salt
2 teaspoons vanilla extract
juice of 1/2 lemon (about 2 tablespoons)
Instructions
To make the crust: Whisk together the flour and salt, then cut in half the butter until crumbly. Add the remaining butter and work it in roughly with your fingers, a pastry cutter, or a mixer. Don't be too thorough; the mixture should be very uneven, with big chunks of butter in among the smaller ones.

Drizzle just enough water over the mixture to make it cohesive, tossing until it begins to come together.

Gather it into a ball, divide in half, flatten each half into a disk about 3/4" thick, and wrap well. Refrigerate for 30 minutes.

To make the filling: In a large bowl, stir together the filling ingredients, mixing until well-combined. Set aside.

Preheat the oven to 425°F with a rack on the lower shelf.

To assemble the pie: Roll one piece of pie crust into a 12" round, and lay it gently into a 9" pie plate. Spoon in the filling. Roll out the other piece (or make a lattice), lay it over the filling, and seal and crimp the edges. Brush the top crust with milk, and sprinkle it with sparkling sugar, if desired.

To bake the pie: Place the pie on a baking sheet to catch any drips. Bake for 15 minutes, then reduce the heat to 375°F, and bake for an additional 45 minutes, or until the top is brown and filling is bubbly.

Remove the pie from the oven, and place it on a rack to cool completely before cutting.

Store, loosely covered, on the counter for a day. Refrigerate, tightly wrapped, for up to a week.
Nutrition Information
Serving Size

202g

Servings Per Batch

10
Amount Per Serving:
Calories

340

Calories from Fat

90

Total Fat

10g

Saturated Fat

6g

Trans Fat

0g

Cholesterol

25mg
Sodium

150mg

Total Carbohydrate

62g

Dietary Fiber

4g

Sugars

38g

Protein

3g
* The nutrition information provided for this recipe is determined by the ESHA Genesis R&D software program. Substituting any ingredients may change the posted nutrition information.
Tips from our bakers
There are many different thickening options available for fruit pies, from flour to cornstarch to Instant ClearJel and more. For an easy guide to thickener substitutions, see our Pie Filling Thickeners Guide.
Reviews
This is the best apple pie recipe I've ever tried, so say family and friends. I've made this countless times. My one disappointment is that the Apple Pie Spice is unavailable all year round. When I recently placed an order for boiled cider, pie enhancer and apple pie spice, the pie spice showed to be out of stock. I called customer service and was told it was a seasonal item, but there might be some stock in the retail store. I emailed the store but have heard nothing back for over a week. Please make the Apple Pie Spice available all year.
Hi Kye@KAF Thank you for your suggestions. The next day the pie was even better than day 1. The filling was firmer and didn't seem overcooked. Maybe the pie had to cool down more. I used Granny Smith apples. The "surround" mode heats from top & bottom but is not a convection mode. The oven also has convection bake, convection roast, intensive for pizza plus more...too many choices! Next pie I will try "bake" mode. I used a pyrex glass pie dish. Was I supposed to cook at a lower temp?

We hope the bake mode works well! Whenever you bake in a glass dish, you'll want to lower the oven temperature by 25°F, as it will dry out the edges before the center is fully baked. Happy baking! Annabelle@KAF
Love the flavors in this pie. My husband loved the rum! My problem is that the apples were on the mushy side. I have a new range and cooked the pie on "surround" meaning the heat comes from above and below and it's supposed to be good for baked goods. Maybe I should try the "bake" mode. Do you think I should decrease the temp or the time? Or both? Thanks for your suggestions.

Happy to help, Berry! It sounds like the "surround" mode on your oven is comparable to convection baking. We tend to recommend using this setting to bake things like pizza, artisan bread, cookies, biscuits, and scones. For pie, you might want to try using the regular bake mode to see if you like the results better. Also, try using some firm apples in your pie filling next time to help give it more texture. Granny Smith apples are always a good choice for a bit of tartness and crunch. Happy baking! Kye@KAF
Make at least 1 1/2 times the crust. It isn't enough, even rolled very thin.
I've baked this several times for gatherings and always get complimented on how great my pie is. The only things I do differently is double the crust recipe and add some extra cinnamon. I tried going without pastry flour once and it didn't turn out well, so that really makes a difference!
Great recipe. But I have a beginner's question: In a recipe, like the one above above, that calls "X cups (or Y oz.) of peeled, cored and sliced apples" should the quantity/weight of the apples refer to the amount before, or after, the apples are "peeled and cored"?

Great question, Nichael! The 10 cups (approximately 1531g) of apples should be measured once the apples are peeled, cored, and sliced. This generous amount ensures a tall apple pie that's bursting with fresh apple flavor. Happy baking! Kye@KAF
I posted a review earlier about the pie crust and filling. I also used boiled cider which I made. I bought a gallon of AC and cooked it down to probably 2 cups. Perfect syrup. The flavor is incredible.
The filling for this pie is the best one yet. However, my pie crust was a failure. What did I do wrong? I make crusts all the time but never had one turn out tough. I actually sawed through it with a steak knife. I could tell when I was working with it that it seemed rubbery. It took a lot more water than what was recommended. I left the butter chunky as you suggested but it seemed like I had a really hard time getting all the water worked in and it took so much more than a few tablespoons. I will try it again hoping the second time it is a success.

Hi Patricia, when too much water is added to pie dough, it activates the gluten, which causes the dough to be touch. Pie dough should seem shaggy and dry in places when all the water is mixed. When it's wrapped in plastic and placed in the fridge to chill, the flour absorbs some of the available water and hydrates. Next time resist the urge to add more water than what's called for, and try folding the dough over onto itself using parchment paper to create layers and flakes. We have a full article on our blog called "Flaky, tender pie crust," which outlines this technique. We encourage you to check it out before trying again. Happy baking! Kye@KAF
I absolutely adore this recipe. It makes me look like a superstar pie baker and everyone who has tasted it raves about how good it is. I do, however, make two tweaks. First. I use brown sugar instead of white because we like the hint of caramel flavor it gives, and second, I use my own spice blend of cinnamon, all spice, ginger, clove, cardamon, and salt. I really think the thing that takes this pie over the top is the boiled cider and using a variety of apples. I used four different types of apples last week when I made this for my husband's birthday and it came out perfect. :)
I love this recipe.I followed it to a t,used Fuji and Honey Crisp,instead of Granny Smith,and cooked the slices a bit before adding into crust,so they aren't too crunchy,helps when you use all nine,that's a lot of apples! Delicious.