A customized print-friendly version of this recipe is available by clicking the "Print Recipe" button on this page.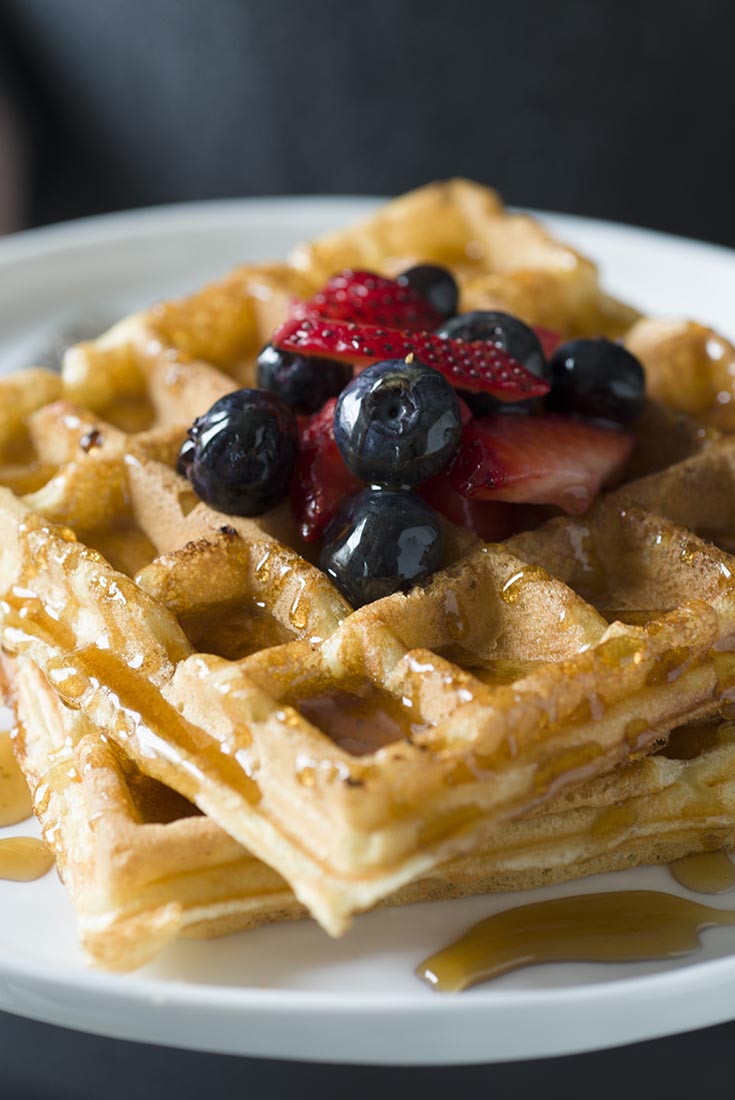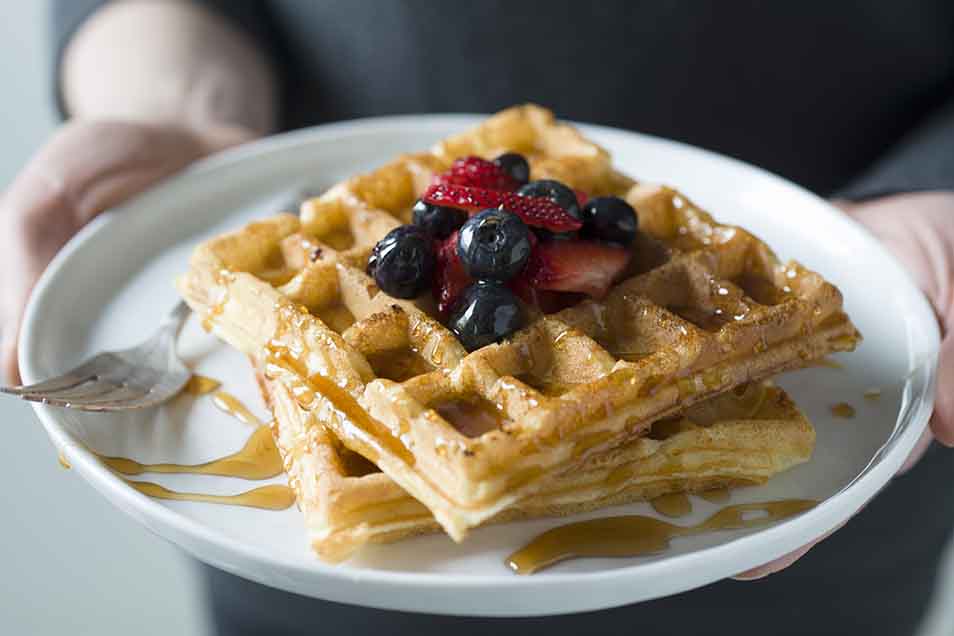 Charles Hambrick of Alexandria, Va. called one day awhile ago to talk to us about a baking problem he was having. As happens so often, we got talking about baking in general, and some of our favorite recipes. Charles swears this waffle recipe, which is served at one of Washington, D.C.'s famous hotels, is the best he's ever tasted. We made it, and we have to agree. Waffles are soft and light on the inside, crisp on the outside. They're particularly good made in a Belgian waffle iron. Thanks, Charles!
Ingredients
2 large eggs, at room temperature; separated
1 1/2 cups buttermilk, at room temperature
2 tablespoons melted butter
2 tablespoons vegetable oil, for added crispness; optional, but good
4 teaspoons yellow cornmeal or cornstarch
1 teaspoon baking powder
1/2 teaspoon baking soda
1/4 teaspoon salt*
1/2 teaspoon sugar
*Thanks to reader feedback, we've decreased the salt in the recipe from its original 1/2 teaspoon to 1/4 teaspoon.
Instructions
Grease and preheat your waffle iron according to the manufacturer's instructions.

In a large bowl, beat together the egg yolks, buttermilk, butter and oil until well combined.

In a separate bowl, sift or whisk together the dry ingredients.

Gently stir the dry ingredients into the wet ingredients. Don't beat the batter; it's unnecessary, and will make for tougher waffles.

Beat the egg whites until stiff. Gently fold them into the batter.

Bake the waffles according to your waffle iron's instructions. To keep finished waffles crisp as you continue baking, place them in a preheated 200°F oven, directly on the rack.

Yield: about 5 large (7") Belgian waffles; or 7 medium (5") square American-style waffles.
Nutrition Information
Serving Size

1 waffle (95g)

Servings Per Batch

7
Amount Per Serving:
Calories

180

Calories from Fat

90

Total Fat

10g

Saturated Fat

3.5g

Trans Fat

0g

Cholesterol

65mg
Sodium

310mg

Total Carbohydrate

18g

Dietary Fiber

1g

Sugars

3g

Protein

6g
* The nutrition information provided for this recipe is determined by the ESHA Genesis R&D software program. Substituting any ingredients may change the posted nutrition information.
Tips from our bakers
Note: For best results, use the ingredients listed, and follow the directions. Yes, it does make a difference if you use real buttermilk, the greater amount of fat, and the cornmeal/cornstarch (which help increase crunch). And yes, separating the eggs and beating the whites will yield lighter waffles.
Reviews
The BEST Belgian waffle recipe I have made yet; light fluffy and crispy waffles as promised in the title. I have tried tens of waffle recipes many ending with heavy dense waffles that were not crisp. The only substitution I used was organic whole milk with lemon juice for the buttermilk.
Because I am strict lactose intolerant I used Lactaid whole milk and added lemon juice for the buttermilk making it the same amount of liquid as the recipe calls for. The batter was too thin. I always do this when I make any recipe that uses buttermilk and have never had a problem. Do you have a solution?

Hi Thelma, as long as you're using a total of 1 1/2 cups (12 ounces) of liquid in this recipe, it should have the right consistency. The waffle batter should be slightly thin (thinner than pancake batter) because that's what allows it to become crispy and light in the waffle iron. If you used a different flour other than King Arthur All-Purpose Flour, you might have needed to add a few additional tablespoons to the batter, as other brands are often lower in protein content. With softer flours like this, more is needed to get the same results in a recipe. Try using King Arthur All-Purpose Flour if you're not already doing so, and feel free to hold back the last 1/4 cup of dairy-free buttermilk if you prefer a thicker batter. You can also use 1 1/2 cups of your favorite plain, unsweetened non-dairy milk for a thicker batter and perfect waffles. Happy baking! Kye@KAF
This waffle recipe is in a class of its own. They were fabulous and unique. The interior was custardy, and the exterior had a thin shell of crispy texture. The waffles had a lovely eggy popover/yorkshire pudding thing going on, and I found absolutely zero problem with the recipe as written. They will be made on a regular basis at Camp Jeff and Owen.
This was like water! I done half almond milk with milk but don't alter liquid volume. I added 3 CUPS!!! of the gf baking mix, not 1 cup! An extra 5tsp cornmeal, and doubled the recipes baking soda and baking powder. Address 1/2 tbsp olive oil and it made 5 perfect waffles. Definately an ingredient error

We're sorry to know that this well-loved recipe didn't do the trick for you. If we can help pick out a recipe that better fits your tastes, please give our Baker's Hotline a call at 855-371-BAKE. Annabelle@KAF
Let me start that I ate 3 that as in THREE waffles this morning. This has to be one of your better recipes, if not the best. The bride aka wife said they were Good. Just as good as the sour dough waffles. You must and I mean must follow the recipe to the letter. No substitutes, no cheating, no complaints. Now for my mistake I tried to cheat, with the egg whites. I used the bowl that I mixed the liquid mix in, and did not clean it out. I could not get the egg whites to stiffen. OIL IN THE BOWL......broke two more eggs and in about 3 min I had stiff egg whites. The waffles were everything you said if not more,...,.,.A lot of prep, but as in cooking quick is no always the best......
Hello! I think there is an error in this receipt when you use the quantities by grams or ounces instead of the volume measurements. For the volume measurement, the ratio to flour to milk is 0.66. However, for the weight measurements, the ratio is more like 0.33. I think this may be why some commenters found the batter soupy. I used the measurements by grams and the batter was very watery and the end result had a weird texture, edible but not great. I may try again using the volume measurement, but will probably go back to my standby recipe.

Thank you for reaching out to us about this, Katrina! We're sorry to hear that this recipe didn't give you the waffle texture you'd been hoping for. We've double and triple checked the measurements and they are equal from the volume version to both weight versions. On this particular recipe, there's a special note at the bottom that reads: "For best results, use the ingredients listed, and follow the directions. Yes, it does make a difference if you use real buttermilk, the greater amount of fat, and the cornmeal/cornstarch (which help increase crunch). And yes, separating the eggs and beating the whites will yield lighter waffles." Because this recipe is quite sensitive, it's possible that the batter may have been uncooperative if there were any changes made. We'd love the chance to talk through the recipe with you, so we encourage you to reach out to our free and friendly Baker's Hotline staff to help troubleshoot, or, find a different recipe, at 855-371-BAKE (2253). Kindly, Annabelle@KAF
Excellent! I use all oil (no butter) and add a dash of cream of tartar to the egg whites. They beat up a bit more and are more stable. A splash of vanilla is also a nice addition.
I substituted 1/3 cup of Mesquite Flour for the KA; and substituted blue corn meal for the yellow. I tried the trick of separating the eggs and not beating them. I won't do that again; batter was a bit too wet and needed the air of peaked egg whites. Sorry KA for using less KA flour, but these are so good I will be using a LOT more KA!
I tried making this today and out of all the 4 waffle recipes I found online and tried, this one was my favorite! Hubby liked it, too! Soft and fluffy in the inside and crispy on the outside! Will keep making this! Thanks!
Too much milk very soupy batter, had to cook longer on high heat. dripping with oil also , next time I will add 1/2 cup more flour, and 1/2 the oil and butter. So sorry that this recipe did not meet your expectations. But it seems as though you have already thought about making some modifications to fix the recipe to your liking. If you need further help, please feel free to call our Baker's Hotline, 855-523-5687. Happy baking!! JoANn@KAF