A customized print-friendly version of this recipe is available by clicking the "Print Recipe" button on this page.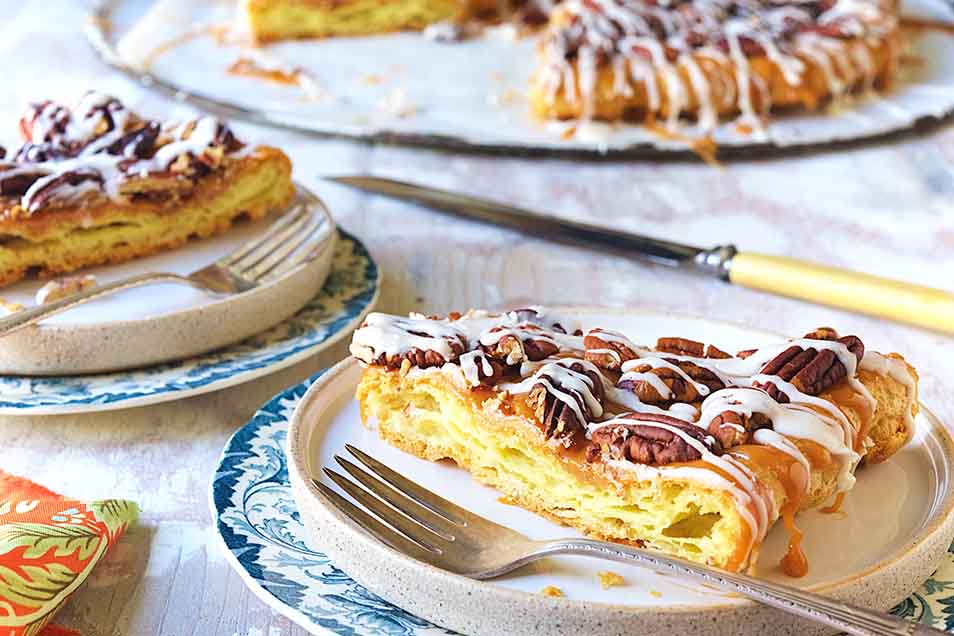 Kringle looks like it should be REALLY hard to make. And it usually is, which is why most folks buy their kringle from one of the Wisconsin bakeries that specialize in this tender, layered, buttery Danish pastry. But our version of kringle is so easy a 10-year-old could make it. And while it's not made in the traditional method, you'll find it just as tender and tasty as the original.

Baking gluten-free? For great results, substitute King Arthur Gluten-Free Measure for Measure Flour for the all-purpose flour in this recipe; no other changes needed.
Instructions
Preheat the oven to 350°F. Lightly grease (or line with parchment) a baking sheet that's at least 18" x 13"; or a 14" round pizza pan.

To make the base: Combine the butter, flour, and salt, mixing until crumbly. Add the water, and stir to make a soft, sticky dough.

Wet your hands, pick up the dough, and shape it into a 12" x 8" oval ring on the sheet pan; or a 10" ring in the pizza pan. This will be messy going, but just keep wetting your fingers and pushing it into a ring. An easy way to approach this is to first divide the dough into four pieces; roll each piece into a 9" rope, then connect the ropes and shape them into a ring.

Once you've made the ring, flatten the dough so it's about 1 1/2" wide; basically, it'll look like a train or NASCAR track.

To make the pastry topping: Place the water, butter, and salt in a saucepan, and heat over medium heat until the butter is melted and the mixture is boiling.

Immediately add the flour, stirring with a spatula until the mixture is cohesive and starts to form a ball.

Transfer the batter to a mixing bowl. Beat in the eggs one at a time, making sure each is fully incorporated before adding the next. Add the flavor at the end, if you're using it.

Spread the pastry along the ring, covering it completely; you'll now have a much wider ring, though it won't be completely closed in the center; it should still look like a ring.

Bake the kringle for 50 to 60 minutes, until it's a deep golden brown. If you haven't yet toasted your pecans, this is a good opportunity to do so; they'll need about 8 to 10 minutes in the oven. When they're golden, remove them from the oven and cool. When the kringle is done, remove it from the oven, and allow it to cool completely on the pan.

To add the pecans and caramel: First, have the pecans all ready beside the pan of kringle; you'll be sprinkling them atop the caramel as soon as you pour it on.

Place the caramel in a microwave-safe spouted cup, if you have one; it's not necessary, but makes it easier to pour. Melt the caramel until it's bubbly, remove it from the microwave, stir a few times to smooth out the bubbles, and immediately drizzle it over the kringle. If it stiffens up, reheat briefly in the microwave.

Sprinkle pecans atop the caramel, pressing them in gently. Allow the kringle to cool completely.

To make the glaze: Stir together the confectioners' sugar, salt, flavor (if you're using it), and enough milk or cream to make a pourable glaze. Drizzle it over the kringle.

To serve, cut the kringle in 2" slices.

Store at room temperature, lightly tented with plastic wrap, for a day or so; freeze for longer storage. Kringle is best served the same day it's made. If you plan on serving it the next day, add the caramel, nuts, and glaze just before serving.
Nutrition Information
Serving Size

67g

Servings Per Batch

24
Amount Per Serving:
Calories

250

Calories from Fat

160

Total Fat

17g

Saturated Fat

7g

Trans Fat

0g

Cholesterol

45mg
Sodium

150mg

Total Carbohydrate

22g

Dietary Fiber

1g

Sugars

14g

Protein

3g
* The nutrition information provided for this recipe is determined by the ESHA Genesis R&D software program. Substituting any ingredients may change the posted nutrition information.
Tips from our bakers
Want to get a head start? Bake the base pastry up to two days ahead, then cool, wrap, and store at room temperature. Top with filling and icing just before serving.
Want a change from caramel? Top the kringle with your favorite combination of filling and icing: raspberry jam and lemon icing, for instance.
Reviews
Five star recipe: who doesn't love Kringle? Two star directions: the base layer direction- which is it a 1 1/2 inch tall oval of dough or a 1 1/2 inch flat and wide oval of dough. Sadly I interpreted the direction as a flat 1 1/2 inch wide oval of dough which yielded a dense under baked base layer. 350 for 55 mins. The top layer baked fine. Maybe 10 more mins in the oven would have yielded a better result? But then there is the 1 1/2 inch log oval or 1 1/2 inch wide flat oval. Pictures are really needed at the point to clear up the confusion. One of the base layer, middle layer and one of the product just out of the oven. Thanks

We're sorry to hear that this recipe didn't give you the light crispy results you were looking for. Thankfully, we have a full blog post with step-by-step pictures on our blog. It's called "Butter-Pecan Kringle Bakealong: Challenge #5" Our friendly Baker's Hotline staff is also here to help troubleshoot at 855-371-2253. Kindly, Annabelle@KAF
Mine came out just like the picture, but we couldn't eat it! The caramel got so hard, we were afraid of breaking our teeth! After just a taste, we threw the whole thing away. Very disappointed, since it is not exactly a quick recipe. I was surprised to see no other reviews that had this trouble! My sister thought maybe I should have added a little milk to the melting caramel? Not sure if that would have helped.

We're sorry to hear about your hardening caramel, fellow baker. It sounds like the caramel was heated too much, which caused it to solidify upon cooling. Next time you can try heating the caramel just until it starts to bubble, stir it down, and then pour it on your dessert, or you can use a caramel sauce if you are looking for something quite soft. Adding cream to caramel before it's heated it a way to get more of a sauce-like consistency. We hope this helps for next time. Kye@KAF
Fairly easy, great presentation! I didn't want the caramel so I topped it with raspberry jam and the glaze! Great flavor. Absolutely no complaints any time I make it.
The second layer when mixed was soupy. I had to add one half cup of flour and it was still runny. I baked it anyway. I had no layers like the picture, also no taste whatsoever. Maybe its where I live. Upper Midwest. I will not make again.

It sounds like something definitely went awry with this recipe Lori, and we'd love to help find a solution so you too can enjoy the deliciousness of a well-baked kringle. The soupy batter may have been caused by a measuring error, the wrong kind of flour, or something else entirely. We hope you'll consider giving the Baker's Hotline a call at 855-371-BAKE(2253) so we can help with this. Kye@KAF
This recipe is absolutely delicious. I didn't have the eggnog extract so I used toasted coconut compound (1/4 t.) & 8 drops of butter flavoring. Also added 4 drops of butter flavoring to the glaze. I also added toasted coconut to the topping. AMAZING. I was wondering if this kringle can be froze....not that there was any left....it was just myself and my husband eating it. I would appreciate KAF response if it can be froze.

Terri, the kringle can be frozen after the pastry has baked and cooled completely, before topping. It's best to let it thaw before adding the caramel, glaze, and nuts. It will keep in the freezer for about 1 month, wrapped tightly in plastic. Enjoy! Kye@KAF
Thanks for the reminder. I used to make this wonderful pastry and forgot it for awhile. Used Fat Toad Caramel for the topping.yummy!
Wonderful! I would give this more stars if I could. I made this Christmas morning and it turned out perfectly. It's tasty, decadent - but not too decadent - looks sensational, and is fairly easy, though a bit time consuming. I found the pictures on the blog really helped me understand what I was doing. It's definitely best the day it's made but we managed to polish off the leftovers over the next couple of days. There's more caramel than I would like (and I love caramel); I cut it down to 10oz and that was still a bit too much. Next time I wouldn't use more than 8oz.....although next time, I'm going to try either just half or a third of the recipe. The full recipe is good if you have a crowd to serve. Highly recommended!
Can anyone please tell me if gluten-free flour would work in this recipe? Thank you!!

As we mention in the blog, our Measure for Measure Flour works well as a 1:1 replacement in this recipe! We do suggest baking the kringle for longer, about 60-75 minutes. It won't brown very much, but it needs this full time in the oven to help the structure set, giving it that perfectly crispy yet still tender pastry texture. Hope this helps! Mollie@KAF
This completely fooled me. I made this while working at a local culinary school with some chef friends, and we all gave this the skeptical eye. The results were beyond belief. I made the paste base by pulsing in a food processor, and it came together very quickly, and I discovered that it was easiest to shape if you did split it into fourths, then let it sit for about 5 minutes to firm before shaping with wet hands. Also scattered some candied apple bits to the base before spreading the choux pastry on top. Baked it on greased sheet pan, because I wanted a crisper bottom crust than if it was on parchment. The caramel, pecans, and icing were perfect on top. It was buttery, flaky, tender pastry that I'll make again and again.
I made the dough/base but instead of making it butter pecan, I made it a lemon Kringle. I spread a thin layer of lemon curd on the bottom layer and then covered it with the next layer of pastry and baked it. When it came out of the oven, I spread another very thin layer of lemon curd and then made a glaze with powdered sugar and limencello. Served it up with some strawberries for a delicious Mother's Day dessert. I love that this recipe is so flexible that you can easily change it up for what you have on hand! The recipe really is as easy as it says. This was the first time I've made it and it took me 30 minutes from start until it went into the oven. I don't think I beat the top pastry long enough after adding the eggs. My Kringle was super flat when it came out of the oven. It still tasted good, so no big deal. I'm very glad that I used the link to the Flourish page blog. The pictures were a huge help! I went looking around the web to get inspiration for other Kringle flavors that would work well with this recipe. I can't wait to try them!