A customized print-friendly version of this recipe is available by clicking the "Print Recipe" button on this page.
The Omega(-3) of All Chocolate Cakes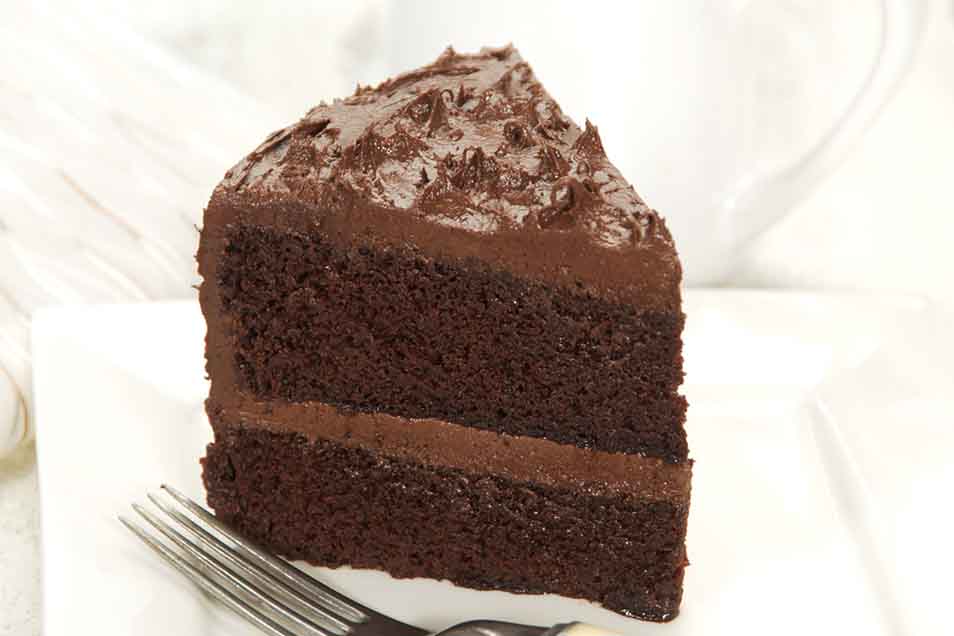 Here's a delicious way to sneak omega-3 fatty acids and fiber into your child's birthday cake — or into yours, for that matter. You're never too old for cake, especially a rich, delicious chocolate cake like this.
Instructions
Preheat the oven to 350°F. Lightly grease and flour (or grease, then line with parchment, then grease again) two 8" x 2" round cake pans. Note: These pans need to be at least 2" tall; if you have non-standard, shorter 8" pans, substitute 9" round pans.

Whisk together the dry ingredients.

Add the eggs, oil, and vanilla, beating until smooth.

Gradually add the water, again beating until smooth. Pour the batter into the prepared pans.

Bake the cakes for 35 to 38 minutes (a bit less if you use 9" pans), or until a cake tester inserted into the center comes out clean.

Remove the cakes from the oven. Cool themes in the pans for 15 minutes, then turn them out of the pans to cool completely on a rack.

Fill and frost as desired.

Yield: one 8" or 9" layer cake.
Reviews
Very disappointing recipe. I bake a lot and enjoy flavorful baked goods. This recipe was bland in flavor and gritty in texture. I'm going to look for a recipe with milk, butter and flax seed meal.

We're sorry to hear that this recipe didn't give you the textures and flavors you'd been hoping for, Shana. We'd love the chance to talk through the recipe with you, so we encourage you to reach out to our free and friendly Baker's Hotline staff to help troubleshoot or find a recipe better suited to your tastes at 855-371-BAKE (2253). Kindly, Annabelle@KAF
This is my go-to Chocolate Cake recipe. I love that it has flax in it...makes me feel "healthy" when I eat it. ;-) I have made this for my son's birthday for the past 2 years, and I'm about to make it again in cupcake form this time. It's a great, dense but moist cake, and not too sweet. It's also good for shaping if you need to carve the cake. The first time I made this I shaped and stacked it to shape into a train, and it worked perfectly. Love this recipe!
Why exactly is this categorized under "whole wheat, whole grain" I wonder.

The flax meal contributes to the whole grain part. You can definitely use the white whole wheat for this cake and no one would be the wiser. Happy baking! Laurie@KAF
I've been looking for the perfect chocolate cake for my husband's birthday for years, and have finally found it! It's moist and chocolaty. I combined this cake recipe with the filling and frosting recipes from King Arthur's "3 Easy Step Chocolate Peanut Butter Cake" (also on the web site) and covered the top with mini-chocolate chips. Amazing! My family loved it. This will by my go-to chocolate cake recipe from now on.
I've been looking for a great chocolate cake recipe and this is the one for me. The fact that it took 10 minutes (all in one bowl!) and was as incredibly chocolatey and moist as any of the more complicated recipes I've tried is nothing short of miraculous. The added health benefits of oil instead of butter and the ground flax seed put this over the top. Believe me - this doesn't taste like a healthier version of chocolate cake. It's just delicious!
The best chocolate cake I have ever made--very moist. I used whole wheat pastry flour instead of all purpose flour and did not add the espresso powder. I frosted it with a strawberry buttercream frosting.
The most moist chocolate cake I've ever had! DH loves it!! Super easy to make and totally worth it!
This is a absolutely delicious cake with a wonderful consistency. I made it with three small alterations ... I reduced the sugar content by almost half, and instead of espresso powder (which I did not have) I used half a cup brewed espresso and deducted the fluid amount from the water. Instead of chocolate frosting/filling, I layered the cake with fresh raspberry puree (with a shot of black raspberry liqueur) and dusted the cake with confectioners sugar, finally adding the remaining raspberries as decoration. The cake was the hit of a party, someone even wiped the plate free of the last crumbs!