A customized print-friendly version of this recipe is available by clicking the "Print Recipe" button on this page.
Thick Pizza Crust with Steak Bomb Topping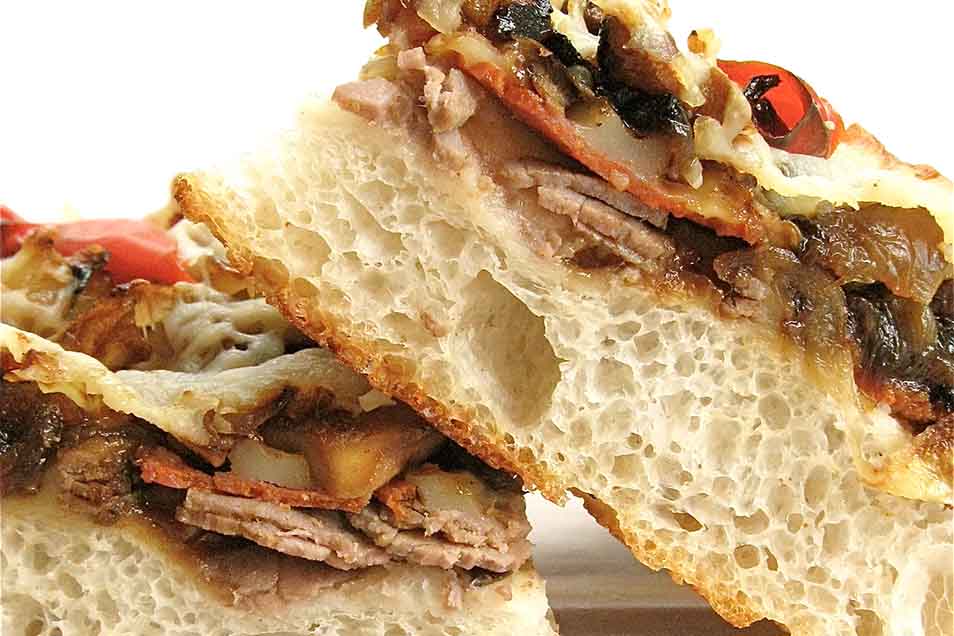 Pizza crust can range from ultra-thin and snapping crisp to super-thick and dense. This Sicilian style, inch-thick crust strikes a nice balance among various styles — it's thick enough to support a substantial amount of topping, yet still super-light. Made with high-gluten flour, it's riddled with holes both small and large, perfect for trapping a drizzle of flavored olive oil.
Ingredients
Steak Bomb topping
olive oil
3 medium-large bell peppers: red, green, and/or yellow, mix and match
1 large sweet onion
8-ounce package mushrooms, whole or sliced
8 ounces very rare deli roast beef, sliced thin and cut into 1" pieces; or 8 ounces shaved steak
pepperoni to cover the roast beef, about 2 to 3 ounces or more
6 ounces provolone cheese, sliced
6 to 8 ounces pizza cheese, Italian cheese blend, or mozzarella
Instructions
To make the dough: Mix and knead together all of the dough ingredients, by hand, mixer, or bread machine, until you've created a soft, smooth dough.

Allow the dough to rise, covered, for 1 hour. Use immediately; or refrigerate for up to 24 hours; this will heighten the crust's flavor. Refrigeration, if only for a few hours, is highly recommended.

Lightly grease a large cookie sheet or half-sheet (18" x 13") pan. Drizzle oil over the bottom of the pan; this will promote a crisp bottom crust.

Remove the dough from the refrigerator, and use your hands to gradually stretch it into a large oval. Place it on the pan. Your goal is to continue to stretch it until it nearly reaches the sides and corners of the pan, but you won't be able to do this immediately; the dough's gluten needs to relax. Walk away for about 10 to 15 minutes; you can leave the dough uncovered.

Stretch the dough until it starts to shrink back, then walk away again. Return, and continue to stretch; by the third time, you should have been able to stretch it just about to the pan's edges. If not, don't worry; you'll just have a slightly thicker crust. If you're determined to stretch the dough to the limit, walk away again, then come back and give it another go.

Let the dough rise for 1 to 2 hours or so, or until it's noticeably puffy. The longer it's been refrigerated, the longer it's likely to take to rise. Towards the end of the rising time, preheat your oven to 425°F.

While the dough is rising, prepare your toppings. For a steak bomb pizza, follow the instructions below.

Core the peppers, and cut them in strips. Peel the onion, and cut it into about 12 chunks, separating the "leaves." If the mushrooms are whole, slice them (unless they're tiny, in which case you can leave them whole).

Toss the peppers and onions with olive oil, and place them on a large, rimmed cookie sheet or half-sheet pan. Bake them in a preheated 400°F oven for about 40 minutes, stirring occasionally, until they're nicely browned. You can also fry them over a burner, if you like.

Sauté the mushrooms in olive oil until they've given up their liquid, the liquid has evaporated, and they're starting to brown. Remove them from the heat, and toss them with the peppers and onions.

Bake the untopped pizza crust for 12 minutes, until it's barely beginning to brown. Remove it from the oven, and top with the roast beef, pepperoni, and provolone cheese, in that order. Return the pizza to the oven for about 5 minutes, until the provolone has started to melt.

Top the pizza with the peppers, onions, and mushrooms. Return it to the oven for about 7 minutes. Top with the pizza cheese, and bake until the cheese is melted and bubbly, about 5 to 10 minutes. Remove the pizza from the oven, and let it rest for about 10 minutes before serving.

Yield: 1 large pizza, about 12 to 16 pieces.