A customized print-friendly version of this recipe is available by clicking the "Print Recipe" button on this page.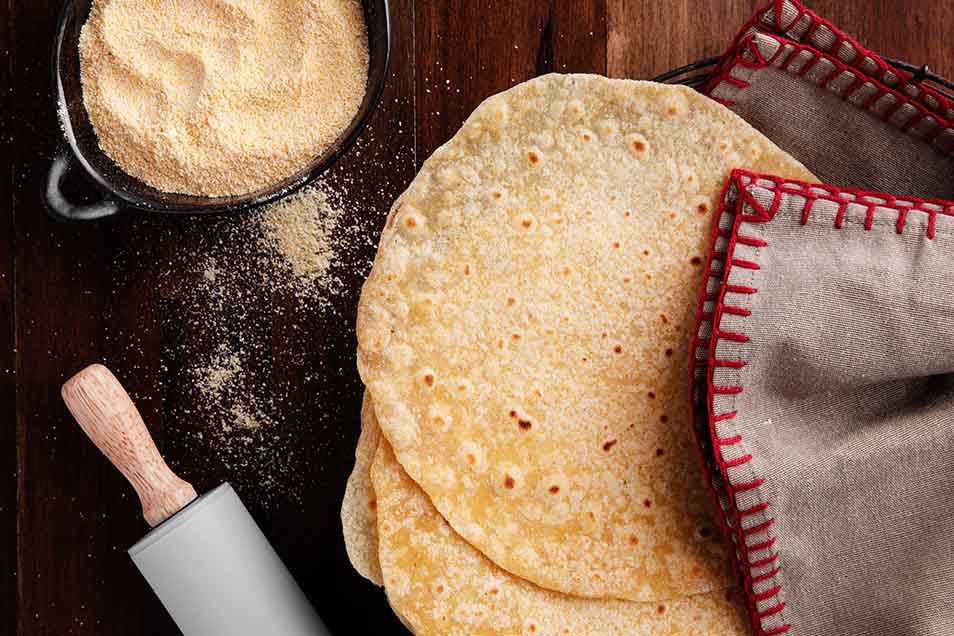 This tortilla is wafer-thin and pliable, like any standard tortilla. However, it falls off the classic track by including both flour and cornmeal, something a "real" tortilla would never do. We just happen to love the faint sweetness of cornmeal paired with flour's soft texture — so there!
Instructions
In a medium-sized bowl, mix together the flour, cornmeal, and oil. Gradually mix in the water and salt. Knead briefly, just until the dough is smooth.

Divide the dough into 10 pieces, weighing about 1 3/8 ounces each. Round the pieces into balls, flatten them slightly, and allow them to rest, covered, for at least 30 minutes. This resting period improves the texture of the dough by giving the flour time to absorb the water, and it also gives the gluten time to relax, making the tortillas easier to roll out.

Preheat an ungreased cast iron griddle or heavy frying pan over medium heat.

Working with one piece of dough at a time (keeping the remaining dough balls covered), roll the balls out until they're about 8" in diameter.

Fry the tortillas in the ungreased pan for about 45 seconds on each side, or until they're beginning to brown in spots. (Or, if you have a tortilla baker — use it!)

Stack tortillas on top of one another as you remove them from the pan, to keep them soft and pliable. Serve warm or at room temperature.

Store tortillas, tightly wrapped, in a plastic bag at room temperature. Freeze for longer storage.
Nutrition Information
Serving Size

1 tortilla, 36g

Servings Per Batch
Amount Per Serving:
Calories

130

Calories from Fat

Total Fat

6g

Saturated Fat

Trans Fat

Cholesterol

0mg
Sodium

110mg

Total Carbohydrate

17g

Dietary Fiber

1g

Sugars

0mg

Protein

2g
* The nutrition information provided for this recipe is determined by the ESHA Genesis R&D software program. Substituting any ingredients may change the posted nutrition information.
Reviews
A few days ago I've made tortillas with AP flour only, but I love corn so much in every way possible, that I've decided to make a new batch with cornmeal. I've read the comments, so I also added some freshly ground black pepper and a garlic spice mix. I used a combination of sunflower oil and corn oil. The dough was very oily, but with a bit of added AP flour, it was okay! Also a tip: I cooked on the skillet and the first 2 were cooked for 45 sec on each side. This is too much, they were crispy and not foldable at all. So the rest 8 I cooked for 30 sec on each side, like I did with the previous recipe. I would also add more spice mix, two teaspoons weren't enough.
I live in South Africa and can not get masa hariina, so I first used your recipe as is, but found the tortillas a bit tough and and not as soft as they should be . I cooked the same recipe again but cooked the yellow corn [polenta] first and when it was quite hot I added the flour ,salt, 5ml baking powder and pork lard 60grs, folded and kneaded untill soft carried on with the same recipe. The tortillas were very soft and plyable and tasted like the real thing . This a great and helpful site, many thanks.
My 15 yo daughter made these and they were delicious. The whole family enjoyed them. So much better than boughten ones. Great recipe.
Delicious! I accidentally left out the oil, and they were still a hit!
This was my first attempt at making tortillas from scratch, & they turned out DeLiCiOuS!!! We will no lobo longer be buying corn tortillas!!! Side note: we were in a crunch for time, so we didn't let it rest for a full 30 minutes, & they were still great! Next time, we'll let them rest.
Not bad! I made them using medium grind whole-grain cornmeal, so they turned out a bit chewy, but I liked them like that. I wonder if a pinch of sugar would give them a little more flavor. I'll certainly make them again.

We're so glad that this recipe worked out for you, Betty. We like your idea of adding a bit of sugar to bring a stronger flavor and deeper golden tone to boot to your tortillas. Feel free to include 1/4 to 1/2 teaspoon of sugar in with your salt. Better yet, use 1/2 teaspoon of honey with the oil. Honey and cornmeal go hand in hand, and with such a small amount, it won't take away from the flavor of whatever yummy fillings you use in the tortillas. Happy baking! Annabelle@KAF
Followed the instructions exactly and I am making them again to use for vegan Mexican pizzas. Fantastic for breakfast tacos or make smaller ones cook longer and they shape into crispy shell tacos !
Bought myself a tortilla press thought I would try this recipe I have been saving had all the ingredients. Fried up ok but lacked flavor so I thought I'd cut them up make tortilla chips didn't want to waste dough didn't taste or feel like tortilla chip.
No need to divide the dough after mixing it. Just let the whole ball rest for the suggested time, then pull pieces off it and roll. Great recipe! Easy and delicious.
No need to divide the dough after mixing it. Just let the whole ball rest for the suggested time, then pull pieces off it and roll. Great recipe! Easy and delicious.