A customized print-friendly version of this recipe is available by clicking the "Print Recipe" button on this page.
Thin-Crust Pizza (Neapolitan Pizza)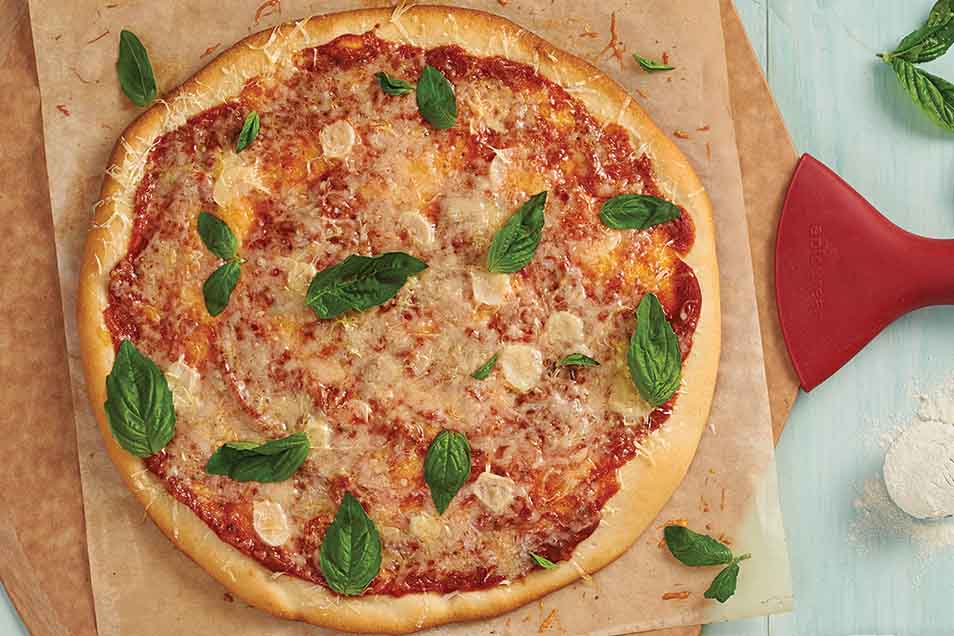 Super-thin-crust pizza, topped only with tomato and cheese (either mozzarella or Parmesan/Romano), is the first type of pizza Americans knew, introduced by Neapolitan bakers in New York City at the beginning of the 20th century. Since then, each new generation of bakers has taken pizza to new heights (literally), with thicker crusts, more toppings, and certainly more variety of flavors. This simple (yet delicious) pizza hearkens back to the days when tomato and cheese were the only toppings people used.
Ingredients
Crust
2 teaspoons instant yeast
2 teaspoons sugar
1 1/4 teaspoons salt
1 tablespoon King Arthur Easy-Roll Dough Improver OR 1 tablespoon nonfat dry milk
3 cups King Arthur Italian-Style Flour*
3/4 cup lukewarm water
2 tablespoons olive oil
*See "tips," below.
Topping
tomato or marinara sauce, preferably homemade
freshly chopped garlic
sliced mozzarella cheese, or grated or shredded Parmesan or Romano cheese
fresh basil leaves, to garnish; optional
Instructions
In a medium-sized mixing bowl (or in a bread machine set on the dough/manual cycle), stir together all of the ingredients, then knead for 5 minutes, or long enough to make a fairly firm yet supple dough.

Divide the dough in half. Cover each half with lightly greased plastic wrap, and allow the dough to rest and relax for 15 minutes (or longer, for added flavor).

Grease two sheets of parchment paper or waxed paper. Put a piece of dough on one piece of greased paper, then cover with the other piece of paper, greased side down. Roll the dough about 1/8" thick, making a circle (which may escape the confines of the paper), an oval, or whatever irregular shape you like. Let the dough rest in the paper for 5 minutes; this will help prevent it from shrinking. Repeat with the remaining piece of dough.

Preheat the oven to 425°F. If you have a pizza stone, place it on a lower rack. If you don't have a pizza stone, prepare two baking sheets or large round pizza pans by lightly greasing them, or lining with parchment. (Or, if you've rolled the dough between pieces of parchment rather than waxed paper, you can simply use these to line your pans.)

If you're using a pan, transfer the dough, bottom piece of parchment and all, to the pan. If you're baking on a stone, remove the top piece of parchment, but leave the bottom piece. If you've used waxed paper, peel it off and discard it; it's not oven-safe like parchment is.

While the oven is heating, let the dough rest, covered, for about 30 minutes; or for up to several hours, if you like a slightly thicker crust.

Uncover the dough, and place it in the oven. After 5 minutes, remove it from the oven, and top it with tomato sauce, garlic, and cheese.

Return the pizza to the oven; bake for an additional 5 minutes, then rotate the pans from top to bottom and back to front. Bake 5 minutes more, if necessary, or until the crust is brown.

Remove the pizzas from the oven, and transfer them to a rack. Garnish with fresh basil leaves, if desired. Slice and serve.
Nutrition Information
Serving Size

1 piece (48g)

Servings Per Batch

16
Amount Per Serving:
Calories

120

Calories from Fat

30

Total Fat

3.5g

Saturated Fat

1g

Trans Fat

0g

Cholesterol

5mg
Sodium

320mg

Total Carbohydrate

17g

Dietary Fiber

1g

Sugars

1g

Protein

4g
* The nutrition information provided for this recipe is determined by the ESHA Genesis R&D software program. Substituting any ingredients may change the posted nutrition information.
Tips from our bakers
Our Italian-style 00 flour is the best choice for super-thin-crust pizza, as its lower protein level allows you to stretch it very thin indeed, with no fighting back. If you only have all-purpose flour, be aware that to stretch it thin, you'll need to stretch it, then let it rest; stretch, then rest, until it's as thin as you like. In addition, you'll need to increase the amount of water to 1 cup.
Reviews
This makes a great dough. Next time I plan to let the dough hang out in the fridge a couple days to develop more flavor. I used the Italian style flour and also added the pizza dough flavoring. This will be my new go-to pizza dough!
Just made this and was amazed at how easily it went together and rolled out! I used a pie crust bag to roll it instead of the plastic/parchment paper. I cooked it for the recipe times but it didn't crisp up so I will probably add a minute or so to the first bake time. Still, it is obvious this will be excellent when I do get the crispness right! Yay for dough improver! Such an easy and quick recipe!
Super easy and tasty recipe. Due to lactose intolerance I substituted 80g lactose free milk for the milk powder & water. Cooked it on a pizza stone on the BBQ turned out great.
Finally found it! Tried several thin crust recipes all to disappoint ... I tried this today and there is no turning back ... thanks kaf for yet another success!
As many have said this recipe makes a great pizza crust. Nice crunch and a light dough. I made a few modifications to improve the flavor. I added 1 Tbl of KA pizza dough flavor and 1 Tbl of KA Herb and garlic artisan bread flavor. Next time I will increase the later to two Tbl. Second, I wasn't in a hurry so I let the dough rise for an hour before rolling it out. I thought the instructions for rolling it out were too complicated so I just rolled half the dough into a 12" circle, docked it, and then put it on a 12" piece of parchment paper.. I drizzled some olive oil on and brushed it over the surface before putting in the pizza oven. After the prescribed 5 minutes the crust was perfect for adding the toppings. I use a Breville counter top pizza oven and it only took 4 minutes to finish the pizza. I then drizzled with some olive oil and some KA pizza seasoning.
I used unbleached AP four and upped the water as recommended and mixed in my bread machine. This dough was so easy to roll out between the greased parchment I will definitely use this again. I too, however, found the dough a bit tasteless. I like the flavor of your beer crust dough and may try using beer instead of the water next time...maybe some Italian Seasoning too. The second 1/2 of the dough is sitting in the frig now and I will let it age a bit before I try it. Thanks for a good one.
Easy to make and roll out using parchment paper, but really bland taste.

We're glad for the ease but sorry to hear that you didn't much enjoy the flavor, Keith. Unfortunately, flavor is often the trade-off for speed, so to increase the flavor, we'd recommend allowing your dough to ferment for longer than the 15 minute minimum indicated in the recipe, even as long as overnight in the fridge. For an easy fix, you could also try mixing additional herbs and spices into the dough itself. Mollie@KAF
Great recipie! I made it EXACTLY as stated with the ingedients listed . Crust was thin, crisp and crunchy. I baked it on a stone. My oven runs hot and I rolled out a little too thin so had some burnt edges but that stuff can easily be adjusted. And there WILL BE a next time. Now if I could just find a great sauce...
Easy roll dough enhancer is the best !!! Can't wait to use it in other recipes. Crust was great.
I tried this recipe. It took muscle to roll it out and I made it with a homemade tomato sauce fresh from the garden with garlic, basil, oregano, sea salt ground in a molcajete and fresh ground pepper. I topped it with thin sliced baby zucchini and thin sliced baby bell and cheddar is what I had on hand. So I brushed the pizza with light olive oil and my husband who does not like cracker crust pizza thought it was superb and he usually tells me if he doesn't like something. Yaye!