A customized print-friendly version of this recipe is available by clicking the "Print Recipe" button on this page.
Thin-Crust Spinach & Feta Pizza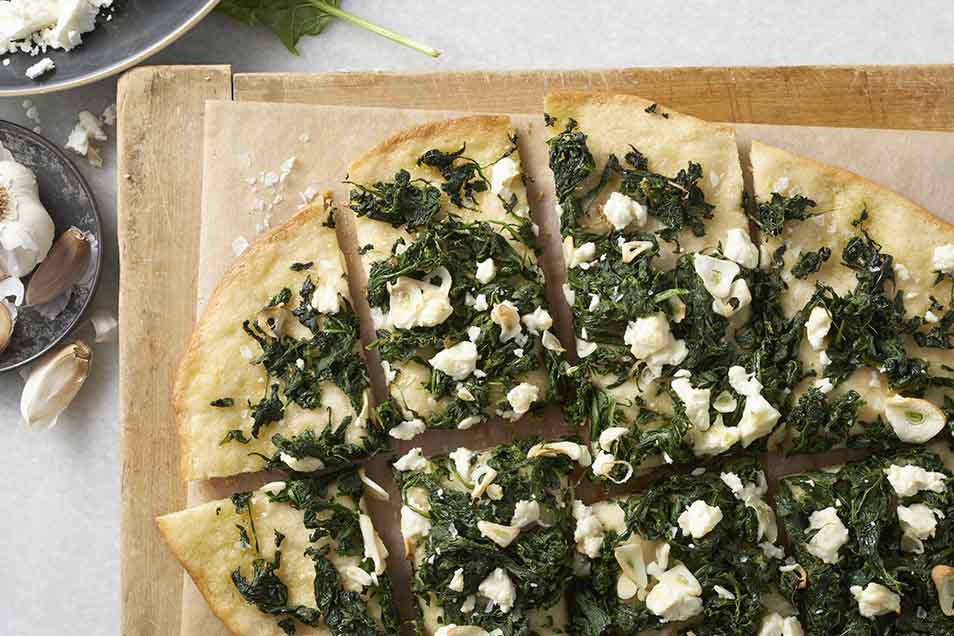 Are you a thin-crust pizza aficionado? Then this simple, versatile crust is for you. We love it as the base for a garlic-enhanced spinach and feta topping, but feel free to add your own favorites. One caveat: thin-crust pizzas do better with drier fillings, to preserve their crisp crunch. So save the fresh tomatoes and oceans of sauce for another day, and go minimalist, OK?
Ingredients
Dough
1 1/2 to 2 teaspoons instant yeast*
2 teaspoons sugar
1 1/4 teaspoons salt
1 tablespoon Baker's Special Dry Milk or nonfat dry milk
3 1/2 cups King Arthur Italian-Style Flour
3/4 cup to 3/4 cup + 2 tablespoons lukewarm water*
2 tablespoons olive oil
*Use the greater amount of yeast if you plan on baking the pizza right away; the lesser amount if you'll refrigerate the dough first.
**Use the lesser amount of water in summer or humid conditions; the greater amount in winter or under drier conditions.
Topping
two 10-ounce packages frozen spinach or two 16-ounce bags frozen spinach
2 tablespoons olive oil
big pinch of salt
2 to 4 peeled, minced garlic cloves
6 to 8 ounces feta cheese
Instructions
In a medium-sized mixing bowl (or in a bread machine set on the dough/manual cycle), combine all of the ingredients to make a very soft dough. Knead for 5 to 7 minutes (or allow the dough to go through the bread machine's dough cycle); the dough will gradually become smooth and cohesive, though it'll remain quite sticky.

To bake pizza immediately, divide the dough in half, and let each half rest, covered, for about 15 minutes, while you preheat your oven to 450°F. To bake pizza later, transfer the dough to a lightly greased bowl. Cover the bowl, and let the dough rise for 1 hour, then refrigerate it for up to 3 days.

While the dough is resting or rising (or just before you're ready to bake pizza), start preheating the oven to 450°F, and prepare your toppings.

For spinach and feta pizza, thaw the frozen spinach, and squeeze it in your hands (or a paper towel, or a dish towel) until it's very dry.

Heat the olive oil, and sauté the spinach, salt, and garlic for a couple of minutes, just until hot and well combined.

Divide the dough in half. You'll be working with one piece of dough at a time. To make two pizzas now, set one half aside, lightly covered, while you work with the first piece. To make one pizza now, one later, return half the dough to the refrigerator, covered; use it within a day or two.

Lightly grease two sheets of parchment paper, waxed paper, or (last choice) plastic wrap. Lightly grease one or two large rectangular pans (half sheet pans work well), and drizzle with olive oil.

Sandwich the dough between the two pieces of paper, greased sides touching the dough. Roll the dough super-thin; the low protein in Italian-style flour will allow you to do this pretty easily. If the dough fights back, walk away for 10 minutes, then return and roll some more.

Peel the paper off one side of the crust. Place the crust, paper side up, on the prepared pan. Peel off the remaining paper.

Top the crust with half the spinach and half the feta. Spray lightly with olive oil spray, if you have it; this will help the feta brown a bit.

Bake the pizza on a lower rack of the oven for 5 minutes, to brown the bottom crust. Then move it to a middle or upper-middle rack, and continue to bake for 10 to 15 minutes, or until the top of the crust is golden and the feta is beginning to brown.

Remove the pizza from the oven, and transfer it to a rack immediately, so the crust stays crisp. Serve hot.

Repeat with the remaining half of the dough. Or return to the refrigerator, along with the remaining topping ingredients, and bake later.

Yield: 2 large thin-crust pizzas, about 8 to 10 servings total.
Tips from our bakers
Looking for a little more cheese — and a neat way to anchor the spinach on the pizza? Sprinkle the crust with a thin layer of mozzarella or other pizza-type cheese before adding the spinach and feta.
About the spinach — why the huge variation in how much frozen (20 ounces vs. 32 ounces); and can you use fresh spinach instead? Frozen spinach usually comes two ways: in 10-ounce blocks, or 16-ounce bags. Two 10-ounce blocks is barely enough; two 16-ounce bags is plenty. Bottom line, use as much as you like. As for fresh spinach — sure, fresh is fine. But you still need to cook it and wring it dry, otherwise your crust runs the risk of becoming soggy.
A sprinkle of oregano atop the feta is a nice touch, as is the merest hint of ground nutmeg in the spinach.