A customized print-friendly version of this recipe is available by clicking the "Print Recipe" button on this page.
Three King's Cake (Rosca de Reyes)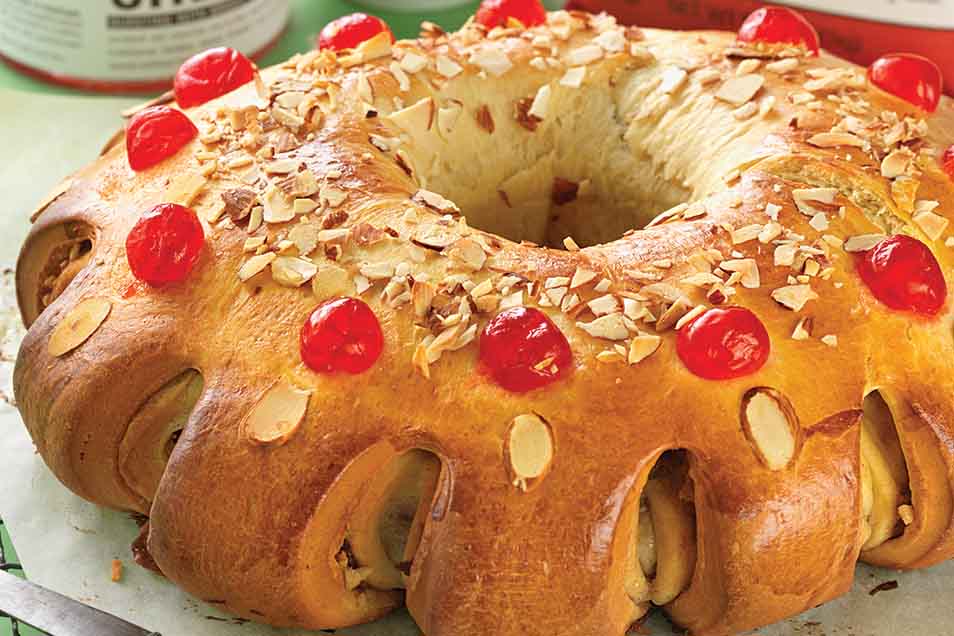 Three King's Cake (or bread) is closely allied with the traditions around the Epiphany (January 6th). This date commemorates the visit the Three Wise Men made to the baby Jesus in Bethlehem. In Mexico, the day is a gift-giving holiday. Tradition states this bread be served, garnished with the "jewels" of fruit and nuts. Usually a small clay or porcelain doll is baked inside. The custom is that whoever finds the doll must give a party on Candlemas (February 2nd).
Ingredients
Filling
2 tablespoons unsalted butter, melted
2 tablespoons sugar
1/2 teaspoon cinnamon
1/2 cup chopped nuts
3/4 cup dried mixed fruits or Favorite Fruit Blend
1 tablespoon lemon, orange, or lime zest
Garnish
candied red cherries and/or orange peel
toasted sliced almonds, pecans, cashews, or walnuts
Instructions
For the dough: Heat the milk to a simmer in a small saucepan or at medium power in your microwave. Pour the hot milk over the butter, sugar, and salt, and stir occasionally until the butter melts. Cool the mixture to lukewarm.

In a mixing bowl combine the milk mixture, eggs, and yeast. Add the flour 1 cup at a time, and mix until a soft, smooth dough forms. You can also use your bread machine, set on the dough cycle, for this step.

Place the dough in a greased container, cover it, and set it in a draft-free place to rise until doubled (about 1 to 1 1/2 hours). Or let your bread machine complete the dough cycle.

After the first rise, deflate the dough, cover, and let it rest for 10 minutes. Turn the dough out onto a lightly floured surface; roll into a 20" x 12" rectangle.

For the filling: Brush the surface of the dough with melted butter, leaving a 1/2" strip bare along one of the long edges. Combine the sugar and cinnamon in a small bowl. Add the nuts, mixed fruits and zest, and stir to coat. Sprinkle this mixture evenly over the buttered section of the dough.
Assembly: Starting with the garnished long edge, roll the dough up jelly-roll style, working toward the edge with no butter on it. Pinch the seam together to seal it firmly, then bring the ends together to form a ring. To keep the bread round, grease the outside of a small bowl or custard cup and put it on a lightly greased or parchment-lined baking sheet. Place the ring, seam side down, around the bowl and tuck one end inside the other, pinching it together to seal it.

Flatten the ring slightly, and using a pair of scissors, make cuts in the dough at 1 1/2" intervals around the outside edge. Hide a doll or candy inside the bread. You can place strips of candied orange peel in the cuts to create the look in the photo at the top of the recipe. Cover with greased plastic wrap and let rise until nearly doubled (about 30 to 40 minutes).

To bake: Once the dough is shaped and is rising for the second time, preheat the oven to 350°F. When the dough is risen, remove the plastic wrap, and brush the top with beaten egg. Place the candied cherries (cut in half) in the spaces between the slits in the dough, and decorate with nuts as desired.

Bake the bread for 25 to 30 minutes, covering the loaf loosely with foil after the first 15 minutes, as it will brown quickly. Remove the bread from the oven when the inner parts of the slits look cooked and the interior measures 190°F when measured with an instant-read thermometer. Cool the bread on a rack.

Yield: 1 loaf, 16 servings.
Nutrition Information
Serving Size

67g

Servings Per Batch

16 slices
Amount Per Serving:
Calories

223

Calories from Fat

37

Total Fat

8g

Saturated Fat

4g

Trans Fat

0g

Cholesterol

42mg
Sodium

91mg

Total Carbohydrate

32g

Dietary Fiber

1g

Sugars

12g

Protein

5g
* The nutrition information provided for this recipe is determined by the ESHA Genesis R&D software program. Substituting any ingredients may change the posted nutrition information.
Tips from our bakers
If you don't have a little doll to hide inside the bread, put a whole blanched almond inside with the filling, before you roll the bread up.
If you want to use the glaze pictured in the accompanying blog post, combine 1 tablespoon of sugar with 2 teaspoons of water and 1/2 teaspoon of vanilla extract. Stir to combine, then drizzle over the bread for the last 20 minutes of the baking time.
Reviews
Mine turned out pretty nice. Mostly any mistakes that were made were my fault. It tastes really good.
I just made this for the first time today with my kids for Epiphany. We were out of dried fruit and nuts, so left those out. The bread turned out PERFECTLY , baking for 27 minutes, with a pretty golden top. My family devoured it. THANKS for a great recipe! It is our new Epiphany tradition!
I hate to give this three stars because I may have done something wrong! But I could not get the dough to rise. I even tried twice because I thought my house was too cold the first time. Was I supposed to knead the dough? When you say "mix" did you mean with a standing mixer? I just used a wooden spoon because it was soft, not sticky, and easy to work with...but maybe it needed to be beat up more? I never use instant yeast, so I thought maybe it didn't need to be kneaded/beat as thoroughly as normal bread...was I mistaken? Is that why my bread was so dense? The flavors are nice! I did a little extra to the filling. It also looked very pretty!

We apologize for any confusion, fellow baker. This bread should be kneaded like a traditional bread dough once it starts to come together. Initially, it may look soft and sticky and require mixing with a spoon. If you have a stand mixer or bread machine, it will make easy work of kneading the dough. We realize that sometimes the instructions can be tricky to follow, so we've written a full step-by-step tutorial (complete with photos) on our blog. You can view it by clicking on the link in the upper right hand part of this page. We hope that helps clarify. Happy baking! Kye@KAF
Just made this last night and it came out beautiful. I added a little more sugar to the cinnamon sugar mixture just to add extra sweetness. For the dry fruits I used golden raisins and apricots and rehydrated it in bourbon and a little water. For the glaze I added almond and orange extract plus the vanilla. It gave it a beautiful gloss and color.
I made this today for Epiphany. It is ok, but not as full of flavor as I was hoping for. I had to bake it much longer than stated in order to reach 190 degrees. I used the foil, so it didn't get too brown, but it came out far too dry, even for being a bread. If I make it again, I'll just bake it as long as it seems good to me and not depend on the stipulated temperature. Every year for Christmas I make another sweet bread that's quite similar, which my grandmother called "Swedish Tea Ring," and I'm quite familiar with the process of baking something in a round roll and cutting slits. I could tell that the amounts called for in the filling for this Three King's Cake were not going to provide enough flavor. So I amped up the cinnamon and sugar. Even so, it could have used more butter, sugar, and cinnamon on the inside. The nuts and fruit did work out very well. My crew doesn't like chunky nuts, so I toasted some nuts then ground them up and mixed in with the rest of the filling ingredients. I had soaked my dried fruit in brandy, as another reviewer suggested. The finished bread was so dry that I made up a glaze of powdered sugar and orange juice (as suggested in another review), and without that glaze the bread would really not have been very good at all. All this to say, this was ok, and I'm glad I tried it because I was looking for a rosca de reyes recipe that was healthier than most others, but I don't think it's one I'll try again next year.

Gretchen, thanks for sharing your experience with baking this recipe. It sounds like you might be scooping your measuring cup directly into the bag of flour, which can cause the flour to compact in the cup and result in a dry, heavy dough. To ensure you're using the right amount, we recommend either measuring your flour by weight using a scale, or fluffing and sprinkling the flour gently into your measuring cup one spoonful at a time before leveling off with a knife. This will help you measure light cups of flour that weigh about 4 1/4 ounces per cup. WE hope that helps improve your results going forward. Kye@KAF
Great recipe. I just wonder if can can put it in the fridge the day before once it is filled and formed as a ring.

Cecilia, you can put the shaped ring in the fridge immediately after assembling and let it rise for about 12-16 hours (or overnight). Take it out while the over pre-heats the next morning (about 10-20 minutes), and then bake as directed. Happy baking! Kye@KAF
I made this for 12th Night and it was a big hit! The dough was one of the easiest and nicest to work with. I omitted the dried fruits and nuts and used the cinnamon filling from KAF Gooey Cinnamon Rolls, which I doubled. I rolled my dough out larger to make a bigger cake as we were having quite a few guests. I did glaze it with the glaze in the notes, everyone raved over it.
I baked this cake and it turned out delicious! It is a soft and flavorful cake. I did increase the cinnamon to 1teaspoon. I actually enjoyed having the dried fruit incorporated into the cake (I rehydrated my dried fruit with 1T brandy & 1t almond extract). The grated orange zest provides much flavor to the cake. Also, some Mexican "roscas" include strips of a sugary/butter dough, which I added & it was wonderful. (6T butter, 1/2 C powdered sugar, 1 egg yolk & 3/4 C flour) Stir into a paste and form into strips. Brush cake with egg wash & place dough strips on the cake. Sprinkle the strips with regular sugar). Bake as directed by recipe. This cake is much tastier store bought.
I made this for the first time and it is delicious. Also, makes a beautiful presentation. I was very pleased.
The recipe says, "combine glaze ingredients", but there are no glaze ingredients listed. What are the glaze ingredients?

For now, please use 2 cups of powdered sugar with about 3-4 tablespoons of orange juice. Add a bit of vanilla if desired. Drizzle over the cake. Happy baking! Laurie@KAF