A customized print-friendly version of this recipe is available by clicking the "Print Recipe" button on this page.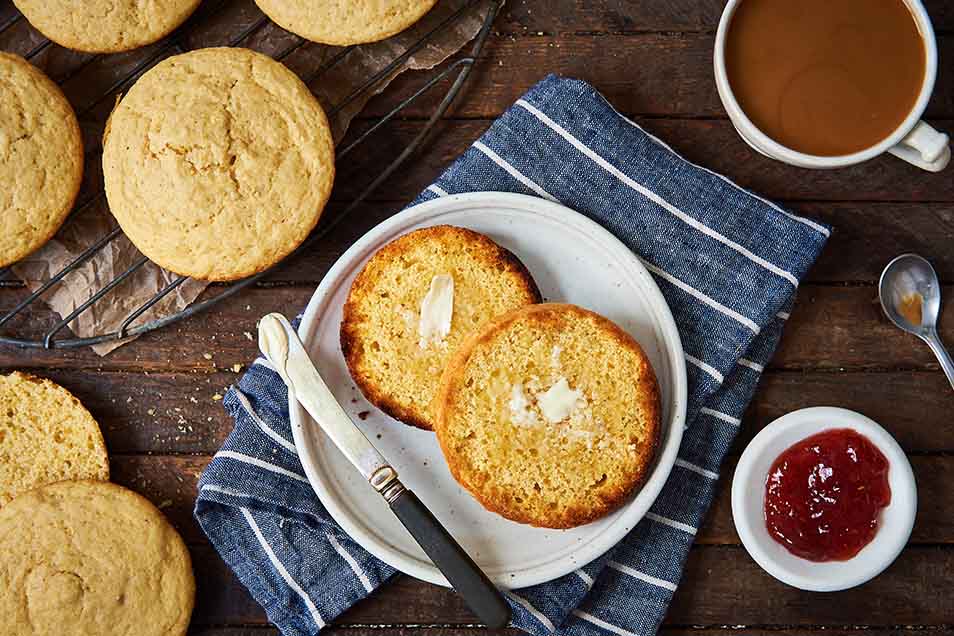 Toaster corncakes, English muffin-sized, sort-of-sweet cornbread rounds can be split, toasted, and slathered with butter and jam. Available in blueberry and cranberry versions, as well as the plain corn formula offered here; feel free to make your own additions of frozen or dried fruit (though there's something about the basic corn recipe that is very satisfying; the corn flavor really shines through).
Instructions
Preheat the oven to 350°F. Lightly grease the wells of a hamburger bun pan (six 4" x 1" wells). Or lightly grease eight paper crumbcake cups (3 1/2" x 1 1/4"). If you don't have either of those, or something similar, you'll need to bake the batter in a lightly greased 9" x 13" pan, then cut it into squares.

In a large mixing bowl, whisk together the flour, cornmeal, baking powder, salt and sugar. In a separate bowl, whisk the eggs and milk until thoroughly combined.

Pour the milk/egg mixture and the melted butter over the dry ingredients, and stir just to combine; don't beat this mixture, or the cakes will be tough.

Scoop a generous 1/3 cup of batter into each of the cups; they should be just about 3/4 full. Wet your fingers and spread the batter to cover the bottom of the cups, smoothing the top at the same time. If you're using a 9" x 13" pan, spread the batter into it, smoothing the top.

Bake the corncakes for about 20 to 22 minutes (the longer amount of time for the paper cups). The bottoms will be golden brown, but the tops won't be colored yet, or just barely beginning to color (since they'll be going into the toaster, you don't want them to brown too much in the oven).

Remove the cakes from the oven, and allow them to cool for 15 to 20 minutes before removing them from the cups. If you've used a 9" x 13" pan, let the cake cool, then cut it into nine rectangles, each approximately 3" wide and 4 1/4" long. Split and eat warm, or cool to room temperature, split, and toast.

Store on the counter, well-wrapped, for up to 3 days, or freeze for up to a month.
Nutrition Information
Serving Size

1/9 of recipe, 71g

Servings Per Batch

9 servings
Amount Per Serving:
Calories

255 cal

Calories from Fat

Total Fat

11.9g

Saturated Fat

Trans Fat

Cholesterol

118mg
Sodium

309mg

Total Carbohydrate

24g

Dietary Fiber

1g

Sugars

8g

Protein

5g
* The nutrition information provided for this recipe is determined by the ESHA Genesis R&D software program. Substituting any ingredients may change the posted nutrition information.
Tips from our bakers
Use 1/2 cup of dried fruit (cherries, cranberries, or blueberries are just some ideas) for a flavorful and colorful version.
Reviews
FYI: I don't know why it wasn't mention as an option, but there IS such a thing as toaster muffin pans. I have 2 of them. Highly recommend. I made these and they are perfect! Will definitely be a regular on my list of things to bake.
I made this recipe exactly in 2 bun pans for a total of 8. Great texture, good flavor. For my taste and to satisfy my memories of the Toaster Cakes of my childhood in Connecticut I might add more sugar or honey next time. they did split nicely without crumbling!
Made one dozen on 2 Silpats using English muffin rings. Came off the pans fine, and cleanup was easy. Nice fit in toaster without splitting. Big hit with my teens. Served with your Baked in the Oven Chili recipe. Planning to retrofit my favorite muffin recipes to this.
I made this recipe recently and it is already a new family favorite. I love recipes that aren't too fussy, taste great and come out exactly as described, and this is one of those! Not having the described pans, I used my trusty 10 oz Pyrex glass cups and came out with perfect, sliceable, great-tasting corn cakes. I served them with a bowl of chili which was a winning combo. Thanks, KAF! I've been a fan for 41 years now.
Love this recipe. I've made it several times and it's always a hit. I haven't tried the blueberry or cranberry variations as the original is just so good! I use my English muffin rings on a parchment-lined rimmed baking sheet without any problems. I usually make it with a more medium-grind cornmeal which adds a bit of crunch. So easy to make when I don't have time to let yeasted English muffins rise.
I have made three batches since finding this recipe in February. This recipe tastes like the toaster cakes I had in the sixties and early seventies. I used to King Arthur hamburger bun pan to make 6 toaster cakes. I was able to cut each toaster cake in half without it crumbling apart to fit in the toaster. The first batch I used medium ground cornmeal. The second batch I used King Arthur finely ground cornmeal. These where just as moist as the first batch, but the texture was smoother. The third batch I added frozen blueberries using the King Arthur finely ground cornmeal. I just purchased an additional hamburger bun pan. So my next batch I make will be divided among the two pans, which will eliminate cutting in half to fit in a standard size toaster. I am looking forward adding these to goodie baskets for the senior shut-ins, its sure to bring a smile to them and best of all a trip down memory lane with a great story to share. Just like it has for me. Thanks KAF Baking Team for another winning recipe.
Made these today for the first time, and they are delicious. I baked in a 9 x 13 pan as I didn't have the large muffin pans. Only change I made to the recipe was to substitute Truvia for the sugar (which reduces the amount of sugar called for by half). They rose a bit too high for my toaster, but the toaster oven solves that dilemma. Thanks for a great recipe - quick and easy to make and everyone loves them. Sally Smith
Looks like a great recipe and similar to a GF product I've gotten at Trader Joe's. It has been a number of years since the recipe was first posted so would you consider working up a gluten-free version too?
I will pass that suggestion on to our test kitchen, Kristin. Barb@KAF
I have made this recipe several times now and it always comes out great! No tweaking necessary. I love that they hold together so well when sliced and put in the toaster.
This is wonderful!! Followed the recipe exactly and they are superb. Will definitely make them again.