A customized print-friendly version of this recipe is available by clicking the "Print Recipe" button on this page.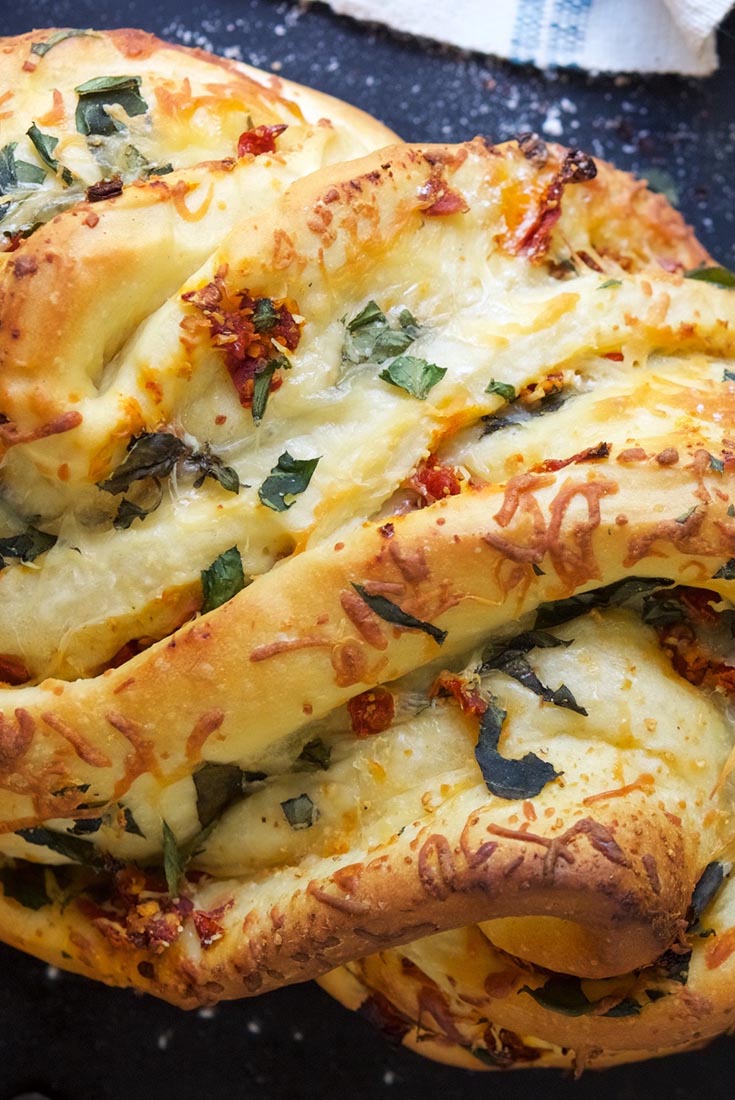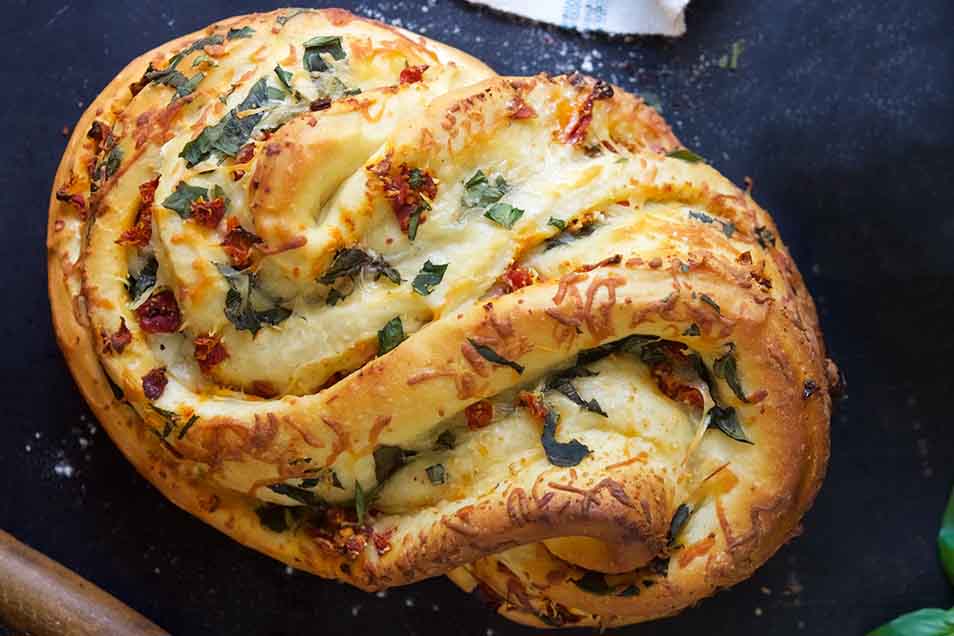 This recipe makes a tasty loaf filled with fresh basil, tomatoes, garlic, and shredded cheese; the bread has wonderful soft texture, and is packed with flavor. The unique shape is simple to achieve, and makes an impressive presentation.

Dianna Wara of Washington, Illinois, took first place in the first-ever National Festival of Breads with this recipe — which we've since simplified a bit, while retaining its award-winning characteristics. Thanks, Dianna!
Ingredients
Dough
2 teaspoons instant yeast
1 1/4 teaspoons salt
1 large egg
1/2 cup lukewarm milk
1/3 cup lukewarm water
3 tablespoons olive oil
*See "tips," below.
Filling
3/4 cup shredded Italian-blend cheese or the cheese of your choice
1/2 cup oil-packed sun-dried tomatoes or your own oven-roasted tomatoes
3 to 6 cloves garlic, peeled and minced
1/3 cup chopped fresh basil, green or purple
Instructions
To make the dough: Combine all of the dough ingredients in a bowl (or the bucket of your bread machine), and mix and knead — by hand, using a mixer, or in your bread machine set on the dough cycle — to make a smooth, very soft dough. The dough should stick a bit to the bottom of the bowl if you're using a stand mixer.

Place the dough in a lightly greased bowl, cover, and let it rise for 45 to 60 minutes, or until it's doubled in size.

Meanwhile, thoroughly drain the tomatoes, patting them dry. Use kitchen shears to cut them into smaller bits.

Gently deflate the dough. Flatten and pat it into a 22" x 8 1/2" rectangle. Spread with the cheese, tomatoes, garlic, and basil.

Starting with one long edge, roll the dough into a log the long way. Pinch the edges to seal. Place the log seam-side down on a lightly greased or parchment-lined baking sheet.

Using kitchen shears, start 1/2" from one end and cut the log lengthwise down the center about 1" deep, to within 1/2" of the other end.

Keeping the cut side up, form an "S" shape. Tuck both ends under the center of the "S" to form a "figure 8;" pinch the ends together to seal.

Cover and let rise in a warm place until double, 45 to 60 minutes.

While the loaf is rising, preheat the oven to 350°F.

Uncover the bread, and bake it for 35 to 40 minutes, tenting it with foil after 20 to 25 minutes to prevent over-browning.

Remove the bread from the oven, and transfer it to a rack to cool. Enjoy warm or at room temperature. Store, well-wrapped, at room temperature for a couple of days; freeze for longer storage.
Nutrition Information
Serving Size

1 slice, 44g

Servings Per Batch

1 loaf, 20 slices
Amount Per Serving:
Calories

58

Calories from Fat

17

Total Fat

2g

Saturated Fat

1g

Trans Fat

0g

Cholesterol

7mg
Sodium

86mg

Total Carbohydrate

8g

Dietary Fiber

1g

Sugars

0g

Protein

2g
* The nutrition information provided for this recipe is determined by the ESHA Genesis R&D software program. Substituting any ingredients may change the posted nutrition information.
Tips from our bakers
Substitute all-purpose flour 1:1 for the bread flour in the recipe, if desired. Reduce the water to 1/4 cup.
When making anything with yeast, including this bread, let the dough rise to the point the recipe says it should, e.g., "Let the dough rise until it's doubled in bulk." Rising times are only a guide; there are so many variables in yeast baking that it's impossible to say that bread dough will ALWAYS double in bulk in a specific amount of time.
Chop your basil with kitchen shears, just as you do the sun-dried tomatoes.
Want to make a gluten-free version of this bread? See our gluten-free focaccia recipe, with its tips for adding filling.
Reviews
I was looking for a fun bread to bake this past weekend and chose this one. Yes, it satisfied my need to bake and was fun to put together. Even though I'm not generally a fan of sun-dried tomatoes, even I loved this bread. Hubby devours it. I made it as written, right down to the amount of time it spent in the oven. The house smelled SO good as it baked. I'm guessing we'll make this again. It's great as a bread with pasta.
I often don't get wonderful results when I make bread ( my pastries and muffins are my calling cards) but I did with this recipe. I had never kneaded dough in my mixer but I had excellent results doing so with this recipe. I served it with flavored olive oils and sweet cream butter at a dinner party. Rave reviews.
OK...here is a winner....loved it and everyone complimented the bread and asked for more...tried to think of something I could add to make it better...I see someone added pepperoni but did not want this to come out tasting like pizza....great bread and impressive looking also...will make this one again
Only thing I would have done that was not called for in the recipe would be to use an egg glaze before baking. Otherwise, this is a keeper! Easy and impressive.
I baked this bread using an active sourdough levain instead of yeast and modifying the whole prebake routine to accommodate that change. The bread turned out great but I have one question that I'll get to later in this review. I baked 2 loaves using the same list of ingredients in the recipe but left out the yeast, using 45 grams of active sourdough levain instead. I started the procedure with about an hour of autolyze (just flour and water), then added the remaining ingredients, except the salt, let the whole batch rest about an hour then added the salt and a small amount of water, did a couple of turns to mix in the salt, let it rest for about 4 hours then put up in the fridge overnight. At this point, I was a little skeptical about the outcome because I did not get the amount of rise that I usually get with this method at this point. However, I forged ahead the next morning, allowing the batch to reach room temp then turning out onto a board, dividing the batch into two equal portions, rolling each into a rectangle and applying the filling to each. I formed the recommended S shape with one loaf (and was surprised at how easy it was) and placed it in a banneton for the next rise. I did not use the S shape for the 2nd loaf but placed it directly into the banneton for the next rise. Both bannetons went into a Brod & Taylor proofer at 87 degrees F for about 1 1/2 hours until ready for the oven. Both loaves were transferred to Romertopf clay baking units and baked for about 35 min at 400 degrees. I was a bit surprised when I opened the Romertopfs to find that the loaves had an excellent oven spring rise and were about the same size that I would normally expect to see. So everything turned out okay. Both loaves looked great and tasted great! Now, to the question that I referred to earlier. I used 75 grams of olive oil for the 2 loaves. To me that seems like a lot of oil but that's what the recipe called for. Could this amount of oil have retarded the initial rise that I expected to get on the first day of mixing? Or, in general, what effect does olive oil have in the fermentation process and when do we have to be careful when using it in a recipe?

Great question, Bill, and we're glad this recipe was a hit! Oil or fat in general does slow rising down quite a bit. The benefits outweigh that in our minds as oil adds flavor, brownness, and tenderness. You're welcome to lower it or leave it out, but you might find yourself missing it! Annabelle@KAF
Really lovely dough texture, but the taste just wasn't wonderful. I used 6 cloves of garlic and roasted my own Roma tomatoes, combined with lots of basil and a combo of Romano, Parmesan and fresh mozzarella. The loaf is beautiful coming out of the oven. The taste did not warrant the effort, though the effort wasn't terrible. I seriously doubt that I will make this again.

We're sorry to hear this the final product didn't showcase the ingredients in the show-stopping way you were hoping for. If you'd like to chat with one of our friendly bakers about ways you might be able to kick the flavor of the dough up a notch (add Vermont Cheese Powder, use a different flour, add some infused oil into the dough), consider giving our Baker's Hotline a call: 855-371-BAKE(2253). We'd love to help brainstorm and get you started in the right direction. Kye@KAF
This recipe makes you look like an amazing bread baker! My family and friends just raved at how beautiful and delicious this bread is. I followed the directions exactly as written and used a ruler to accurately measure when pressing out the dough before rolling. It is flavorful and beautiful. Goes great with marinara dipping sauce or a warm pat of butter. So good.
Saw this recipe for the first time on Monday of this week and I've already made it twice (it's Wednesday!). The first time, I didn't have enough basil in the garden so I used dried Italian herbs. It was stupendous! The next time I managed to get to the store for fresh basil, and I brushed the bread with melted butter the moment it came out of the oven - extra stupendous! It's an easy, reliable dough (even for a weeknight) that comes together well, and it bakes up into a heavenly crumb. The fillings complement each other perfectly. I am adding this to my regular rotation.
This is incredibly good. Followed the recipe using the bread machine for kneading and first rise, rolled it out and filled it (just 3 good-sized garlic cloves were enough), let it rise then baked it, and am having trouble not eating the whole thing at one sitting. I think the dough itself will make a wonderful pizza crust too.