A customized print-friendly version of this recipe is available by clicking the "Print Recipe" button on this page.
Traditional Soda Crackers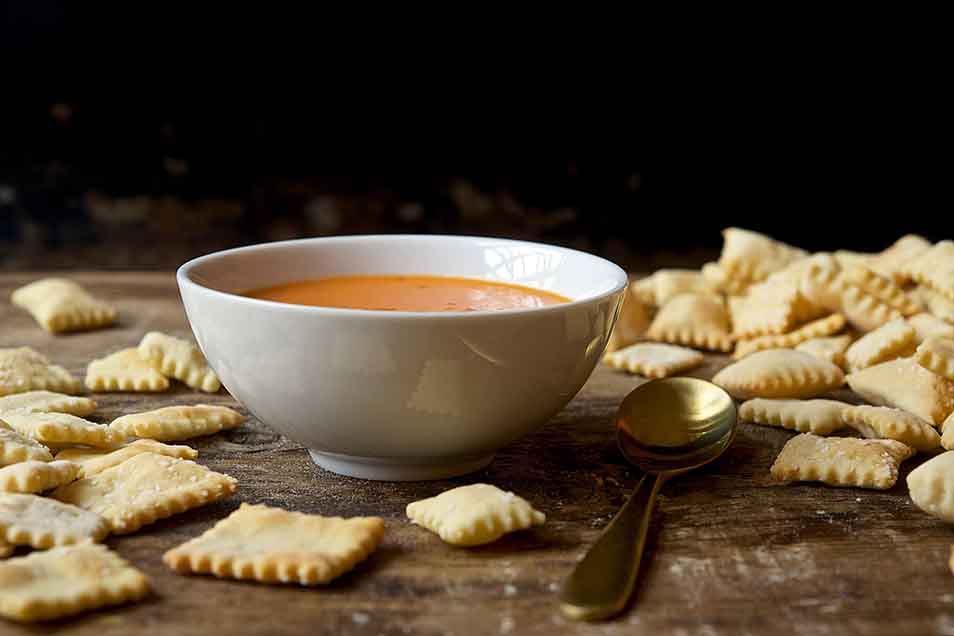 Crackers and milk. Crackers and soup. Cheese and crackers. Crackers and peanut butter. We may not give much thought to these crisp, bite-sized bits of baked dough we eat in so many different guises, but they truly are a staple of every nibbler's pantry.

While it's easy enough to go to the store and buy crackers, it's really quite simple to make your own. The dough gains flavor by resting overnight, so it's a long process, but not really very involved. The basic dough can be augmented with herbs or spices, sprinkled with seeds, or brushed with butter as you make your own customized crackers.

This recipe makes lots of crackers — enough to fill two half-sheet (13" x 18") pans.
Ingredients
1 1/2 cups King Arthur Unbleached All-Purpose Flour
2 teaspoons instant yeast
1/4 teaspoon salt
1/4 teaspoon baking soda
1/4 teaspoon cream of tartar
2/3 cup hot water (120°F to 130°F)
1/2 teaspoon barley malt syrup or 1 teaspoon sugar
2 tablespoons vegetable shortening
sea salt, caraway, sesame, poppy or other seeds, for topping, optional
2 tablespoons butter, melted, optional
Instructions
In a large mixing bowl, combine 1 cup flour, yeast, salt, baking soda and cream of tartar. Stir in hot water, malt extract (or sugar) and shortening. Mix well to combine.

Add remaining 1/2 cup flour to form a workable dough. Transfer the dough to lightly floured work surface and knead until soft and elastic — about 5 minutes by hand, 3 to 4 minutes in an electric mixer equipped with dough hook, or 30 seconds in a food processor.

Form the dough into ball and place in a large, clean, well-greased bowl, turning to coat all sides. Cover with plastic wrap and refrigerate overnight or up to 18 hours (the longer the better).

Preheat the oven to 425°F. Lightly grease (or line with parchment) several baking sheets.

Deflate the dough and transfer to a lightly floured work surface. Use a rolling pin to roll the dough into a large rectangle about 1/16" thick. If the dough seems too elastic and fights being rolled thin, let it rest for 5 minutes, then roll again.

Fold the dough in from the short ends to make three layers (like folding a letter). Roll out again, no more than 1/16" thick. Make sure surface under dough is well-floured to prevent sticking.

Prick the dough all over with a fork. Cut into squares, circles, or whatever shape you'd like. A rolling pizza cutter and yardstick makes short work of this part.

Transfer the crackers to the baking sheets; don't allow them to touch one another, but you don't have to leave much room between one cracker and the next, either.

Sprinkle crackers lightly with salt, and seeds (sesame, poppy, caraway...) if desired. Press salt/seeds lightly into dough with your fingers.

Bake the crackers for 10 to 20 minutes, depending on the thickness of the crackers. Crackers will be lightly browned.

Remove crackers from oven and brush with melted butter. Remove from baking sheet and allow to cool completely on a wire rack.

Store in an airtight container for several weeks.
Tips from our bakers
This recipe is based on one from Bernard Clayton's New Complete Book of Bread.