A customized print-friendly version of this recipe is available by clicking the "Print Recipe" button on this page.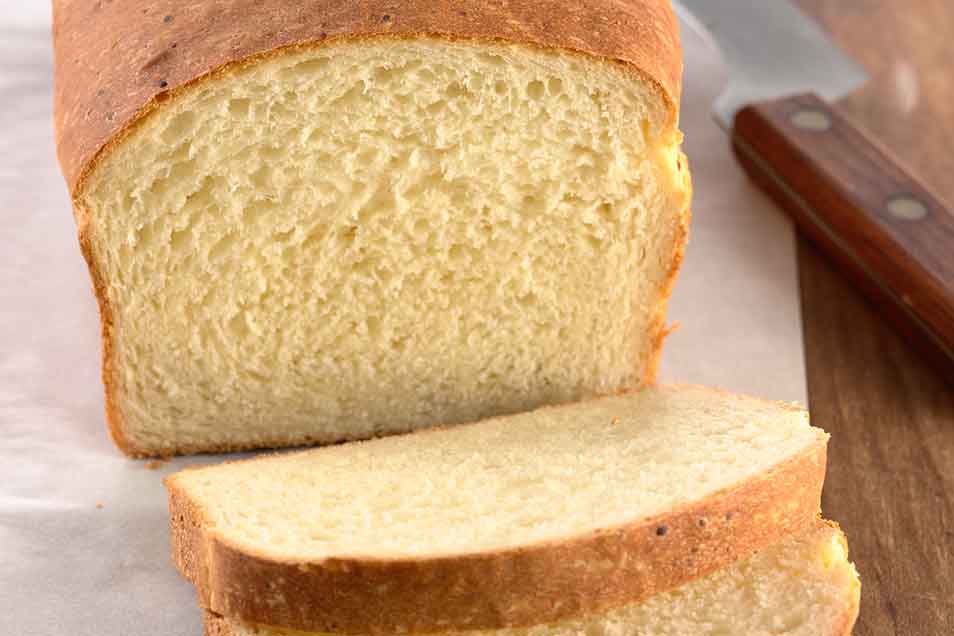 Three cheeses make this loaf a tender and flavorful treat for sandwiches. Divided into smaller pieces, it makes excellent dinner rolls.
Instructions
Mix and knead all of the ingredients — by hand, in your mixer, or in your bread machine on the dough cycle — to make a soft dough.

Place the dough in a greased bowl or other rising container, cover it, and let it rise until doubled, about 45 minutes.

Deflate the dough, form it into a 9" log, and place it in a greased 9" x 5" loaf pan. Cover loosely with greased plastic and let rise until the bread domes an inch above the rim of the pan, about 60 minutes. Towards the end of the rising time, preheat the oven to 350°F.

Bake the bread for 30 to 35 minutes, until it's golden brown and an instant-read thermometer inserted into the center registers at least 190°F.

Remove the bread from the oven, let it cool in the pan for 10 minutes, then transfer the loaf to a rack to cool completely before slicing.

Yield: 1 loaf.
Tips from our bakers
Want to make dinner rolls instead? Divide the risen dough into 12 equal pieces and shape into balls. Place the balls on a lightly greased or parchment-lined baking sheet. Cover loosely with greased plastic and let rise until almost doubled, about 30 minutes. Bake for 20 to 25 minutes.
Reviews
I baked this cheese bread last night and oh my goodness it was good!! It was so tender, moist and flavorful. I did make the mistake of taking it out of the pan to cool at 5 minutes instead of 10 minutes, so it sagged a little. I think that was because it is such a soft and tender loaf. But it was delicious and my husband loved it. I didn't use the parmesan cheese because I didn't have any, so I just used a little extra cheddar.
I have made this great bread many, many times and have made a few tweaks that really work for me: --Use extra-sharp cheddar; --I don't use Vermont Cheese Powder. I have made this with Parmesan, but find Romano better to the task (sharper/saltier) --I find that using an 8 1/2" X 4 1/2 loaf pan works better
love this bread - soft, fragrant, tasty! Easy to make. Toasted slices taste like grilled cheese sandwich
Our family rated this recipe. Everyone was disappointed that they couldn't taste and see cheese! They were hoping the bread would taste close to the deli 5 cheese bread at the grocery store. Now for the good parts. I was amazed at the great texture and raising from non-bread flour! The flavor was great, but closer to plain white bread. I did add mozzarella and sprinkled some Italian seasoning and more parmesan on top.
I followed the recipe as directed, using the cheeses recommended. The dough was very wet and sticky and deflated when I removed the lightly oiled plastic wrap. It never really rose much after that. The bread baked up and tasted good but it didn't rise on baking the way it should have, there was a valley in the middle. I may have added a little too much cheese making the dough wetter. I made the dough in my 2lb bread machine, usually I watch the dough from time to time as it comes together to check the consistency. This time I didn't and won't make that mistake again. My husband and son loved the taste so I'll try it again. I gave this a 4 star rating because of the taste, the problem I had most likely my fault.
Delightful. I got distracted and let this over-rise, but still, it baked up beautifully. Really yummy, both in the a.m. and with dinner.
I made this bread as the recipe stated and was easy to make. The dough was very soft and easy to work with, I made two round loafs instead of one big one. The bread itself was moist and tender but I didn't get the cheesy taste I thought I would. In all if was good and will fix it again.
Delicious!! Just made a loaf and gently cut into. I read reviews and decided to portion out my flour in a separate bowl then put my cheese directly into the flour and mix with a fork to evenly distribute. I have a beautiful distribution of cheddar throughout my loaf. Will add some hot sauce to my next loaf (as mentioned in another review) or maybe chives?? Wish I wasn't out of cottage cheese or I would start another loaf.
I used Cabots Sharp, cottage cheese and Vermont Cheese powder. They really had no cheese taste, but who cares. The rolls just melted in our mouths. Keeper recipe for sure!
I made my dough in the bread machine and then oven baked it. It didn't rise as high as I would have liked because my bread pan was too big. (I will be buying a smaller loaf pan!) HOWEVER, the taste is great with the Tabasco adding a bit of heat. I only used 1/2 tsp. and that was plenty for me who doesn't like hot, spicy stuff. The only thing that I would do differently next time is to toss the cheese into the flour as I grate it to prevent clumps. I bought a 3.25 oz. chunk of cheddar and it measured to 1 packed cup exactly. This sounds like a great bread to go with soup this winter. I wonder how it would be for grilled cheese sandwiches? Happy baking! Laurie@KAF