A customized print-friendly version of this recipe is available by clicking the "Print Recipe" button on this page.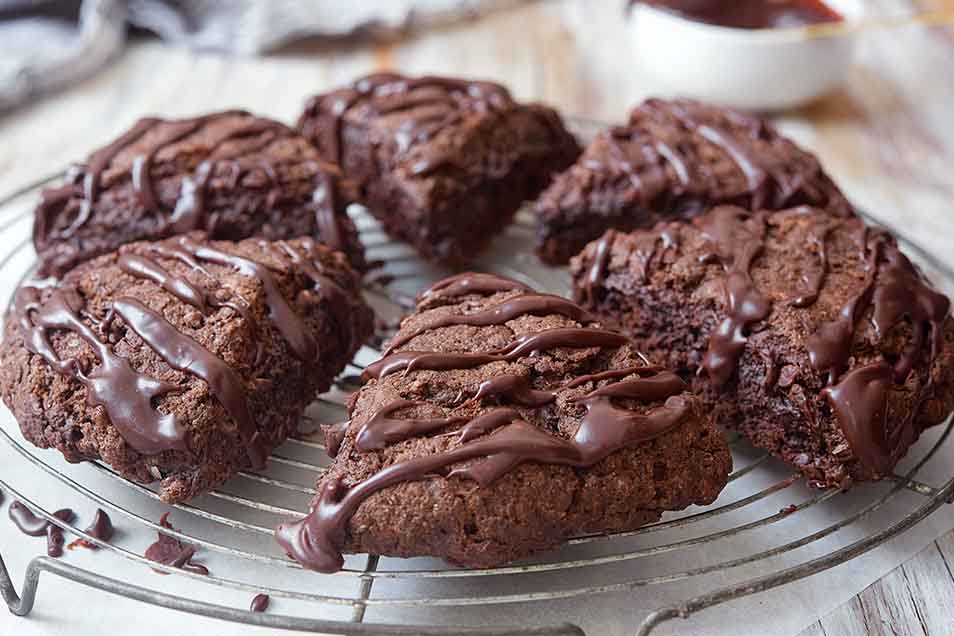 "Triple chocolate" — you can't argue with that! These scones feature chocolate chips studded throughout a tender, just-sweet-enough chocolate scone; the rich chocolate glaze makes this a triple treat.
Instructions
Preheat your oven to 375°F. Lightly grease a baking sheet, or line it with parchment.

To make the scones: In a large mixing bowl, blend the flours, cocoa, espresso powder, sugar, baking powder, baking soda, and salt together thoroughly.

Using a stand mixer equipped with the beater paddle; or a pastry blender, pastry fork, or your fingertips, work in the butter until the mixture is unevenly crumbly.

Stir in the chocolate chips.

Whisk together the vanilla, egg, and milk.

Add the liquid ingredients to the dry ingredients, stirring until the mixture is evenly moist. If necessary, add an additional tablespoon or so of milk, enough to make the dough come together.

Mix 3 tablespoons confectioners' sugar with 1 teaspoon cocoa powder, and sprinkle it on your parchment-lined (or lightly greased) baking sheet. You're using this sugar mixture in place of the usual flour, to keep the scones from sticking to the pan as you shape them.

Divide the dough in half, and place the two pieces onto the baking sheet. Pat them gently into two 6" circles, each about 3/4" thick.

Cut each circle into 6 wedge-shaped pieces with a bench knife or bowl scraper (or sharp knife), pressing down firmly without sawing. You'll find it easier if you dip your cutter in flour after each cut. Make sure you press it into the dough quickly, without twisting or sawing. This shears the dough cleanly rather than pressing it together, which allows the scones to rise higher. Separate the scones a bit, but leave them in their circle; try to leave about 1" between them at the outer edge of the circle.

Bake the scones for 18 to 23 minutes, until they lose their moist look, and a cake tester inserted into the center of one comes out clean; or with just a smear of chocolate from a melting chip.

Remove the scones from the oven, and transfer them to a rack to cool.

To make the glaze: Place the chocolate chips and half & half or creamer in a microwave-safe bowl or small saucepan. Heat in the microwave (or over low heat) until the cream is very hot. Remove from the heat, and stir until the chips melt, and the mixture is smooth.

Drizzle/spread the glaze over the cooled scones.
Tips from our bakers
Since these scones are iced, they're not a good candidate for reheating in the oven. However, you can reheat individual scones very briefly in the microwave; watch closely so their icing doesn't melt and run.
You'll never notice the whole wheat flour in these scones; it disappears in the chocolate. However, feel free to substitute an equal amount of all-purpose flour for the whole wheat, if you like.
Reviews
If you love chocolate, you will love these. They were absolutely delicious.
Best chocolate scone recipe ever. Had a little trouble patting the dough out as it seems a little to wet and sticky to handle. I think I would eliminate the one tablespoon milk next time to see if it handles better. Cut circle into 8 equal pieces as it is plenty large enough.....
Wow. I'm shocked to admit it, but I like these scones even more than I like brownies. I substituted heavy cream for milk (because that's all I had) and sprinkled turbinado sugar on top before baking instead of making the chocolate glaze. They're good both straight from the oven and room temp the next day. 10/10 would make again.
Flavor is amazing. I did make changes as I did not have any espresso powder so used 2 tbls brewed coffee in place of the extra 2 tablespoons of milk. Added 1/2t cinnamon and used 1-2/3 cup KAF flour and 1 cup almond flour. Also used regular Cocoa powder in place of the Dutch Process powder. Was a pain to "pat it out", even after chilling the dough for 30 minutes. So much so, that I forgot to cut into wedges! Remembered about 3 minutes into baking, so pulled them out and cut into 8 sections instead of the 6. These were plenty big enough. Tastes like a lighter version of a brownie. I didn't make the topping yet as it really doesn't need it.
I just pulled these babies out of the oven ten minutes ago. The excellent texture and flavor combine to make a truly special Sunday morning treat. I substituted espresso powder for Trader Joe's chai tea latte mix, I feel it works really well with the chocolate (almost reminiscent of Texas Sheet Cake). If you are not icing these, don't forget an egg wash or milk glaze, like I did! My boyfriend is already requesting a second batch! Happy baking!
You need to add a note that says to send your family away on an errand before baking these. Once the smell began wafting through the house, I had to keep shooing people out of the kitchen. The scones are very good. Chocolatey but not too sweet (without the topping). And the texture is nice and light. I think these will go fast and be requested frequently.
Not what I expect of a scone, but who can argue with basically triple chocolate cake for breakfast?
Definitely much lighter than other scones I have made. Not as chocolaty as I would have thought but I cut down on the chips and I didn't have Dutch process only natural cocoa. So even though shipping to my daughter went ahead with the glaze.
Substituted cinnamon for the espresso. Excellent.
I made these without icing for friends and they were delicious!!!! They were just as good the next day reheated at 300 degrees for 7 minutes. Yum!!!