A customized print-friendly version of this recipe is available by clicking the "Print Recipe" button on this page.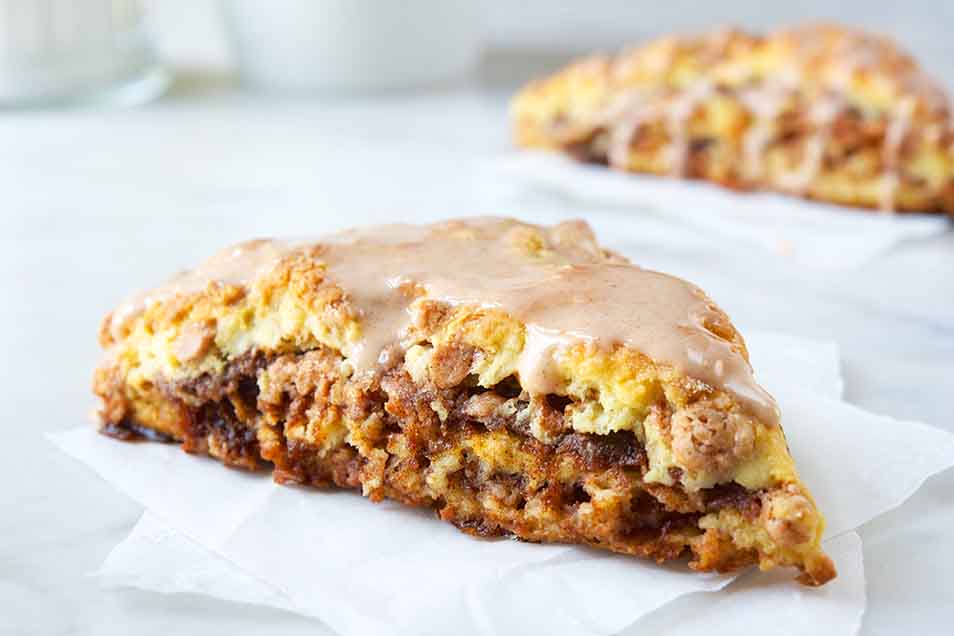 With cinnamon filling and cinnamon chips inside, and cinnamon-scented glaze (or cinnamon-sugar) outside, these moist, aromatic scones are a cinnamon-lover's dream come true.
Ingredients
Dough
2 3/4 cups King Arthur Unbleached All-Purpose Flour
1/3 cup sugar
1 tablespoon baking powder
3/4 teaspoon salt
1/2 cup (8 tablespoons) cold butter, cut into pats
1 cup cinnamon sweet bits or cinnamon chips
1/2 to 2/3 cup half & half or evaporated milk
2 large eggs, lightly beaten
1 teaspoon vanilla extract
Glaze
3 1/2 cups confectioners' sugar
1 teaspoon ground cinnamon
7 tablespoons water
Instructions
To make the dough: In a large mixing bowl, whisk together the flour, sugar, baking powder, and salt.

Work in the butter just until the mixture is unevenly crumbly; it's OK for some larger chunks of butter to remain unincorporated. Stir in the cinnamon chips or bits.

Whisk together 1/2 cup of the half & half or milk, eggs, and vanilla.

Add the liquid ingredients to the dry ingredients and stir until all is moistened and holds together. Add up to 3 additional tablespoons half & half or milk, if necessary, to bring the dough together.

Scrape the dough onto a well-floured work surface. Pat/roll it into a rough 9" square, a scant 3/4" thick. Make sure the surface underneath the dough is very well floured. If necessary, use a giant spatula (or the biggest spatula you have) to lift the square, and sprinkle more flour underneath.

To make the filling: Mix together the Baker's Cinnamon Filling and water. If you're using the alternate filling described in "tips," below, whisk together the ingredients; omit the water.

Spread (or sprinkle) the filling over the dough. Fold one edge into the center and over the filling, as though you were folding a letter. Fold the remaining edge over the center to complete the three-fold. You'll now have a rectangle that's stretched to about 4" x 12". Gently pat/roll it to lengthen it into a 3" x 18" rectangle; it'll be between 3/4" and 1" thick.

Cut the rectangle into six 3" squares. Transfer the squares to a lightly greased (or parchment-lined) baking sheet. Now you have a choice. For large scones, cut each square in half diagonally to make a triangle; you'll have 12 scones. For medium scones, cut each square in half diagonally again, making four triangular scones from each square. Separate the scones just enough to break contact between them.

You may also choose to make scone strips, or tiny squares. Cut each 3" square into three 1" x 3" rectangles, for a total of 18 scone strips. Or cut each 3" square into nine 1" squares, to make 54 bite-sized mini scones.

For best texture and highest rise, place the pan of scones in the freezer for 30 minutes, uncovered. While the scones are chilling, preheat the oven to 425°F.

Bake the scones for 16 to 20 minutes, or until they're golden brown. Remove the pan from the oven, and allow the scones to cool right on the pan. Once they're cool, cut the scones along their demarcation lines and separate them.

Make the glaze by stirring together the sugar, cinnamon, and water. If the sugar seems particularly lumpy, sift it first, for an extra-smooth glaze.

Now you're going to coat each scone with glaze. You can dip each one individually, which is quite time-consuming. Or line a baking sheet (with sides) with parchment, and pour about half the glaze atop the parchment. Set the scones atop the glaze, swirling them around a bit to coat their bottoms. Then drizzle the remaining glaze over the top. Use a pastry brush to brush the glaze over each scone, to coat it entirely. The glaze is very thin, so this is easily done.

Transfer the scones to a rack set over parchment, to catch any drips. As you pick each scone up, run its sides over the glaze in the bottom of the pan, both to use up some of the extra glaze, and to make sure all sides are coated. Allow the glaze to set before serving the scones.

Yield: one dozen triangles, 5" x 3"; 2 dozen triangles, 2 1/2" x 3"; 18 strips, 4" x 1 1/2"; or 54 mini (1 1/2") squares.
Nutrition Information
Serving Size

127g

Servings Per Batch

12
Amount Per Serving:
Calories

440

Calories from Fat

130

Total Fat

14g

Saturated Fat

9g

Trans Fat

1g

Cholesterol

25mg
Sodium

280mg

Total Carbohydrate

76g

Dietary Fiber

1g

Sugars

53g

Protein

4g
* The nutrition information provided for this recipe is determined by the ESHA Genesis R&D software program. Substituting any ingredients may change the posted nutrition information.
Tips from our bakers
No Baker's Cinnamon Filling? Combine 1/2 cup brown sugar with 2 tablespoons cinnamon and 3 tablespoons cornstarch; don't add the water. Sprinkle the mixture over the dough. You may finish the scones according to the recipe instructions, but we recommend cutting them into 12 larger (rather than medium or bite-sized) triangles. Cutting the scones any smaller will result in a lot of the sugary filling falling out of them.
For a thicker, spreadable icing, mix together 3 cups confectioners' sugar, 1/2 teaspoon ground cinnamon, and 3 to 4 tablespoons milk. Spread/drizzle over the scones.
Reviews
This was my first time making scones. I followed the recipe exactly, using the substitute for the filling. When following the recipe, these taste like and have the texture of coming from a bakery. I gave these as gifts to 3 different people who also had rave reviews.
Everyone has loved these scones! I've made them a number of times. I went with the old filling substitute instructions and made the more spreadable icing. Awesome!
Very good recipe! I could not find cinnamon chips or bits anywhere! So I just didn't add them. For the filling I used 3/4 cup brown sugar, two teaspoons of cinnamon, and 1.5 tablespoons of instant clear jel. Whisk together then add 1/2 a tablespoon of water at a time mixing in between until it got to a consistency I could smear on the dough. Make this once you have your dough ready to add the filling or it will be too thick! If you make it before hand just add about 1/2 teaspoon of water at a time until it thins down a little.
Not recommended until it is corrected within the recipe. I followed the recipe exactly, even though I am an experienced baker. The instructions for the substitute filling are incorrect, which y'all acknowledge further down the page. If the original instructions are incorrect, PLEASE correct them in the body of the recipe. Does the filling require butter and cornstarch in addition to the powdered sugar and cinnamon? Does it also need water? It's simply not clear!

Hi Susan, we apologize for any confusion regarding the DIY cinnamon filling in this recipe. We hope we can clarify: The original instructions for the make-your-own filling have been updated here in this recipe. (It used to call for 4 tablespoons butter, 3/4 cup brown sugar and 2 tablespoons ground cinnamon to replace the Baker's Cinnamon Filling Mix and the water.) Bakers let us know that this filling was very soft and tended to leak out during baking. We tested a number of new variations for the filling and have come up with what's now listed in the recipe: combine 1/2 cup brown sugar with 2 tablespoons cinnamon and 3 tablespoons cornstarch, and sprinkle the mixture over the dough. (Omit the water; the DIY version makes a dry cinnamon sugar rub that becomes melty and luscious during baking.) We've asked our Recipe Team to make this crystal clear in the instructions above to avoid any future confusion. Kye@KAF
it was amazing my whole family loved them! he whole batch was gone in less then a week! i could not stop eating them
i'm confused. the reply to karen of mass says to make your own cinn filling use 4 tbs butter, 3/4 cup brown sugar and 2 tblsp cinnamon and omit the water. but there was no water in the original do-it-yourself recipe which is 1/2 cup of brown sugar, 2 tblsp cinnamon and 3 tblsp of cornstarch. The water is in the glaze, not the filling, right?

Thanks for asking for clarification, Dorothy. We've updated our response to make it more clear the DIY filling should include the brown sugar, cinnamon, and cornstarch. These dry ingredients are mixed together before sprinkling over the dough. (It's a dry cinnamon sugar rub.) There should be 7 tablespooons of water added to the glaze. Happy baking! Kye@KAF
This is my third recipe I have tried for cinnamon scones and this one is a keeper. Used King Author Cinnamon chips which is the fist time I tried these. Could not fine them anywhere in standard groceries stores. With these chips and the cinnamon filling, nice! The filling was 3/4 cup brown sugar with 4 Tbls butter and 2 Tbls Cinnamon. This is different from the recipe online but I decided to try this from another user who posted on this recipe. Came out good! I will also use this base recipe for other scone flavors. Take out the cinnamon chips/filling and add for example, chocolate chips or Blueberries. As we know bakers tend to tweak recipes.
These are amazing - and addictive! I wouldn't substitute the cinnamon chips for anything else. They really make the difference, that and really good cinnamon. We do use a smaller portion for the glaze (ring to cut sugar wherever we can!). This is one thing on my Mother's Day menu that I am definitely making.
I've baked these scones many times now and love, love, love this recipe! I make larger scones and do not have a problem with the sugar staying inside the scone. I also add 2 drops of YL Cinnamon essential oil to my milk & egg mixture which gives the scones an extra zap of cinnamon. I make the dough ahead of time, freeze them, and bake however many I need. Always fresh scones!