A customized print-friendly version of this recipe is available by clicking the "Print Recipe" button on this page.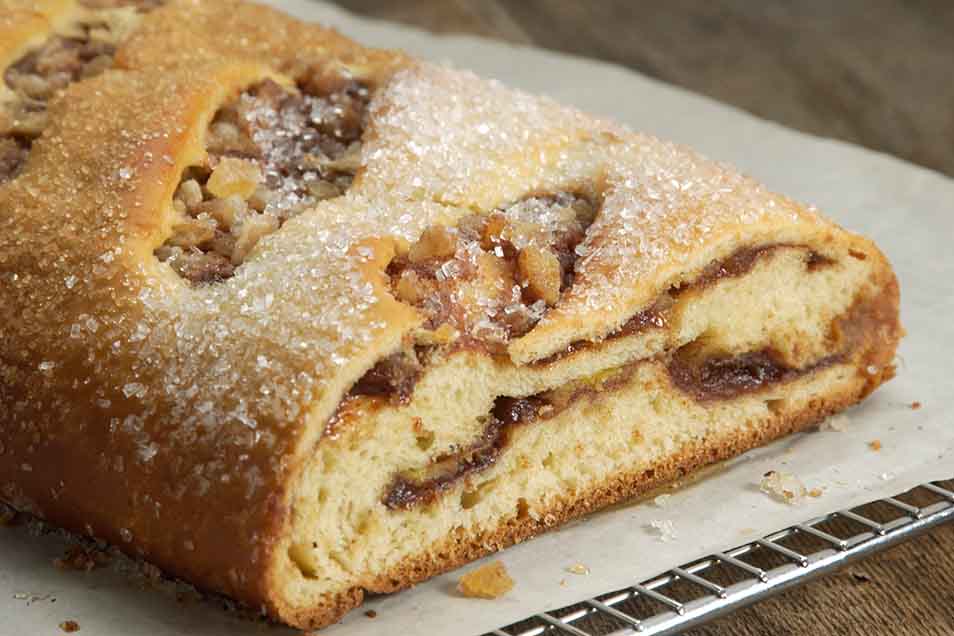 This unusual sweet bread is stuffed with bananas and pineapple, plus rich cinnamon filling. The concept comes to us courtesy of Ricardo Neves Gonzalez, one of our Brazilian readers, who makes it at his bakery. Thanks, Ricardo!
Ingredients
Dough
1/2 cup to 2/3 cup lukewarm water*
6 tablespoons vegetable oil
1/4 cup honey
2 large eggs + 1 large egg yolk, white reserved for topping
1 1/2 teaspoons salt
1 tablespoon instant yeast
*Use the greater amount in winter or in a dry climate; the lesser amount in summer or a humid climate.
Instructions
To make the dough: Combine all of the dough ingredients and mix and knead them, by hand, mixer, or bread machine, until you have a soft, smooth dough.

Allow the dough to rise, covered, for about 2 hours, or until it's puffy and nearly doubled in bulk.

Gently deflate the dough, and transfer it to a lightly greased work surface.

Pat and roll the dough into a rectangle about 18" x 14".

Make the cinnamon filling: Mix the Baker's Cinnamon Filling and water to make a smooth paste.

Looking at the dough horizontally (so it's 18" long), spread half the filling down the center third of the dough

Slice each banana into about 12 rounds. Space the slices atop the filling.

Fold one of the end pieces into the center to cover the bananas and filling.

Spread the remaining filling atop the piece of dough you've just folded into the center, and distribute the dried pineapple evenly atop the filling.

Fold the other side of the dough over the filling to cover it. Pull the long side seam underneath, and tuck each end underneath, too. You should have a long, flat log with no filling showing.

Use a sharp knife to cut 4 diagonal slashes atop the loaf, cutting through both layers of dough; this will allow steam to escape.

Brush with the beaten egg white, and sprinkle with the coarse or Demerara sugar.

Cover the loaf gently with lightly greased plastic wrap, and allow it to rest for 1 hour. It won't rise much, if at all. Towards the end of the resting period, preheat the oven to 375°F.

Bake the loaf in the middle of the oven for 25 minutes. Tent with foil, and bake for an additional 20 to 25 minutes, till it's golden brown and a sharp knife poked into the center doesn't reveal any raw dough.

Remove from the oven, and transfer to a rack to cool.

Yield: 1 large loaf, about 16 servings.
Reviews
I loved this bread! Such an unusual combination, but so tasty. It also rose to be huge! It was a great afternoon snack and an interesting alternative to coffee cake in the morning. A bit time consuming to make, but well worth it.
This bread is wonderful!! We all loved every thing bout it!! Truly great!
I was happy with the bread and the filling was good. The pineapple gave an unexpected tasty bump to the cinnamon filling. The banana did not do much and I would substitute for them next time. I didn't have the commercial filling so had to make my own cinnamon filling with brown sugar, butter, nuts and cinnamon. It makes a large loaf. Browned beautifully with the egg white and sugar wash.
I used melted butter instead of vegetable oil, and liked the texture of the bread. I don't think bananas in a bread really enhances the flavor. I also used golden raisins instead of pineapple. The KA cinnamon spread was wonderful, and I will use it in other recipes such as this.Can you make some suggestions as to other ingredients besides bananas and pineapple that would work with this bread? I hate to give it up. The preparation was easy, and it looks delicious...just the banana taste doesn't seem to go with this recipe.
The cinnamon filling is not on the website ââ?¬â?? please post the suggested proportions for making the cinnamon filling with butter and cinnamon.
One substitute for Bakers Cinnamon Filling is 3/4 cup sugar + 1 tablespoon ground cinnamon. If you prefer a butter/cinnamon filling, use one that has been successful for you in past recipes. Irene @ KAF
I'm wondering about the filling recipe? Is this filling that calls for a premade packaged product Mr Gonzalez original filling recipe? How would he have access to it if he's in Brazil? I myself do not have access to this filling product either. Couldn't you provide the original filling recipe from Mr Gonzalez, or, an aternative for us that can not purchase this product?
The filling used in this recipe variation is our Baker's Cinnamon Filling. If you do not have this product, substitute your favorite cinnamon filling recipe. Some bakers simply use 3/4 cup granulated sugar mixed with 1 T. ground cinnamon. Other bakers like to use a butter/cinnamon filling from another recipe. Irene @ KAF
I'm looking forward to trying this recipe with it's tropical flavors!Shouldn't the hands on time be reduced by 3 hours for the rise and rest times? (Also, summers in California are dry, so the summer/humid, winter/dry may not be accurate for everyone.)
Thanks for your insight about location, location, location.....the first rise for this bread dough is 2 hours, followed by 1 hour once it is shaped for baking. These rising times worked best for us in the test kitchen with this recipe. Irene @ KAF .
Where do I get Baker's Cinnamon Filling - or make it? I am confused.
We sell Baker's Cinnamon Filling on our web site. You can make a different version that will not be quite so rich and yummy using cinnamon sugar and some butter. JMD @KAF