A customized print-friendly version of this recipe is available by clicking the "Print Recipe" button on this page.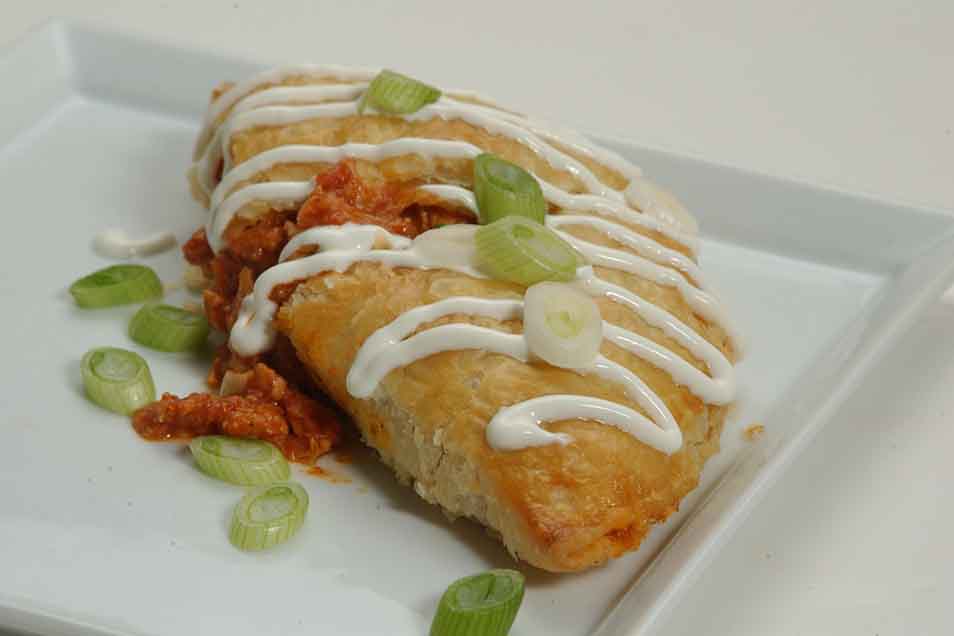 Hand pies are part of a growing trend of old-becomes-new-again recipes taking the country by storm. At their most basic, they are sweet or savory fillings in pastry or pie dough, small enough to be held in the hand for on-the-go enjoyment.
These hand pies make the most of leftover turkey from your holiday roast, blending meat, tomato, cheese and spices into a zesty, flavorful filling surrounded with an incredibly flaky crust. Before you know it, you'll want one for each hand!
Ingredients
One recipe Quick Flaky Pastry OR your favorite pie dough
2 cups shredded cooked turkey
1 cup diced onion
2 cloves garlic, minced
1 tablespoon chili powder
1/2 teaspoon ground cumin
1/2 teaspoon each salt and pepper
15-ounce can ground tomatoes
1 cup shredded sharp cheddar cheese
1 to 2 tablespoons tomato paste, as needed
Instructions
Prepare your flaky pastry or pie dough recipe and set aside to chill for at least 30 minutes. This can be made the day before if desired. Keep chilled until ready to use.

Prepare the turkey chili. Begin by sautéing the onion and garlic in a small amount of water or oil. When the onion begins to turn opaque, stir in the chili powder, cumin, salt and pepper.

Continue to sauté for 1 minute, until the mixture is very fragrant. Add the tomatoes and cooked turkey, bring to a boil, and reduce the heat to low. Simmer for 10 minutes.

Stir in the cheese and check for consistency. If the chili seems on the wet side, add a tablespoon or two of tomato paste to thicken it up. As a filling, it will need to be slightly thicker than regular-in-the-bowl chili. Simmer for another 10 minutes.

Remove from the heat, transfer to a large bowl, and place in the fridge until cooled.

When you're ready to bake, preheat the oven to 375°F. Roll the crust 1/4" thick and cut circles with a biscuit cutter or other round cutter. You can cut any size up to 6".

Depending on the size of the circle, place a few tablespoons of cooled chili to the left of center, then fold the crust over the chili to make a half-moon shape. Use a touch of water to seal the seam, and press firmly with a fork to complete the seal.

Place several hand pies on a parchment-lined baking sheet and bake for 15 to 30 minutes, again depending on the size of the pies. When done, the crust will be golden all over and sizzling.

Serve hot with fresh salsa, salsa verde, sour cream, and your other favorite toppings.
Reviews
They look delicious! One question. Can I make the pies (ready to go in the oven), put them in the fridge overnight and then put them in the oven next day? Thank you!
Very easy to make, the pastry dough is very easy and tasty too. They are very good warmed in the microwave too. They came out of the oven picture perfect.
Very good! My husband loved these. Great way to use leftover turkey from Thanksgiving.
Yum! I think this is our favorite leftovers recipe yet! We liked the mild flavor (it worked great for the little ones) and are planning the next batch with some chopped jalapenos (for Daddy). I loved the quick pastry dough. It was easy and pretty foolproof. Do you have any suggestions on freezing them? Before or after baking? Thank you!
You'll want to freeze these before you bake them. Once formed, place the hand pies on a parchment-lined baking sheet and freeze them. Once frozen, transfer them to a zip-top bag. Take out as many as you need, brush them with an egg wash if you wish, then bake straight from the freezer, adding about 5 more minutes to the baking time to account for them being frozen. Enjoy! ~ Mel
We tried this recipe with the leftover turkey and we loved it. The only thing we changed was the dough. It was easy to prepare and it was very tasty. We will do it again and we were thinking to add some veggie (beans or bell peppers) and add the cheese at the end just before baking them.