A customized print-friendly version of this recipe is available by clicking the "Print Recipe" button on this page.
Twinkling Good Vanilla Snack Cakes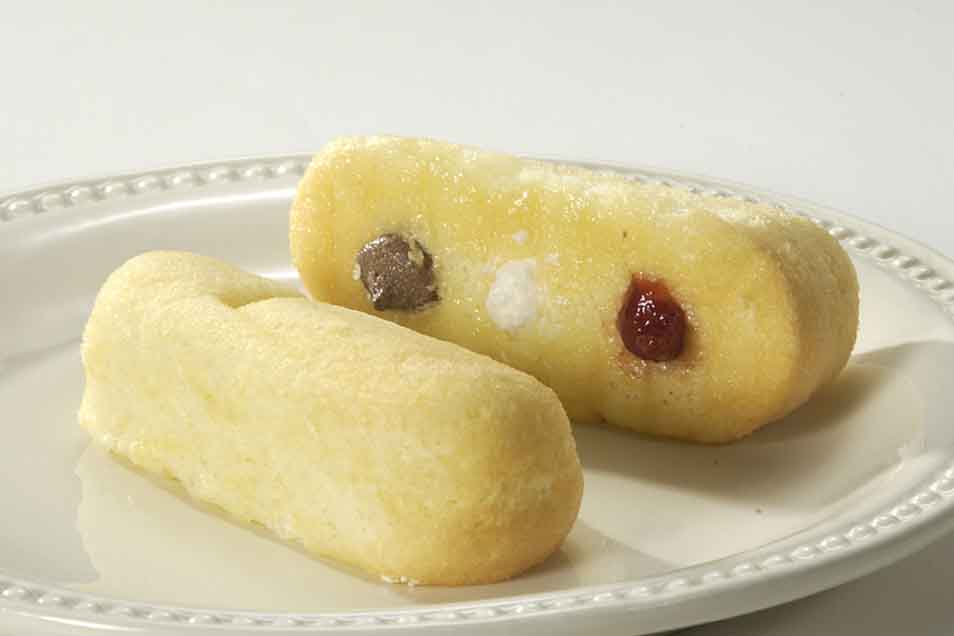 Remember those golden vanilla snack cakes from when you were a kid? Soft, springy and full of rich creamy white filling. Well, these snack cakes will bring you right back to Saturday morning cartoons and school lunch boxes, without the chemical additives. These cakes won't last through a nuclear winter like the urban legend says, they are so good they will disappear in a twink of the eye!

To make these cakes into cupcakes, complete with a colorful sugar garnish, follow our step-by-step photos for Twinkling Good Cupcakes.
Ingredients
Vanilla Snack Cakes
1 1/2 cups granulated sugar
1 tablespoon baking powder
1 teaspoon salt
1/2 cup vegetable oil
3/4 cup cold water
7 unbeaten egg yolks
1 teaspoon Princess Cake and Cookie Flavoring for true snack cake taste OR 1 teaspoon vanilla
7 egg whites, beaten very stiff
Instructions
Preheat the oven to 350°F. Spritz a filled cake pan (aka cream canoe pan) with a light layer of cooking spray. Set aside.

Place all ingredients except beaten egg whites into a large mixing bowl. Beat until smooth.

Working in thirds, fold the beaten egg whites into the batter. Take care to keep the batter light; fold, don't beat.

Fill each section of the snack cake pan 2/3 full. The cakes will puff quite a bit during baking, but will shrink back during cooling. Bake the cakes in a preheated oven for 8-12 minutes, until golden brown.

Remove the pan from the oven and let cool for 5 minutes. Using a flexible spatula, gentle remove each cake and cool flat side down on a rack until completely cool. In the meantime, prepare the snack cake filling.

In a small saucepan cook flour and milk over medium heat until a paste forms. Stir constantly and do not allow mixture to brown. Remove from heat and let cool 1 minute. Add vanilla and stir until smooth. Press a piece of plastic wrap down on the surface of the paste to avoid forming a skin and set aside to cool completely.

In the bowl of your mixer beat butter, shortening, and sugar until fluffy, scraping bowl to fully incorporate ingredients. Add cooled flour/milk mixture and continue to beat 5 minutes on medium-high speed until smooth and creamy. Use to fill snack cakes or cupcakes. Filling will remain creamy; store at room temperature 3-4 days.

To fill snack cakes: Place about 1 cup of filling into a clean pastry bag fitted with a round pastry tube, or use filling tool included with snack cake (cream canoe) pan. Gently insert the tube into the underside of the cake, about halfway through the cake. Using gentle pressure, squeeze a small amount of filling into the cake. You'll feel the cake expand under your fingers. Do not overfill, or the cake will burst. Repeat for a total of 3 times per cake. Store cakes well covered at room temperature for up to 4 days.
Tips from our bakers
To make snack cakes as cupcakes, prepare cupcake pans with cooking spray. Baking time will increase to 15-18 minutes. Cool and fill as directed.
For Banana Split Snack Cakes, replace the Princess Cake Flavoring with 3/4 to 1 teaspoon banana flavoring to taste. Prepare the batter and bake as directed. Fill one section of the cake with chocolate icing, one section with strawberry jam, and one section with vanilla filling, or pineapple dessert topping. True banana split taste in a handy portable snack cake. Grab one and split!
Reviews
I used 6 eggs and a little almond flavor in addition to the vanilla.This batter was stickier than some I've used...tough to get out of the pan and had a sticky top. Good taste and texture, but not quite what I expected.
I made these in a muffin tin and they turned out great. These vanilla spongey snack cakes are pop in your mouth fun. The flavor is a touch eggy to my palette but a lot better than the kind you buy at the store.
I just made a comment and had made it GF but forgot to mention 2 tsps xanthan gum.
This is a good recipe. However because my husband needs to be low fat and I'm gluten intolerant I had to change some items but all an all I followed the premise. For flour I used GF mix. Replacing two TBS of flour with two of cornstarch to make cake flour. For oil I usually use 1/2 and use package of butter buds for 1/2, I did use the whole eggs and usually I have to sub whites for the yolks as the yolks are high in fat. For the filling I used 2 TBS butter and shortening and used a pkg of butter buds. I made cupcakes and cut a hole in center for filling, They did take longer to bake golden.
Yep! A keeper!. Although I had issues beating the egg whites (I overbeat them!), these little pretend -Twinkies were quite good.. The texture was perfect. I wanted red velvet ones so I added 3 Tbl. dutch-process cocoa and 2Tbl. red velvet flavoring. They could have used a bit more flavoring so next time I'll increase these amounts. Also, I found that filling the cavities of the pan 3/4 full (I used the Wilton "delectovals" pan) caused it to overflow. Maybe 2/3 would have been better. Now, about the filling.. Great. Out-of-this world! Give me some more. It was absolutely ideal. I was a bit concerned about the shortening in it because I only had butter-flavored, This was probably a good thing, flavor-wise but, the color? Well, fortunately it didn't affect the color very much. YIPPEE!!! Of course filling them was a learning experience too. Don't be afraid to get that filling tip way down into your little cakes. However, just go easy on your trigger finger so the filling won't come out the sides. Overall, this was a great recipe. 'Can't wait to do it again.!
I was a little wary about the filling since I hadn't made one like it before. I tasted it and was about to throw it out and make a pastry cream (like another of the posts above), when my husband suggested trying the filling and the cake together. THAT made the difference! The flavors complement each other perfectly, and while the filling alone tastes a little too much like shortening – almost commercial – together they are perfect. I did buy the cream boat pans online, currently Fat Daddio makes them and they're great. I tried different levels of batter and I think ¾+ full is better than 2/3 as they shrink a bit as they cool. Wonderful treat!
I just made these into cupcakes for my son's 20th birthday, truly awesome!
I bought a cream canoe pan a few years ago and never really liked any of the recipes until now. This was perfect and made 32 snack cakes following this recipe. I did use the princes flavoring which is really fantastic. I work with snack cake addicts and they loved these more than the "originals".
These were a huge hit at our house! I didn't have the canoe pan, so I made cupcakes. Remember to add to the baking time if you make cupcake pan.I think I may have over-whipped the egg whites because they were clumpy as I folded them into the batter, and I wish the recipe had said for the batter to mix the yolks with the wet ingredients first, and then add the flour. I forgot to do this and put everything in the mixer at once, but fortunately it came out fine. The cupcakes looked a bit wrinkly on the top after they baked, but boy they sure did tasted great!! As the other reviewers mentioned, you can't stop eating them. And they don't taste too sweet at all. I also decided to use coconut oil instead of shortening for the filling. A lot of shortening has hydrogenated palm oil in it, and I prefer more natural ingredients. I did use the Princess Cake emulsion, which did give it a different taste than regular vanilla. Thanks KAF! I'm already collecting more recipes from your site. You live chat was very helpful, too. : )