A customized print-friendly version of this recipe is available by clicking the "Print Recipe" button on this page.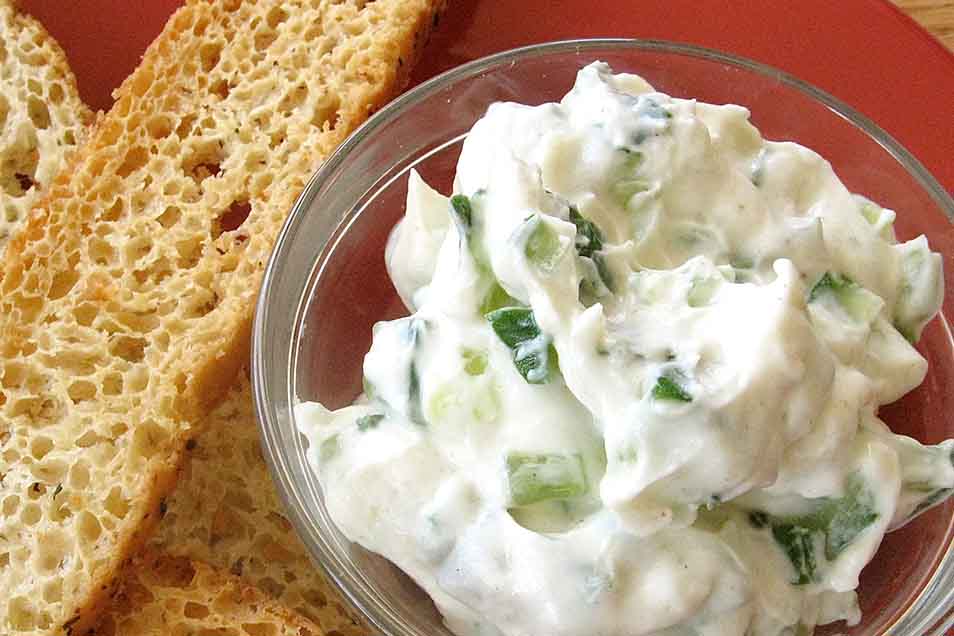 This yogurt-based spread/dip/salad is a must at most Greek-style meals. Including cucumbers, garlic, and mint, with a touch of cumin, it's very similar to India's raita.
Ingredients
1 large English (hothouse) cucumber, or 2 medium cucumbers
4 cups (1 quart) whole-milk or low-fat yogurt, drained in a yogurt cheese maker or cheesecloth for 24 hours*
1 to 4 cloves garlic, peeled and minced, to taste
1/2 teaspoon ground cumin
1 tablespoon garlic oil or olive oil
1 teaspoon lemon juice or rice wine vinegar
2 to 3 tablespoons snipped fresh mint, optional
*Substitute 2 cups Greek-style yogurt, if desired.
Instructions
If your cucumbers are waxed, peel them. If not, no need to peel; just score them lengthwise with the tines of a fork.

Dice the cucumbers in 1/2" pieces; you should have about 3 cups. Layer them in three layers in a sieve, salting each layer. Place a plate or piece of plastic wrap on top, and put a weight on top: a heavy bottle, a jar filled with water, or something to press down on the cucumbers. Place the sieve in the sink, or in a bowl to catch liquid. Let the cucumbers sit at room temperature for several hours, till they've given up quite a bit of juice.

Mix the diced cucumbers with the remaining ingredients.

Chill for several hours, for the flavors to meld. Serve with bread sticks, crackers, pita bread, or as part of a Greek meze (assortment of small dishes).

If possible, store in your yogurt drainer, or in a sieve; the cucumbers will continue to give off liquid, and it's nice to be able to drain it away as it collects.

Yield: 2 1/2 cups, about 10 servings.
Reviews
Like that it's a healthier alternative to richer foods. Love it with fresh dill from my summer garden.. I usually have it as a dip with pita chips and/or raw veggies. but recently used it as a spread with leftover roasted veggies inside a pita pocket. Yum!
This recipe worked out great. It was easy to make, fun and very tasty. I had never used cheesecloth to remove moisture before and found that part of the process fascinating. This is a keeper.
I've found that using "Greek-style" yogurt, which is much thicker than "regular" yogurt, I don't need to drain extra moisture from the yogurt. That means no waiting for the yogurt to drain. Aside from the time needed for salting the cucumbers, it speeds preparation considerably. And the leftovers need not be further drained either, another plus. Greek-style yogurt has lately become easier to find in groceries, and it's certainly worth looking for.