A customized print-friendly version of this recipe is available by clicking the "Print Recipe" button on this page.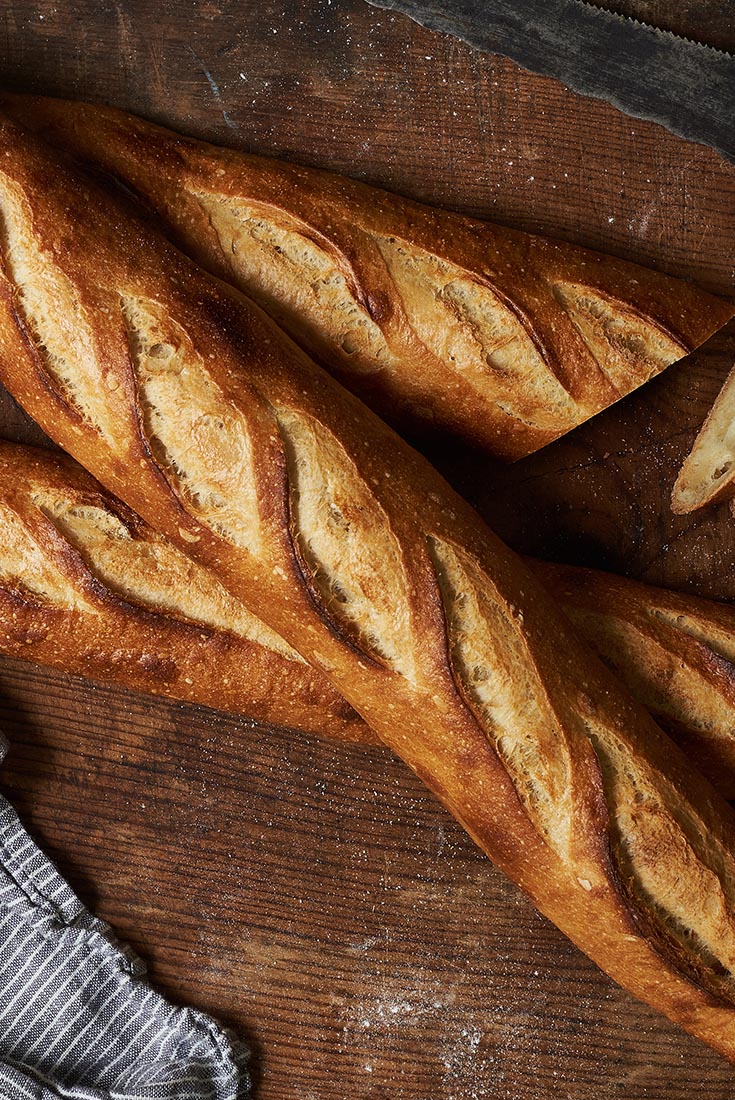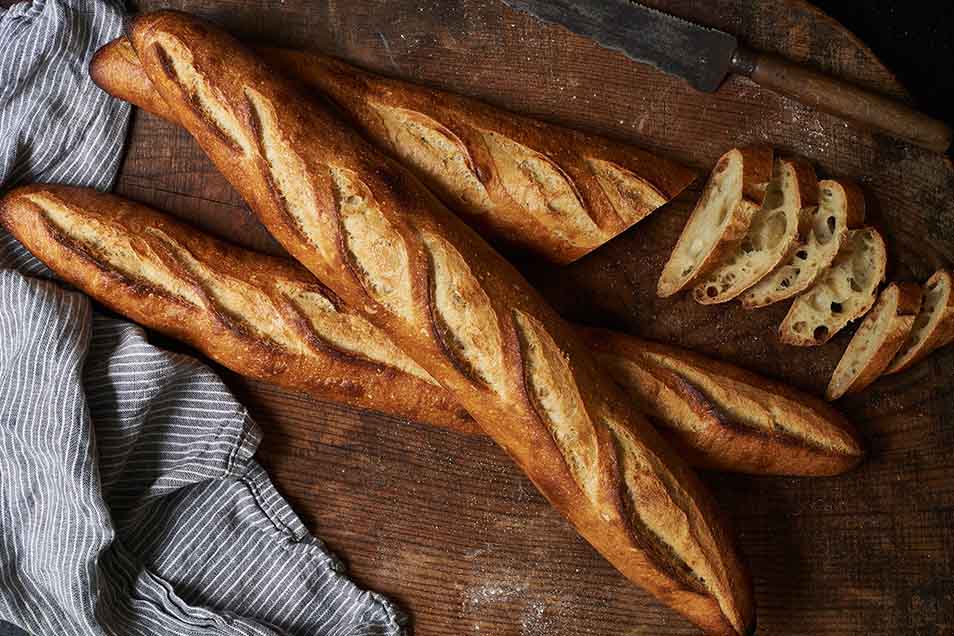 Crisp and light, with a crackly brown crust, these baguettes are super-easy to make.
Instructions
In a large bowl, combine the water, starter, and 3 cups of the flour, mixing until smooth.

Stir in the salt, sugar, yeast and gluten, then an additional 1 1/2 to 2 cups of flour. Stir until the dough pulls away from the sides of the bowl, adding only enough additional flour as necessary; a slack (sticky) dough makes a light loaf.

Knead the dough for about 7 minutes in a stand mixer; or 8 to 10 minutes by hand, on a lightly greased work surface. You may also knead this dough using the dough cycle on your bread machine; once it's finished kneading, transfer it to a bowl to rise, as directed below.

Turn the dough into an oiled bowl, cover the bowl, and let the dough rise until doubled in bulk, about 90 minutes.

Gently deflate the dough, and divide it into six pieces (for thin baguettes) or three pieces (for thicker Italian loaves).

Shape each piece into a 16" long loaf, and place the loaves, at least 4" apart, on parchment-lined baking sheets, or in lightly greased baguette pans (French loaf pans). If you're using baguette pans, make the loaves 15" long.

Cover the loaves with lightly greased plastic wrap, and let them rise for 1 1/2 to 2 hours, or until they're nice and puffy. Towards the end of the rising time, preheat your oven to 450°F.

If desired, gently brush the loaves with egg yolk glaze, and sprinkle them generously with Pizza Seasoning, artisan bread topping, or the toppings of your choice. If you're not brushing the loaves with egg yolk, spray them with olive oil spray; this will help them brown.

For a classic look, make three diagonal slashes in each loaf, cutting about 1/4" deep. For taller, rounder baguettes, don't slash.

Bake the baguettes for about 25 minutes, or until they're a rich golden brown. Remove the loaves from the oven. Turn off the oven, crack it open a few inches, and return the loaves to the cooling oven, without their pans. Letting the loaves cool right in the turned-off oven helps preserve their crunchy crust.

Yield: 6 baguettes or 3 Italian-style loaves.
Tips from our bakers
If you feed your sourdough before using, the loaves will rise better; but if you're in a hurry, unfed sourdough will simply lend its flavor, while the yeast in the recipe takes care of the rise.
Want to make just 3 baguettes instead of 6? Or two short, fat Italian-style loaves? Cut all of the ingredients except the yeast in half, leaving the yeast at 1 tablespoon.
Reviews
If 602 g = 5 cups, then 4.5 cups should be 520, not 539, right? Would be helpful if the 3 cups mentioned in step ` and the 1 1/2 to 2 cups flour in step 2 were also converted to grams when the recipe is displayed in grams. Frustrating to be mixing/measuring dough ingredients and have to get the calculator out.
Is there a category for OMG? I baked this bread yesterday, and it is incredible! I've had my starter (from KAF, naturally!) for little over a year, and it's nice and sour. However, one thing, when I gently pulled the greased plastic wrap off the baguettes before popping them in the oven, it also pulled half of the dough off, so they didn't rise quite as much as I would have liked. I talked to your support department, and Morgan M suggested that I sprinkle flour on top of the dough before laying down the plastic wrap. Other than that this recipe is perfect! The bread is chewy on the inside and crunchy on the crust, but not so hard as to break your teeth. I didn't cool them in oven, but they worked just fine.
This is a great go to recipe for baguettes or "Italian" bread. I halved the recipe and brushed the crust with olive oil instead of egg wash. My starter was fed recently but I would still consider what I used as discard as it was already started to get foamy on top. The crust is delicious and chewy/ crispy, but very tender. The inside is very soft with a little chew. Overall this is a great recipe and a great way to use up extra starter.
This was my first proper baguette recipe and I loved it! I used unfed starter and it came out awesome! I used closer to 4 cups flour and was worried my dough would fall flat when I formed my loaves, but it was great! Added black and white sesame seeds to two loaves and garlic and nutritional yeast to the other. It was heaven toasted with butter, and my roommate was happy too!
I just made this for the first time. Fantastic! The only problem I had was using 2 cookie sheets. The loaves on the bottom were browning on the bottom too quickly. Before it was quite done I switched shelves. I set off the smoke alarm because the paper on the bottom rack started to burn on the edges. Just a little excitement !
Absolutely fantastic results! Lovely crust with the egg finish, with soft center. Made these over the holidays for a couple gatherings; everybody enjoyed the flavor, and I passed the recipe on. Lots of compliments! This recipe is worth the effort. (I left the vital wheat gluten out)
Absolutely fantastic results! Lovely crust with the egg finish, with soft center. Made these over the holidays for a couple gatherings; everybody enjoyed the flavor, and I passed the recipe on. Lots of compliments! This recipe is worth the effort. (I left the wheat gluten out)
Since there are so many wonderful reviews of this recipe, I can't argue with it's success however, I had a frustrating experience with my loaves browning excessively. Followed the recipe, weighed my ingredients, made 5, not 6 baguettes and used my perforated baguette pan. Baked for 25 minutes as called for in the recipe however, my loaves got way too brown. Called Bakers Chat and they suggested checking my oven temperature for accuracy. No problems with my oven so I guess that these loaves really should bake for less time than 25 minutes?? I made a second batch and covered them with foil after 17 minutes and they STILL browned too much. Any feedback is appreciated.

Thanks for giving this recipe a go, Sandi. We've all had an experience when something seemed to brown way faster than expected. We're glad you were able to use the Baker's Hotline as a resource and are even happier that your oven is in good shape. It is possible that the baguettes were finished before the 25 minute mark. The ideal interior temperature of the loaf is between 195°F-200°F. Because the recipe is suggesting to bake the loaf for about 25 minutes, or until they're a rich golden brown, we'd recommend keeping an eye on the loaf and test its temperature once it starts to get toasty brown. If it's already at that ideal internal temperature, take it out. If it isn't, that would be the opportune time to cover it with tin foil until for the remaining baking time. We hope that you'll give this recipe another go! Annabelle@KAF
This is now my go-to recipe for bread. I make it at least once a week. I make the dough in my bread machine. I have a baguette pan with four slots, so I make four loaves and they turn out beautifully. My favorite way of eating it is toasted with tomato jam made from roasted Compari tomatoes and some brie melted on top.
I didn't have the yeast enhancer so I used whole wheat improver, which gave a brownish hue to the interior. Would definitely use an egg wash next time as my loaves were a little dull looking. I left them in after with the door open, but that might have made the crust too crumbly. Good overall recipe I will use again.