A customized print-friendly version of this recipe is available by clicking the "Print Recipe" button on this page.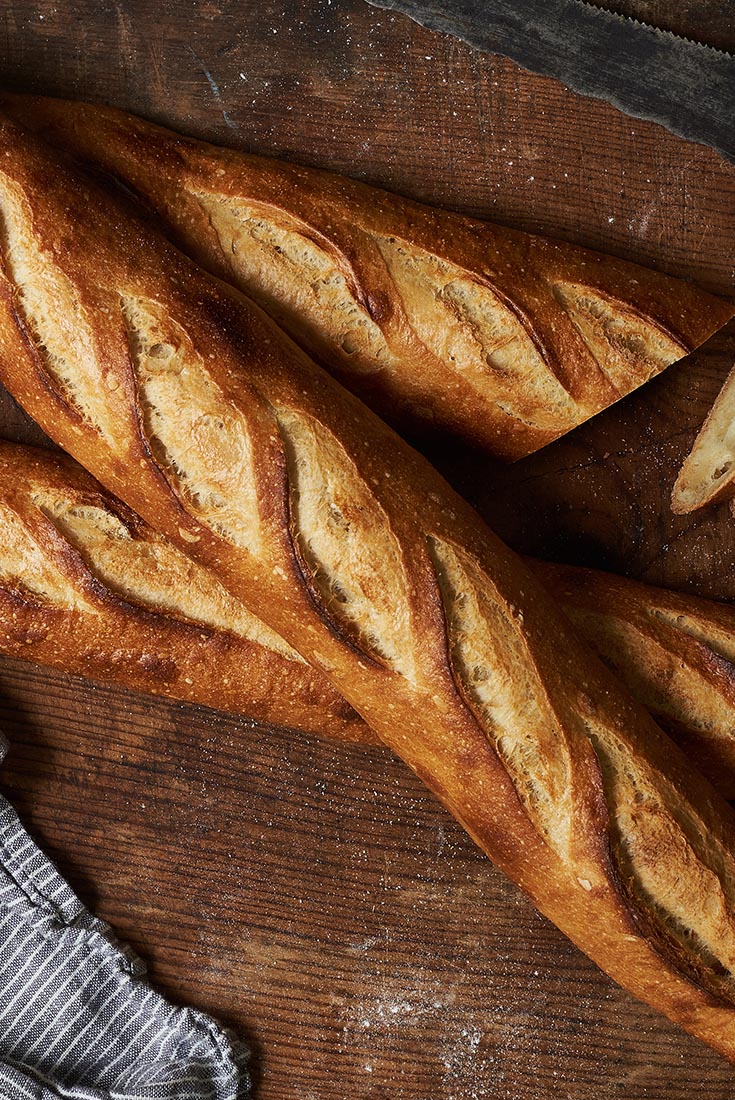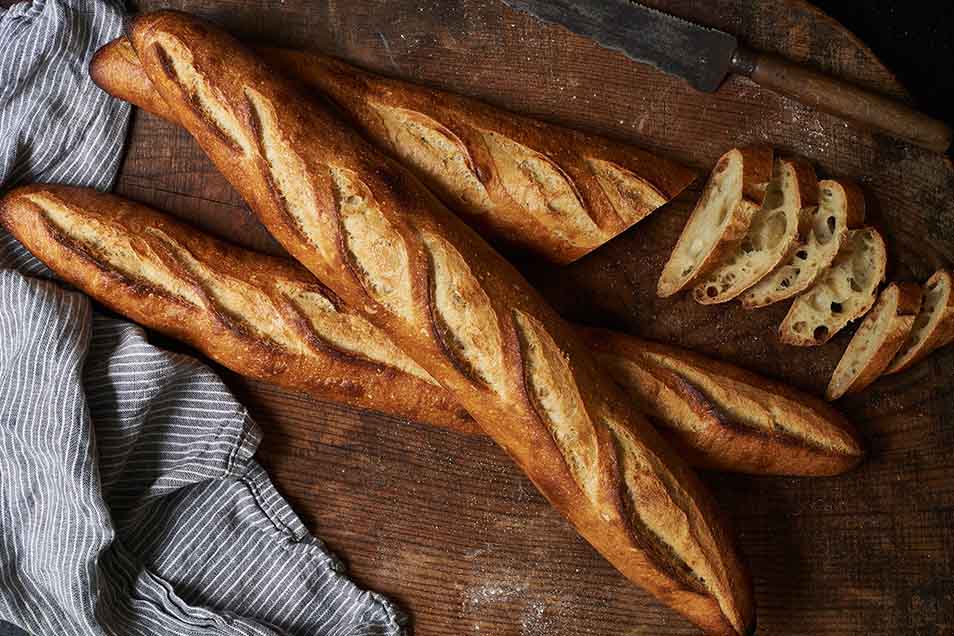 Crisp and light, with a crackly brown crust, these baguettes are super-easy to make.
Ingredients
1 1/4 cups lukewarm water
2 cups sourdough starter, about the consistency of thick pancake batter; fed, or unfed*
4 1/2 to 5 cups King Arthur Unbleached All-Purpose Flour
2 1/2 teaspoons salt
2 teaspoons sugar
1 tablespoon instant yeast
4 teaspoons vital wheat gluten
1 egg yolk lightly beaten with 1 tablespoon water, for glaze; optional
Pizza seasoning, sesame seeds, artisan bread topping, or anything else you think might be good; all optional
*If you feed your sourdough before using, the loaves will rise better; but if you're in a hurry, unfed sourdough will simply lend its flavor, while the yeast in the recipe takes care of the rise.
Instructions
In a large bowl, combine the water, starter, and 3 cups of the flour, mixing until smooth.

Stir in the salt, sugar, yeast and gluten, then an additional 1 1/2 to 2 cups of flour. Stir until the dough pulls away from the sides of the bowl, adding only enough additional flour as necessary; a slack (sticky) dough makes a light loaf.

Knead the dough for about 7 minutes in a stand mixer; or 8 to 10 minutes by hand, on a lightly greased work surface. You may also knead this dough using the dough cycle on your bread machine; once it's finished kneading, transfer it to a bowl to rise, as directed below.

Turn the dough into an oiled bowl, cover the bowl, and let the dough rise until doubled in bulk, about 90 minutes.

Gently deflate the dough, and divide it into six pieces (for thin baguettes) or three pieces (for thicker Italian loaves).

Shape each piece into a 16" long loaf, and place the loaves, at least 4" apart, on parchment-lined baking sheets, or in lightly greased baguette pans (French loaf pans). If you're using baguette pans, make the loaves 15" long.

Cover the loaves with lightly greased plastic wrap, and let them rise for 1 1/2 to 2 hours, or until they're nice and puffy. Towards the end of the rising time, preheat your oven to 450°F.

If desired, gently brush the loaves with egg yolk glaze, and sprinkle them generously with Pizza Seasoning, artisan bread topping, or the toppings of your choice. If you're not brushing the loaves with egg yolk, spray them with olive oil spray; this will help them brown.

For a classic look, make three diagonal slashes in each loaf, cutting about 1/4" deep. For taller, rounder baguettes, don't slash.

Bake the baguettes for about 25 minutes, or until they're a rich golden brown. Remove the loaves from the oven. Turn off the oven, crack it open a few inches, and return the loaves to the cooling oven, without their pans. Letting the loaves cool right in the turned-off oven helps preserve their crunchy crust.

Yield: 6 baguettes or 3 Italian-style loaves.
Tips from our bakers
Want to make just 3 baguettes instead of 6? Or two short, fat Italian-style loaves? Cut all of the ingredients except the yeast in half, leaving the yeast at 1 tablespoon.
Reviews
This is now my go-to recipe for bread. I make it at least once a week. I make the dough in my bread machine. I have a baguette pan with four slots, so I make four loaves and they turn out beautifully. My favorite way of eating it is toasted with tomato jam made from roasted Compari tomatoes and some brie melted on top.
I didn't have the yeast enhancer so I used whole wheat improver, which gave a brownish hue to the interior. Would definitely use an egg wash next time as my loaves were a little dull looking. I left them in after with the door open, but that might have made the crust too crumbly. Good overall recipe I will use again.
I make this recipe a lot and to get a little more browning I add a teaspoon extra sugar. Makes a very flavorful loaf. Its easy to make! Thanks KAF love your website
I have baked this at least six times. I measure everything on scale. I purchased the baguette pan from KAF. No matter what I do my baguettes are flat. They rise nice but seem to be flat when they come out of the oven. I even tried not making the slice on top. What am I doing wrong?

Hi Linda, it sounds like there are a few possible culprits. First, you may be leaving your baguettes to rise for too long. This stretches out the dough and exhausts the yeast, so by the time the baguettes go into the oven, they deflate. Try cutting back on the rising time to see if that helps. Second, the flour you're using may not be strong enough to give your loaves the support they need. Be sure you're using King Arthur All-Purpose Flour if you're not already doing so. Lastly, you can try using a recently fed starter to give your dough a more vigorous rise. Good luck! Kye@KAF
I am giving this three stars because I believe I am the mistake, not the recipe! My baguettes were completely flat! The dough rose beautifully in the first rise, and flattened out like pancakes in the second rise. I did not use molds to form the loaves, just parchment paper. Great taste and crunch! Any advice at all would be helpful!

J, we'll need to hear a little bit more about your ingredients and method to get you headed in the right direction. You'll probably need to use a higher protein content flour (King Arthur All-Purpose or Bread Flour) and perhaps use couche or mold to support the dough as it rises. We encourage you to give our friendly Baker's Hotline a call at 855-371-BAKE(2253) at your convenience so we can troubleshoot further. Kye@KAF
I made this recipe today. It was so easy. Beautiful dough. I made 3 baguettes and 1 Italian loaf. Probably should have made 2 smaller Italian loaves as the one over flowed my French bread form. The taste was amazing and we ripped into one of the baguettes with olive oil and balsamic vinegar to dip it in. Just couldn't wait.
I tried this recipe using unfed starter because I am not organized enough to go thru the, to me, complicated process of starting the bread making the day before, overnight, then continue into next day. The result was a fabulous bread. My suggestion..... I used my Emile Henry baguette baker. Alas the recipe volume overwhelmed my baker. Next time I will half the recipe as suggested. An aside, thank you King Arthur for being such a great supportive site for us amateur artisan bakers
TRying to perfect this recipe. My first attempts were not very successful. Two questions, exactly what does "let then rise until puffy" mean? The timing says 1 1/2 to two hours to raise. MY kitchen is always warm so my breads usually rise much faster than recipes state. Same is true with this recipe. When they look puffy to me can be not to long after they start to rise. Do I wait until they have doubled, or do I pop them in the oven at somewhat less than double to allow for oven spring, which I don't seem to be getting. The taste is yummy, but I want to perfect the density and the "holes". I' sure this is a five star recipe, but I'm not there yet. Thanks

Judy, this trick should help: when you poke the dough with your finger and the indent no longer springs back readily, your loaves are ready for the oven. They should be just shy of dough so they have that oven spring you're looking for. Chilling the dough overnight once the loaves are shaped might be something you want to explore for a deeper flavor, especially if the baguettes tend to rise quickly. We hope that helps! Kye@KAF
My starter is fairly new (1 month). I have made baguettes 3 times. The rise, texture, crust and taste are excellent. I followed the recipe with perfect results each time. I will never search for a different recipe for baguettes. I highly recommend
I love this baguette recipe. I'm always looking for recipes that use a good amount of sourdough starter and this one is perfect. The crumb is just right, the shape/color is great. I vary the recipe only slighty: I don't add the wheat gluten and I use half KA white whole wheat and half bread flour. It comes out perfect every time. I store in the oven, unwrapped, until we eat it all up. It's great toasted, too. I cut a piece about 3" long, slice lengthwise, dribble a tiny bit of water on the cut bread and toast. It tastes fresh-baked every time. Makes a great sandwich, too. I wonder if I could start this bread earlier and either use no yeast, or cut back on it and give it a longer rise?

We're so pleased this recipe has been a winner for you, Elizabeth! We haven't developed a fully naturally leavened sourdough baguette, but you should feel free to experiment. We'd agree that you could expect to need much longer rise times when using less or no commercial yeast. Mollie@KAF