A customized print-friendly version of this recipe is available by clicking the "Print Recipe" button on this page.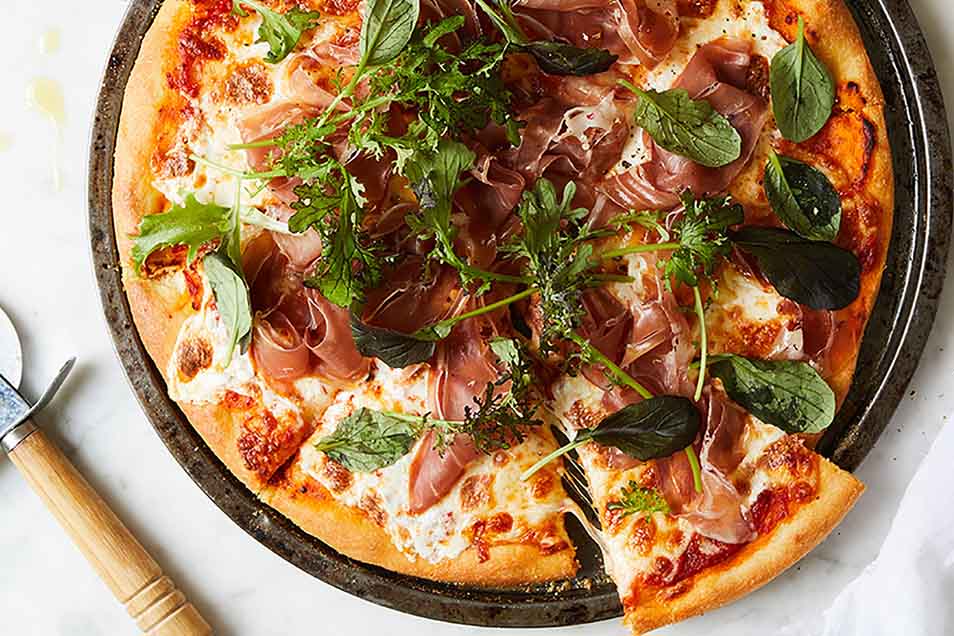 For an ultra-thin pizza crust with crispness and crunch, adding durum and semolina flour can't be beat. Durum wheat is a harder (higher protein) wheat, so it provides a toothsome bite to your crust. This recipe uses slightly less yeast than others, and a little more olive oil for easy rolling. Thin, thin, thin is in!
Instructions
Combine the dry ingredients, oil, and 1 cup of water, mixing and kneading everything together by hand, mixer or bread machine set on the dough cycle until you've made a soft, smooth dough. The golden-yellow dough should be be soft and supple; adjust with additional water or flour if needed. If you're kneading in a stand mixer, it should take 4 to 5 minutes at second speed, and the dough should barely clean the sides of the bowl, perhaps sticking a bit at the bottom.

Set the dough aside, lightly covered with plastic wrap, and let it rise at room temperature for 60 to 90 minutes, or until it begins to look puffy. In the meantime, preheat the oven to 425°F.

Divide the dough into two equal portions and place each on a lightly oiled 12" pizza pan, or on parchment paper lightly spritzed with cooking spray.

Use your fingers to press the dough outward from the center to make a very thin, flat circle about 12" across. Due to the nature of durum and semolina, you shouldn't have too much trouble with the dough stretching and shrinking back. But if you do, just walk away and let the dough rest for 10 minutes to relax the gluten, then return to stretch it farther.

Top the pizzas with your favorite sauces and toppings, keeping in mind not to overload the thin crust. Bake for 12 to 15 minutes, or until hot and bubbly.

Yield: two 12" pizzas, about 16 slices total.
Tips from our bakers
This recipe relies heavily on durum and semolina for the crust's texture, crunch, and flavor. If you don't have these flours, try our Thin Crust Pizza using Italian-Style Flour or all-purpose flour, and bookmark this semolina/durum recipe for later.
Our Perfect Pizza Blend is a good substitute for the flours in this recipe. Simply use 3 cups of the blend in place of the separate flours. The crust will puff up a bit more due to the baking powder in the blend. Want to skip the puff? Try our Perfect Pasta Blend instead. Who knew pasta flour can make great pizza crust, too?!
Reviews
Quite crunchy and different from the usual whole wheat pizza we used to have. Lovely
I wanted to add some flavor with some yeast extract. How much would you suggest per pound of flour/semolina/durum mix?

Hi Mike! Start by adding 2 teaspoons for every pound of flour and adjust from there depending on if you want a stronger or weaker flavor. Happy baking! Annabelle@KAF
Made 1/2 recipe and refrigerated for 8 hours. We loved it.
This perfect thin crust recipe is the perfect back drop for all of your creative artisan pizza creations. Love it!
After collecting equipment, I finally got courage up to make a pizza dough from scratch. I tried the pizza dough mix, but we like this recipe much better. I mixed the dough in a stand mixer, 2nd speed, with the dough hook. I stopped it and scraped the bowl twice, but the hook totally mixed it in 5 minutes. What a beautiful dough!! I had fresh KAF ingredients, and let it rise in the small plastic dough rising tub. I shaped it on a parchment spritzed with oil, topped with a cooked hamburger, onions, and olives mixture, grated cheese, and baked on a preheated stone. I put half of the dough in the freezer and only baked one for two of us. So far, our favorite crust for sure.
This is the best pizza crust I have ever made. I made one pizza the same day and it was wonderful...Great crunch. I also made one 2 days later after storing the dough in the refrigerator. Putting it in the refrigerator for that long made a magnificent crust. The crunch was unbelievable. I could tell when it was cut, it was going to have a spectacular crunch. I will never use another crust recipe. The semolina and durum flours are the key. I keep both flours all the time but have never used them together. If you love making pizzas, this recipe is a winner. I did use my Zojirushi to make the dough. My model is a very old one but has never given me a minutes problem and would never have another brand but a Zo.
This makes such good pizza. As another baker commented, I also parbake the crusts for 7 minutes and either wrap for later or top and bake for about 10 minutes. The 1st bake is on parchment on a cookie sheet and 2nd bake is directly on the oven rack. I get 2 crusts, about 10x15, that are crunchy and yummy. Family says this recipe is the best, so I am not changing.
Where's the nutritional report on this pizza dough?

Due to the extensive size of our recipe library, we're currently unable to research and provide nutritional information for all of our past recipes, including this one. We can understand your interest in those details, and extend our sincere apologies for any inconvenience. A resource you might consider exploring is free nutrition analysis calculators, which are made available online for general, non-medical use. Two such calculators we like are one from Spark Recipes and one from Verywell, both of which can be found by searching through a general search engine. Happy baking! Kye@KAF
Perfect... after a few trials. I do prebake the crust for 7 minutes then either roll it up and refrigerate it for another day or add the toppings, bake and enjoy right away! We have stopped buying any type of commercial pizza!
Tried this yesterday. Have tried many many but its still not "it". The recipe worked out fine, it was very easy to stretch as others have said. And I made it as thin as I could, even bigger than the recipe suggested. But in the end it was not really what I would call "ultra-thin". I baked it on a stone that had been preheated for some time but it never really browned well on the bottom. I ended up throwing it on my outdoor gas grill to get it crispy. There will be another test of it, though. Next time instead of making the dough into two pizzas, I will make it into 3. Or just stretch it even larger. One thing I did find out that worked out well is- I baked one pie with the toppings etc and the other I par baked w/o the toppings. I let it cool and then wrapped it and we had it for lunch today. I heated it with the bottom up first in my salamander and then flipped it and put the toppings on. Then cooked the top. It was crunchy crisp but not by any stretch a thin pizza.