A customized print-friendly version of this recipe is available by clicking the "Print Recipe" button on this page.
Ultra-Vanilla Cupcakes with Easy Vanilla Frosting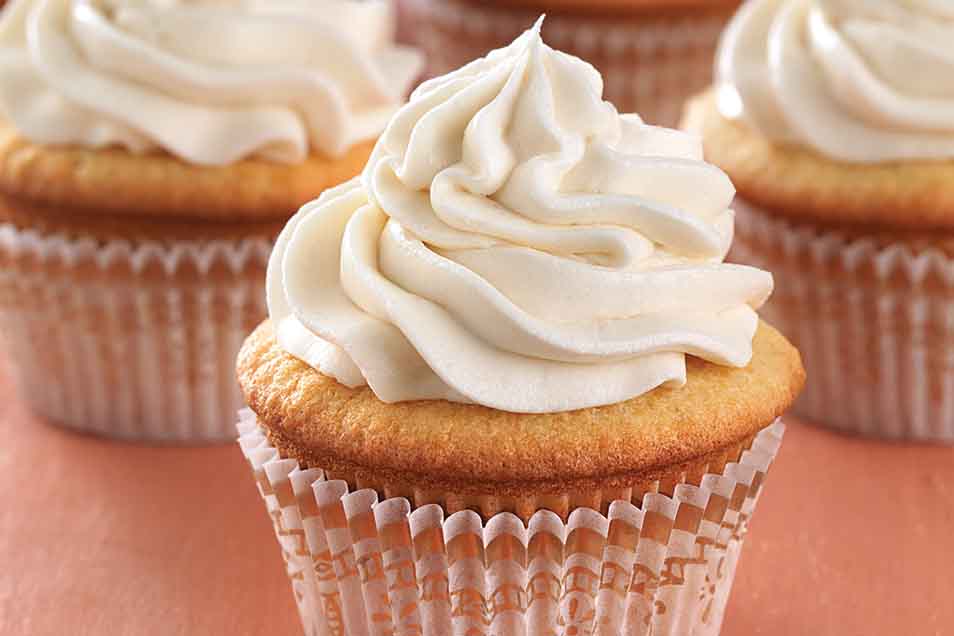 These cupcakes are for the vanilla purist. We suggest using our King Arthur Flour vanilla, with its delicate balance between lightly floral and rich, assertive flavors.
Ingredients
Cupcakes
1 1/2 cups King Arthur Unbleached Cake Flour Blend
1 cup granulated sugar
1 tablespoon Cake Enhancer, optional; for texture and moistness
1 1/2 teaspoons baking powder
1/4 teaspoon salt
6 tablespoons unsalted butter, softened
2 large eggs
1/2 cup milk
2 teaspoons vanilla extract, Pure Vanilla Plus, or a mixture of both
Frosting
6 tablespoons unsalted butter, softened
1/3 cup vegetable shortening
1/8 teaspoon salt
4 to 5 cups glazing sugar or confectioners' sugar
2 teaspoons vanilla extract, Pure Vanilla Plus, or a mixture of both
1/4 to 1/3 cup milk
Instructions
Preheat the oven to 375°F. Grease a standard muffin pan, or line with greased cupcake papers.

To make the cupcakes: Combine the dry ingredients, then mix in the butter until crumbly.

Whisk together the eggs, milk, and vanilla. Stir the wet ingredients into the dry in two additions.

Scoop about 1/3 cup batter into each muffin cup.

Bake the cupcakes for 16 to 18 minutes, until they're lightly browned and a toothpick inserted into the center of one of the middle cupcakes comes out clean.

Remove the cupcakes from the oven; after 5 minutes turn them out of the pan onto a rack to cool.

To make the frosting: Beat together the butter, shortening, and salt.

Add the sugar, vanilla, and ¼ cup milk, and beat until fluffy. Add additional milk if the frosting seems too stiff to spread.

Use a cupcake corer or small spoon to scoop some of the center out of each cupcake. Fill and ice with the frosting.

Yield: 12 cupcakes.
Tips from our bakers
Substitute all-purpose flour for the cake flour blend, if desired. If you make that substitute, we recommend using the cake enhancer to achieve a softer crumb.
Reviews
Hmmm ... Hard for me to rate this recipe. Both cupcakes and frosting are very easy. The cake part is very good. The frosting ... Umm. Never made frosting with shortening. I wondered how good it would be ... Not impressed with the flavor at all. At nephew's request, made sprinkles cupcakes. I emailed KAF about suggestions for which recipe. The suggestion of 1/2 cup sprinkles in the cake part was EXCELLENT. Lots of color. I should have made frosting thinner as the sprinkles wouldn't stick without pressing them in. The frosting did go on great and looked great, but with the sprinkles ... my fault. I hope he outgrows sprinkles soon.
This turned out great! I'm making it for my daughter's birthday, for school. How long can I keep it for? It's Sunday night right now. I assume it'll be fine till Tuesday afternoon. Should I refrigerate it?

Hi Dan! We're happy to hear that your cupcakes turned out well! We would recommend storing them in the refrigerator because of the dairy in the frosting. They will keep for about 4 days — for longer storage we would suggest freezing the cupcakes unfrosted (the frosting might weep if frozen). Happy baking! Morgan@KAF
I made this cupcake recipe after making the Tender White Cake recipe. Both use the paste method. They are almost identical with the exception that the cupcake recipe has 19% more sugar. This made the difference in my opinion. The cupcakes were excessively sweet to me and the cake was just right in regard to sweetness. The cupcakes were lighter than the cake, but that could have been due to the preparation. I will try this recipe again but will reduce the sugar by 60 grams to see if that helps. I ate these without any frosting to make sure it didn't add more sweetness.
Question- what causes the cupcakes to stick to the liners when done? Over or under baking? Leavening? Or is it because of the type of liner? I don't want to spray inside the liners because that can become greasy and it doesn't happen all the time.

Hi Sara. When a muffin or cupcake sticks to the paper, it can a sign that it was a bit underbaked. However, it may also just be the paper. We love parchment muffin cups (available on our site under the name "Tulip papers") beacuse they easily peel off your baked goods, and are nice and tall to prevent any batter from mushrooming over and sticking to the top of your pan. Annabelle@KAF
I made two dozen of these cupcakes this morning in preparation for a Fourth of July BBQ. While 20 of the 24 cupcakes came out perfectly, I was slightly perplexed as to why four of them "exploded," leaking batter upwards through the center. Nonetheless, the majority of the cupcakes came out beautifully and they taste great. I used Penzey's Double-Strength Pure Vanilla Extract for a REALLY vanilla taste.

We've all had a few exploding cupcakes, Derek, so we've got some thoughts. Most commonly a cupcake will explode if it's over filled. It rises up and then collapses and kind of sloshes everywhere. They usually look really wide but sunken in the middle. Another common reason is that the ones that explode are made from the batter at the very bottom of the mixing bowl. Here, ingredients accumulate and aren't thoroughly combined. It's quite possible that a big chunk of baking powder was down there and had quite the reaction in those few cupcakes. The last possibility is that those four were in your oven's "hot spot" which caused them to rise super high and giantly before the outside had a chance to set. They might look crazy but they at least taste great! Annabelle@KAF
Yummy yummy! I wasn't sure about the recipe at first because I have never cut the butter into the dry ingredients before. My batter ended up with hunks of butter, but when they baked , they rose up and the cakes were nice and light! I substituted 1/2 tsp almond extract for some of the vanilla! ;)
I made this two days ago, my first cupcakes ever! They came out great, so tasty with fine texture. I like a heavier crumb. My only tweak to the recipe was increasing vanilla to 3 teaspoons, with 2 from vanilla paste and 1 from extract. Also I substituted a different frosting, this the first frosting that I ever made - a milk chocolate malt sweetheart from a recipe in "Vintage Cakes." Also super yum! I'm new to baking, but I also enjoy experimenting logically (that is, paying attention to details of baking chemistry as this newbie currently understands them). So, my questions: If I were to put the same batter for these tasty little cakes, the entire amount, into a single pan: * would that work? * if yes, what kind & size pan could I use? * for example, would one 9-inch round pan work for making a single layer? * and if I were to bake all of this cupcake recipe batter in one pan... * what temperature? * how long? Smiles, Dave, who decorated some of these cupcakes with rainbow sprinkles and some with flaked coconut

One 9" cake pan will be just about right for this recipe, Dave. Bake the cake at 350°F for about 25-30 minutes, until the edges start to pull away from the sides and a toothpick inserted into the center comes out clean. Happy baking! Kye@KAF
I made these cupcakes today for my sons 12th birthday and they were absolutely delicious! Both of my children are allergic to tree nuts and peanuts, so we are very limited on choices with baked goods. We did have a local bakery in town that was safe, but they recently changed owners and the new owner will not do nut safe. I was pleased to find a recipe that produced a 'bakery' style cupcake. I used all-purpose flour with cornstarch because I cannot use King Arthur Cake flour because of the nut allergy ( please consider allergy friendly practices!) but I did have the cake enhancer so I added that. The only thing I will do different next time is use a 1/4 cup measure to put it the muffin cups, using the 1/3 cup only gave me 10 cupcakes. the frosting was great too!
I have been on the search for the PERFECT vanilla cupcake recipe. This is the fourth and final recipe I will try. Finally I have found a dense but moist cupcake recipe that truly has a vanilla flavor. The vanilla frosting whipped up beautifully and was very tasty!
I baked this recipe yesterday and I have to say that they came out MARVELOUS! Followed the recipe exactly as is, the only thing I did not use was the cake enhancer and they came out perfect. Love the mixing method, the end product had a light, small crumb texture and super soft. To me, this is how cupcakes should be. Thank you for the recipe!