A customized print-friendly version of this recipe is available by clicking the "Print Recipe" button on this page.
Ultra-Vanilla Cupcakes with Easy Vanilla Frosting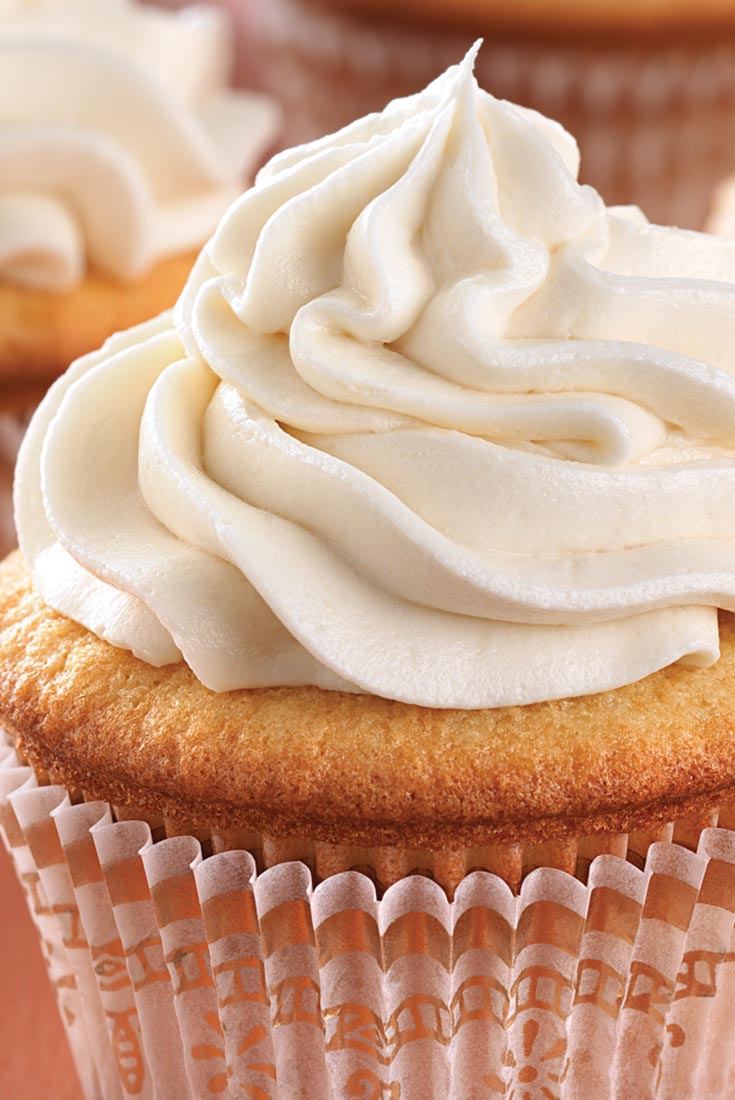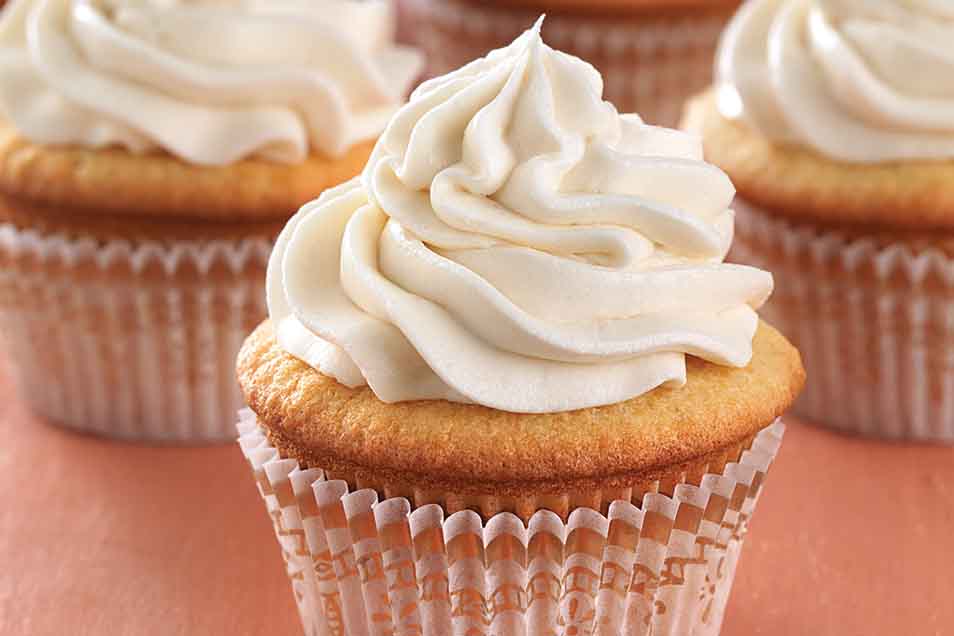 These cupcakes are for the vanilla purist. We suggest using our King Arthur Flour vanilla, with its delicate balance between lightly floral and rich, assertive flavors.
Ingredients
Frosting
6 tablespoons unsalted butter, softened
1/3 cup vegetable shortening
1/8 teaspoon salt
4 to 5 cups glazing sugar or confectioners' sugar
2 teaspoons vanilla extract, Pure Vanilla Plus, or a mixture of both
1/4 to 1/3 cup milk
Instructions
Preheat the oven to 375°F. Grease a standard muffin pan, or line with greased cupcake papers.

To make the cupcakes: Combine the dry ingredients, then mix in the butter until crumbly.

Whisk together the eggs, milk, and vanilla. Stir the wet ingredients into the dry in two additions.

Scoop about 1/3 cup batter into each muffin cup.

Bake the cupcakes for 16 to 18 minutes, until they're lightly browned and a toothpick inserted into the center of one of the middle cupcakes comes out clean.

Remove the cupcakes from the oven; after 5 minutes turn them out of the pan onto a rack to cool.

To make the frosting: Beat together the butter, shortening, and salt.

Add the sugar, vanilla, and ¼ cup milk, and beat until fluffy. Add additional milk if the frosting seems too stiff to spread.

Use a cupcake corer or small spoon to scoop some of the center out of each cupcake. Fill and ice with the frosting.

Yield: 12 cupcakes.
Tips from our bakers
Substitute all-purpose flour for the cake flour blend, if desired. If you make that substitute, we recommend using the cake enhancer to achieve a softer crumb.
Reviews
I have been on the search for the PERFECT vanilla cupcake recipe. This is the fourth and final recipe I will try. Finally I have found a dense but moist cupcake recipe that truly has a vanilla flavor. The vanilla frosting whipped up beautifully and was very tasty!
I baked this recipe yesterday and I have to say that they came out MARVELOUS! Followed the recipe exactly as is, the only thing I did not use was the cake enhancer and they came out perfect. Love the mixing method, the end product had a light, small crumb texture and super soft. To me, this is how cupcakes should be. Thank you for the recipe!
Super easy and delicious recipe. Made these for a 6th birthday party. I used the higher amount of powdered sugar for a little more hold since they were going to be sitting out for a bit. I also baked the cupcakes the day before and frosted/served them the next day with no problems.
I give 5 stars to the cupcakes and 2 stars for the frosting. They both mix up really easily and quickly. It made 11 normal sized cupcakes. I filled the cups barely 2/3 full and still only got 11 cupcakes. As someone else mentioned, the frosting makes a ton. I piped the frosting on generously and still threw out 1/3 of the frosting. I was making these for a coworkers next day baby shower and making frosting at 10pm on a work night. I sampled the frosting and it was SOOO sweet. Like the kind at the grocery store bakeries. I was so tired that I said the heck with it, I know my expectations are a lot higher than non-bakers, so they will probably be fine with it. And they were. They really like them. My husband agreed with me that I've made way better frosting than this. If you really like the grocery store bakery frosting, you'll probably like this. I will make the cupcakes again but never the frosting. Personal preference

Lynda, we're happy to hear that the cupcakes were a hit, but it sounds like you prefer a true buttercream frosting to the quick, American style buttercream used here. We hope you'll check out our recipes for Italian Buttercream and Swiss Buttercream, which may be of particular interest. Mollie@KAF
I baked a double recipe for a 10 year old's birthday party. I have never heard more compliments over cupcakes from a bunch of little girls. They wanted to know why they were so delicious! (Possible some have never had other than boxed stuff?). Instead of the Cake Enhancer, I added 3 tbsp of vanilla pudding mix, which gave them some extra moisture and density, but followed everything else including the paste method. Seemed awfully thick, but came out beautifully! Oh, and 1/3 cup in my cupcake holders was much too much. Stick to the 2/3 to 3/4 in cupcake liner or tin method.
As someone who bakes frequently I found the order of directions odd. Usually you cream the butter and sugar and add eggs vanilla and then alternate milk and flour. I did it my way, but am now wondering if there is a reason the recipie has it done more like a biscuit recipie. I'd be interested to learn.

Rachel, this is a unique (and purposeful) method for mixing up cake batter. It's called the paste method. One of the benefits of this method is that it's simple; there's no need to worry about how long the butter and cream are mixed together for optimal results. The texture of these cakes are different than creamed cakes though still delicious--it's more even and tender with a fine-grained crumb that's a little more dense, more like pound cake. They can be delicate, even crumbly, in a pleasant way. We hope that helps clarify! Kye@KAF
This is the recipe I've been looking for. Gorgeous cupcakes that were moist and had a good texture too. I didn't have cake flour so I replaced 2T of AP with corn starch and sifted all the dry ingredients together. The frosting was good too and that was even after I replaced the vanilla and milk with a berry reduction that I made.
Baked these for my child's first birthday. Flavor is excellent, and since I did not have cake flour, I used All Purpose. They turned out moist, but very dense. I think I will try the corn starch short cut to make substitute cake flour elsewhere mentioned.

In addition to using a homemade version of cake flour (or actually using the real thing for best results), be sure you're measuring your flour using the prescribed method. We recommend either measuring your flour by weight using a scale, or fluffing and sprinkling the flour gently into your measuring cup one spoonful at a time before leveling off with a knife. This will help you measure light cups of flour that weigh about 4 1/4 ounces per cup. I hope that helps, and happy baking! Kye@KAF
Made recipe as written. Baked 18 minutes because waiting for them to be "lightly browned" and they were on the dry side. I would suggest relying on the toothpick test rather than color. I added 1/8 teaspoon more salt to the frosting and it had a good flavor. Since it was part butter, part shortening, it had good flavor and held up great for decorating with bag and decorating tips. I would make this recipe again.