A customized print-friendly version of this recipe is available by clicking the "Print Recipe" button on this page.
Upside-Down Mini Fruitcakes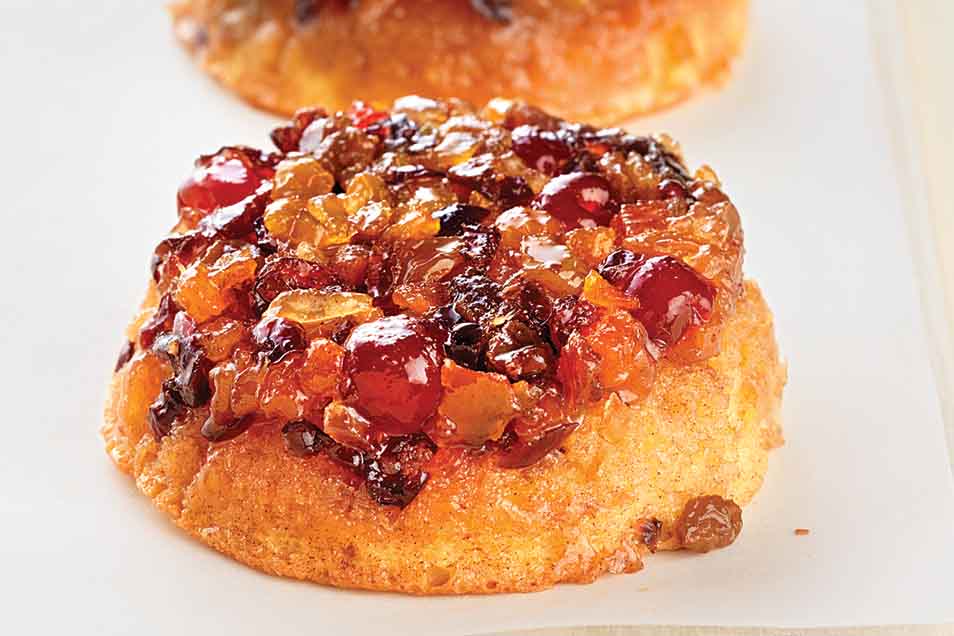 Here's fruitcake for the non-fruitcake eaters in your life. We really enjoyed the Christmas Upside-Down Cake blogged by one of our bakers, MaryJane; so we decided to make our own, miniaturized (perfect-for-gifting) version, using self-rising flour as the base.
Ingredients
Fruit
2 cups Our Favorite Fruit Blend, or your favorite blend of dried fruits
1/2 cup candied cherries
Sauce
1/2 cup (8 tablespoons) unsalted butter
1 cup brown sugar
2 tablespoons light corn syrup
1/4 cups orange juice
1/2 teaspoon ground nutmeg
1/2 teaspoon ground cinnamon
1/2 teaspoon ground ginger
Instructions
Preheat the oven to 350°F. Grease the cups of a hamburger bun pan (see "tips," below, for a substitute pan).

Combine the dried fruit and candied cherries.

To make the sauce: In a medium-sized saucepan set over low heat, cook the sauce ingredients until smooth.

Divide the sauce among the six cups of the pan, then top with the fruit.

To make the cakes: Whisk together the butter, sugar, and vanilla until well blended.

Add the eggs one at a time, whisking well after each.

Whisk in the flour and orange juice. Pour the batter into the cups.

Place the pan on a parchment-lined baking sheet (the topping may spill over the sides). Bake the cakes for 20 to 25 minutes, until evenly browned and a tester comes out clean.

Remove the cakes from the oven, and cool them in the pan for 5 minutes. Run a spatula around the edges of each cake, and turn them out onto a baking sheet, scraping any fruits back onto the cakes.

Yield: 6 individual cakes.
Tips from our bakers
This recipe can be made in a 9" round cake pan; reduce the dried fruit to 1 1/2 cups. Lightly grease the pan and layer with the warm topping, fruit mixture, and cake batter. Bake the cake for 30 to 40 minutes, until evenly browned and a toothpick or cake tester inserted into the center comes out clean.