A customized print-friendly version of this recipe is available by clicking the "Print Recipe" button on this page.
Vanilla Bean Cheesecake Bars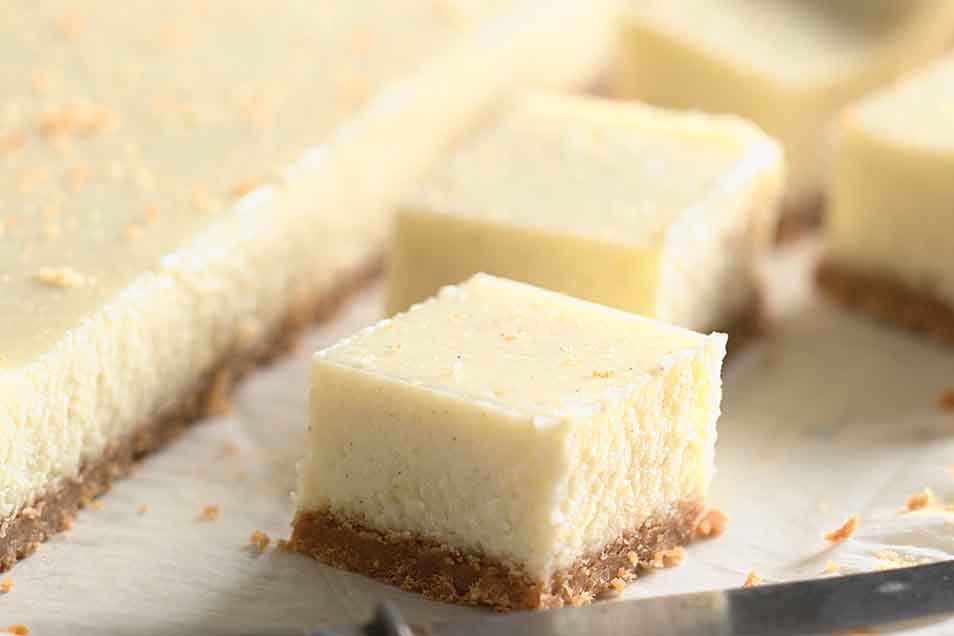 Creamy, vanilla-scented bars, perfect with a cup of coffee.
Ingredients
Crust
1 1/4 cups graham cracker crumbs, about 8 whole crackers
4 tablespoons confectioners' sugar
1/8 teaspoon salt
1/8 teaspoon ground cinnamon
5 tablespoons melted butter
Batter
16 ounces (2 large packages) cream cheese, room temperature
1 cup granulated sugar
1/4 cup heavy cream or sour cream
3 large eggs
2 to 3 teaspoons vanilla extract or Vanilla Bean Crush
1/2 teaspoon freshly grated lemon peel, optional
1 teaspoon lemon juice, optional
Instructions
Preheat the oven to 375°F.

To make the crust: Stir together the crumbs, sugar, salt, cinnamon, and melted butter.

Press into the bottom and about 1/2" inch up the sides of an 8" x 8" square pan.

Freeze for 15 minutes if using a metal pan (not necessary if using ceramic or glass). Note: this is to prevent the edges of the crust from slumping. If you're not worried about slumping (and in our testing, it only happened some of the time), you can skip this step.

Bake the crust for 8 to 10 minutes, until set; the color won't change much.

Remove the crust from the oven and cool for a few minutes while you lower the oven temperature to 325°F.

To make the batter: Mix the cream cheese and sugar together until smooth.

Add the cream, eggs, vanilla, lemon zest, and lemon juice; mix until combined, scraping the sides and bottom of the bowl as you mix.

Spoon the batter into the crust.

Bake the bars for 30 to 40 minutes, until the filling is set but still soft in the center. An instant-read thermometer, inserted into the filling about 1" in from the edge, will read about 180°F.

Remove the bars from the oven, and cool at room temperature for 30 minutes. Refrigerate until ready to serve.

Just before serving, top with fresh berries, fruit pie filling, or whipped cream.

Yield: 16 servings.
Reviews
Made this for Ester dessert. The cheesecake portion itself is great (I did add zest of 2 lemons and did half lemon half vanilla extracts). I had no issues with it setting properly. However, the crust is so crumbly! Impossible to get a nice slice since the crust just falls apart. Not sure if it's due to using powdered sugar in the crust, or something else.

Thanks for reaching out, Kim! We recommend checking out the blog article linked above (to the right of the main photo) to see some helpful visuals of what the crust mixture looks like. It's fairly crumbly before being packed down with a measuring cup, but if you prefer a wetter mixture, you're welcome to experiment holding back some of the sugar or adding a little extra liquid. Annabelle@KAF
I'm so glad I made these followed the directions exactly put rind but no extra juice bc I love the vanilla flavor. Hoping they are as good for my Easter guests as the look.
For context, I'm a home baker with extensive experience. This recipe worked perfectly for me. I used the convection setting with the temperature stated and didn't have the problems some seemed to have. It set just fine with no cracks. I know it's not preferred, but I hadn't planned ahead and softened my cream cheese in the microwave. I was careful not to melt it. I only had 1/3 fat free cream cheese, so just used that. I'm sure I sacrificed some richness, but it came out fine. I used sour cream. Like others, I also lined the pan with parchment so I could take it out and slice it easily. The cheesecake itself turned out with a bit of a fluffiness for me. It wasn't dense and there was good height and crust to cake ratio in the bar. I didn't add the zest and wish I had. I like how you can add anythingcaramel, jam, compote, berries, whipped cream, etc. to make it what you wish.
I haven't baked this recipe, but I did buy the boxed kit. They came out delicious! I am definitely going to try this!
Made this recipe for a wedding with 100 attendees. Made several 9x13 pans of it ahead of time, froze it til the night before. I have a really cold freezer and should have taken it out just a wee bit sooner but it cut into squares just fine. Loved it! Best tasting ever!
I was a little bit nervous about these coming out soft or not totally set in the center, due to a few reviews, but they came out perfectly. I doubled the recipe and baked it in a 9" x 13" pan and brought them to a holiday party. Everyone loved them! They are so easy and really delicious!
This recipe does not work as written. I love KAF and have had a lot of success with many KAF bread and dessert recipes, but this recipe does not work. As another reviewer stated, my filling did not set. I followed this recipe to a T and did not make any substitutions. I checked the temp at the recommended time and it was at 178, so I let it bake for another 5 minutes. I checked it again, and it was at 183. Center was still a little jiggly, but the recipe says it should be, so I took it out and let it cool. Once room temp, I checked and the center was still underdone. I let it chill overnight in the fridge and cut into it today, but the center is still custard-like. It is not the correct consistency at all, and I believe this recipe should be reworked. Perhaps it would work with a slower cool down in the oven?

We're sorry to hear this well-loved recipe gave you some trouble, Kayla. We'd love the chance to talk through the recipe with you, so we encourage you to reach out to our free and friendly Baker's Hotline staff to help troubleshoot and figure out where things may have gone awry at 855-371-BAKE (2253). Kindly, Annabelle@KAF
This recipe is really easy and straightforward! The graham cracker crust added the perfect crunchy element without being too hard to cut into. The taste is really good! The reason I gave this recipe 4 out of 5 stars is that the cheesecake wouldn't set unless I refrigerated it. I baked it in an 8x8 pan for 37 minutes (when my instant thermometer read 180F and the center was only slightly jiggly as described in the recipe) and allowed it to fully come to room temp before taking it out of the pan. When I went to cut it I realized it was still runny and soft in the center. Boo! It's refrigerating now which is helping it to set more but I was under the impression that this recipe could be served immediately after allowing the cheesecake to come to room temp out of the oven. I would make this recipe again but just knowing that it does require some refrigeration. Happy baking!
Everyone at Rosh Hashanah dinner raved about this cheesecake! This recipe reminds me of the really creamy cheesecake my mom used to make (in a pie pan) with a sour cream topping. I also made a strawberry topping, to contrast with the richness of the cake, and dress up the appearance. I made 2 cheesecakes, one with GF graham crackers and regular cream cheese, and the other with a Biscoff cookie crust, half regular & half light cream cheese. I used light sour cream (instead of cream) in both cakes. I couldn't really taste any difference between the cakes, so you may as well save a few calories! You really need to use a thermometer to check the cake; it appears quite underdone when it comes out of the oven, but firms up nicely when cooled and chilled. I lined my pan with foil, so I could remove the bars and sllce them neatly. I used leftover Lieber GF Passover grahams, to accommodate 2 GF friends, and no one could tell. I think this would work just as well in a 9" pan, with a shorter bake time (and a bit more crust), since it fills the 8" pan almost to the top. I tripled the following topping recipe to top 2 cheesecakes. and have additional sauce to pass. I wanted this to be slightly tart, but you can adjust the lemon juice & sugar if you prefer it sweeter. This doesn't get firm, just thick enough to stay on the cake, and not be a runny sauce. Strawberry (or Blueberry) Topping & Sauce: Combine 3 cups sliced strawberries, 1 Tbl. cornstarch, 3/4 cup sugar (I used 1/2 cup), & 2 Tbl. fresh lemon juice, in a saucepan over medium-high heat. Bring to a simmer, and cook until berries break down, about 4 minutes. Let cool until just warm, use a stick blender to break down the berries a bit, then spoon over the cheesecake, and spread to cover the top. Refrigerate until serving.
Wow- I was skeptical of a cheesecake recipe not using a "Bain Marie" and not my usual process of letting it cool in the oven and not spending HOURS on it. But this was so easy and quick and came out GREAT. I lined my pan with parchment so that the bars could be easily removed from the pan. I have made them three times so far- each time serving them with different optional toppings for people to choose : lemon curd, macerated berries, caramel sauce. And the size of the recipe is nice- I always have at least 2 packages of cream cheese on hand and 3 eggs. So, I was able to make this on the spur of the moment. I'm going to try doubling it next time and baking in a 9x13....I'll let you know how that turns out. I worry that the edges might be dried out before the middle is set. I think I will bake it at a lower temperature.