A customized print-friendly version of this recipe is available by clicking the "Print Recipe" button on this page.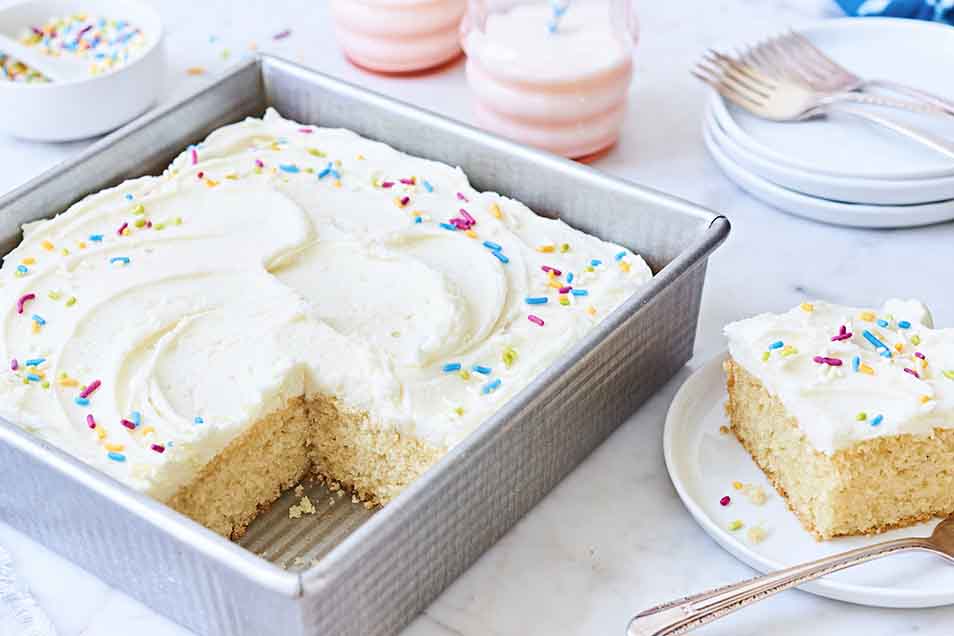 When you're after a classic vanilla cake, or in need of a quick and easy one-bowl dessert, this vanilla version of the classic cake pan cake won't disappoint. Its moist, fork-tender texture and rich vanilla flavor are sure to make this a favorite for any occasion.
Ingredients
Cake
3/4 teaspoon salt
1 1/2 teaspoons baking powder
1/2 teaspoon baking soda
3/4 cup + 2 tablespoons water
1/2 cup vegetable oil
3/4 cup granulated sugar
4 1/2 teaspoons cider or white vinegar
1 tablespoon vanilla extract
1/2 teaspoon almond extract
Frosting
1/4 cup unsalted butter, regular or vegan, at room temperature
2 1/2 cups confectioners' sugar, sifted if lumpy
1/8 teaspoon salt
1/2 teaspoon vanilla extract
about 2 tablespoons water
Instructions
Preheat the oven to 350°F. Lightly grease an 8" square or 9" round pan that's at least 2" deep.

To make the cake: In a medium-sized bowl, whisk together the flour, salt, baking soda, and baking powder. Set aside.

In a separate bowl or large measuring cup, whisk together the water, vegetable oil, sugar, vinegar, vanilla, and almond extract.

Add the wet ingredients to the dry and stir to combine. It's OK for a few small lumps to remain.

Pour the batter into the prepared pan.

Bake the cake for 30 to 35 minutes, until the top feels set, the edges are beginning to pull away from the sides of the pan, and a toothpick inserted into the center comes out clean.

Remove the cake from the oven and either serve the cake warm from the oven or allow it to cool completely in the pan before frosting.

To make the frosting: Beat together the butter, confectioners' sugar, and salt until no large pieces of butter remain.

Add the vanilla and 1 tablespoon of the water, beating to incorporate. Add enough additional water, a teaspoon at a time, to make a spreadable frosting.

Leaving the cake right in the pan, if desired, use a spatula or flat knife to apply the frosting.

Store the cake, well wrapped, at room temperature for several days. Freeze for longer storage.
Reviews
Very coarse, dense, heavy cake. Nothing that some butter & eggs couldn't improve.

Ann, we're happy to point you toward a recipe that's closer to what you're looking for, as it seems like an eggless, dairy-free cake didn't quite hit the spot! We encourage you to try a richer cake recipe. Either Classic Birthday Cake or Tender White Cake will be great places to start. If you're interested in troubleshooting this recipe and giving it another go, please reach out to our free and friendly Baker's Hotline staff at 855-371-BAKE (2253). Kindly, Annabelle@KAF
This moist, easy cake was well received so I am giving it four stars. I was not as enthusiastic about it as the group. Even with a full tablespoon of vanilla, plus some almond extract, there was a distinct taste of flour. If it wasn't so well liked by others I would have given it two stars.
Made the cake for the first time today. Followed the recipe as written (for the oil, I used avocado oil) and baked it in a 9 inch round pan. Very pleased; fed it to a teenager and he approves of it as well. I greased and floured the pan, and the cake turned out of the pan perfectly. It is thick enough that I'm wondering if it could be cut into layers and filled. It's not The Greatest White Cake I've Ever Had but it's still a <em>very</em> good cake, especially considering how quick and easy it is. I'll definitely keep this as a go-to recipe.

Liz, that's a good question! To make this a layer cake, we'd suggest making a double batch and use two full cakes rather than trying to cut this one. Due to the lack of eggs, it can get a little crumbly and uncooperative when drying to halve it for layers. Happy baking! Kat@KAF
I love this cake! It is one of my favorite "all purpose" cakes. I double the recipe and bake it in a 9 x 13 glass pan for potlucks. I do frost it with simple vanilla buttercream, but it is the perfect blank canvas for whatever fresh fruit turns up at the potluck too. I rarely get home with leftovers which, frankly, is a little sad. Did I mention that I love this cake?
The cake came out fantastic. When making a vegan cake, the key is to not over mix the batter otherwise it will result in a dense product. When the recipe said that lumps are okay, it's true. I didn't see any uncooked flour in the cake.
The chocolate version of this cake is very popular at my house, so I was eager to try this. I followed the recipe exactly but it was not a hit. While nothing went particularly wrong, we all agreed it didn't taste very cake-like (probably because of the lack of butter and eggs, which the chocolate makes up for in the other version), and that the frosting was too salty. I can see from the other reviews that we are in the minority in not enjoying this cake, but I always wish other people would write reviews when they follow a recipe and don't like it, so that prospective bakers can get an accurate idea of how well-liked it is.

We're sorry to hear that this well-loved recipe didn't do the trick for you, and we very much appreciate your feedback. If we can help pick out a recipe that better fits your tastes, please give our Baker's Hotline a call at 855-371-BAKE (2253). Kindly, Annabelle@KAF
Truly, this cake is worth baking. I made the recipe exactly as written and I wasn't disappointed. My family gives it two thumbs up!
I made 12 cupcakes from this following the original's directions for cupcakes and they are awesome! Out of powdered sugar so I used chocolate hazelnut spread as a frosting, so good.
great recipe as it, but takes tweaks nicely too. Perfect for one of the smaller (6 cup) bundt pans, just increase your bake time. This time I did it with Fiore di Scilia instead of almond extract, lime vinegar instead of the white or cider, and a meyer lemon marmalade glaze. There is nothing that this little recipe can't adapt to!
I made it today with a maraschino cherry juice poke and cream cheese frosting. It reminded me of an old fashioned bakery style cake. It was a big hit. Thank you for this recipe.